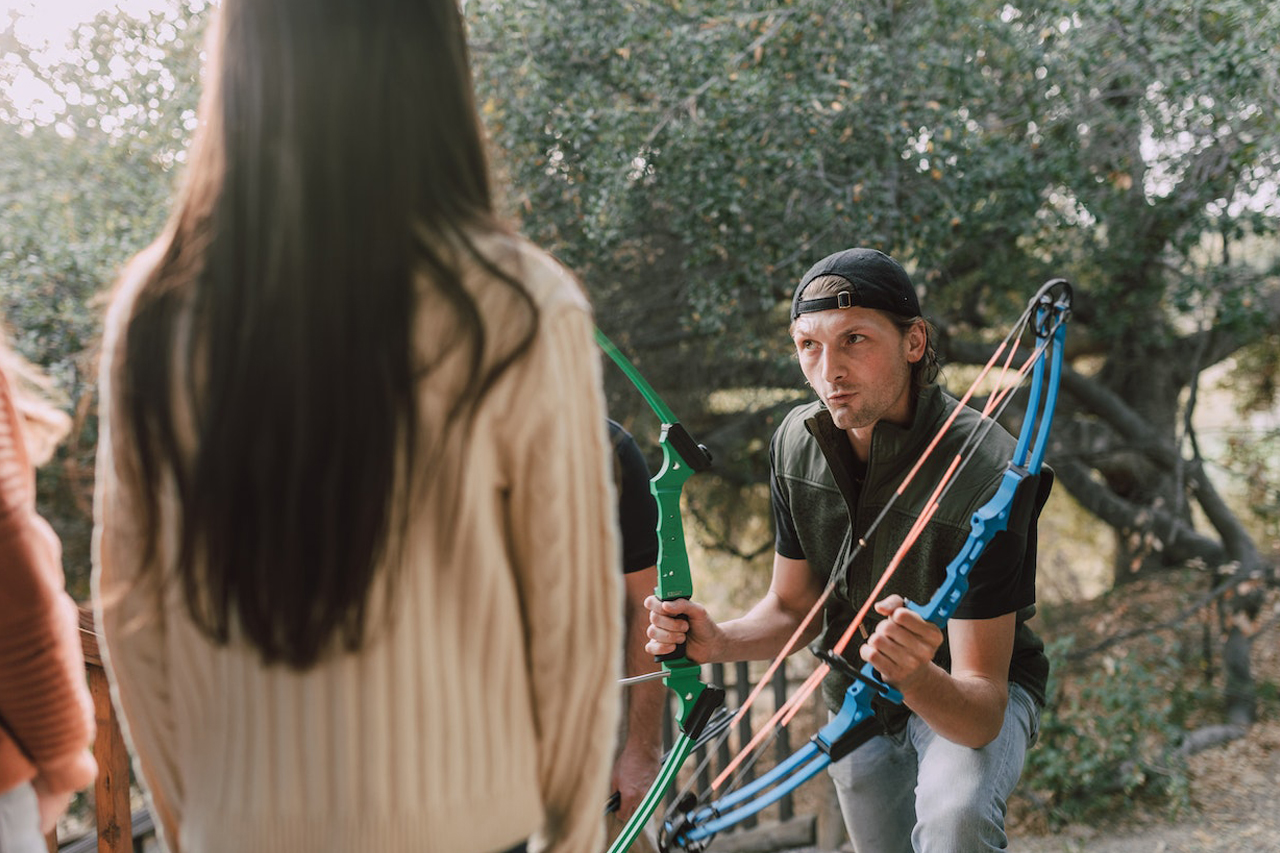 Compound bow kits allow you to save money by getting your archery accessory supplies all at once rather than separately. Southland Archery Supply SAS Pro Compound Bow Accessories Upgrade Package, Trophy Ridge Hitman Stabilizer Kit, and Bee Stinger Kit are among the best compound kits worth purchasing.
Many archery accessories exist, whether online or at your local archery store. Also, these archery accessories come at a price, and buying them can be tiring and expensive when purchased separately instead of in a package or kit.
Selecting the best compound bow kits for your compound bow can take time and effort, especially when deciding where to begin. Most compound bow kits comprise a pin sight, quiver, stabilizer, arrow rest, and sling. Nevertheless, some may contain different accessories than others.
To start you with your compound bow kit journey, we provide a list below of the best compound bow kits you can use for your bow:
1. Southland Archery Supply SAS Pro Compound Bow Accessories Upgrade Package
Huge bow manufacturers like the Southland Archery Supply or SAS also sell compound bow kits besides compound bows. Their Southland Archery Supply SAS Pro Compound Bow Accessories Upgrade Package captures the eyes of archers due to the numerous accessories included.
The brand sells this compound bow kit initially for its SAS Rage Bow. Fortunately, the accessories in Southland Archery Supply SAS Pro Compound Bow Accessories Upgrade Package are compatible with most compound bows, enabling archers shooting other compound bow brands to purchase it as well.
The compound bow kit has two package content options: Hunting Pro Package and Target Pro Package. Both packages share similar accessories as follows:
SAS 5-pin Tool-less Micro Adjustable Bow Sight
Trophy Ridge Quick Shot Arrow Rest
Bow Dampener Set
SAS Aluminum 8″ Stabilizer
SAS Premium Neoprene Sling
Peep sight
String Wax
Release Aid
SAS 5-pin tool-less micro adjustable bow sight is lightweight enough, weighing only 0.44 pounds. Its fiber optic diameter of 0.019 inches is ideal for longer distances and boasts precision micro adjustments for more accurate aim.
Its pin material is brass with included LED Sight Light. There are also various color options to choose from yellow, green, and red.
You would want to have the eight-inch aluminum stabilizer included in the compound bow kit because of its powerful vibration-dampening technology and precision aluminum design. Additionally, it comes with the world's most famous original Trophy Ridge quick arrow shot rest.
Besides the enticing roster of accessories introduced above, here are the additional ones you can find if you choose either package:
a. Hunting Pro Package:
Six Pieces D-loop
5-arrow Quick Locking Quiver
b. Target Pro Package:
Four pieces of carbon arrows
8″ arm guard
Bow stand
3-tube target quiver
Release aid pouch bag
Padded soft compound bow case
However, the compound bow kit is quite expensive, costing about $150. Nevertheless, you can guarantee you get what you paid for based on its 4.2-star rating on Amazon.
2. Trophy Ridge Hunters Series 3 Compound Bow Accessory Kit
Although compared to SAS Pro Compound Bow Accessories Upgrade Package's aluminum material composition, the Trophy Ridge Hunters Series 3 Compound Bow Accessory Kit's material composition are rubber.
It may seem like a cheap deal, but you must consider that Trophy Ridge's archery accessories are among the most sought-after among bowhunters and target archers.
The Trophy Ridge Hunters Series 3 Compound Bow Accessory Kit has everything you need for bowhunting. Enumerated below are the accessories you can find in this compound bow kit:
6″ Static Stabilizer
Aluminum Mounting Brackets
Kill Shot Whisker Biscuit
Volt 5-pin Sight
Wrist Sling and Mounting Bar
Its 6″ Static Stabilizer comes with two customizable weights enabling you to control its balance and weight based on the situation. In addition, it is 25% lighter than aluminum, making it an ultra-lightweight stabilizer.
Next is Trophy Ridge's globally famous Kill Shot Whisker Biscuit, perfect for all archers of any skill level. The compound bow kit boasts five ultra-bright medium horizontal 0.19 fiber optic pins for superb visibility.
Although Trophy Ridge Hunters Series 3 Compound Bow Accessory Kit has lesser accessories to present, it is cheaper and a great deal since all are Trophy Ridge products.
3. Bee Stinger Kit Sport Hunter Xtreme 10.8 – Cameo
Bee Stinger Kit Sport Hunter Xtreme 10.8: Cameo's overall package weight is 1.4 pounds. The compound bow kit may seem like one piece of an archery accessory, but it has the following items already installed:
Adjustable Side Bar Elite Bracket
8″ Sport Hunter Xtreme Stabilizer
10″ Sport Hunter Xtreme Stabilizer
The compound bow kit offers maximum stabilization and balance, resulting in tighter shot groups and longer distances. It also has quick disconnection features that enable you to install and remove the bars easily.
Also, you will notice a difference in various shot cycles every time you add or subtract every 1-ounce weight.
Bee Stinger is an excellent and well-received archery accessory brand, and the Hunter Xtreme 10.8 is among its standouts. It is the perfect stabilizer kit for bowhunters because it keeps the compound bow quiet during and after the shot, thanks to its De-Resonator and Sims Internal Harmonic Dampener.
On the contrary, it is not entirely suitable for target shooting but works best for bowhunting. Compared to other stabilizers, it is heavy.
4. Archery Essential Accessory Upgrade Combo
Suppose you think SAS Pro Compound Bow Accessories Upgrade Package is too much for your wallet and only needs a few accessories. In that case, consider SAS's Archery Essential Accessory Upgrade Combo instead.
Here are the following archery items to expect if you buy this compound bow kit:
5-pin Bow Sight with 0.029″ Fiber Optics
Rubber Stabilizer
Capture Arrow Rest
Neoprene Braided Bow Sling
Peep Sight
Archery Essential Accessory Upgrade Combo compound bow kit's 5-pin Bow Sight boasts 0.023″ fiber optics, allowing you to fire arrows at longer distances with a constant glow ring. The latter ensures to keep you focused on the target.
Moreover, it passed the shake test and provided markings for windage and elevation. The compound bow kit includes 3.5 inches compact rubber stabilizer that is lightweight and compact, resulting in reduced bow torque.
The compound bow kit is compatible with both compound and recurve bows, making it among the best compound bow kit by Southland Archery Supply despite lesser accessories included in the package.
5. Trophy Ridge Hitman Stabilizer Kit
Trophy Ridge Hitman Stabilizer Kit is another impressive compound bow kit made by the brand. Similar to the Bee Stinger Kit Sport Hunter Xtreme 10.8 – Cameo, this compound bow kit is pre-assembled and composed of two removable 1-ounce weights available in these combos:
6 and 8 inches
8 and 10 inches
10 and 12 inches
The total weight of the Trophy Ridge Hitman Stabilizer Kit is only 1.1 pounds. It successfully reduces vibration and noise coming from the bow. Additionally, it improves balance for steadier shots.
Another deal-breaker feature it offers is its quick connect system. You can also quickly remove it, especially when traveling, for more convenient storage and transport. However, Trophy Ridge Hitman Stabilizer Kit will cost you about $199, which is too pricey for a stabilizer kit.
Nonetheless, it aids in improving your long-range accuracy and offers a variety of colored rings for a simple yet personalized bow design.
Aside from purchasing sold compound bow kits, you can tweak your selection by combining compound bow accessories to fit your skills and needs better. You can do it by buying archery accessories separately, similar to the following recommended combos below:
A. Bowhunter Compound Bow Accessories Combo
Archery accessories can be different from each other based on the purpose alone. For instance, bowhunters need bow accessories to help them hunt successfully and ethically. As a result, manufacturers sell items like bow sight, arrow rest, and quiver designed solely for bowhunting.
If you are a bowhunter, you may check out this combo:
The carbon frame of the Fuse QVR Carbon Alphalite Quiver makes it an ultralight choice for bowhunters. It has an adjustable mounting bracket and hood with a tree hanger. Whether you prefer to keep the quiver on or off, rest assured that its Quick-Detach system keeps the noise at bay.
The second accessory on our bowhunting combo is the HHA Single-pin Tetra which is customizable and delivers an entire 2.1 inches of travel on your dovetail bar or a fixed frame of choice. The accessory promises accuracy with second-and-third-axis adjustable sight.
For additional accuracy, the QAD Ultra-Rest HDX Arrow Rest is the best option for bowhunters who hunt in dense woods. It keeps the arrow intact in the launcher arm and will drop once fired.
B. Beginner Archers Compound Bow Accessories Combo
With never-ending archery accessories lined up, newbies have the most difficulty deciding the best combo. You can follow this combo instead if you feel like getting nowhere with your search:
Compared to the bowhunting quivers like the QVR Carbon Alphalite Quiver, APEX GEAR Accu-Strike Quiver is cheaper. Although not as grand, it drowns out post-shot noise thanks to its patented Tru-Touch soft-feel coating feature. Also, it is compact and lightweight.
TRUGLO Carbon XS Xtreme Bow Sight boasts a reliable and bright 5-pin. It is easily adjustable to cater to both left and right-hand archers. The bow sight is ultra-lightweight, weighing only 4.2 ounces with extra-long fibers.
You can never go wrong with Trophy Ridge Original Quick Shot Whisker Biscuit regarding arrow rests. It is the most sought-after whisker biscuit due to its dependability and durability. If you have noticed, most compound bow kits listed above include Trophy Ridge Original Quick Shot Whisker Biscuit.
Purchasing a compound kit for lesser costs will be safer if you still determine your decisions. You can also opt for making your combination for a better hands-on experience.
Buying Guide for the Best Compound Bow Kits
Finding the best compound bow kits can be dizzying as countless accessories exist. When purchasing compound bow kits, the following characteristics in each accessory are ones you should consider:
Release aid
Archers use release aids to aid in pulling the bowstring and holding the compound bow at full draw. A release aid has a trigger mechanism that releases the bow to fire the arrow once activated. You have to take note that cheap release aids often tend to misfire.
Choose the one with proven quality and not too cheap.
Bow sight
You can install single or multiple pins on your compound bow to fire at certain distances. Compared to release aids, buying a low-budget bow sight first is relatively wise as you progress to reasonable distances.
On the other hand, top-end bow sights provide excellent stability and adjustment but are best when shooting at shooting far distances.
Arrow rest
The arrow rest aims to guide the arrow or bolt toward the target and hold it at full draw. Buying an arrow rest for compound bows alone would be best if you shoot a compound bow. Remember that some arrow rests exist for recurve bows only and vice versa.
Quiver
Quiver holds and stores your arrows for you while shooting. Choose a quiver that allows you to move around and is quiet enough not to startle the target when you go bowhunting.
Arm guard
Another accessory you can buy at a low price is the arm guard. It deflects the bowstring to prevent it from hitting the archer, which can result in bruises and pain. You can buy a cheap arm guard, yet it has to be big and well-built, mainly if you shoot compound bows.
D-loop
It is worth investing in a D-loop since assessing when a bowstring might snap anytime can be difficult. The D-loop prevents the bowstring from getting damaged by connecting it to the release aid.
Stabilizer
The most common archery accessory you can find included in compound bow kits is the stabilizer. It may concern archers' growing interest in bowhunting and increasing accuracy.
Compound bow archers should opt for a stabilizer with a long rod. New stabilizers have attached vibration dampeners making the compound bow quieter. Nevertheless, the stabilizer's primary function is to help the archer steady their bow.
Finger tab
A finger tab is necessary if you shoot off the fingers without a release aid. It protects your fingers and lets the bow string pass smoothly with minimal friction. Since it comes in different styles, identify which finger tab feels the most comfortable.
Bow case
Some compound bow kits include a bow case on their package. A bow case is necessary to keep your bow and other archery gear stored in one place and protected from damage. Unlike recurve bow cases in backpack styles, compound bow cases are in hand-carried bags.
Hard compound bow cases offer the best protection; soft compound bow cases are less bulky.
Bow stand
Compound bow kit like the Southland Archery Supply SAS Pro Compound Bow Accessories Upgrade Package's Target Pro Package comes with a bow stand. It holds your bow securely and off the ground.
Compound bow archers should choose a compound bow kit with a bow stand with a clip to grip the compound bow's limbs.
FAQs
What are the most important accessories for bow hunting?
There are endless accessories to use, especially when bow hunting. However, there are three essential accessories you must have, which are the following: quiver, armguard, and finger protection. Nonetheless, having all the necessary bowhunting accessories would be best if you want increased success in killing the target ethically.
What to buy with a compound bow?
Owning a compound bow or any bow is costly. Bow accessories like arrow rest, release, stabilizer, quiver, wrist sling, peep sight, bow stand, bow sight, bow case, and arrow are among the things you need to buy with a compound bow. Every accessory has its purpose that aids in your shooting consistency and accuracy.
What are three things when buying a bow?
Bow size, draw weight, and draw length are the three things you must consider when buying a bow. Failure to determine these three may lead to muscle fatigue, or worse; you won't be able to pull back the bow. You may buy another bow that can cost you another hundred bucks, straining your budget to the hilt.