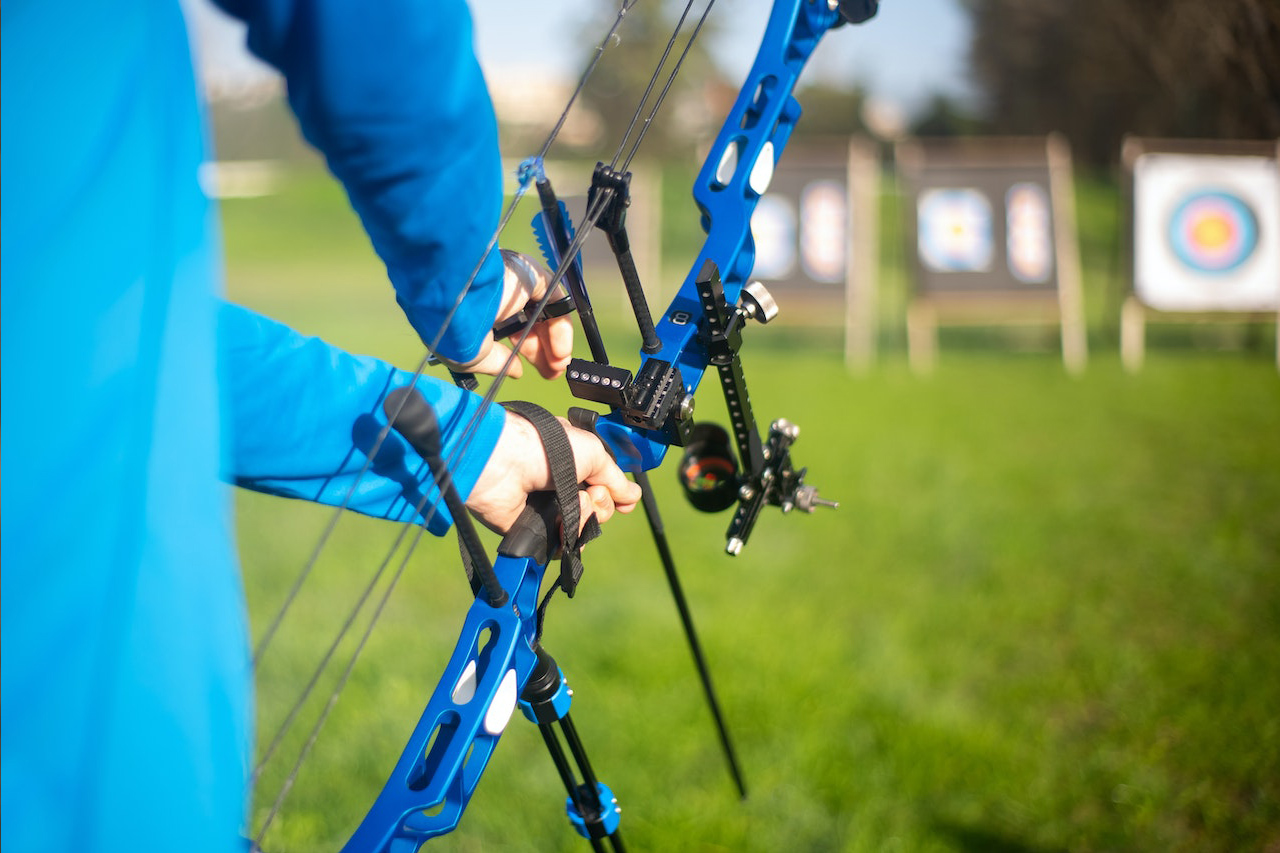 Knowing a bow's speed requires a particular calculation with the following variables: draw weight, draw length, arrow weight, extra accessories, and release method. Therefore, there are no fixed fps for all 50 lb compound bows, but you may use an arrow speed calculator for a realistic result.
Wanting to know a bow's speed is one of the most exciting things that archers and hunters would love to know, especially for some who see it as a vital factor that helps them to achieve successful shots. However, determining how fast a bow is can be pretty complicated.
You may be curious how fast a compound bow can shoot. For those eyeing to use a 50 lb compound bow, you have to know that you must follow a particular equation to come up with a definite result.
Please note that the bow speed calculation applies to all bows, no matter the draw weight and bow type.
Before anything else, you must take note of this first:
Compound bow manufacturers mostly come up with an advertised rate of speed, which is not the speed that the arrow travels when it hits the target. Instead, the advertised speed introduced is the speed at which the arrow travels directly after being released from the bowstring.
Hence, it is a compound bow's speed at point-blank range. It means that by the time the arrow approaches the target, it goes much slower than the advertised fps, while the rate gets higher when you shoot.
Moreover, most compound bows adhere to the International Bowhunting Organization (IBO) speed ratings standard:
70 lb draw weight
30 inches draw length
350-grain arrow weight
Manufacturers have to test their bows using the mandated speed ratings above to ensure that all ratings are consistent from one company to the other.
Therefore, you can say that the advertised speed is not a realistic calculation of how fast a bow is since it is also most likely tested in a tightly controlled indoor environment.
Suppose you want to figure out a compound bow's actual speed. In that case, you have to consider and understand the following variables that are part of the equation before your start manually calculating:
Draw weight

As you have noticed, IBO-certified compound bows underwent testing at a 70 lb draw weight, which is unrealistic because not all archers and hunters have a draw weight of 70 lb.

Moreover, hunters use 70 lb bows primarily to take down big game hunting animals such as moose, bear, and elk. Thus, if you have no plan to enter the big game hunting season, you won't likely see the need to use a 70 lb bow.

Most beginners and those who aren't fit to pull back a 70 lb bow use bows with lower poundage.

For those who shoot at a draw weight lesser than 70 lb, you can expect to lose approximately 15 to 20 fps for every 10 lb draw weight reduction.

An excellent example is supposed you have a 50 lb compound bow; your fps will be 40 fps less than a 70 lb compound bow.

The explanation is that lower draw weight means a lower speed rate. Therefore, you can never expect your bow to shoot so fast unless you go for a higher draw weight.

Draw length

Another one is the draw length, wherein it is the distance that you can pull the bow string from its resting position to full draw, which helps your arrow to propel.

IBO has a 30 inches standard draw length which is not unanimous among bows because draw length differs for each user.

Since not all have 30 inches draw length, you must know that in every 1-inch reduction, your bow will lose ten fps of arrow speed. On the other hand, your arrow speed will get an additional ten fps for every 1-inch added to your draw length.

For instance, a 28″ draw length faces a 20 fps reduction. Meanwhile, your bow will have additional 20 fps if you have a 32″ draw length.

Therefore, the higher your draw length, the higher the speed.

Arrow weight

Arrow weight has always been associated with speed because it can affect your bow's fps. It is important to note that arrows are available in numerous materials such as carbon, fiberglass, wood, aluminum, etc.

Since every arrow material has a different weight, determining a bow's speed isn't tied up to only one arrow weight.

Some archers use arrows with 350 grains, while some use heavier ones like 425 to 500 grains. Even though heavier arrows promise deeper penetration and power, it decreases speed, wherein some hunters hesitate because they don't want to lose even a bit of their bow's fps.

If you don't mind sacrificing speed for better penetration power, please note that for every 5-grain weight added to your arrow, you will likely lose 1.5 fps.

Although it doesn't seem much, if you compute it, you'll see that the accumulated deduction is something you should not ignore.

For example, if you decide to use a 425-grain arrow, expect to lose approximately 22 fps.

Extra accessories

Aside from the three main variables above, extra accessories attached to your bow can also affect its speed. There is no denying that sometimes archers and hunters need to use additional accessories like D-loop, string silencer, and bow sight to shoot better.

However, the more accessories you attach to your bow, the more fps you lose. Since accessories come in different sizes and weights, it is difficult to determine the exact fps reduction.

Despite this, you can expect your bow to lose around 5 to 6 fps.

Method of release

You must know that an IBO-certified bow uses an automated shooting machine to release the arrow from the bowstring with absolute perfection.

Even though doing so provides accurate readings, people shoot bows in reality, not the automated machine, which presents a somewhat inaccurate speed result instead of a realistic one.

Therefore, a few fps likely get knocked off every time you shoot compared to an automated machine. That's why you'll have to subtract about 2 to 3 fps for such reason.

Based on the variables explained, you can never expect your bow to match the advertised speed and will have to calculate it manually, like the example below:

Supposed you have the following:
50 lb compound bow
28″ draw length
425-grain arrow weight
installed extra accessories
non-automated machine release method
Here are the estimations to expect:
50 lb compound bow: you'll lose 40 fps
28″ draw length: you'll lose 20 fps
425-grain arrow weight: you'll lose 22 fps
Installed extra accessories: you'll lose five fps.
Non-automated machine release method: you'll lose three fps
Compute all the fps lost: 40 + 20 + 22 + 5 + 3 = 90 fps. To get your 50 lb compound bow's actual fps, subtract the total fps lost with 320 fps, which is as follows:
320 – 90 = 230 fps – This is how fast your 50 lb compound bow is considering the variables assumed above.
However, the example above is only an estimate and doesn't apply to every 50 lb compound bow. It is only a guide to help you how to compute your own bow's speed.
Thus, it would be best not to set your expectations too high and always refer to the variables mentioned producing a more refined fps result unique to your 50 lb compound bow.
What's the fastest compound bow?
Xpedition Archery's Smoke is the fastest compound bow with an IBO rating of 370 fps, followed by APA King Cobra DG with 365 fps and PSE Expedite NXT with 360 fps.
Shooting a fast compound bow will leave you in awe, thanks to the consecutive development of high-performance compound bows in the market.
Manufacturers never disappoint in releasing more and more high-speed compound bows beating the previous fastest one in the market every year. If you are looking for the quickest compound bow to purchase, you can never go wrong with Xpedition Archery's Smoke.
It is the company's limited edition and announced to be the fastest they ever developed and has beaten other manufacturers in becoming the quickest compound bow to date.
Xpedition Archery Smoke's official IBO rating is 370 fps which guarantees impressive speed that archers and hunters would want.
The model also has a smoked finish and is available in draw lengths ranging from 28″ to 30″. Another great thing about Xpedition Archery's Smoke compound bow is that it comes with new Smoke features of ultra-smooth and aggressive hybrid cam system with a rock-solid back wall.
It also has 32 inches axle-to-axle design with Xpedition Archery's stable X-Lock limb pockets and Energy Transfer System (ETS) cable system, which ensures excellent performance and unrivaled efficiency.
Besides Xpedition Archery Smoke, you can also check the other high-speed compound bows which have the closest speed to the former:
APA King Cobra DG – boasting 365 fps
PSE Xpedite NXT – 360 fps
Bowtech SR350 – 350 fps
Hoyt Carbon RX Twin Turbo – 350 fps

Listed above are the fps based on the official IBO ratings for each model. Nevertheless, it is no question that Xpedition Archery Smoke is now the fastest compound bow.

What does the IBO rating mean?

The establishment of the IBO rating is to provide a standard metric that acts as a guide to which manufacturers must comply to support every bow model's speed claims.

Bow manufacturers have long been outdoing one another in the arena of speed. The demand for high-speed bows has existed in the market since then, and manufacturers have this enormous pressure to satisfy consumers and attract business money.

As a result, more manufacturers are claiming without a proper standard universal basis to support their claims which can leave consumers confused and unsure who to trust and where to buy.

Because of such issues, the International Bowhunting Organization came up with a mandated speed testing standard that manufacturers should use if they want to officiate their bow speed claims.

It prevents false and inflated claims that protect consumers and help them be confident in entering the bowhunting and archery industry. With the IBO rating, it is now easy to determine the fastest bow currently available in the market, which is an excellent advantage for those seeking to use high-speed bows.

Aside from International Bowhunting Organization's rating, another measurement standard is arising: the ATA.

ATA stands for Archery Trade Association and offers similar bow standards to IBO. Their ATA Speed also records and determines the speeds of bows across various manufacturers. It also provides an adequate description of a bow's capabilities to consumers.

Compared to the IBO rating, ATA Speed relies heavily on the bow's set draw weight, arrow weight, and draw length, making it a more reliable representation of actual bow speeds.

However, the IBO rating is still the most commonly used bow speed testing standard because it includes several variables that apply to a fully equipped bow under normal circumstances.

Thus, you can see some manufacturers that list ATA standards on their bows, while some only list IBO and others include both.

Nevertheless, whichever one gets included, they are both legal bow speed standards of measurement that ease consumer worries and uncertainties when looking for a bow's speed claim.

Many variables influence a compound bow's speed, making it hard for people to know how fast a compound bow can be, including a 50 lb compound bow. On the bright side, you can always look for the bow's IBO rating and ATA speed for an official estimate.

Nonetheless, suppose you are dead set on finding your compound bow's realistic speed. In that case, you can always use an arrow speed calculator or manually calculate it by first identifying its draw weight, draw length, arrow weight, release method, and attached extra accessories.