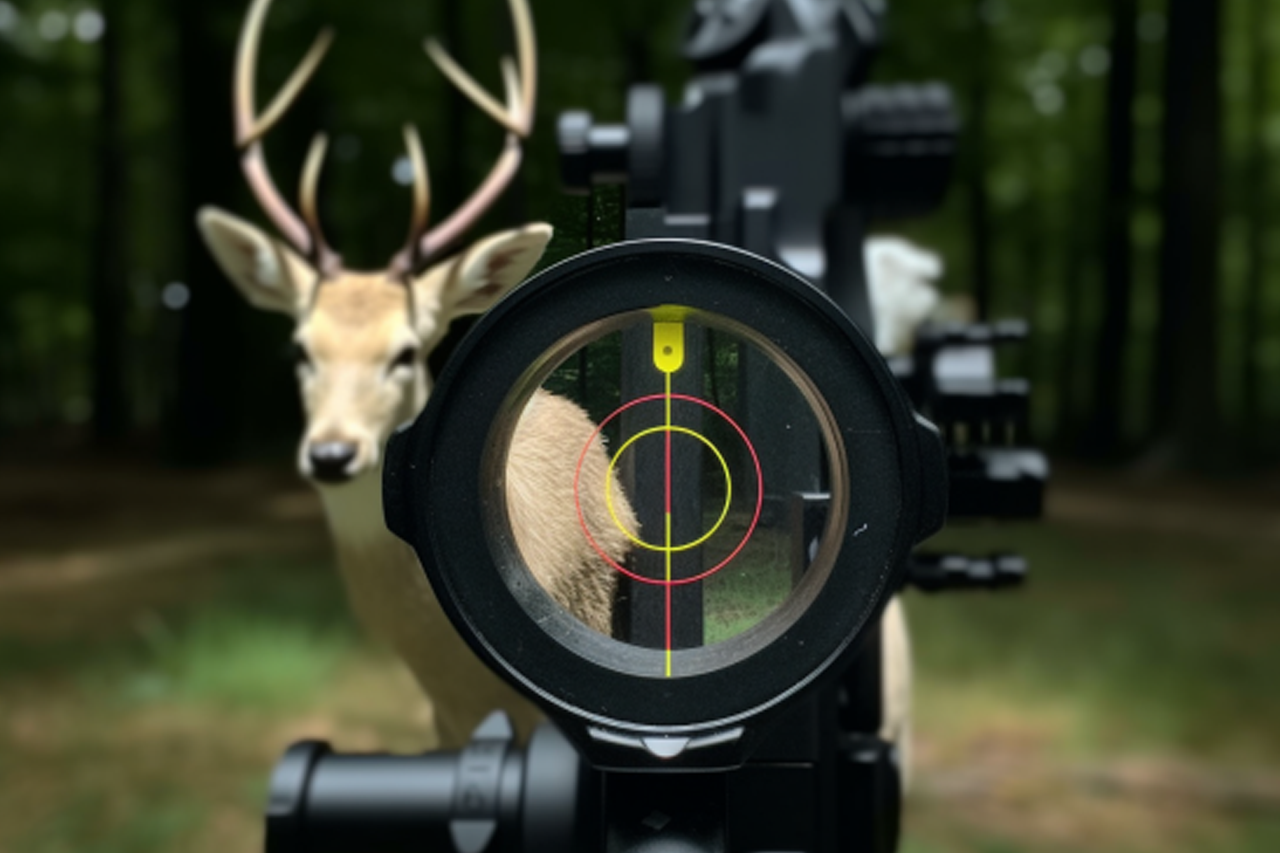 Are you a compound bow enthusiast looking to enhance your shooting accuracy? One crucial accessory that can greatly improve your aim is a properly mounted and sighted-in compound bow scope. Mounting and sighting in scope may seem daunting, but you can easily achieve optimal precision with the right tools and a step-by-step guide.
This article will walk you through mounting and sighting in a compound bow scope. We will start by explaining the various components of scope and the tools you will need for the job.
Then, we will provide a detailed step-by-step guide on mounting the scope onto your compound bow. Once the scope is securely attached, we will show you how to adjust and level it for proper alignment, ensuring that your shots hit the target accurately.
Finally, we will discuss the importance of sighting in the scope and provide tips on fine-tuning and adjusting to suit your preferences. By the end of this article, you will have a well-mounted scope and the knowledge and skills to optimize your shooting experience.
So, let's get started and take your compound bow shooting to the next level!
Understanding the Components of a Compound Bow Scope
Get ready to dive into the fascinating world of compound bow scopes and discover how these incredible devices can revolutionize your archery experience! Understanding the components of a compound bow scope is essential for proper mounting and sighting.
The scope is a small, telescopic device attached to the bow's riser. It typically consists of a tube, a reticle, and adjustment knobs.
The tube is the main body of the scope and is responsible for housing the other components. It's usually made of lightweight, durable materials like aluminum or carbon fiber. The tube's length and diameter may vary depending on the specific scope model, but it's designed to be compact and easily adjustable.
The reticle, also known as the crosshair, is the aiming point within the scope. It helps you align your shot and improve accuracy. Different scopes, like dots, lines, or circles, may feature various reticle designs.
Some scopes even offer illuminated reticles for better visibility in low-light conditions. You can adjust the reticle for windage (horizontal alignment) and elevation (vertical alignment) to compensate for different shooting distances.
Understanding these components will help you properly mount and sight in your compound bow scope. By familiarizing yourself with the tube, reticle, and adjustment knobs, you can make precise adjustments and achieve optimal accuracy.
So, get ready to step up your archery game and enjoy the benefits of a properly mounted and sighted-in compound bow scope!
Gathering the Necessary Tools and Equipment
Before you can begin the process, having all the required tools and equipment is essential. Gathering these items beforehand will ensure a smooth and efficient mounting and sighting of your compound bow scope.
Firstly, you'll need a set of Allen wrenches to tighten and adjust various scope components. It's important to have a range of sizes to accommodate different screws and bolts.
A bubble level is also crucial for ensuring the scope is properly aligned. This tool will help you achieve optimal accuracy by ensuring the scope is perfectly level with the bow.
Lastly, remember a torque wrench. This tool will allow you to apply the correct amount of torque when tightening the scope bolts, preventing any damage to the components.
Once you have gathered all the necessary tools and equipment, you can mount and sight your compound bow scope. Remember, having the right tools on hand will save you time and frustration. It's always a good idea to double-check that you have everything you need before starting.
Properly mounting and sighting in a compound bow scope requires precision and attention to detail, so having the appropriate tools will greatly aid in achieving the desired results.
Before mounting and sighting in your compound bow scope, ensure you have readily available tools and equipment. Allen wrenches, a bubble level and a torque wrench are essential to ensure a smooth and accurate process.
Step-by-Step Guide to Mounting a Compound Bow Scope
Once you've gathered all the necessary tools and equipment, it's time to take your archery game to the next level with a step-by-step guide on securely attaching and aligning your precision-enhancing device.
The first step is to ensure your bow is properly set up and in good working condition. Make sure that the bowstring is properly attached and the limbs are aligned. It's also important to check that the bow is properly adjusted to your draw length and weight. It will ensure the scope is mounted correctly and provide accurate shots.
Next, you'll want to select the appropriate mounting bracket for your compound bow scope. These brackets come in various sizes and styles, so choose one that fits your bow model. Once you have the bracket, attach it to the bow's riser using the provided screws. Make sure to tighten the screws securely, but be careful not to over-tighten them, as this may damage the bow.
Once the bracket is securely attached, it's time to mount the scope itself. Align the scope with the bracket, ensuring it is centered and level. Most scopes have adjustment knobs that allow you to move the scope vertically and horizontally.
Use these knobs to make necessary adjustments to align the scope with your sight pins. Once the scope is aligned, tighten the screws on the bracket to secure the scope in place. Double-check that the scope is still level and centered before moving on.
Mounting and aligning a compound bow scope requires precision and attention to detail. You can ensure that your scope is securely attached and properly aligned, enhancing your accuracy and overall archery experience.
Always refer to the manufacturer's instructions for your specific bow and scope, as they may have additional guidelines or tips for mounting and sighting in your device. Happy shooting!
Adjusting and Leveling the Scope for Proper Alignment
To achieve precise accuracy, it's crucial to fine-tune and level the scope for optimal alignment. Once you've securely mounted the scope on your compound bow, the next step is to adjust it to ensure it's aligned correctly.
Start by adjusting the windage, which controls the left and right movement of the scope. Use the adjustment dial on the scope's side to move the reticle left or right until it aligns with your target. Take time with this step, making small adjustments and checking for alignment after each one.
After adjusting the windage, it's time to level the scope. This step is necessary to ensure that the vertical axis of the scope is perfectly aligned with the bow's riser. You can use a bubble level or a leveling tool specifically designed for archery. Place the level on top of the scope and adjust the scope's position until the bubble is centered. It will ensure that your shots are accurately aligned vertically.
Lastly, it's important to check the eye relief of the scope. Eye relief refers to the distance between your eye and the scope's ocular lens. To achieve optimal eye relief, position your eye at a comfortable distance from the scope and adjust the scope accordingly. It will provide a clear and unobstructed view through the scope, allowing for better accuracy and target acquisition.
Properly adjusting and leveling your compound bow scope is essential for achieving precise accuracy. By following these steps and ensuring your scope is aligned correctly, you'll be on your way to hitting your target with confidence and precision.
Sighting in the Scope for Accurate Shooting
Get ready to achieve accurate shooting by calibrating your scope for precise targeting. Sighting in the scope ensures that your shots hit the mark consistently.
To begin, set up a target at a reasonable distance, around 20 yards, to start with. This distance allows you to make initial adjustments and fine-tune your aim.
Start by taking a few shots at the target, focusing on your form and technique. Once you have a consistent group of shots, examine where they hit your desired target.
Use the adjustments on your scope, both horizontally and vertically, to move the crosshairs to the center of your shot group. Make small adjustments at a time and shoot a few arrows after each adjustment to see if your shots are getting closer to the bullseye.
Continue this process until your shots consistently hit the center of the target. It may take some time and patience, but it's important to make incremental adjustments to avoid overcompensating.
Remember to take breaks and rest your arms to maintain accuracy throughout the process. By properly sighting in your scope, you'll be able to make precise shots and increase your accuracy on the field.
Fine-tuning and Making Adjustments for Personal Preferences
Fine-tuning and adjusting for personal preferences allows you to customize your shooting experience and maximize accuracy.
Here are some key adjustments you can make to fine-tune your compound bow scope:
1. Adjust the sight pins
Most compound bow scopes come with multiple sight pins that you can adjust for different distances.
To fine-tune your aim:
Start by setting the pin for your desired shooting distance, typically 20 yards.
Move on to adjusting the other pins for longer distances.
Use a bow press to safely adjust the pins, ensuring they align with your target accurately.
2. Set the peep sight
The peep sight is a small hole on the bowstring that helps you align your eye with the sight pins. Adjusting the peep sight is crucial for consistent accuracy. Ensure the peep sight is aligned with your dominant eye, allowing a clear view through the scope. You can adjust the peep sight's position and size to optimize your sight picture if needed.
3. Fine-tune the bubble level
Many compound bow scopes have a bubble level that helps maintain proper bow alignment. A level bow ensures consistent and accurate shots. Adjust the bubble level so it's centered when you're at full draw. It will help you eliminate any canting or tilting of the bow, resulting in more accurate shots.
Following these adjustment tips, you can fine-tune your compound bow scope to fit your shooting preferences. Make small adjustments and test your accuracy after each change to ensure you get the desired results. With practice and patience, you can customize your shooting experience and achieve maximum accuracy with your compound bow.
Maintenance and Care Tips for Your Compound Bow Scope
Taking good care of your compound bow scope ensures its longevity and keeps your shooting experience smooth and hassle-free. Here are some maintenance and care tips to help you keep your scope in top condition.
First, it's important to regularly clean your scope to remove any dirt, debris, or fingerprints that may obstruct your view. Use a soft, lint-free cloth to wipe the lens and body of the scope gently.
Avoid harsh chemicals or abrasive materials that could scratch or damage the lens coatings. You can use a lens cleaning solution specifically designed for optical equipment if stubborn stains or smudges exist.
Second, make sure to protect your scope from extreme temperatures and humidity. Store it in a cool, dry place when unused, and avoid leaving it in direct sunlight or high heat for extended periods. Sudden temperature changes can cause condensation inside the scope, affecting its performance. Additionally, moisture can cause rust or corrosion on the metal parts, so keeping your scope dry at all times is essential.
Check and tighten all the screws and bolts on your scope regularly. The vibrations and recoil from the shooting can cause them to loosen over time. Use a torque wrench or the appropriate tool to ensure they're securely fastened without over-tightening. Loose screws can lead to misalignment and affect the accuracy of your shots.
By following these maintenance and care tips, you can ensure that your compound bow scope performs at its best for years to come.
Here is a list of +300 mounts for compound bow scopes you can use.
Frequently Asked Questions
What is the best type of compound bow scope for beginners?
For beginners, the best type of compound bow scope is a single-pin sight. It's simple to use and allows you to focus on one target. This type of scope provides accuracy and helps you improve your shooting skills.
Can I use a compound bow scope on a recurve bow?
No, you cannot use a compound bow scope on a recurve bow. Compound bow scopes are specifically designed for the unique characteristics of compound bows and may not fit or function properly on a recurve bow.
How often should I clean and maintain my compound bow scope?
Regular cleaning and maintenance are recommended to keep your compound bow scope in optimal condition. It includes removing dust and debris, checking for damage, and adjusting the sight if needed.
Are there any specific accessories or attachments that can enhance the performance of a compound bow scope?
To enhance the performance of your compound bow scope, consider adding accessories like a lens kit for improved clarity, a stabilizer to reduce vibration, and a sight light for better visibility in low-light conditions.
Can I use a compound bow scope for hunting and target shooting?
You can use a compound bow scope for hunting and target shooting. It provides accuracy and helps you aim better. To mount and sight it properly, follow the manufacturer's instructions and make adjustments based on your shooting preferences.