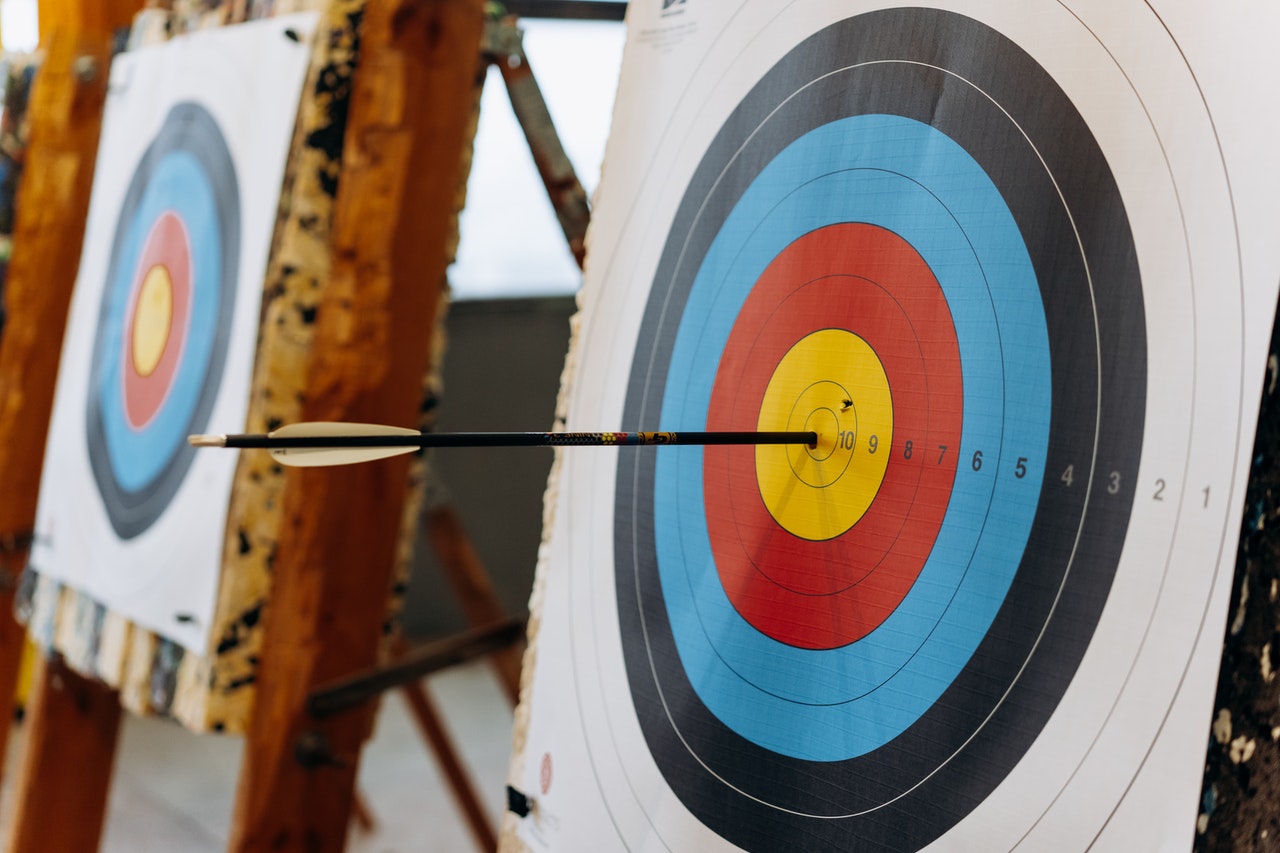 Novice and professional throwers must practice sustaining and enhancing their skills. For knife throwers, the best choice of target board for knife throwing is wood. When access to a good target board is out of reach, can an archery target be an effective option for knife throwing?
You can use an archery target such as a foam block target for throwing knives. This can last longer and won't cause unnecessary damage to your knives, unlike others. Paper target is another good option and an affordable one, but you need to replace it often.
If you're into knife throwing, you might find it useful to learn about archery targets.
What is an archery target made of?
In archery, it is important to choose a target board suitable for arrows. Things to look for are the materials used and the durability. Beginner or professional archers consider these qualities to ensure effectiveness and accuracy.
There are different types of materials used in making archery targets. Archery targets are usually made from hay, straw, solid foam blocks, or foam sheets. Some homemade target materials are cardboard, wood boxes, old clothes, or puzzle mats.
Hay bale target
Hay bale targets are from dried grasses or other foliage, usually used as animal feed. You can either use a cylindrical or rectangular bundle of hay bales. The shape doesn't matter, as long as the size is big enough for practice shooting.
Beginners can use this type of material because it's big and cheap. It is usually placed on a stable platform like a wooden bench or chair for support. It is also easy to find, and arrows penetrate them with ease.
Hay bale will be a good backstop for practice shooting. A backstop is a frame you have to put behind archery targets to absorb the arrow's shock. Though a hay bale target is a good alternative, you have to repair it often and fill in any gaps that come about with use.
The best way to shoot it is to shoot into the ends, not the sides, top, or bottom. Most of it will have soft spots wherein arrows can pass through instead. So it is necessary to shoot at the sides for arrows to hold and prevent them from losing in the distance.
Coiled Straw Target
Coiled Straw Target is also known as a Coiled Straw Matt. It is usually made from wheat straw, rye straw, marsh hay, or dried bullrushes. The material used is raw, which makes it good for the environment.
Making a coiled straw target has the same procedure as making a grass placemat. The standard thickness should be 4 inches thick coils. The length should be at least 40 feet. It usually has colors such as red, blue, and yellow on the target face.
It is suitable for people who are starting with archery and for those who have been shooting for a long time. When you shoot an arrow, the straw doesn't fall apart. It also gets compressed instead of creating a puncture. You can also remove the arrows with ease and with less damage done.
It is also durable, lightweight, and portable. You can put the coiled straw target on portable easels or hang it using a rope.
Foam Targets
Foam targets come in two forms, which are foam block target and layered foam target. These targets are usually made from compact plastic foams or rubber-like ones. The most common foam used is Polyethylene foam.
Polyethylene foam is high-density closed-cell foam. It has a high shock absorption capacity, which makes it a great material for a target board. It has strength and flexibility that allow it to handle the impact of arrow shots.
This type of foam is strong and resistant to moisture, bacteria, mold, and insects. Its target face is smooth and water-resistant, making it low water absorbent.
Both foam block targets and layered foam targets are great for archers. They are strong and durable, and they don't break down fast. They can handle daily practice shooting and can last for months.
When you shoot arrows to foam targets, arrows penetrate the foam and stick to the mark. Some high-end design targets also have self-healing abilities. They are also easy to repair and with replaceable sections.
Another popular type of archery target that uses foam is 3D targets. These are three-dimensional animal targets that range from deer, elk, sheep, and bear. They have replaceable parts for their "vitals" section.
You can use them in the woods, which will create a realistic bow hunting practice. A large piece of plywood or a board will act as the backstop behind your 3D target.
What are the five colors of an archery target?
Most archery targets need a target face on the surface. A target face is a canvas stretched over the boss.
An archery target has five-color concentric scoring rings. The colors of the rings are white, black, blue, red, and yellow or gold.
Every color has two scoring zones. The outer and inner circle or ring will have a one-point difference between them. For example, the red ring closest to the gold circle will get one point more than the red ring that's further away. This is how the points work for all colors.
For the two outermost white rings, an archer can get either two points or one point when hit. The points for the two black rings are four and three points. For the blue rings, scores are six and five points.
For the red rings, an archer can score eight and seven points. The yellow or gold rings, which are the central concentric scoring zones, score ten and nine points. The yellow or gold ring is also called a bullseye.
What is the proper height for an archery target?
Another important element of an archery target is height. The purpose of it is to know the distance and accuracy of the arrows when shot by an archer.
For competitions, the standard height of an archery target should be 48 inches or (121.9 cm) from the ground. It should be at the desired angle of 10-15 degrees. An archery target stand can hold the archery target in place.
An archery target stand should have a width of 48 inches or (122 cm), a height of 71 inches or (180.3 cm). The standard weight is usually between 80-95 pounds or (36.3-43.1 kg).
Sometimes, the specification can also change depending on the place. For indoor archery, an archery target should have a lower height. If it's outdoor archery, it can either be higher or lower.
How do you make a homemade arrow target?
If you are planning to practice shooting, it is not advisable to shoot at trees. Shooting at hard surfaces will damage the tip of the arrow. Though arrows will pierce through fine on the trunk, tips when pulled will become crooked.
You have to choose a target that has materials suitable for archery. Soft materials are better because they won't cause unnecessary damage to the arrows.
You can buy archery targets at stores or online, but these tend to be expensive products. If you cannot afford those yet but still wishes to own one, you can make your archery target.
Here are some of the things you should look at in making the right archery target for yourself:
Size
The size is another important aspect to consider when making your archery target. A bigger target will be easier to see, and the target mark will be visible. Professional archers or beginners will not struggle as much when aiming the arrows.
Bigger targets will also serve as a great guide on where to shoot the arrow. It can also help measure accuracy because you can see your progress in very concrete terms.
Target Stand
An archery target often needs a stand to hold and secure it in place. A stand will enable you to shoot at a target without the tendency for it to topple over. You also have to consider the weight because you will have to carry it, especially if it's outdoors. You need a good stand for your archery target, so you can focus on target shooting.
Endurance
You should also consider the lifespan of your archery target. You want a target board that will last longer, so you won't often need to buy a new one or replace it every time it breaks down.
These are the aspects you need to look at to make a good archery target. Now all you need to do is to prepare all the materials you will need. Below are procedures you can follow in making your homemade archery target.
Cardboard Box Target
You will need a cardboard box with a measurement of 22″ by 13″ by 16.5″ or any suitable box you prefer. This will serve as the target frame for your archery target. One of the best choices for stuffing is foam, but you can also use old clothes and rags.
Arrange the materials you will put inside into layers for the cardboard. The layers you will make should fit the same length as the box. Make at least 17 or more layers to make them more compact.
Once done, tape all the layers together and apply two layers of tape to hold the layers intact. Place the layers you made inside the cardboard box and seal it up completely using tape. You can either attach a target face or paint on it for the scoring rings.
Making an archery target made of cardboard has an advantage because it is cheap. The material is available, and the construction is simple and quick.
The disadvantages are its durability and the quality of the material. It can only last for about two weeks with consistent usage. The arrows can also get stuck in cardboard and receive damage when pulled.
Hay Bale Target
You will need bales of hay, string, and plastic or some sort of covering for this target. Stack one bale on top of another and tie it down using the string to make it compact. You can then wrap the target in cloth or plastic.
By covering the hay bale with plastic or cloth, you can ensure that it will not dismantle when you shoot at it. A plastic covering will also reduce the chances of animals or other insects eating it. It will help protect it from water during rain.
The downside of using hay as your material is that it isn't very sturdy. It tends to loosen after repeated shooting practices. Arrows usually pass through the gaps when shot.
Puzzle Mat Target
This is another popular homemade archery target. The materials you need are puzzle mats, tape, wood for the frame, and nails.
First, stack your puzzle mat pieces. Make sure that they are all lined up so that the surface of the target is smooth. When you're done with that, tape the layer to put it together.
To secure the target in place, you need to make a frame for it.
For the frame
You can use a lumber frame that is hollow and doesn't have a back or front side. Use a piece of wood with measurements of 38 mm x 286 mm or 2 x 12 inches thick. This will help stop the arrows because of the depth.
Cut a large hole in the board, acting as the top of the frame. After assembly, you can now stuff the target you made earlier through this hole.
Next is to fasten the frame with wood screws at least 3½" (9 cm) long. Once done, cover the front and back openings of the frame with chicken wire. The wire will be the one to hold the stuffing inside.
Archery targets are a necessary part of improving archery skills. They can be good substitute targets for knife throwing. Whether you're a professional, a novice, or someone interested in archery or knife throwing, you will need a target for practice.
This will help determine and improve the accuracy of your shots. Use the above information to guide you about archery targets and to know which one suits you best.