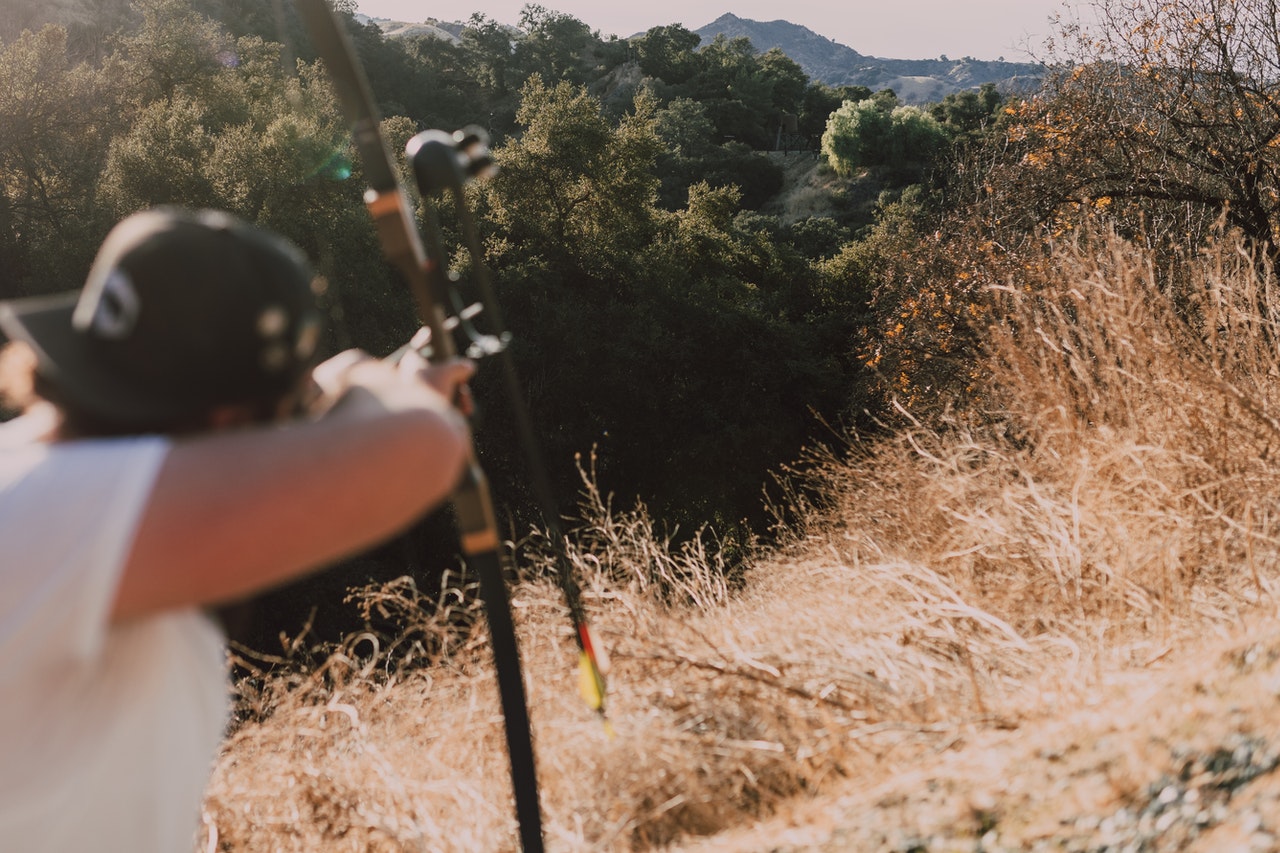 Yes, it is legal to shoot your bow in your backyard in Michigan. The authorities prohibit hunting within 150 yards of a nearby building or property. This safety zone does not apply to backyard shooting or target practice.
If you intend to hunt, you need to secure a written permit from the building owner(s) nearby. Failure to follow the safety zone will result in a misdemeanor charge, jail time, and a fine of $50-$500.
Michigan has always had a strong hunting tradition. Their weapon of choice? The humble crossbow. Many people love doing target shooting in their backyard because it is both fun and convenient.
Backyard shooting helps sharpen your hunting skills and makes archery accessible. As hunting season draws closer, you want to start honing in on your hunting skills. But before you start aiming, there are a couple of things you need to know.
Do I need a license to own a bow in Michigan?
A license is not needed for a person to own a bow in Michigan. But, residents who want to take part in hunting will need an annual base license. The same goes for disabled individuals who need to secure a special permit from the Michigan Department of Natural Resources (DNR).
For people outside of Michigan, make sure you know the firearm laws in your region. Different states have different regulations on backyard shooting. Contact your local town hall or law enforcement for more information.
Is a bow considered a firearm in Michigan?
The state law defines a firearm as any weapon that expels a projectile using explosives. A bow relies on a mechanical release or trigger to expel a projectile. By definition, the bow is not considered a firearm in Michigan.
It is clear that a bow is a weapon and handling a weapon requires skill and knowledge. You should take bowhunting courses and archery lessons for your safety.
Is a bow considered a firearm in Michigan?
Backyard shooting is a safe activity as long as you use the right tools and equipment. If you plan on setting up your practice range, make sure you have ample space in your backyard.
Safety should be one of your top priorities when doing backyard shooting. Keep these tips in mind to ensure safety and protection.
Use a sturdy backstop

A backstop is the cornerstone of any backyard range. Without it, any errant arrows can cause damage to property, pets, and humans. A good backstop should be able to capture your shots and prevent them from ricochet.

You can create your backstop using hay bales. Stack the bales until they reach 5-6 feet in height. Make the backstop wide to give yourself plenty of room for errant shots.

While hay bales are a practical choice for backstops, they do wear out quite fast. Compressed foam plastic or plywood are some great alternatives to hay bales. They last longer and do an excellent job at capturing your arrows.

Shooting bales are also available in most archery shops throughout Michigan. Make sure to ask an expert to help you choose a backstop for your needs.

Select your target

After choosing your backstop, the next step is to pick the right target for your arrows. The most popular target for backyard shooting is bag targets. Bag targets are lightweight and are very portable to use.

But bag targets only offer two shooting faces, thus limiting its versatility. Foam blocks are the ideal choice for hunters looking for a heavy-duty target. They offer a variety of shooting faces, giving you more room with your shots.

Of course, your shooting habits will determine which target fits you best. If you use low-poundage gear and want something portable, get a bag target. If you use big-game equipment, then a heavy foam block is the logical option.

3D targets like deer or rabbits are also worth considering. These are fun for practice shooting and, it mimics the feel of hunting live game.

Enforce strict safety rules

Before you start target practice, you must establish strict safety rules. Whether you practice solo or with friends, make sure they are aware of the rules. Here are some pointers to keep in mind:
Never aim your bow towards sidewalks, houses, or other areas where people might get hit. Make sure you know the thing that lies beyond the target.
When shooting with friends, tell them that they can only shoot when the range is clear.
Always maintain a safe distance when shooting. Do not go beyond the shooting line.
If you have any pets, make sure to keep them leashed or keep them indoors.
Do not dry-fire a bow under any circumstance. Doing so may cause damage to your bow and injure you.
Do not let your children play anywhere near the shooting range. Let them know that the backyard is off-limits when you practice.
Always supervise any beginners and inexperienced archers in your backyard range.
Pick the right bow

Bows come in many different shapes and sizes. Choosing the right bow can be quite intimidating for beginners. The last thing you want is to use an inappropriate bow as it can be dangerous.

Here are the four different types of bows that people use for backyard shooting:

Recurve bow – The recurve bow is for novices due to its lightweight design. With a low draw weight, aiming your target is very easy. As you develop your skills and muscle memory, you can progress to heavier draw weight bows.
Compound bow – Most hunters favor the compound bow because of its power and accuracy. It also offers better aim and precision compared to a recurve bow. That said, using a compound bow requires more strength, something that beginners lack.
Longbow – Reserved for the purist of hunters, the longbow is considered by many as a piece of old equipment. The reason is that longbows lack many of the features a typical compound bow has. If you decide to pick up a longbow, know that it will take you hundreds of hours before you master this weapon.
Crossbow – Crossbows lack the popularity of recurve or compound bows, but some hunters favor them. A crossbow is easy to use and makes target aiming a breeze. Then again, crossbows take away some of the shooting experience, so keep that in mind when buying.

The best way to know which bow is right for you is to go to an archery shop. Try out the different bows to get a good feel for aiming, drawing, and shooting. It also helps to ask an expert about their recommendations on what bow suits you best.

What are the advantages of shooting in your backyard in Michigan?

The main advantage of backyard shooting in Michigan is the convenience. There is no need to go out and find a target range to sharpen your bow hunting skills since you can do it right at home.

Other known advantages of backyard shooting include:
Prepare for hunting season

As hunting season in Michigan approaches, you want to make sure your skillset is on-point. Having a backyard range means you can practice shooting anytime you want. Whether before work or after work, the choice is yours. You have total control over your practice routine frees up your time for other tasks.

If you want a real challenge, try to practice at night. Set up your 3D targets and try to land clean shots from a variety of distances. Come hunting season, you can secure more nighttime kills.

Get better at hunting small game

Residents love hunting small game. The problem is that hunting rabbits, waterfowl, and squirrels outdoors can be difficult. Instead of taking your chances outside, why not hone your reflexes in your backyard? When you nail your small game hunting skills, it'll help you become an even better big-game hunter.

Being able to hunt small games requires lots of practice hours. The good news is with backyard shooting, no limit to how much you can practice bow hunting.

Maintain your physical fitness

Like we've mentioned, backyard shooting is a physical activity. It activates your core and the majority of your upper body muscles. Practice a couple of times a week, and you'll be able to develop a strong midsection.

Bowhunting is quite like resistance training in that it helps build your muscles too. As you progress with heavy-draw bows, your arm strength will increase. Your muscles will look more defined, and your midsection will strengthen.
How to make backyard shooting more fun?
One way to make backyard shooting more fun is to change your practice routine. You can change the position of your 3D targets or challenge yourself using a different bow.
When you do the same thing over and over again, it will start to feel monotonous. Variety is the spice of life, and that applies to backyard shooting as well. You can keep things interesting again by doing the following:
Change your mindset

Most of the time, the backyard shooting blues are all in your head. Many consider bow hunting to be 80% mental and 20% physical. If you're not in the right mindset, you won't find backyard shooting that enjoyable.

When you spend more time at the range than you should, it often leads to burnout. You start to dread practice and, the longer you do it, the less enthusiastic you get. One way to improve your mental attitude is by taking a break.

Put the bow down and take a break for a couple of days (or a week if you have to). This takes away the repetitiveness you've grown accustomed to. If you love hunting, it won't be long before you're back in the practice range and nail your shots.

Play games with your friends

Sometimes a little archery game with your friends is all it takes to knock the boredom out of your routine. Engage in some friendly competition and watch how everyone gets a good time. It's a great idea to add some incentive to your training routine and hone in on your skills.

You can try out these archery games to add excitement to your backyard shooting.
Balloon popping – Everyone loves popping balloons and what better way to do that with your bow and arrow? It's easy to set up and your friends are sure to have a blast popping as many balloons as possible!
Fruit shooting – Nothing beats the satisfaction of splitting an apple using your bow. Test your accuracy with your friends and prepare for a juicy, sticky challenge!
Tic-tac-toe – Put a twist on the pen-and-paper game by playing tic-tac-toe in your backyard range! You can print the game on a large tarp and pin it to your backstop. The winner decides what prize they want to receive!
Archery H-O-R-S-E – This game follows the same concept as the basketball HORSE. Only this time, you play the game in your backyard instead of the court. Whoever fails to mimic the shot will get a letter the first one to complete HORSE loses!
Color pop – If you want to get the kids involved, then this game is the one to play. Mix food coloring with water and fill each of the balloons. When your kids hit their target, they will be jumping with joy after seeing colors splash!
There are plenty of others ways to make backyard shooting fun. The key is to get creative with your practice routines and do something different once in a while. When you do this, your enthusiasm levels will increase and help maintain your bow hunting skills.
As you can see, there are plenty of things to consider when shooting a bow in your backyard. It is legal in Michigan to own a bow and use it for target practice. Using a bow is your responsibility, so study the laws and regulations regarding bow use.
Use the information in this article as a reference to ensure you have a safe backyard range in your home.