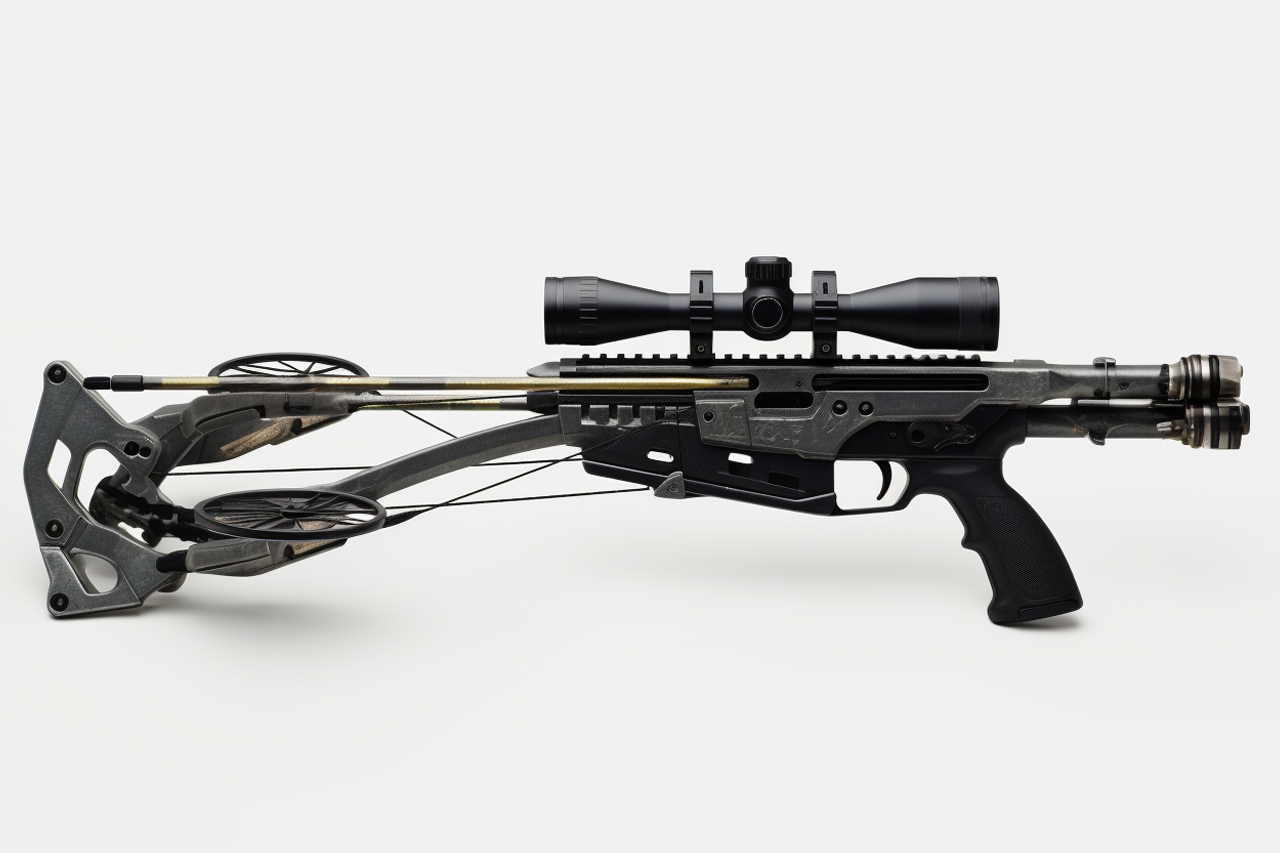 If you're a bow hunter or archery enthusiast, you know that many types of bows are available on the market. However, the crossbow is one type of bow that stands out from the rest.
A crossbow is unique in its design and function, making it a popular choice for those who want to take their hunting or shooting skills to the next level.
One of the key differences between a crossbow and other types of bows is its loading and firing mechanism. Unlike traditional bows, which require the user to pull back on a string with their strength, a crossbow uses a trigger mechanism to release an arrow or bolt.
It makes it easier for hunters and shooters to maintain accuracy over long periods since they don't have to worry about fatigue setting in from repeatedly pulling back on a string. Additionally, many crossbows come equipped with scopes or other sighting systems that make aiming even more precise.
Loading and Firing Mechanisms
Now, let's talk about how you can swiftly load and fire a crossbow with its unique mechanisms. A crossbow's loading and firing mechanisms set it apart from other bows, making it one of the most efficient weapons for hunting or target shooting.
Unlike traditional bows that require holding the string back while aiming, a crossbow locking mechanism holds the bowstring in place until you are ready to fire, allowing for more accurate shots since you do not have to worry about keeping the bowstring steady while taking aim.
Start by placing an arrow on the barrel groove or rail to load a crossbow. Then, use your foot to push down on the stirrup at the crossbow's front. It will allow you to pull back on the string easily and lock it into place using a lever or trigger mechanism.
Once locked in place, all left is to aim and squeeze the trigger to release the arrow towards your target. With this simple yet effective loading and firing process, anyone can become proficient with a crossbow in no time at all.
If you are looking for a bow with unique loading and firing mechanisms that make it easy to use without sacrificing accuracy or power, then look no further than a crossbow. Its locking tool allows for better aim and precision while providing ease of use even for beginners.
So why wait? Try a crossbow today and experience what sets it apart from other bows!
Stability and Shooting Platform
Due to its design, you'll feel more stable and confident in your shots with a crossbow.
Unlike traditional bows, which require the shooter to hold the bowstring back with their strength, a crossbow has a mechanism that holds the string in place until it is ready to be released. It increases accuracy and reduces fatigue and muscle strain during extended shooting sessions.
Additionally, crossbows are typically heavier than other bows, which helps to stabilize the shooter's aim. The crossbow's weight also helps absorb some of the recoils from firing, reducing any jarring or shaking that could throw off subsequent shots.
Some models even have built-in attachments like bipods or shooting sticks to enhance stability and give shooters an even more solid platform to aim. All of these factors combined make crossbows an excellent choice for hunters and target shooters looking for consistent accuracy shot after shot.
Draw Weight and Power
If you want to experience the full potential of a crossbow, you need to pay attention to its draw weight and power. Draw weight is the force required to pull back the crossbow string before firing.
The higher it is, the more powerful and accurate your shot will be. However, it also means you'll need more strength and effort to cock the crossbow.
You can determine the power of a crossbow by its kinetic energy, calculated by multiplying half of its mass with its velocity squared.
Essentially, a heavier bolt traveling faster will have more kinetic energy than a lighter bolt moving slower. A higher draw weight also contributes to greater kinetic energy since it allows for faster arrow speeds.
Overall, a crossbow's draw weight and power are essential components that determine how effective it will be in hunting or target shooting scenarios.
Accuracy and Range
To truly appreciate the thrill of crossbow hunting or shooting, it's important to understand how accuracy and range play a crucial role in easily hitting your target.
Crossbows have unique advantages that set them apart from other bows regarding accuracy.
Here are some reasons why:
Crossbows have a shorter power stroke than traditional bows to generate more kinetic energy without an excessively long draw length. It leads to greater accuracy at longer distances.
Crossbows also have a much lower arrow drop rate than traditional bows due to their horizontal orientation. It makes them ideal for hunting and shooting over long distances where arrow trajectory becomes critical.
Using a scope or red dot sight on a crossbow provides precise aiming points that help shooters hit their targets consistently.
Because crossbows are held steady by the shooter, rather than drawing it back like traditional bows, they allow for greater stability and tighter groupings.
The high velocity of crossbow bolts allows them to travel farther and faster than arrows shot from traditional bows, making them ideal for long-range shots.
If you're looking for a bow that offers superior accuracy and range capabilities, then the crossbow is definitely worth considering. Its unique design features give hunters and shooters distinct advantages that make hitting targets easier and more consistent regardless of distance.
Bolt vs. Arrow Ammunition
When choosing your ammunition for crossbow hunting or shooting, it's important to understand the pros and cons of using bolts versus arrows. Bolts are shorter and thicker than arrows, which makes them heavier and more durable.
They also have a sharp tip designed for piercing through tough materials such as bone or hide. It means that bolts can deliver devastating force upon impact, making them ideal for big game hunting.
Arrows, on the other hand, are longer and thinner than bolts. They are weightier and require less energy to shoot than bolts. Arrows can travel further distances more accurately, making them perfect for target practice or long-range shooting competitions.
However, due to their slender build, arrows may not be able to penetrate through thick-skinned animals or dense materials as effectively as bolts can. Ultimately, the choice between bolts or arrows depends on your preferences as a crossbow user.
Legal Considerations and Regulations
You'll be pleased to know that understanding legal considerations and regulations for crossbow use can help you avoid potential issues with law enforcement and ensure a safe and enjoyable experience.
It's important to note that laws regarding crossbows vary by state, so it's crucial to research the specific regulations in your area before hitting the field.
Here are some key points to keep in mind when it comes to legal considerations and regulations for using a crossbow:
Age restrictions: In most states, there are age restrictions for using a crossbow. Typically, minors need adult supervision or must be at least 14 to operate a crossbow.
Hunting regulations: Crossbows may have different hunting regulations than other bows. For example, some states only allow the use of crossbows during specific seasons or for certain game animals.
Permit requirements: Some states require permits or licenses for hunting with a crossbow. Make sure you obtain any necessary permits before heading out into the field.
Public land rules: Many public lands have additional regulations regarding the type of equipment allowed for hunting. Check with the managing agency before using a crossbow on public property.
By familiarizing yourself with these legal considerations and following all relevant regulations, you can ensure a safe and successful experience while using your crossbow.
Choosing the Right Crossbow for Your Needs
If you want to have the best experience with your crossbow, it's important to choose one that fits your needs and preferences. The first thing you'll want to consider is the bow's draw weight.
It is the force required to pull back the string and cock the bow. The higher draw weight can result in a faster arrow speed and more power behind each shot, but it also requires more strength.
If you're a beginner or plan on using your crossbow for target practice rather than hunting, a lower draw weight may be more appropriate.
Another factor to check when choosing a crossbow is its size and weight. While larger bows may offer better accuracy and stability, they can be cumbersome and difficult to maneuver in tight spaces or dense foliage.
On the other hand, smaller bows are lighter and easier to handle but may sacrifice some accuracy at longer ranges. It's important to balance these factors that work for your specific needs and intended uses for the crossbow.
Additionally, adjustable stock length, trigger sensitivity, and scope compatibility can all impact how comfortable and effectively you use your crossbow.
Check out these +400 Crossbows online.
Frequently Asked Questions
What materials are commonly used in the construction of crossbows?
Common materials used in crossbow construction include aluminum, carbon fiber, and wood for the stock. The limbs are fiberglass, carbon fiber, or a combination of both. Metal components such as trigger mechanisms are also common.
How do you properly maintain a crossbow?
To properly maintain your crossbow, inspect it regularly for wear and damage. Keep the rail lubricated, and strings waxed to prevent friction and prolong their lifespan. Store in a dry place to avoid warping or damage from moisture.
What is the average lifespan of a crossbow?
The average lifespan of a crossbow depends on several factors, such as usage frequency, maintenance, and quality. A well-maintained crossbow can last for decades with proper care and storage.
Can a crossbow be used for hunting large game animals?
Yes, you can use a crossbow for hunting large game. It offers more power and accuracy compared to traditional bows. However, check local regulations and choose appropriate equipment for the animal's size and distance of the shot.
What are some common accessories that I can add to a crossbow?
You can add various accessories to a crossbow, such as a scope, quiver, and sling. These enhancements improve accuracy, convenience, and mobility while hunting. A cocking device is also useful for reducing the effort required to reload the crossbow.