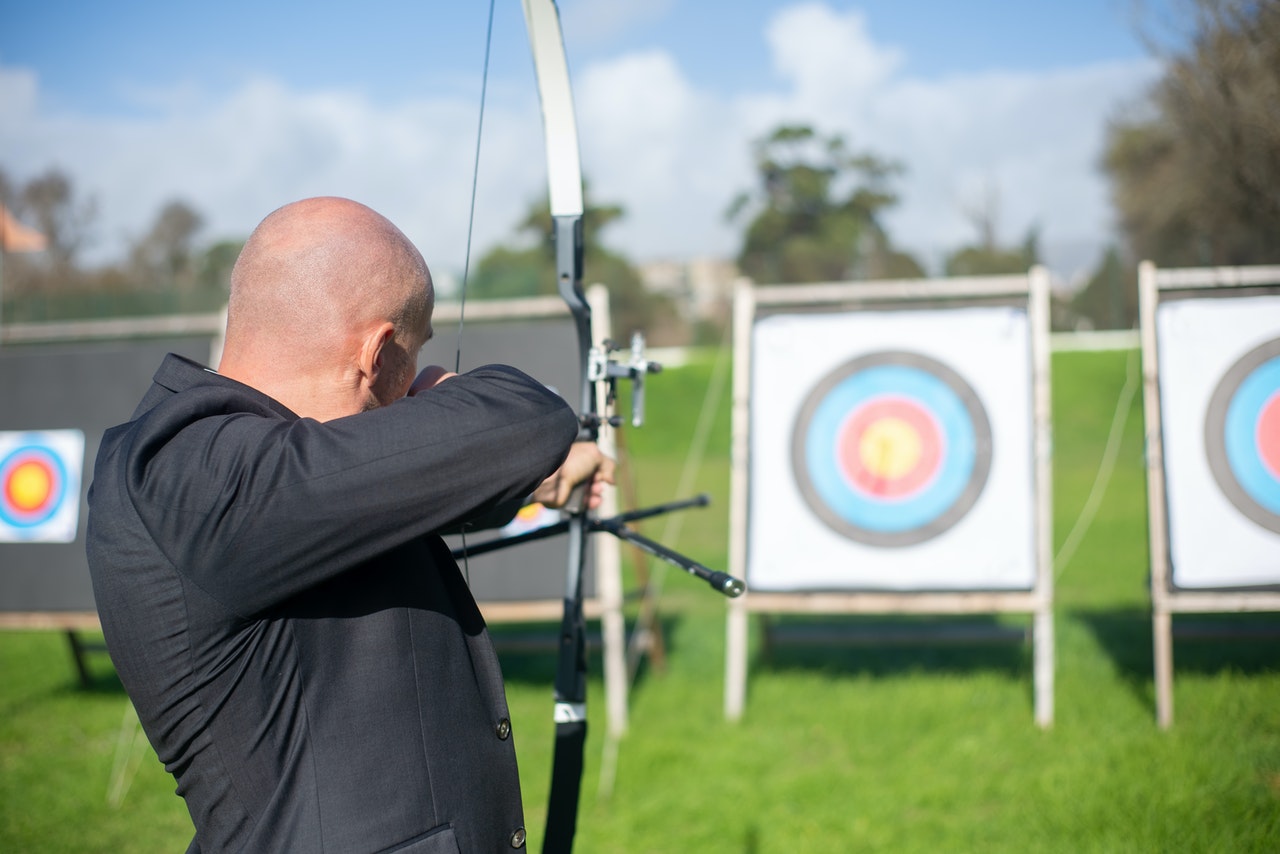 For outdoor archery, you'll need about 725 square feet for every archer participating. For indoor spaces, the range is 8ft x 16ft.
Archery is a sport that requires an area big enough for the participants to have a free range of motion throughout the entire space.
It's also essential to determine how safe your range needs to be. For example, you can take safety precautions by building a high fence around the area or posting signs that ask participants to wear goggles.
Before deciding how much space you need, these are the things you need to consider:
how much space is available to use
which type of archery equipment you will use
the required safety level
How much space do you need to practice archery?
The amount of space you will need depends on the type of bow you shoot. For example, the standard 28-inch arrow used in most modern bows requires a distance of 10 yards to shoot accurately.
Ten yards is the minimum, but my recommendation would be to have at least 80 yards available or more. Even novice archers can shoot standard arrows more than the minimum range.
Indoor Space
The smallest indoor ranges are approximately 40 x 20 feet (12 x 6m), where recurve archers shoot. However, to become a competitive archer, you will need 130ft by 70ft (40m x 20m).
If you are into archery competition, you will need 165ft x 100 ft (50m x 30m).
The space you need will depend on what archery discipline you are interested in practicing. For example, recreational archers usually shoot at shorter distances (20m or 65.62ft), whereas target and field archers need a more extensive indoor range.
There is no such thing as too big of an indoor range for recreational bows, just that the larger the field, the more expensive it will be to build.
In most cases, you can determine the equipment you use by the range you have. For example, if you have a limited indoor archery range for a bow or target requiring backing, you need to change your equipment.
However, owning equipment for all your different ranges is very convenient if you have access to multiple archery ranges.
If you are interested in long-distance archery, you will need a range of at least 164ft (50m); the same goes for field and 3D archery.
Outdoor Space
Many people in rural areas use the outside space when practicing archery. For example, some people will go to a nearby forest or field, while others will set up target ranges in their backyard.
Wherever you are practicing, it is essential to have enough room to shoot without worrying about hitting anything that might not withstand the force of a bow and arrow.
Archery is a popular sport that many people enjoy. However, practicing archery requires considerable space to ensure safety and avoid accidents.
It is possible to practice archery in an area as small as 10ft x 10 ft or about 3m x 3m, but it will not be easy, and you might restrict some shots.
An archer will want to practice in a larger area, such as the one with an area of 20 ft by 30 ft (about 6m x 9m) or even bigger. An ample open space like this size allows for many different shots and will help you improve your archery skill.
When learning archery, it will be helpful to have a mentor around. However, practicing in an open field far away from other people or buildings is ideal for learning independently.
Practicing in an open area helps the archer adjust for wind and distance quickly, making it easier to take the shot. In addition, a wind meter is beneficial as it accurately measures wind speed so that the archer can adjust the bow accordingly.
Safety Measures
When setting up an archery range, whether, for personal or business purposes, you need to consider safety first. Remember that safety should determine the layout and not the other way around.
Here are a few points that consider as your checklist in setting up your first range:
The shooting line should be visible. It should be clear from obstacles, people, or even animals. This point means that there shouldn't be a chance for people or pets to stand around the target when you are shooting.
The target is directly opposite to the archer. So, make sure to set up the range away from roads for outdoor range or hallways if you are setting an indoor range.
It is safer to consider putting your target against the wall to ensure there is no chance for people or pets to walk at the target's back.
If you set multiple ranges for new archers, orient them before starting. Give the first-time archer a tour into the facility to familiarize himself with the spaces and layout.
If you are setting up an archery range for business, make sure you have a certified archer on board. Aside from this idea will help you earn the customer's trust; you can also ensure that new archers that practice to your place will learn the correct form.
Whether setting a range at home or in a vast indoor space, make sure to put signage that would serve as warnings for the archers and spectators.
Designate an area for spectators and mark safety lines, target lines, waiting areas, and archery shooting lines. The lines will control the archer's movements and ensure the safety of other people in the area.
How big is an archery target?
A small-sized archery target is the size of an apple. A medium-sized archery target is as big as a salad bowl, and a large archery target can be as big as standard luggage.
When measuring the diameter of an archery target, it is ideal to use centimeters for better results; otherwise, you will get an inaccurate measurement.
An apple is about 40 centimeters wide and 50 centimeters tall.
A salad bowl can be up to 80 centimeters wide and 50 centimeters tall.
Standard luggage is about 100 centimeters across and 50 centimeters tall.
The size of the target also depends on the type of archery discipline you prefer.
Recurve archers shoot at a target with 122 cm in diameter over a 70m distance.
Compound archers shoot at a target with a diameter of 80cm and over 50 meters range.
Barebow archers shoot at a target with a diameter of 122 cm but over the distance of 50 meters.
Can I practice archery in my house?
You may practice archery in your own home. However, if you're new to archery and want to practice in your home, you must plan and consider safety precautions.
There are some safety measures that you must take to ensure that you don't hurt yourself while practicing:
The first step is to identify the shooting line.

The shooting line is the imaginary line that extends from the bowstring to the target. You should never cross the shooting line while drawing or releasing an arrow.

To set the shooting line, find a wall or window or anything that an arrow can damage. Then put your target in place.

Identify safe zones.

For safety, you should consider 15 yards safety buffer on each side from the target and 25 behind it. Again, these zones should be free from obstacles.

Set up your target.

If you use a regular or traditional bow, you need a target at least 20 inches wide. For a recurve bow, the target should have an average of around 36 inches wide.

Point the arrows to the target.

Make sure the arrows aren't pointing towards anyone when practicing indoors. In addition, an observer should be present at all times to help control its direction.

Set up the 3D target as well.

The 3D target will serve as a backup target surrounding the area you will be shooting.

Act immediately in case of injury.

If you should injure yourself, seek medical attention immediately and document the injury location, severity, and treatment received; do not leave this out. Also, make a note of any permanent impairments resulting from the injury.
Advantages of Practicing Archery at Home
Practicing archery at home is a good idea. If you have enough space at home for an archery shooting range, you can start setting up and start practicing.
Here are a few reasons why you should consider practicing at home:
It is a great way to improve your skills.

Archery requires a lot of practice before you can become good at it, and doing it at home allows you to hone your abilities without having to travel to a range of pay for expensive lessons.

Archery is a great social activity.

Many people get into it because they want to be part of a community that enjoys archery. It's also just enjoyable, so you can have a blast hanging out with your kids or significant other while getting some fresh air and exercising.

You can practice any time.

You don't have to take time out of your day to head to the range – you can pick up your bow and arrow, walk onto your patio or backyard, and start practicing whenever you feel like it.

You will have privacy.

There are times when you want to practice quietly without the intervention of friends and be able to concentrate. You can even shoot into an archery target placed against a wall if you're going to keep it private.
Setting up Archery Range in Your Home Yard
An archery range at your home yard provides an affordable and convenient way to practice. There is no need to drive out anymore to a field or pay high membership fees.
However, before doing so, you have to check your local laws and regulations if it is allowed or if there are guidelines that you need to follow.
When you have everything you need, here are some points to consider to get started in setting up an archery range in your home yard.
Map out the range.

Find out where you can set up your target, so it is not within line-of-sight of any neighboring properties, and try to position the targets so there will be no problem with a left to right or diagonal shooting if using one or more of them.

In addition, try to eliminate the possibility of an errant arrow hitting a home, car, or other property.

Find the best location for your target.

Try to find a great backstop that will serve as protection if you miss your target or drop an arrow. You may need additional equipment to ensure it does not bounce back towards you.

Set the boundaries of your range.

If you are shooting at a stationary target, mark the distance with cones or flags. Set up an appropriate limit if you use a moving target (e.g., 20 yards).

Make sure everyone using the range understands and respects the boundaries.

Get the right equipment.

You do not need a lot of specialized equipment to set up an archery range at home. Look around your yard. You may find most of what you need in your backyard– a target, some cones or flags to mark the boundaries, and something sturdy to act as a backstop.

Practice safe shooting.

Always make sure you wear the proper safety gear when using an archery range. This gear includes a bow sight, hat, and safety glasses. When not shooting, always unstring your bow and keep the arrows in a safe place. Never point your bow at anyone.

Make sure the weather is good for shooting.

A cross-breeze can be helpful if you are trying to shoot at a target that moves, but it shouldn't blow in the direction of other people using the range. Also, make sure there isn't too much sun or wind. If possible, wait until early morning or evening when it is cooler.