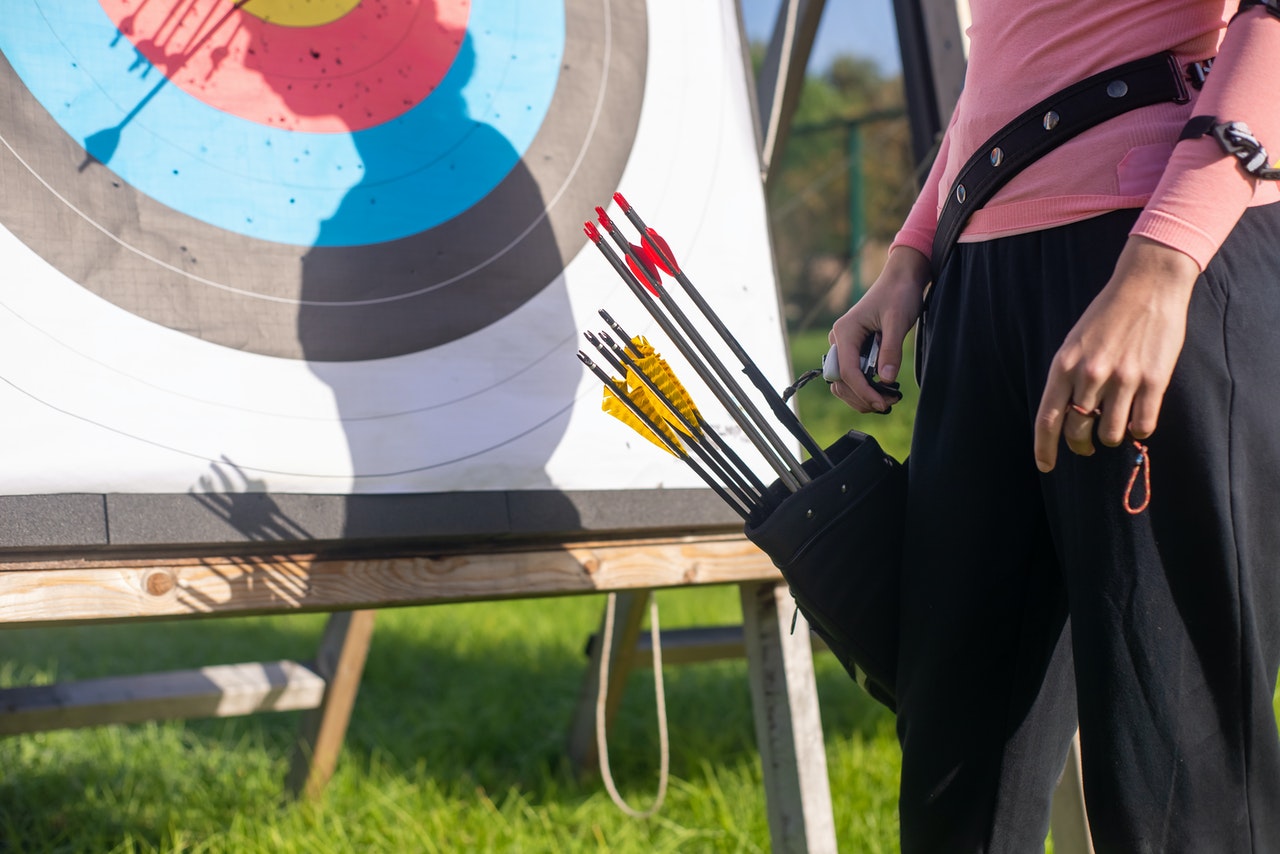 You can sell archery equipment on Facebook. People buy and sell archery equipment every week. However, some complained that Facebook removed posts about bow and arrow selling. Nevertheless, there are ways to post an archery product without them flagging you.
Facebook bans the sale or trade of firearms, ammunition, explosives, and weapons. Although Facebook uses a broad set of standards to have fair and consistent policies, there are no specific guidelines regarding the archery equipment market.
Therefore, the probability of Facebook removing your posts about selling archery equipment may happen.
Facebook guidelines can get tricky, but you have nothing to worry about, and all you have to do is post your listing carefully.
Follow this handy guide so you can have the freedom to transact on Facebook:
Never put the word "bow" as a caption on your listings. Facebook algorithm flags bows as a weapon. You can use emojis instead of direct wording.
Put your main details in the comments, and refrain from putting everything in the caption. You can type in "See details in the comments below" or post the brand and specifications without using the word bow.
Post quality pictures in the comments as much as possible. Put the bow in a background that contrasts. You can use a carpet, concrete, or kitchen floor. Avoid posting photos where a hunter is aiming at the animal since it can get flagged as a promotion of killing animals.
Be as descriptive as possible when you answer queries. Provide information on any defects or issues. You can also tell them how long you have used bows, or you can disclose if there are any problems with the bowstring.
Tell them the price of the bow. Tell them of any possible trade information. Communicate if you are open to trading your equipment instead of selling them.
Make sure that you are responsive to messages. Check your message requests. Inquiries can come from outside your list of friends.
As a buyer, never lowball. If someone sells a $1,000 bow, make a reasonable offer. Keep in mind that being respectful builds trust.
As a seller, ship your items on time. Get all shipping details ready. Send the buyer the courier and tracking information.
Buying items from a stranger on Facebook is a risk. But you can build trust by providing accurate information.
Also, if you want to find a better market, use the Facebook Marketplace. If you post it on your profile, your chances of selling it will decrease. Moreover, some post their used compound bows for sale primarily on Facebook groups and communities.
Many archery enthusiasts and hunters are posting their used compound bows for sale on Facebook. Below are excellent examples of used compound bows for sale listings you can find on Facebook. Note that the listings below might no longer be available or for sale.
Instead, you can use them as a guide on how to sell your archery equipment on Facebook:
A. Used compound bows for sale listings sample 1
If you noticed, the post follows the guidelines mentioned above. The seller didn't include the word "bow" in the caption and instead provided a more straightforward approach by indicating the bow's brand and model with the price.
Furthermore, the seller is responsive to the queries in the comment section and provides as much information to interested buyers.
B. Used compound bow for sale listings sample 2
Another great used compound bows for sale listing you can refer to is the one above. Like the previous sample, the seller also provided bow information in the caption without mentioning the word "bow."
The price is also a great deal which is reasonable and reasonable for a used compound bow.
Also, Facebook didn't remove both listings. Both posts captured the interest of potential buyers without getting into trouble with Facebook.
Even though Facebook is an excellent marketplace because of the millions of users that use it daily, there are other options where you can buy and sell archery equipment. Please note that it may not seem like it, but the archery equipment market is vast.
As a result, you can buy or sell your archery equipment thru direct selling and local archery shops or using online marketplaces, which you can refer to below:
1. Online marketplaces and archery forum websites
Due to Facebook's guidelines, there are several alternative online marketplaces and archery forum websites you can use instead, including Archery Talk, Sell My Bow, Shopify, OfferUp, Archery Addix, Craigslist, eBay, and Remoov.
The pros of using online marketplaces to sell or buy used archery equipment are that they promise a well-packaged and fast delivery.
Since people are getting busier, using such mediums is hassle-free, and all you need to do is do a few clicks here and there without needing to get up and travel far.
Most people recommend using online marketplaces when buying and selling used compound bows and crossbows. On the contrary, it would be best to buy and sell recurve bows thru direct selling or local archery shops for more excellent deals.
Other cons of using online marketplaces are the huge competition since it can reach people from different parts of the world. Especially when pricing used bows, some may play lowball while others offer poor deals.
Selling on online platforms may have selling fees too. Or they can get a percentage cost or commission off your transaction value.
Check on the policies about fees on the platform. Read it to check if the online marketplace has hidden fees or charges.
Consider pricing your bow a bit higher so that it's enough to cover the extra costs. Some platforms have promotional fees too.
Moreover, not all platforms or marketplaces entertain the archery equipment market. Some online marketplaces prohibit the buying and selling of any hunting or archery equipment in support of the protection of wildlife.
Hence, it would be best to be careful to identify which ones support and allow the buying and selling of archery equipment.
2. Direct selling and local archery shops
Besides opting for online marketplaces, you can also do direct selling or contact an offline dealer. Before the boom of online platforms and social media, archers and hunters used to sell and buy used bows with the help of dealers or doing in-person deals.
The archery equipment market started with in-person contact of selling and buying and trade-ins. For instance, people visit local archery shops for trade-in services, allowing them to buy used bows at a fraction of the new bost model's price.
When buying used archery equipment, people used to approach and widen their connections and consult friends and colleagues. Although it is a proven excellent method, the hassle and stress are more significant.
Also, you may need to spend money on travel expenses to meet the buyer or seller.
Aside from choosing whether to check the online marketplaces or do direct selling, you also need to take note and consider a few things before buying archery equipment, mainly used bows:
a. Conduct thorough research about the following areas: reviews, prices, manufacturers, and available replacement parts.
It would be best to know first if the prices are a great deal by comparing the amount of the used archery equipment to the newer one. If the price is too high, you might be paying more than is necessary and of value.
Several manufacturers cater to the archery equipment market, and if you have a specific manufacturer in mind, consider it when buying.
Some archery equipment manufacturers have proven high-quality standard, while some promises lower prices with standard quality.
Also, it would be an excellent practice to check reviews available to know other people's perspectives about the archery item. It can help you gain a better view and make a better decision based on the comments as you read the reviews.
Sadly, there are archery item models and ancient bows with unavailable replacement parts. As a result, when it gets damaged, you will have difficulty fixing it due to the market's lack of available replacement parts.
b. Know your draw length, draw weight, bow hand, and dominant eye.
Whether you want to purchase a new or old bow, knowing your parameters is essential so you'll be able to shoot comfortably.
If you are new to the archery world, ask for help from trusted archers or bow technicians to measure your draw length and weight. Please note that bows have different draw weights and draw lengths.
The right bow should fit your draw weight and draw length so you can shoot comfortably and accurately. On the other hand, the wrong bow causes muscle fatigue and contributes to inaccurate shots.
Lastly, determine if you are left or right-handed since not all bows are ambidextrous.
Facebook's general terms and policies aren't archery equipment market-friendly. Fortunately, there are ways you can keep your post from getting flagged down, or you can also sell or buy archery equipment on other online platforms or through direct selling.
Where to Sell My Compound Bow?
Modern bows are for efficiency and power in archery. But at some point, you will have to upgrade your bow. Or need a replacement for your used bows.
You can sell your compound bow on online platforms and archery forums such as but not limited to Facebook, Shopify, eBay, Archery Talk, or Craigslist. You can also sell your compound bow thru direct selling or local archery shops that offer trade-in services.
Indeed, there are numerous ways you can sell your compound bow, and online platforms offer the most convenient option because they reach across the globe over millions of users who can be your potential buyers.
If you are hesitant about Facebook's general terms and conditions, Sell My Bow and Shopify are excellent platforms to use since they are more archery equipment market-friendly.
If you prefer to attract a larger audience, use eBay and Craigslist since they are both popular selling platforms reaching over a billion users.
Although these online platforms are handy and easier to use, you must be mindful of shipping costs; the farther the location, the higher the price.
Potential buyers provide their bids on your bows. You might get more than what you asked if the demand is high.
On the other hand, you can also join an archery forum community online like Archery Talk and Archery Addix. Both are excellent and well-known archery forum websites where archery lovers and hunter enthusiasts gather to discuss, buy, and sell archery equipment.
For instance, Archery Talk boasts more than 35 million postings with over 130 thousand active users globally. The archery forum website also has an extensive classifieds section where you can advertise and sell any archery equipment.
Additionally, although the reach of archery forums is smaller than other massive online selling platforms like eBay, the potential customers here have a more in-depth understanding of archery, which can give you a fair deal.
If you already belong to an archery community, you can start posting in your group immediately or send a private message to your fellow archers.
Aside from online marketplaces and archery forum websites, you can also visit local archery shops. Choose a store that has a good reputation and reasonable pricing. You can sell your bows there.
Some archery stores accept trade-ins too. When trading in, you can use your old bow to reduce the price of your replacement. Packaging and transport costs won't be an issue.
You have to find a shop that gives you a fair price too. Shops prefer buying your bow at a lower price. So consider the worth of your bow and the strategy to sell it.
You may also opt to sell your archery equipment through a yard sale. You can get rid of the belongings you no longer need. You can team up with a family member or neighbor to help you.
Before you choose which options are best for you, consider the fees and speed of the sale. You know you made the right decision if it suits your preference and context.
Selling archery equipment is more straightforward than before. Your bow and arrow are still valuable. So look at the best option that fits your standard.
Finding the best platform to sell your archery equipment is a challenging task. But consider convenience on your part.
Be sure to weigh out the advantages and disadvantages of each platform. Be bold and bargain with store owners and buyers too.
Even old bow models still have value, and the average price for used compound bows is about $200 to $400. However, determining your compound bow's cost can be challenging since both overpriced and lowball-priced old bows can likely discourage buyers.
If you're trying to sell your compound bow or any archery equipment, there are a few relevant factors you need to know:
Bow condition

The bow's condition has the most significant impact on the bow's value. A bow in good condition has more worth than a worn-out one; thus, it sells faster.

If your bow has minor problems, consider fixing it before selling it to increase its value.

Bow age

The age of the bow has an impact on its value. A used bow may seem uninteresting to some. But for others, they are helpful for beginner archers. Even experienced archers use it for practice too.

Added features

If you did customization on your bow over the years, consider if you prefer to keep them to yourself or include it as the bow's added feature.

For instance, newly installed pulleys or peep sights can add value to your compound bow if you plan to include them in the package, which justifies why you need to increase the price.

Selling fees

Sadly, there are online platforms that charge extra selling fees, like OfferUp and Remoov. Although they are both archery equipment-friendly platforms compared to Facebook, they might incur additional selling fees that you need to cover.

It can be in the form of promotion fees or other marketing-related costs. Therefore, you need to be wary of which platforms or marketplaces you opt to sell your compound bow.

Transportation and packaging

Transportation and packaging come in as another impact too. Shipping costs get pricier the farther the distance, especially if the buyer lives across the globe. If the distance between you and the buyer is quite far, extra costs may incur.

Selling your compound bow can be difficult, especially if you are new to the buy-and-sell system. Nevertheless, to get your compound bow sold fast, try posting it on different online marketplaces and visiting local archery shops.

By widening your reach, you can find the one that will offer you a great deal and profit.
How Do You Ship Your Bow and Arrow?
Archery is either a hobby or a business. You will send bows and arrows to customers and buyers at some point. Hence, choosing a courier with affordable and quality rates
would be best.
Here's a handy guide on how to pack archery equipment:
Prepare to pack your bow and arrow. Use lots of bubble wrap and adhesive tape. You can also use cardboard or newspaper to cover the bow and place these inside the original case.
Separate archery equipment supplies and put them in a kit. Then, you can ship them together with the archery case. You can also opt to put these in a cardboard box.
Take note that you need to pack archery arrows in a separate case to avoid damage during transportation. In addition, consider putting styrofoam outside the case for extra cushioning. Then, ensure that you close the box and seal it with adhesive tape.
Determine the ideal shipment size and weight for optimal transportation. Remember that the item's size also determines the cost and package type.
Ask the courier about the estimated delivery time, keep a tracking number, and inform the receiver. Remember to track the progress now and then.
Wrap the box. Make sure that no strings or cable rods are slipping out. For packaging, you can buy bow boxes at local shops.
For payments, negotiate on what payment method to use with the buyer. Also, discuss other payment methods that are convenient either way. Remember to ask for the receiver's details, like the full name and address.
Selling your bow and arrow might be a challenge. But you don't have to be afraid to negotiate. Talking with a buyer helps the sales process faster.
When choosing a trusted courier, consider the cost. You can inquire online or through an online booking tool. Couriers can also generate instant quotes on their websites.
Otherwise, you can send a request if you want to ship non-standard items like your bow and arrow.