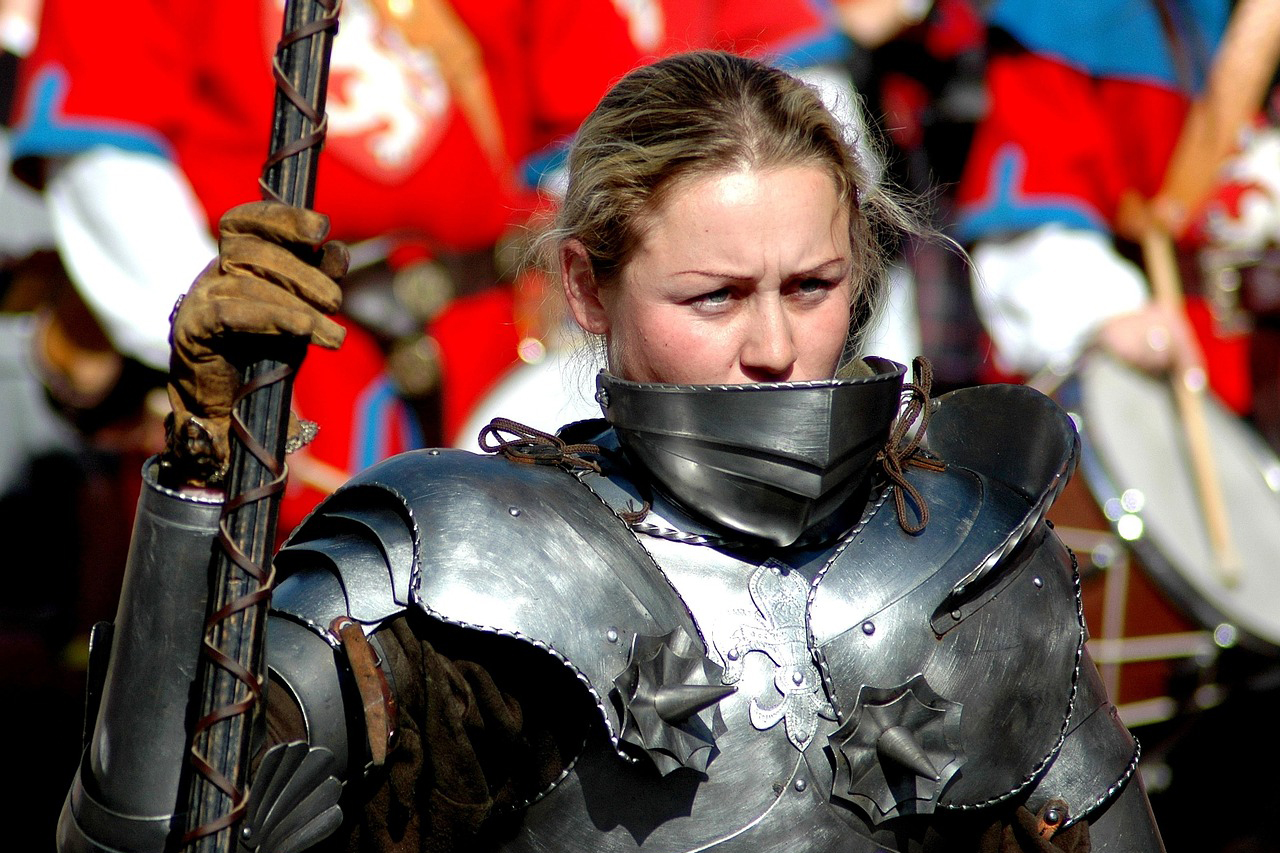 A longbow can pierce plate armor, but it depends on several factors, such as the strength and skill of the archer, the quality of the longbow, and the type of plate armor.
Strength of the archer
A robust and skilled archer who knows how to utilize a longbow's force properly can pierce plate armor. However, a weak or unskilled archer may not have enough power behind their shot to penetrate the armor.
The strength of an archer plays a significant role in determining how effectively a longbow can penetrate plate armor. A stronger archer can draw the bow to its full potential, thereby increasing the force and velocity of the arrow upon impact.
However, it is essential to note that other factors are also at play. The materials and construction of the longbow are one of them. The type and thickness of the armor can also affect the effectiveness of the piercing.
Ultimately, combining these elements determines the success of piercing plate armor with a longbow. So, having a strong and skilled archer certainly gives an advantage in this scenario.
To maximize their effectiveness in piercing armor, archers should not only focus on improving their strength but also on honing their technique and choosing the appropriate equipment for the task at hand.
Quality of the longbow
The quality of a longbow can have a significant impact on its ability to penetrate plate armor. A well-crafted bow made from solid wood and expertly strung will have more power and accuracy, increasing the likelihood of piercing armor.
On the other hand, a poorly constructed bow with weak wood or improperly strung could break or misfire, decreasing its effectiveness against armor.
It is also crucial that the archer's skill plays a role in piercing armor with a longbow. A highly skilled and experienced archer can hit minor, more vulnerable spots on the armor, such as joints or seams, increasing the chance of penetration.
An inexperienced or unskilled archer may struggle to hit these spots and may not have the strength or accuracy to penetrate the armor.
Overall, a high-quality longbow combined with a skilled archer dramatically increases the likelihood of piercing plate armor.
Type of plate armor
The type of plate armor worn by medieval soldiers can significantly affect their vulnerability to penetration from a longbow arrow. Its thickness and composition, the way they are riveted or interlocked, all play a role in determining the level of protection provided.
Thicker plates offer more resistance to piercing, but they also add weight and limit the wearer's mobility. Additionally, armor plates composed of more complex materials, such as steel, are less likely to be penetrated than those made from a softer metal like iron.
How the plates are connected also impacts their vulnerability to piercing. Solidly riveted armor provides more protection than loose overlaps, as arrows can slip through the gaps in the latter.
A well-designed and constructed suit of plate armor made from thick, hard materials and securely riveted will offer the best protection against longbow piercing. However, no armor can guarantee complete immunity, as skilled archers may still find weak spots or penetrate with enough force.
Can a longbow pierce chainmail?
In general, a well-aimed shot from a skilled archer using a strong longbow can penetrate thinner or lower-quality chainmail at closer ranges.
Chainmail is the armor of small metal rings linked together to form a protective layer. While a longbow can undoubtedly penetrate chainmail, it ultimately depends on several factors.
The strength and skill of the archer
The quality and thickness of the chainmail
The distance between the archer and the target
However, thicker or higher quality chainmail may withstand the force of a longbow shot even at shorter distances. Ultimately, it is essential to remember that the longbow was not the preferred weapon for penetrating armor during medieval times.
Weapons such as crossbows and guns were more effective at piercing through armor, while you can use the longbow for its speed and accuracy in hitting targets from a distance.
Did archers wear plate armor?
Archers wore armor during the old days, and they called it brigandine. It comprises small steel plates sewn into a fabric or leather garment. However, this type of armor did not offer much protection, and archers mainly used it for foot soldiers and archers who needed flexibility in their movements.
As the Middle Ages progressed, plate armor became more common and effective for knights on horseback. Archers were often considered lesser warriors and did not have the means or need for such heavy armor.
Types of Armor in Medieval Times
Mail Armor or Chainmail

Chainmail, also known as mail or chain mail, is armor made up of interlocking metal rings. It was common in medieval Europe and became the standard form of armor for knights during this period.

The use of chainmail dates back to at least the 5th century, with its origins likely stemming from Eastern European cultures such as the Persians and Celts. It was adequate protection against swords and other weapons, though archers often wore it in conjunction with a layer of plate armor for added defense.

Despite the advancement of firearms in warfare, chainmail continued to use them until the 17th century. Today, you can see it primarily in reenactments and role-playing games.

Plate Armor

Plate armor is personal body armor made of individual metal plates fastened together. It was commonly used in Europe during the Middle Ages and Renaissance, with its peak popularity between the 15th and 17th centuries.

The plates were either steel or iron, but they could also craft from other metals, such as bronze or titanium. They are shaped to fit specific body parts, such as the chest, shoulders, back, arms, and legs.

Plate armor offered better protection than earlier forms of body armor like mail or leather. It could defend against weapons such as swords and arrows but was not effective against firearms. The use of plate armor gradually declined with the invention and widespread adoption of guns in warfare.

Today, you can see plate armor for historical reenactments and theatrical performances. It is also occasionally used by law enforcement or security members who may require additional protection in high-risk situations.

Gambeson

A gambeson is thick padding worn under armor to provide protection and cushioning. It typically consists of layers of fabric or wool and sometimes even metal rings. The knights and other warriors used gambesons during the Middle Ages.

While not as effective as plate armor in protecting against weapons, gambesons helped absorb the impact of blows and reduce injuries. They also provided a layer of warmth, making them useful in colder climates or during winter battles.

Those of high status or wealth did not just wear gambesons; they were for lower-ranking soldiers and even peasants who could not afford more expensive armor. It played an important role in medieval warfare and the development of armor technology.
How effective were archers in medieval times?
You could probably shoot around ten arrows in one minute if you are a trained archer. However, a skilled medieval archer could potentially shoot up to 20 or even 30 archery arrows in the same amount of time.
In battle, archers were crucial for taking out enemy soldiers from a distance before the two armies met on the battlefield. They would often be placed on the sides or behind the main force, raining arrows on their opponents.
In sieges, archers were also crucial as they could shoot over the walls and into the enemy's stronghold. It allowed for a defense breach, making it easier for soldiers to break through and storm the castle or city.
Overall, medieval archers were highly influential in battles and sieges, helping weaken enemy forces and create openings for a successful assault.
However, they were also vulnerable when not protected by their army or if the opposing army had skilled archers. In these cases, it was important for archers to have cover and support from fellow soldiers.
Can leather armor stop an arrow?
A leader armor can certainly stop an arrow from piercing through, but it depends on the type and quality of the leather. Thick, high-quality leather will offer more protection than thin or low-quality leather.
Leather armor is protective clothing made from the processed skins of animals. Humans have used it for centuries, dating back to ancient civilizations such as the Greeks and Romans. Unlike metal armor, leather is more flexible and allows for greater mobility in battle.
There are three main types of leather armor: Studded Leather Armor, Female Leather Armor, and Leather Greaves.
Types of Leather Armor
Studded Leather Armor

Studded Leather Armor is leather reinforced with metal studs, offering more protection and durability. The warriors commonly used this type of armor during medieval times.

Female Leather Armor

Female Leather Armor is explicitly designed for women, with a more tailored fit and often incorporating decorative elements such as embroidery or embellishments. It can also be lighter in weight compared to other types of leather armor.

Leather Greaves

Leather Greaves are protective gear for the legs, made from leather and often worn in conjunction with other types of armor. They can also include metal reinforcements for added protection.

Overall, leather armor offers a balance of protection and flexibility, making it a popular choice among historical warriors and modern-day reenactors.

However, you should note that leather armor does have its limitations in terms of protection compared to other materials such as metal or chain mail. It's essential to consider the level of security needed for the activity or event before choosing the appropriate type of armor.
Can an arrow penetrate plate armor?
An arrow can penetrate plate armor depending on the arrow's type and size, the armor's quality and thickness, and the armor's strike angle.
Historically, knights and other heavily-armored soldiers used plate armor during the Middle Ages and Renaissance periods. The steel or iron was carefully shaped to fit the body and overlapped to provide additional protection.
Types of arrows that penetrate the armor
Broadhead arrow
The arrow that usually penetrates a plate armor is a broadhead arrow with a broad and sharp head designed for maximum penetration. A smaller archery arrow, like a bodkin arrow with a thin and pointed tip, may not have enough force to penetrate the armor.
High-velocity arrow
An arrow shot from a mighty longbow or crossbow at high velocity can penetrate plate armor. A slower, weaker shot may not have enough force to break through the metal plates.
Armor quality and thickness
The quality and thickness of an arrow can affect its ability to penetrate plate armor. Higher-quality arrows, made with more substantial materials, will have a better chance of penetrating armor than lower-quality arrows.
It is best to use high-quality, thick arrows for maximum penetration potential. Additionally, thicker archery arrows may have a better chance of piercing armor, as they have more mass and force behind them when shot.
However, it is essential to note that other factors, such as the strength and accuracy of the shooter, can also play a role in an arrow's effectiveness against armor.
Angle of impact
The angle of impact can affect how an arrow penetrates plate armor. When an arrow strikes at a perpendicular angle, it has the best chance of penetrating the armor. However, if the angle is more oblique or glancing, the armor's surface area acts as a deflector and disperses the impact force.
It can result in less penetration or cause the arrow to bounce off the armor. Experiments have shown that even slight variations in angle can significantly affect penetration ability.
So, while the angle is not the only factor in successful armor penetration, it should be considered and accounted for by skilled archers. A well-aimed shot at the right angle gives the best chance for penetration and a successful attack.
If you are looking for a bow for your next archery practice, you may check this list of +500 longbows.