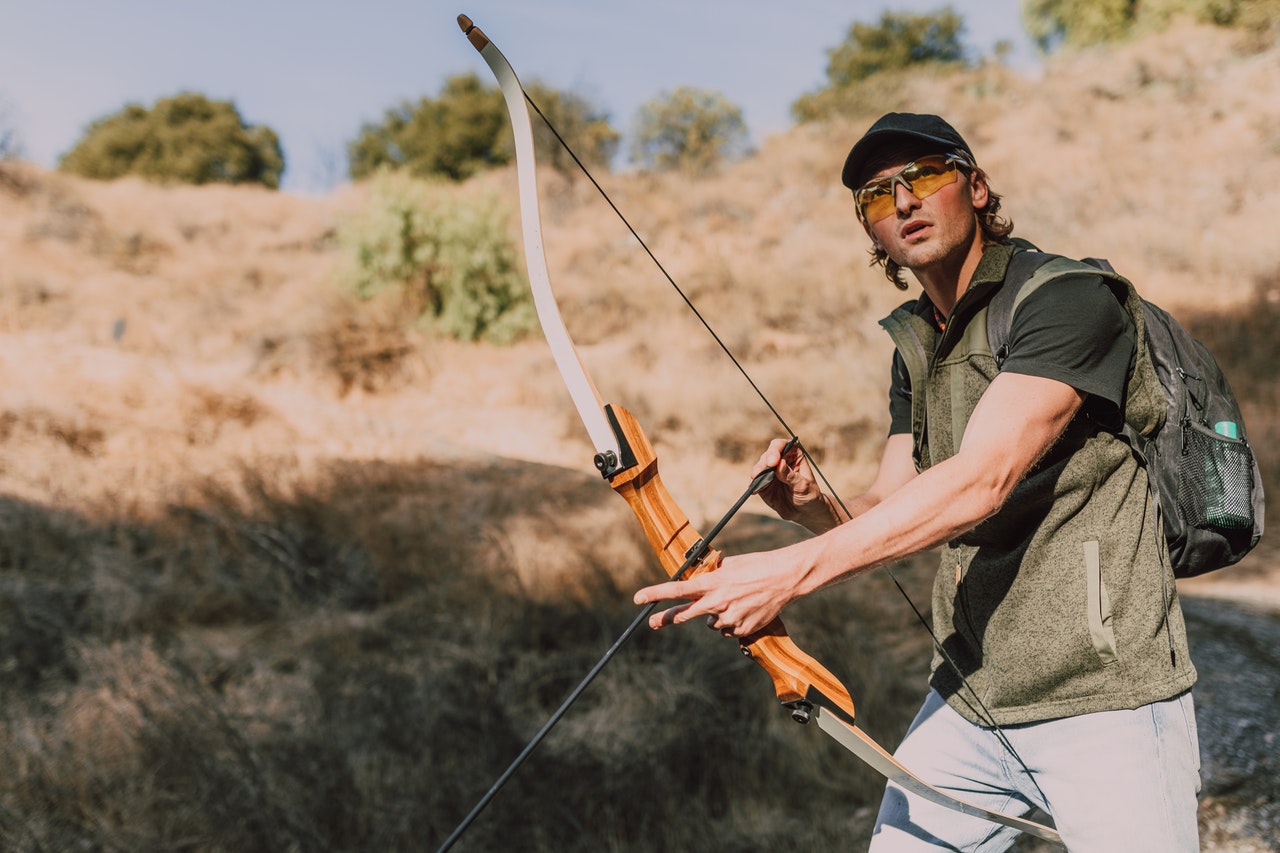 When you dry-fire a bow, it means you are shooting it without an arrow on the bowstring. However, dry-firing is dangerous to you and your equipment.
When you dry-fire your recurve bow, it absorbs all the energy instead of the arrows doing the work. The energy release fires back to the bow and into your arm, causing bow damage and injuries.
Mechanics of shooting a bow
You use your muscles to draw the bowstring to fire an arrow, and the force on the limbs depends on the draw weight.
As you release the bowstring, the limbs spring back to their place, changing the stored power to kinetic energy to launch the arrow.
When done correctly, you hear a mild snap as you release the bowstring. You will also feel a slight vibration on your bow hand as you watch your arrow hit.
With the kinetic energy transferred to the arrow, the bow can return to its position with minimal recoil.
You can find some of the coolest bowstrings on Amazon.
What if you shoot a bow without an arrow?
The released energy bounces back to the bow, and they aren't designed to talk that brutal force. The bow parts take all the damage, like loosen screws, broken limbs, and snapped bowstrings.
A fired arrow absorbs about 75% of the released energy. By dry-firing your recurve, it takes all of that energy. Even if you get lucky with your bow surviving the dry fire, chances of microfractures are still possible.
Without an arrow, the excess energy lets the bow shake unnaturally, which weakens the structure of your bow.
Never forget your arrows and buy the best ones available.
Your bow can explode after a dry fire
Consider yourself lucky if the only damage after a dry fire is a loose string. However, any bow could explode if a dry fire happens. Wood or plastic parts may fly through the air. Worse, metal pieces can become shrapnel.
How much damage does it cause?
According to Hooke's law, the more you deform the limbs by drawing them back, the more potential energy it creates. But every bow has a limit to withstand a draw weight before it breaks.
Manufacturers designed recurve bows to generate fast arrow speeds and shoot them with a flatter trajectory. Imagine shooting your bow without arrows – it can be scary.
Compound bows have higher chances of damage if dry-fired due to the power they can generate, but your recurve is no exemption to it.
Your bowstring can snap, and limbs can break off. It can even hurt people nearby. Worst-case scenario, broken parts can fly off and injure the eyes or arms.
Broken bows caused by dry firing means you have to spend money to buy new replacement parts or pay repair fees to your archery shop. It excludes excluding the amount of money you spend to buy the bow itself.
You may even spend hundreds of dollars to get a new bow due to its severe structural damage.
Check out recurve bow risers on Amazon.
Can a bow survive a dry fire?
Your recurve bow can survive a dry fire, but you may need to check it for repairs. It can cause damage, which depends on how much energy it creates and the materials used in the bow to withstand the force.
Damage is not always constant with modern bows due to their innovation, unlike traditional recurves. High-end bows can endure hundreds of dry fires, but it will not mean you can dry fire them.
Dry fires can happen by accident, and you are likely to see beginner archers doing this by mistake. To the eyes of a novice beginner, it may mean nothing. But from the perspective of an expert, it's a big mistake.
Another instance is that dry fire can happen due to the arrow not being nocked properly.
Can you tell if a bow has been dry-fired?
Check your recurve bow for any splinters and cracks. Pay attention to any deformities on the limbs and worn-out areas on the bowstring. If it seems there's nothing damaged, shoot the bow with an arrow and check for odd noises and vibrations.
Inspect your recurve if it has any of the following:
Delaminated limbs, especially at the tips of the curve.
Cracks on the riser. Microfractures are possible.
Frayed string loops
Damaged string nocks or slots.
There is no room for complacency even if the damage is not apparent on your bow. You still have to check it if you dry-fired it.
Here are a couple of tips for you:
Check yourself first and others
If a dry fire happens, prioritize yourself first and others by checking on any injuries or signaling pain.
Dry fire can startle you, so take a deep breath to calm yourself. Also, get a friend or any fellow archer to check your eyes or splinters from the bow. Shock can produce adrenaline, which blocks the initial pain signals of the body.
Do methodical bow inspection
Do a visual inspection, and be particular on the limbs for possible cracks and splinters.
Try the cotton ball method
Inspecting for cracks can be a challenge, but the dry cotton ball method can do the trick. This method is great for your recurve bows, which manufacturers produce out of wood or fiberglass.
Get a dry cotton ball and rub it gently on the limbs and riser. If there is a small crack on the bow, it will catch the fibers of the cotton ball.
When in doubt, take it to a pro shop
If there is nothing unusual but gives you an uncomfortable gut feeling, have a bow expert check it for professional testing and inspection. They take it further to make sure there is a safe operation.
They can disassemble bows and strings and check for any misalignment. They will also recommend the best replacement parts for your bow.
Test your repaired bow
Once your bow is fixed either by you or a professional, proceed with caution. Wear protective gear, like an arm or chest guard, and clothing. Test your bow again by firing it with an arrow.
There are a bunch of protective accessories you can find online or at any archery store:
Armguards are made of synthetic material or leather to protect you from string burns or bruises on your arm.
Chest guards are made of flexible plastic or leather to hold your clothes intact and protect your chest from string burns.
Gloves or finger tabs are also made of leather and made for the drawing hand to protect it against blisters.
Thumb rings are made of leather, plastic, or wood, and they protect your thumb while the bowstring rests over the inner pad of your thumb.
You can find archery accessories that help protect you here.
Listen for any funny sounds or creaks. Never use your bow if you see or hear something out of the ordinary. Go back to the pro shop and tell them any bow issues.
Observe the performance of the bow over time. If a bow becomes less accurate or loses power, it indicates there is something wrong with it.
What if your bow breaks?
If your bow is too damaged, never try to put it together or replace broken parts from other bows. You never want to cause further damage around you.
You need a well-conditioned recurve for your next competition or hunt, and you can never risk anything.
Check Amazon to find the best quality bowstring for your recurve.
Safety Tips: Dry Fires
While dry fires happen under certain circumstances, you can avoid or prevent them from happening again.
Here are a couple of tips to keep in mind whether you are a novice or advanced archer:
As a beginner archer, learn about basic archery safety, especially dry-firing. You will get an idea of the hazards if they fire a bow without arrows.

Learn from the advice of experienced archers on proper technique to nock an arrow and release it.

Choose an arrow that is not too light for your bow because it can result in dry-fire-like results.
Using too-light arrows transfers the kinetic energy back to the bow, mimicking a dry fire. Check the measurement tables of your manufacturers regarding suitable arrow weights for your bow. You can also ask a pro shop about the minimum weight of an arrow that suits your bow too.
Check your arrows more often to make sure the nocks are not loose or damaged. They tend to break if they hit something hard.
Another risk is how people handle your bow. Some archers decline others to use their bow, and you can do the same. Try to explain the hazards of dry firing and the damage it causes to you, the bow, and others.
Manufacturers disclose that warranty will not cover damages caused by dry-firing. High-end brands, like Hoyt, don't include dry firing in their warranty.
Most dry fires are made by mistake, like an arrow not put in correctly or the string slips. But you can minimize errors by being mindful. After all, archery is about total awareness from yourself to the bow.
Responsible archery
If you are practicing archery with a youth or starting archer, watch them closely as they hold their bow and discuss with them the importance of not dry firing.
An untrained person has the instincts to get a bow and draw and release it without arrows. So make sure they never do that.
When you are not using your bow, store it in a hard case and put it in a safe room. Store your quiver in a separate sturdy box or a padded bag.
Dry-fire prevention is a must
Other dry-fire prevention practices you can do at home or the shooting range:
Check for any damages on arrows. Like bows, they need replacement too.
Stay alert when shooting your bow to avoid string slaps and other injuries.
Ask advice from expert archers or friends on proper shooting techniques.
When you are not target shooting, you can focus on cross-training, such as weight lifting.
Drawing your bow is essential in the archery sequence. Instead of dry firing, draw your bow in front of a mirror to check your overall form.
Although leaning back when drawing a bow is a natural reaction to a pulled bow, it is still a mistake. That will keep you from mastering proper balance. Avoid this to not get a muscle strain by practicing a good form.
Another exercise for recurves with a clicker is training on the last push of it. Nock an arrow and draw it to your anchor point. Pull it through the clicker as slow as possible and hold it for five seconds after you hear the click. After the click, release the string as usual. Do this exercise in two sets with ten reps each.
If you are a beginner, you can wear protective glasses to help you have more protection. Invest in a pair, which you can find here.
It's dangerous to use too light arrows
As mentioned, arrows that are too light have the same effect as a dry fire. Any arrow that lacks substance or weight can't absorb the powerful energy, so this leaves the bow absorbing all or most of it.
If you feel like your arrow is too light, never use it for your recurve. Look for a heavier alternative that suits the bow. Never use one that you can't lodge onto your bow. If it doesn't fire when shot, it will have a similar dry fire effect.
Dry firing is the biggest archery sin
Even experts experience dry fires by accident, but they're unlikely to execute more often or on purpose. Never shoot a recurve bow if you're unsure how to use it.
Dry firing, especially at an archery range, isn't pleasing to the eyes of other archers. There's a bigger chance that they will stare at you are even scold you for doing that. Archery is a discipline, and that means there are protocols to follow to prevent accidents.