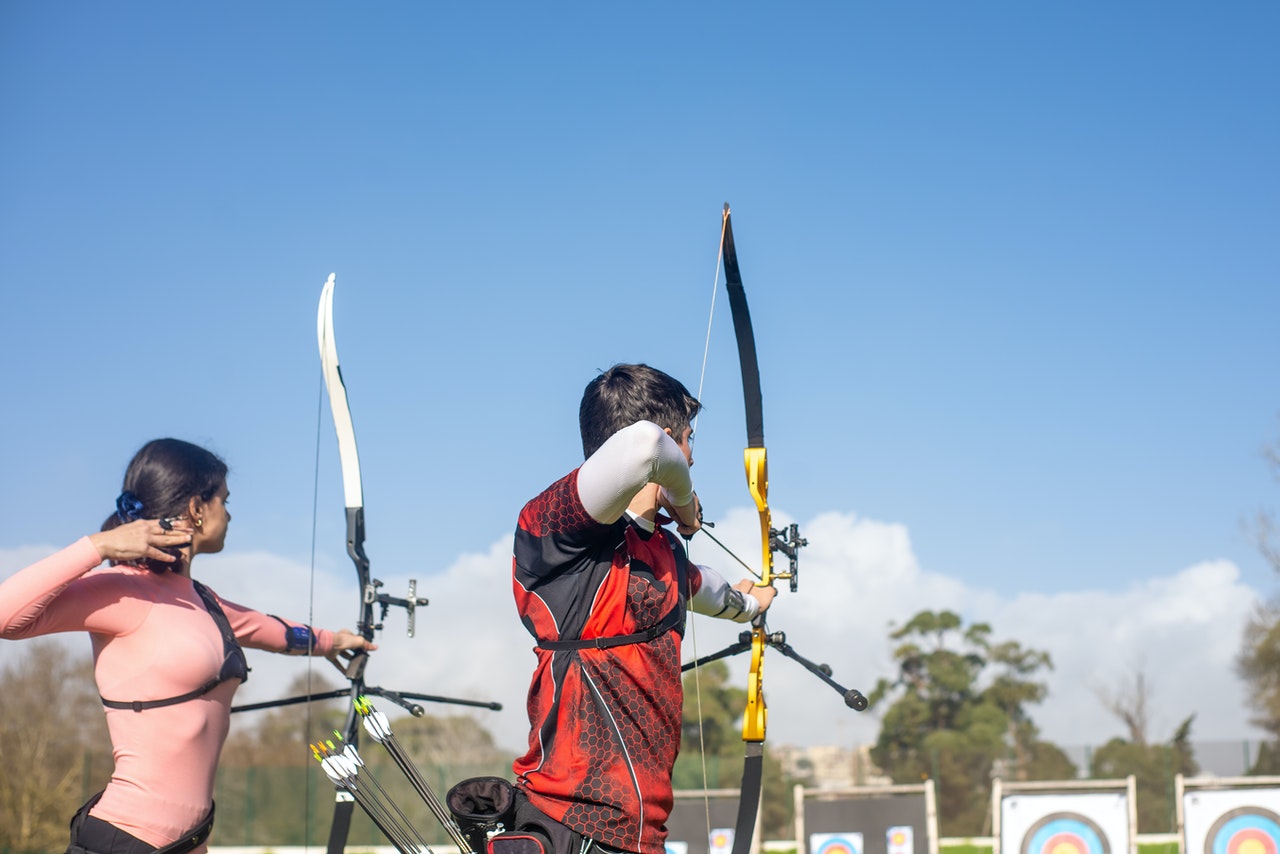 Archery provides you with tons of physical activities, like 3D archery, target archery, and bowhunting. What started as a survival skill in the early ages became a recreational sport for competition, leisure, and fitness.
Although it is a low-impact sport, archery is a great anaerobic exercise, which builds muscle strength and endurance.
An anaerobic exercise, like archery, breaks down glucose to use as energy without using oxygen. This type of exercise works you out in short bursts of time but with high intensity.
If you're considering joining archery or maintaining your archery form, here are ten reasons archery serves as an exercise:
Muscle Strength
Social Skills
Confidence
Hand-Eye Coordination
Patience
Flexibility
Concentration
Stress Relief
Injury Prevention
Calorie Burner
Muscle Strength

Like lifting weights, you activate big muscle groups by holding your draw for a couple of seconds. The repeated movement allows for muscle tension, which aids in muscle development. During archery, you challenge the muscles on your upper back, shoulders, core, arms, and hands.

Social Skills

Archery is both an individual and team sport. You shoot your arrow, but you also work together with other archers mastering the craft. You establish friendships with people from different backgrounds, and there's a chance that you'll compete in teams too.

Confidence

Archery gives a self-esteem boost, especially when you see yourself improving in practice and competitions. Therefore, it improves your mental well-being. You also have the chance to set and reach your goals and become better in the sport.

Hand-Eye Coordination

By aiming at the target, you develop your hand-eye coordination, which is the coordinated control to use your eye and hand. The sport helps you become better at coordination through repetition. Improved coordination means better muscle memory.

Patience

The act of shooting your bow isn't an easy task. You have to wait for the right time to release the bowstring, and you will learn to discipline yourself to maintain proper form with each shot. A missed shot can cause frustration. But as you learn to be patient, you will learn how to overcome those mistakes.

Flexibility

While you build strength on your muscles during archery, your range of motion and bone density also increases. That means you are reducing your risk of having muscular weakness and bone-related conditions like osteoporosis.

Concentration

It helps you boost your concentration skills. That is important because it aids you in focusing and staying calm during high-pressure situations. Also, it teaches you patience while you achieve calmness. Once you have mastered your focus, you will be able to ignore distractions around you.

Stress Relief

When you're in target practice or out on a bow hunt, it gives you a taste of fresh air. It helps you alleviate stress and puts you away from sitting at your desk all day. Archery teaches you to control your slow breathing, and it increases your productivity too.

Injury Prevention

Archery teaches you to practice the fundamentals of basic shooting and incorporate a training regimen to prevent injuries. Once you develop a regimen, you decrease your chance of injury as you use different muscle groups.

Calorie Burner

Archery pushes your body to rely on stored energy in the muscles. Olympians burn about 1,000 calories in competitions. But you can also burn more than 100 calories in half an hour in archery.

Experts revealed that even 10 minutes of archery is equal to burning calories when jogging and dancing. You can even walk as much as five miles a day in regular archery tournaments.
What muscles do you need for archery?
In archery, you dominantly use the upper body muscles, like your biceps, triceps, shoulder, back, and forearms muscles. But it requires you to exert full-body strength as you need your core and hip muscles to help you maximize your it too.
It needs you to work on your kinetic chain or the motion that creates a chain of events affecting the neighboring joints and muscles. Therefore, your kinetic chain is essential to achieve an effective archery form.
Shoulder muscles contain the deltoids and rotator cuff muscles. You have to develop this muscle group for stability to lift the bow, draw back the string, and keep the bow steady as you aim.

Back muscles have the Latissimus Doris, which focuses on your draw on the bowstring back and stabilize the bow.

Core muscles – This comprises the abdomen, lower back, hips, and pelvis. Having enough core strength allows you to have a quality posture to improve your overall accuracy and form.

Your legs and core help you stabilize together with grip strength around your forearm.
Although you won't buff up from shooting a bow, practicing archery consistently over time makes your muscles stronger.
What can you do to prevent injuries in archery?
Archery is one of the safest sports. But when done incorrectly, it can lead to injury or danger to your body.
The most common archery injuries occur in the upper body, but you can prevent these. Make sure you have enough muscle strength, proper training, and information on safety guidelines. Also, have adequate rest to reduce overfatigue on your body.
Here's a handy guide on how to prevent common injuries in archery:
String slaps occur when the release of the bow hits your lower arm. That can be painful and cause bruises, but you can prevent this by wearing an armguard to protect it.
Rotator cuff injuries happen when you draw your bow, which causes stress around this area. Choose a comfortable stance when using the proper drawing technique to avoid tension on the muscle group.
Tendonitis is an inflammation of the tendons. Some may experience the archer's elbow or tendonitis in the elbow due to excessive use or strain on it. If you can't have a proper form when drawing your bow, choose a lighter draw weight.
Other ways to prevent injuries
Like an armguard to prevent string slaps on the arm, you can use a chest guard to avoid string slaps on the chest area during shooting. If not, wear tight-fitting clothes to counter the string slap.
Take it easy and adjust the training intensity
Never overtrain because it is only a matter of time you will get muscle strains. Common strains occur in arms, wrists, hands, neck, and shoulders. Take regular breaks to give your body time to relax and recover.
Avoid hand cuts or punctures by handling your archery equipment properly. Arrows are sharp, so hold them with care. Invest in quivers to cover arrow points.
Bruising and blistering on the fingers happens when there's too much friction. That also happens when you hook the bowstring on the fingers too much. Prevent this by having the correct hand position or consider wearing archery gloves.
How can I get stronger at archery?
You need to build muscles for archery, but it doesn't demand heavy weightlifting (You can still choose to, but it is optional).
You can work on muscle conditioning on your back, shoulder, and core muscles – all of which are important in overall shot execution and stability.
You don't have to force your body right away if you're new to weight training. Start at your own pace as you progressively overload.
Here are four great strength and conditioning exercises for you to get in archery form:
Push-Ups
Single-Arm Dumbbell Row
Dumbbell Side Lateral Raise
Deadlift
Push-Ups
The push-up is a compound exercise that strengthens the muscles on your shoulders, chest, core, and arms – all of which are important for upper-body strength and mobility. You don't need any fancy equipment because you can perform push-ups on any level ground.
Begin by supporting your weight on your arms (shoulder-width apart and elbows bent at a 90-degree angle) and your toes. Then you pull and push your body down as you bend your elbows.
You can vary your push-ups if you want to emphasize other muscles – some variations include triangle/diamond (triceps), pike (shoulders), and spider-man (core) push-ups.
Single-Arm Dumbbell Row
This exercise challenges your Latissimus Doris muscles or lats in the middle of your back. Using the dumbbell improves pulling strength when you draw a bow. Your core and lower body help you stabilize this motion, which also supports you while shooting.
Place your arm on a bench and lean over. Keep your back parallel with the ground as much as possible. Then, grab a dumbbell, and hold it with your other arm extended. Maintain good posture as you pull the dumbbell up to your ribs and lower it until you fully extend your arm. Do this for 8-12 reps on 1-2 sets or more. Rest for 60 seconds after each set.
Dumbbell Side Lateral Raise
A dumbbell lateral raise strengthens your shoulder (deltoid or delt) muscles. Your delts support your bow arm and draw cycle.
You can use one dumbbell at a time. Or you can hold both dumbbells together or alternately raise and lower your arms.
Either way, use a stable standing position – back and head straight, feet at shoulder-width apart, slightly bent and relaxed knees, and eyes in front.
When you use one dumbbell, put your other hand on the hip.
Lift your arm (or both arms if you use two dumbbells) until it reaches a 90-degree angle. Take a pause and lower the arm in a slow and controlled motion, and repeat based on your desired amount of repetitions.
Deadlift
The deadlift is the go-to compound exercise for any athlete of all backgrounds. It activates your glutes, lower back, and hamstrings. This trains you to safely lift objects off the floor, which is essential for daily activities.
You can either use a dumbbell or barbell, whichever is more convenient.
When you learn archery, you will realize the importance of stability in your stance. A strong base is a foundation for accurate shooting.
Hold a barbell with a slight bend on your elbows. Make sure to have a good postural alignment in your back every time. Slowly bend your knees and lower the barbell to the floor. When the weight plate touches the floor, return to your starting position.
Never bounce the weights off the ground because you may break the plates doing so.
A healthier body means a better life
Strength training enhances your quality of life, which you can determine through injury prevention, proper bodily function, and weight management.
Consult your doctor or fitness coach about your regimen before jumping into the gym for your workout. Getting a good trainer is also essential because they'll teach you how to do each exercise correctly and help you reach expectations and results.
Never rush into strenuous resistance training because every archer has different abilities and limitations. Muscle soreness is normal, but muscle strains and injuries are not good. Prevent it through discipline and proper management.
If you focus on getting strong and healthy, you will have improved health overall. Aside from weight lifting, focus on enough recovery, nutrition, and hydration.
Can Archery Help You Lose Weight?
Archery isn't as highly intense as other sports. But it burns about 100-140 calories per half hour, depending on your body weight. It helps you get fitter if you combine it with an overall healthy lifestyle, such as proper nutrition and adequate resistance training.
It makes you more physically active if you have a sedentary lifestyle. Archery helps you achieve a better fitness level, but you have to do it regularly. From walking to retrieve arrows to shooting the bow, you can engage your body actively.
As you draw a bow, you hold your stance for some seconds – this causes a high level of tension called an isometric contraction. That has the same effect on bodybuilders holding and lifting weights for a specific time, which involves the use of energy too.
The average draw weight for male archers is 40-55 lbs (recurve bows) and 55-65 lbs (compound bows). Female archers can draw 25-35 lbs (recurves) and 30-40 lbs (compounds).
So if you can pull a 40-pound draw weight, it is like lifting 40 pounds of weight. Imagine doing that in 1-2 hours where you can shoot as many as a hundred arrows.
You can see results within weeks or months of practice, and you can start with 30-minute routines 4-5 times a week. A consistent archery regimen will result in weight loss, improved strength, and physical fitness.
Combine training with nutrition
Aside from the calories burned, archery training helps you become more fit by learning how your body works in nutrition and maintenance. You will know how to balance your meals and stay active after a busy day at work.