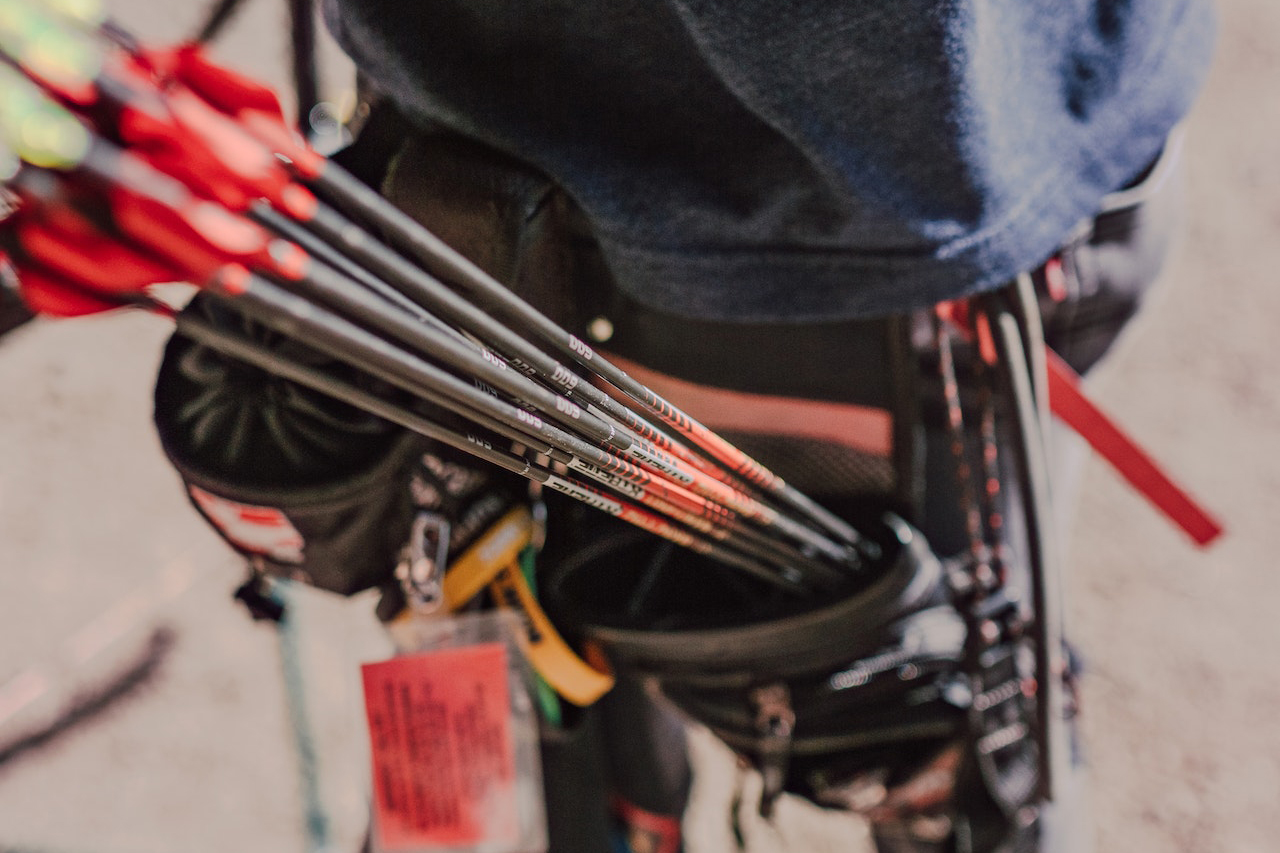 Fletching contributes to the accuracy of the shot. Using crossbow bolts without fletching is possible. However, it will not be as accurate as the fletches crossbow bolts.
The rule regarding fletching and crossbow bolts relies on length.
The longer shaft needs longer fletching. A shorter shaft needs shorter fletching.
Crossbow bolts these days have a set of fletching attached to them. But without these attachments, will the crossbow work?
The answer is yes. It will still work.
However, it is less accurate than the fletched ones. It is so bad that it is not recommended. It won't be good if you are new to shooting and archery.
You can shoot crossbow bolts without fletching only if you fine-tune the bolt. You must modify the crossbow bolt to accomplish this.
Outside these two reasons, you cannot use your crossbow bolt without fletching.
Your crossbow will spin through the air because of its lack of stabilization.
What are fletching?
Fletching look like little wings. You can find them at the back of your bolt, close to the nock.
Fletching have an essential purpose.
These little wings result in a more stabilized trajectory of the bolt mid-flight. Another reason for a fletching's existence is its help keeping the arrow focused in the proper direction. It also prevents the arrow from pitching from left to right.
Fletching, in conclusion, increase stability during an arrow's flight to its target. During its flight, the bolt spins around its axis. And this is your fletching doing.
Recently, we saw bolts with three fletching. These are usually made from a form of plastic.
Some refer to these as vanes.
The more traditional fletching are from bird feathers. These look like those you see in the movies.
However, these types are no longer used in crossbow bolts.
How important is fletching for an arrow?
You can shoot arrows without fletching. However, fletching for an arrow gives better performance in archery. Fletching aims to steer the arrow and guide it during its flight.
Those who use bows are very specific regarding the equipment they choose and use. And when it comes to using arrows, this is true.
You will notice that each bowhunter has specific fletching that he uses consistently.
Going back to the question, without fletching, is almost impossible.
Yes, you can shoot. However, you should only do this if you are still improving your form.
When an arrow flies through the air, the back part of the arrow follows the front end.
The fletching keep both the back and the front ends aligned. It is also there to correct the path of the arrow when necessary.
When you shoot an arrow without fletching, it should only be during tuning and form improvements. It would be best if you never shot an arrow for other reasons besides these.
The arrow accessories you choose and use should depend on your hunting style.
Fortunately for bowhunters, there are varying materials used for fletching. Fletching also come in different sizes and shapes.
When choosing fletching, go with the one that suits you best.
The Twist and Turn
One of the main factors determining whether the arrow's flight is practical is the degree of turn you apply.
It should be the degree of turn you apply (or don't) to the fletching when you glue them to the arrow shaft.
The slightest turn to the vanes will result in a spin during its flight.
The spin can lead to a straighter flight path. It is straighter because the rotating arrow is more steady.
Also, the rotation can reduce the slight imperfections in the arrow and bow form.
When you fletch an arrow with straight vanes, it results in a bit of spin.
Because of this, the arrow flies faster because there is less air resistance. Also, the arrow does not lose speed because of its spinning motion of the arrow.
The Three Fletching Turn Arrangements
In archery, there are three significant types of fletching turn arrangements.
These are the straight, offset, and helical turn arrangements.
We'll go over each one in-depth, along with the advantages and disadvantages.
Straight
The vane is straight with the arrow's shaft in this type of turn arrangement.
The significant advantage of this type is the speed by which the arrow flies.
This type results in the fastest flying arrow. It is because the type of turn arrangement does not create additional spins.
This turn arrangement is ideal if you are rooting for close-range targets.
The disadvantage, however, is because of the wind. The wind may have adverse effects on the arrow and its flight.
Offset
The vanes are straight on the arrow shaft in this type of turn arrangement. However, there is a slight turn from the front to the back of the fletching.
And it is for this reason that we call this the offset.
This type of turn arrangement is similar to bullet rotation due to the rifling of a gun barrel.
This type of turn arrangement is perfect for shooting broadheads.
The advantage is in the arrow's stability. This type of turn arrangement is also perfect for longer-range shots.
However, regarding disadvantages, the turn arrangement means more air resistance during the flight. There is also a loss in speed.
Helical
And finally, we have the helical method.
Helical is when the vanes fletch within a slight curve.
There is one significant advantage to this turn arrangement. And this advantage is because it allows maximum stability in your arrows.
The turn arrangement is also perfect for shooting broadheads. It brings maximum accuracy even over long distances. This effect is because of the arrow spin that is least affected by the wind during the flight.
Again, this method is similar to a bullet rotation.
The disadvantage, however, is the loss of arrow speed.
Can leaves be used as fletching?
Most of the time, we see varying fletching materials. The most common are feathers or bark. Aside from these two, another material uncommon to most people is leaves. You can use leaves as fletching.
As you already know, fletching is the fin-shaped, aerodynamic stabilization tool you attach to your arrow or spear. This device is also valuable for bolts and darts.
The most common fletching are those from semi-flexible and light materials. Most of the time, we see fletching made of bark or feathers.
The word has relations to the French word flèche. This word means "arrow."
Fletching are devices that become parts of an arrow or a bolt. Most of the time, the materials differ from the materials you use to make an arrow.
Feathers, leaves, or green or blue slime are the most common fletching materials. There are also times when slimy leaves serve as materials for making fletching.
Feathers
Most of the time, we see feathers used as fletching materials. And this is for a good reason.
Feathers come with a high accuracy rate.
Feathers are about 91% accurate. These materials have about a 5% chance of breaking.
Leaves
Leaves have an accuracy of about 71%.
These materials have a 0% break chance.
It is also durable.
Green or Blue Slime
Fletching can also be from slime.
These materials are about 96% accurate and have a 0.5% break chance.
Green or blue slime also comes with a durability multiplier of 0.8x.
Slime Leaves
Finally, we have the slime leaves.
Slime leaves are from silk-touched or shorn slimy leaves. These slimy leaves are from the floating slime islands' slime trees.
When you say "shorn," you use shears to remove the leaves from the tree.
Regarding accuracy, slime leaves come with a 94% rate. It has a 2% break chance and a durability multiplier of 1.4x.
You can expect this from the slime leaves if you are familiar with the Jagged effect.
The Jagged effect is when there is increased damage as the number of arrows or bolts go down.
Most of the time, these are the fletching used by many archers.
Can you fletch arrows with Super Glue?
Super Glue works when fletching arrows. However, cheaper Super Glue brands can irritate your eyes. Also, it can get brittle and ineffective once the fletching comes off.
When fletching, any Super Glue will work. But it is still recommended to use a high-quality Super Glue. However, one thing you can do is to make sure to work on your fletching in a well-ventilated area.
The vapors can irritate the eyes badly.
If the area does not have enough ventilation, use a fan to blow the fumes away from you.
The Disadvantage
There are a few disadvantages to using cheap Super Glue brands.
One of these is that you can only use it once. As soon as the fletching comes off, you can barely use it afterward.
If you glue them again, they will work less than they did the first time.
Out of the many brands in the market, Fletch-Tite Platinum is the ideal brand you can use for your Blazer vanes.
Superglue usually works. However, it can get brittle in time. And this is only after a short period. When it does get brittle, it will be ineffective.
It would be best if you remembered the trick to focus on proper shaft preparation. You can start by scrubbing the shaft with a green pad and wiping it with denatured alcohol.
And as the shaft dries, you can avoid touching the cleaned area.
Most of the time, this is preparing the shaft before attaching the fletching.
You can still do it if you insist on using any super glue. And the effect will be long-lasting.
It will only work well if you do not get the cheaper super glue brands.
Make sure that you buy a better quality super glue for your fletching. Loc-Tite is another brand that I can recommend. It is a gel-based glue that provides excellent results.
Most of the time, archers use this brand because of its availability in most stores. You can buy it almost anywhere.
And this should be useful, especially if you are in an area with no bow shops.
One thing that you have to remember, however, is that this brand sets fast. This characteristic can be an advantage to some. Most of the archers would find this helpful.
But if you want the super glue to take a little bit longer to set, go with the other brand I recommended earlier.
—-
You have to consider several factors when choosing a fletching setup. The setup that you choose should produce a higher accuracy rate. This result is better than focusing on speed.
In summary, you can shoot your crossbow bolts without any fletching. However, this can only happen in exceptional circumstances, such as tuning the bolt or arrow.