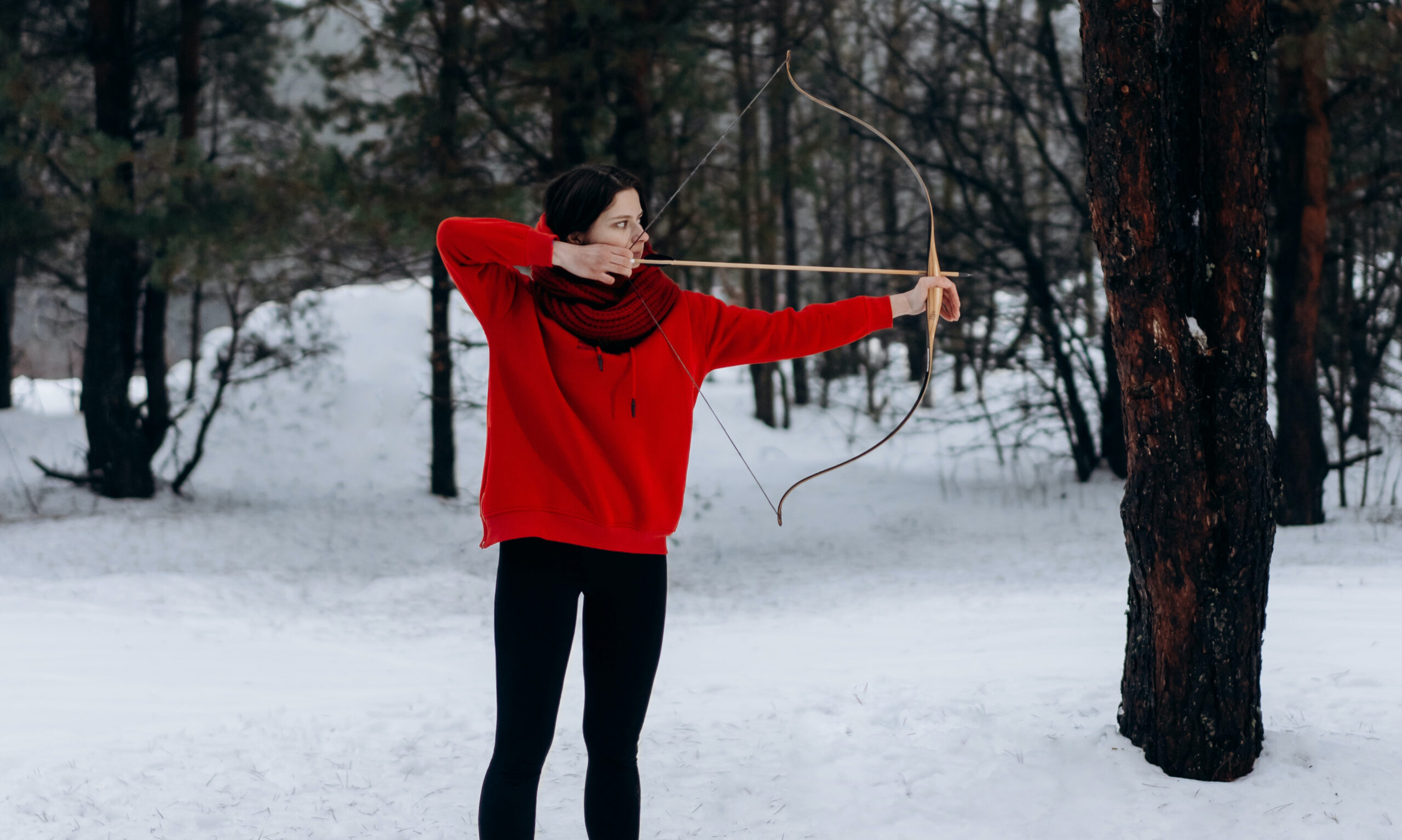 Arrows shot in cold weather often travel shorter distances and are less accurate than arrows shot in moderate or warm weather.
The reason behind it is that when you shoot an arrow in cold weather, the feathers at the end of it or the fletching becomes stiff and less effective at stabilizing its flight.
In addition, the metal shaft of the arrow can contract in cold weather, making it less aerodynamic.
There are several ways to prepare and compensate for the effects of cold weather on arrow flight.
Increase the weight of your arrows with inserts. This will help them retain their velocity and stability in cold weather.
Increase the stiffness of your arrows by using a heavier spine.
Increase the offset of your nocks. This will help keep your arrows aligned despite the contraction of your bow's cams.
Use a longer-length arrow rest and avoid using a plunger. This will make it easier for you to set up and adjust your release aid.
You can also test new arrows to determine which shafts work best under the weather conditions you typically encounter. Additionally, cold air is denser than warm air, so shooting from a high altitude will help keep your arrow stabilized.
In cold weather, it may be helpful to use a heavier-diameter sight window and string dampener to reduce the amount of vibration and oscillation between shots.
Does weather affect archery?
The weather can significantly affect an archery practice. Whether indoors or outdoors, factors such as humidity and rainfall can all affect how an archer performs.
Rainy
The arrows will be wet and easily slip out of the bow's grip if it is raining. This condition can cause you to miss the target completely. In addition, when the arrow is wet, it will become heavier and need more energy when released to match the speed as though it is dry.
The conditions of the ground can also affect how well you can shoot. For example, it will be harder to get a good footing if the ground is wet.
Humid
The bowstring will be more elastic in humid weather, and the bow itself will be more flexible. However, when the air is moist, there's a lot of moisture that will condense on the metal surfaces of your bow limbs and your arrowheads as you draw them.
This makes it difficult for those surfaces to slide smoothly against each other and throw off vibration and aim.
So, what can you do? You can't always avoid bad weather, but you can make adjustments to compensate for it.
Use a dryer sheet and rub the bow and arrow shafts to reduce moisture. This will improve the surface contact between the materials.
If it's raining, try using a wax coating on your arrows – this will help them slide through the air more efficiently.
There's no foolproof way to overcome the effects of bad weather on our accuracy. But with a bit of adjustment and some practice, you can still hit your target.
It is up to you to decide whether you allow the weather to affect your shooting. Some archers can shoot well in all types of weather, while others prefer to compete in fair weather conditions.
Whichever the case may be, archers need to prepare for all types of weather conditions.
How does wind affect archery?
High winds make it hard for you to shoot at the targets accurately because they cause the arrows to move about more erratically, making it harder for the archer to control them.
Wind can cause the arrow to veer off course, making it difficult to hit the target. In addition, it can also affect the trajectory of the arrow. This will cause it to fly differently than when shot in still air. This can make it difficult to judge how much power to put into the shot.
To shoot a consistent shot with your bow, you need to know the wind direction and velocity at the location where you will be shooting from. So, you must get yourself updated with the weather reports.
When shooting in the wind, you will need to adjust your aim based on the direction and speed of the wind. So, if the wind is blowing from the right, you will need to aim to the left of the target to hit it. That is why some archers prefer to have a wind meter in the area to know its direction and speed.
Shooting in the wind can be a challenge, but you can learn to compensate for its effects with practice. Knowing how wind affects archery allows you to shoot with greater accuracy and consistency.
Can you shoot a bow in winter?
You can still shoot a bow in winter, but there are a few things you need to consider to get your desired arrow flight when shooting.
The clothes you wear.

The clothes you wear in winter could limit your actions and the way you draw. Therefore, your dress should be in layers so that you can easily adjust as you warm-up or cool down.

Here is a few clothing that you can consider wearing to keep you warm but won't affect your form:
Mittens are better during cold weather than gloves because they keep your hands warmer and allow you to grip the bowstring more easily.
If you wear a hat to keep your head warm, make sure it doesn't interfere with the bowstring. You have to leave any part of your forehead exposed.
You can wear a thicker coat to stay warmer, but you want to avoid one that's too bulky because it could get caught on your string if you have to draw quickly.
One way to remain covered but still have the mobility needed for shooting is to wear a compression shirt underneath your other clothes. These types of shirts are usually tight-fitting, so they don't hinder your motion, but they also retain heat rather well by trapping hot air close to your body.
Make sure your grip is firm and steady when you draw the string. You don't want to have any extra movement from shivering or shaking hands so that your arrow will land where it's supposed to every time. If you're using a glove instead of mittens, make sure you tuck the thumb in so it doesn't interfere with your grip.
Be extra careful when loading your arrows into the bow. In cold weather, the glue that holds the feathers to the archery arrow can become brittle, and it can quickly fall apart. You'll also want to make sure the fletching is adequately lubricated so that it doesn't freeze to the arrow.
Make sure to take your time and be patient. You don't want to rush through your shots and end up with a poorly aimed arrow. Have a break if you start to feel too cold or your fingers stiffen up. You can always come back when it's warmer outside.
Pro Tips to Shoot when you're in the cold
Staying indoors is always an option if you need to let off steam or want some practice before the next hunting season, but don't let the cold keep you from enjoying one of your favorite sports.
To ensure you're comfortable while shooting in the winter weather, you need to prepare and take the necessary precautions.
Before you head out
The cold makes the bow harder to pull back. So, make sure to check your bow to make sure it is prepared for cold weather. One way to do this is to use a lighter.
If the bowstring is wet, it will ignite. On the other hand, if the string doesn't light up, you are good as it indicates that you adequately waxed it.
When practicing in the field in a cold weather
Another thing to watch out for is shaking. If you're cold, your hands and arms can shake. Make sure to hold the bow correctly to keep the shaking under control.
Practicing beforehand would be a massive help for you to be familiar with the correct archery form you need to apply.
Wear multiple layers of clothing to keep yourself warm. This is not only practical for shooting, but it will also help trap heat and prevent frostbite. Just make sure that you're wearing enough layers to keep you warm and then still be able to move freely.
Make sure the string is covered if you're using a release aid. A release aid is a device that attaches to the bowstring and holds it back until you're ready to shoot. If the string isn't covered, it will freeze and become brittle.
When you are shooting
Avoid breathing on your bowstring. Exhaling will warm the air and cause your string to freeze.
Be extra careful when you're shooting near trees. The snow on the trees can obscure your vision and cause you to misjudge distances.
Always be aware of your surroundings and what is behind your target. You don't want to hit something that you didn't intend to. If you have a backstop, make sure it's large enough and can withstand the force of your arrows.
If you're shooting in a group, make sure the targets are far enough away from each other so that if an arrow misses, it doesn't interfere with another archers' target.
When you get home
Once you get from shooting in the winter, make sure you unstring your bow to prevent it from getting too brittle.
You also have to clear off any ice or snow in the bow or arrowheads to prevent it from locking up or making it difficult to pull back. But, again, it's much better to spend some time cleaning off your bow instead of rushing through it, only for the bow to become permanently damaged.
Can you store a bow in the cold?
You can store a bow during cold weather, but you have to make sure you put it in a dry location at room temperature. Ensure that no water can drip on your bow and that there is adequate ventilation.
If you live in a cold climate where temperatures drop below zero for an extended period, storing your bow indoors is generally the safest option. However, make sure that you take it out of its case and let it adjust to room temperature before using it again.
If you expose your bow to cold weather, make sure that you wipe it down with a clean cloth afterward. Wipe off excess moisture for wooden bows and gently apply or coat it with wax. But for metal bows, use a metal polish to remove any rust or prevent rust from developing.
If you are storing your bow in a cold environment for an extended period, make sure to purchase a temperature regulator. This action will help protect your archery bow from abnormal changes in temperatures.
Before storing your bow in cold weather, be sure that it is thoroughly wiped and dried. If there are any moisture spots on the metal parts of your bow, they will form rust if you put them away during colder months.
However, if you have a wooden bow, keep it out of its case until the humidity stabilizes at room temperature. This will help protect it from moisture damage.
Best way to store a bow
The best way to store a bow in the cold is by using a bow case. A bow case will protect it from the cold weather. It is also a way to keep it out of the way, so you don't trip over it while walking around.
If a bow case is not possible, you can store the bow in a closet or other enclosed space. Just make sure that it is in a place with no moisture or no possibility of exposing it to water or steam.
If you cannot store the bow in a case or inside, you can wrap it in a blanket or piece of cloth to help insulate it from the cold and prevent any damage. Make sure to encase the string of the bow in fabric as well so that it does not get damaged from frost or cold weather.
Whether you store your bow inside, inside a case, or wrapped up in cloth, remember not to expose your archery bow and other equipment to snow. Snow will cause your string to rust over time.
If you store your bow in a case, make sure to take it out and let it air out a few times during the winter so that the moisture does not build up inside.
To help stabilize the humidity in the room, you can use a high-quality dehumidifier and place it in the area where you store your bows.