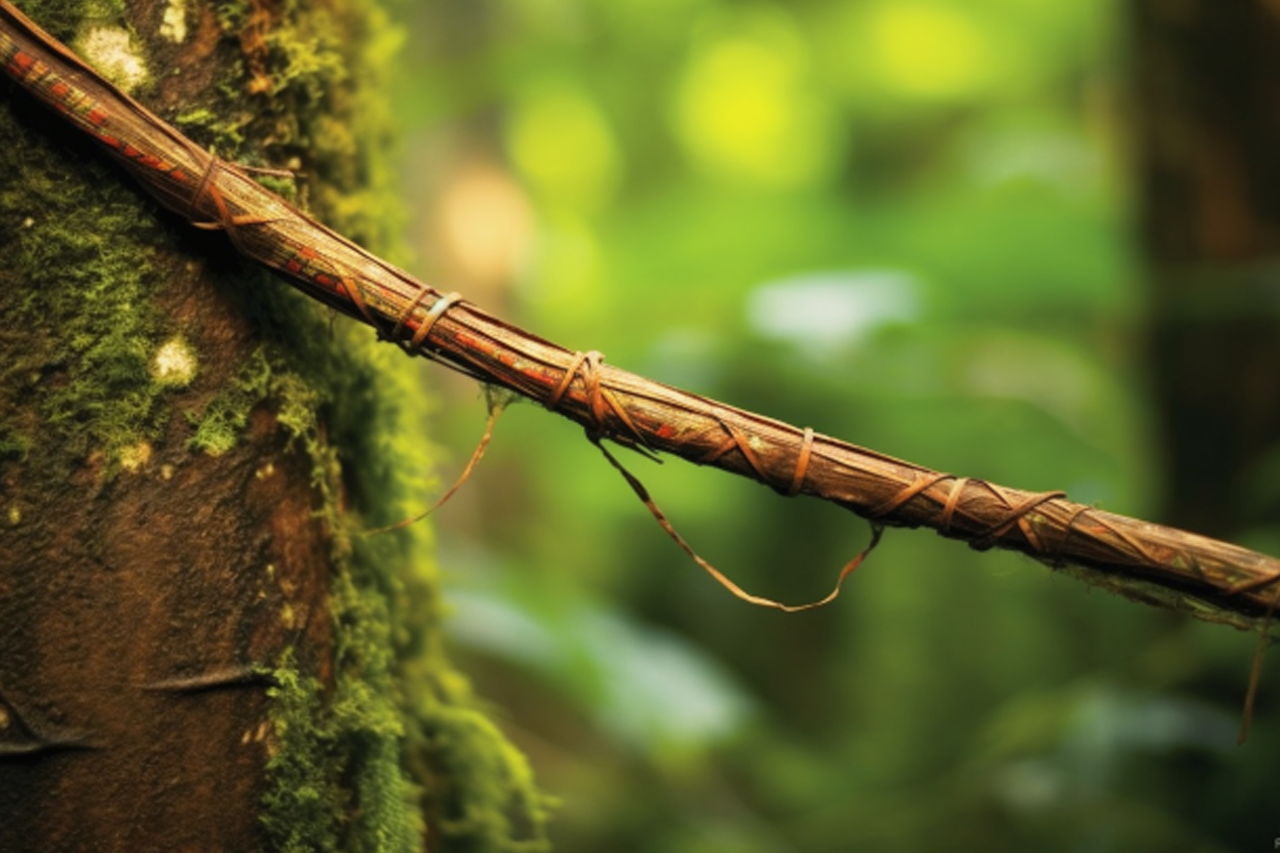 As an archer, its string is one of the most important components of your recurve bow. The bowstring is crucial in transferring energy from the limbs to the arrow, making it essential for accurate and consistent shots. However, recurve bow strings have a limited lifespan like any other equipment.
Understanding how long your recurve bow string lasts and what factors affect its longevity can help you make informed decisions about maintenance and replacement.
Let us explore the anatomy of a recurve bow string and discuss the various factors that can impact its lifespan. We'll also look at signs of wear and tear to watch out for and maintenance tips to help prolong your string's life.
By understanding when to replace your recurve bow string and choosing the right type for your needs, you can ensure optimal performance on the range or in the field. So let's dive in and learn how long a recurve bow string typically lasts!
Anatomy of a Recurve Bow String
Let's take a closer look at the anatomy of a recurve bow string and see just how durable it can be!
A recurve bow string has several components that create a powerful, accurate shot. The first component is the string material itself, which can vary depending on the manufacturer and intended use of the bow. Common materials include Dacron, Fast Flight, and Spectra.
The second component is the serving or wrapping that covers certain areas of the string for protection and improved grip. Usually made from synthetic materials like polyester or nylon, serving also helps keep the bowstring from wearing out too quickly by reducing friction with other parts of the bow.
Lastly, there are two loops at either end of the string: one loop attaches to the upper limb tip while the other connects to the lower limb tip. You can reinforce these loops with additional strands for added strength and durability.
A recurve bow string has several high-quality materials designed to withstand repeated use. With proper care and maintenance, these strings can last anywhere from 1 to 3 years or more before needing replacement.
Factors Affecting String Lifespan
One key factor that impacts how often you'll need to replace your recurve bow string is the frequency of use. The more you use your bow, the faster the string will wear out.
Each time you draw and release the bowstring, it stresses the fibers and can cause them to break down over time. If you shoot your recurve bow daily, for example, you may need to replace the string every few months.
Another important factor that affects string lifespan is maintenance. Regularly waxing your recurve bowstring can help protect it from moisture and other environmental factors that can cause damage over time. Neglecting to do so can lead to fraying or even snapping the string during use.
Additionally, inspecting your string regularly for signs of wear or damage can help catch potential issues before they become serious problems. The type of material used in making your recurve bowstring can also impact its lifespan.
Strings made from natural materials such as animal gut or silk tend to have a shorter lifespan than synthetic materials like Dacron or Fast Flight. However, some archers prefer raw materials for their traditional look and feel.
Regardless of material choice, proper care and regular inspections are essential for ensuring a long-lasting recurve bowstring that performs well shot after shot.
Signs of String Wear and Tear
Regular waxing and inspection can help prevent fraying or snapping of the bowstring, but eventually, the fibers will start to unravel and become fuzzy. When this happens, looking for signs of wear and tear on your recurve bow string is important.
The first sign is usually a change in color or texture. As the fibers break down, they lose their strength and flexibility, which can cause them to become brittle or hard.
Another sign of string wear is when you hear a strange noise when drawing back your bow. It could be due to loose or worn-out strands rubbing against each other as you pull back on the string.
If left unchecked, this could lead to further damage or even complete failure of your recurve bow string. If you notice any fraying or separation of strands in your recurves bowstring, it's time to replace it.
Frayed strings have weakened spots prone to breaking under stress which can result in serious injury if not addressed promptly.
You'll enjoy many years of safe and successful archery practice by paying attention to these warning signs and replacing your recurve bow string as needed.
Maintenance Tips for Prolonging String Life
To extend the lifespan of your recurve bowstring, perform routine maintenance tasks such as waxing and inspecting for signs of wear. Neglecting these tasks can lead to reduced accuracy and potentially dangerous situations.
Here are four tips that can help you prolong the life of your recurve bowstring:
Wax your string regularly: Applying wax to your bowstring is an easy way to keep it in good condition. Wax helps prevent fraying and keeps the fibers from breaking down over time.
Check for signs of wear: Inspect your bowstring regularly for any damage or excessive wear, such as fraying, broken strands, or stretching. Catching these issues can help prevent further damage and ensure you're always shooting safely.
Stay under-tightened: Keeping your string balanced when stringing or unstringing your bow is important. Doing so can cause unnecessary stress on the bowstring and lead to premature wear and tear.
Store properly: When not used, store your bow by hanging it up or laying it flat with the limbs facing upwards. It will help prevent warping, affecting accuracy and overall longevity.
Following these tips, you can keep your recurve bowstring in top shape for longer. Proper maintenance is critical for optimal performance, safety, and a more enjoyable shooting experience!
When to Replace Your Recurve Bow String
Knowing when to swap out your recurve bowstring is crucial for maintaining accuracy and safety in your shooting. Over time, the constant stress and wear on your bowstring will cause it to lose its elasticity, leading to inconsistent shots or even breakage.
So, how do you determine when to replace your recurve bowstring?
Inspecting it for fraying or damage is one way to tell if your string needs replacing. If there are signs of wear and tear on the bowstring, such as frayed strands or nicks in the material, it's time to swap it out.
Additionally, if your shots are becoming less consistent or experiencing more frequent string breaks than usual, this could also be a sign that you need a new string.
Ideally, it would help if you planned on replacing your recurve bowstring every year or so, depending on how often you shoot. It will ensure optimal performance and safety while minimizing the risk of unexpected failures during use.
By paying attention to these signs and regularly inspecting your equipment for damage and wear, you'll be able to enjoy many seasons of accurate and enjoyable shooting with confidence in the reliability of your gear.
Choosing the Right String for Your Recurve Bow
Now that you know when to replace your recurve bow string, the next step is choosing the right one for your bow. It is crucial since using an inappropriate bowstring can lead to poor performance and damage your bow.
Here are some things you need to consider when selecting a recurve bow string:
Bow length: The length of your bow will determine the length of the string you need. Make sure to measure from tip to tip along the curve of the limbs.
Material: Recurve bow strings can be made of various materials such as Dacron, Fast Flight, and Spectra. Each material has pros and cons regarding durability, speed, and noise level.
Strand count: The number of strands in a recurve bow string affects its thickness, weight, and strength. A higher strand count means a thicker and heavier bowstring that can handle more draw weight.
Serving type: The serving on a recurve bow string protects it from wear and tear caused by contact with the arrow rest or nocking point. You can choose between traditional wrapping or modern braiding techniques.
Considering these factors, you can find a recurve bow string that matches your needs and preferences. Remember that proper maintenance is also essential for prolonging the lifespan of your bowstring.
Regular waxing and inspection will prevent fraying or stretching that could compromise its performance over time.
Check out these +1,000 Recurve Bow Strings.
Frequently Asked Questions
What is the average lifespan of a recurve bow string?
The average lifespan of a recurve bow string can vary depending on several factors. These factors include the frequency of use, the material used in the bowstring, and the environmental conditions it is exposed to.
However, with proper care and maintenance, a well-made recurve bowstring can last several years before needing replacement. Inspecting your bowstring regularly for signs of wear and tear, such as fraying or stretching, is important. Additionally, keeping your bowstring clean and dry can help extend its lifespan.
If you notice any significant damage or weakening in your string, it's best to replace it immediately to avoid potential safety hazards while shooting.
Can you use a string wax to extend the life of your recurve bow string?
Yes, using string wax can indeed extend the life of your recurve bow string. It's important to regularly apply wax to your bowstring to prevent friction and wear from damaging it over time. It is especially true if you frequently use your bow or shoot in harsh weather conditions.
Applying wax to the bowstring helps keep the fibers lubricated and prevents them from rubbing together, which can cause fraying or breakage.
However, it's important not to over-wax your string as this can lead to a buildup of residue that may affect its performance.
So, while using a string wax can help prolong the life of your recurve bowstring, it's also important to exercise proper care and maintenance for optimal results.
How do you know if your string is too tight or loose?
You need to perform a simple test to determine if your recurve bow string is too tight or loose.
First, place the bow on a level surface and ensure the limbs are not twisted.
Next, lightly pinch the string at the midpoint between the limbs using your thumb and index finger.
It is too loose if there is more than 1/8 inch of space between the bowstring and the deepest part of the grip. It is tight enough if you can only fit a piece of paper between the string and grip.
When plucked like a guitar string, a properly tensioned bowstring will produce an audible note.
It's important to maintain proper tension to avoid damage to both your bow and arrows and prevent injury while shooting.
Can you use a string from a different manufacturer on your recurve bow?
You can use a string from a different manufacturer on your recurve bow. However, selecting the one with the same length and weight as the original one is important.
Using a different string may affect the bow's performance, so consult a professional before making changes.
In addition, using a lower quality or inappropriate string may cause damage to the bow or even result in injury. Selecting a high-quality bowstring suitable for your specific bow model and shooting style is imperative.
Regular maintenance and replacement of your recurve bow strings are essential for optimal performance and safety during archery practice or competition.
Is there a difference in lifespan between a traditional bowstring and a modern bowstring?
There are a few differences to remember regarding the lifespan of traditional and modern bow strings.
Modern bowstrings have synthetic materials like Dacron or Fast Flight, which tend to be more durable and resistant to stretching than traditional materials like hemp or linen.
However, this doesn't necessarily mean modern strings will last longer overall.
The lifespan of any bowstring depends on several factors, including how often you shoot your bow, how well you care for your equipment, and whether or not you store your string properly.
With proper maintenance and care, both traditional and modern bow strings can last anywhere from several months to several years before needing to be replaced.
Ultimately, the best way to ensure a long lifespan for your recurve bowstring is to invest in high-quality materials, follow proper maintenance procedures, and replace your bowstring as soon as signs of wear or damage become apparent.