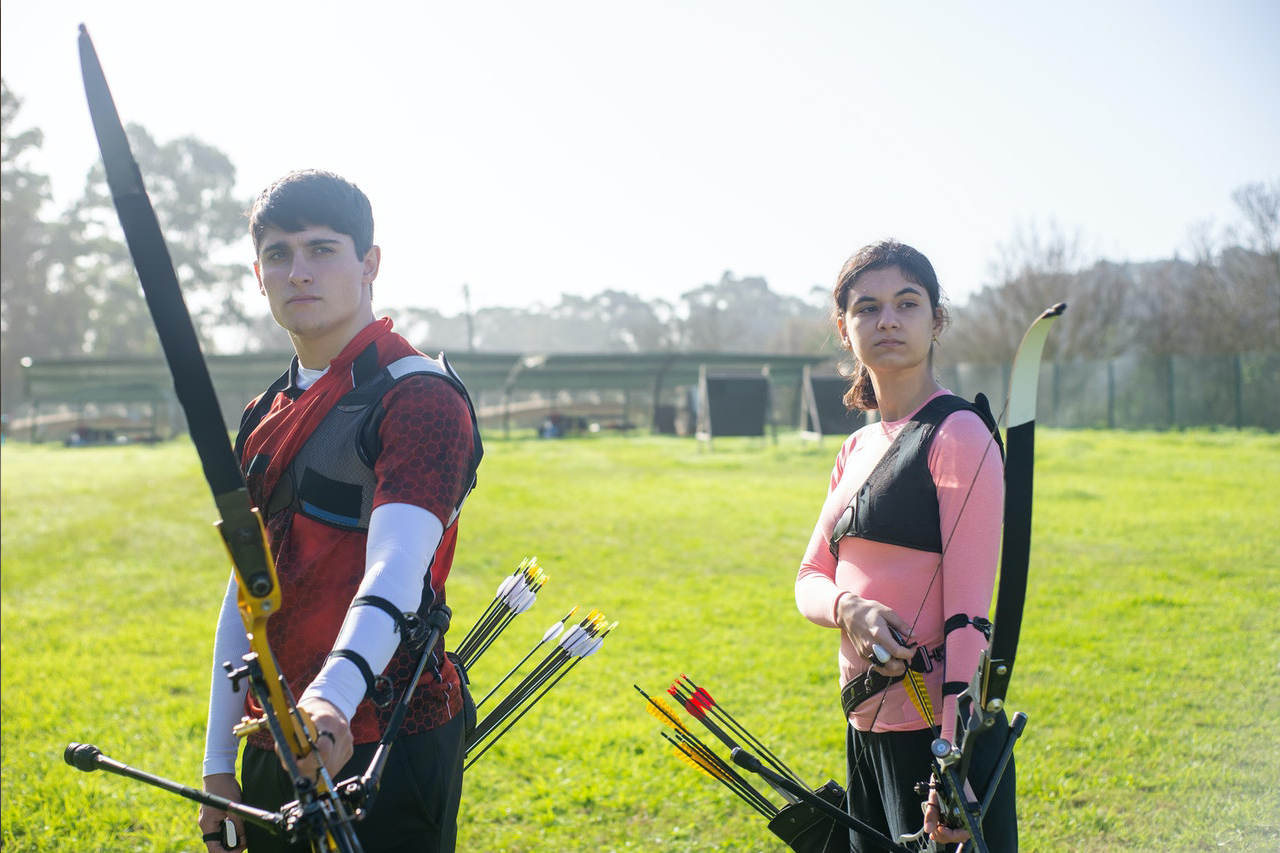 Archery is more physically demanding, harder to learn, and takes time to get skilled quickly than gun shooting. Therefore, archery is more complex than shooting because of the minor deviations that impact the archer's accuracy and consistency.
Gun shooting and archery are two completely different sports with the same goal: to shoot. Gun shooting is a sport where the hunter uses a shotgun, pistol, or rifle to shoot at a target. On the other hand, Bow shooting requires you to hit your target using a bow.
Aside from the difference in the weapon used, one can be more challenging than the other.
Both sports are popular in hunting games which span from season to season. However, many people wonder which one is harder or if it is wiser to learn both sports for hunting. Below are the reasons why people think archery is more challenging than shooting:
Physical technique

In terms of physical technique, several people agree that it takes time to get skilled quickly in archery. Compared to shooting with a gun, archery requires you to shoot from a standing position without any material or accessory to help you keep your bow steady.

You may accidentally hit a branch which will trigger the animal to get away as soon as it hears a strange noise. Sometimes the size of the bow gets in the way, as well. It also demands plenty of patience and time to find the right angle to hit your target.

However, when it comes to shooting with a gun, you don't need to stand all the time. You can shoot in every position like crouching, sitting, or laying down. Another advantage is finding a way to support and steady your gun using a nearby tree, bipod, or shooting sticks.

Harder to learn

Another factor is it takes time for a person to learn archery. It requires a lot more skill since minor deviations significantly impact the success of hitting the target.

Proximity to the animal, wind direction, and the landscape are some of the variations an archer must watch out for before shooting.

On the other hand, learning to shoot with a gun isn't as complex as shooting with a bow. There is no need to worry about the wind since bullets aren't as lightweight as arrows can be.

Moreover, shooting requires relaxing, exhaling, and squeezing the trigger while keeping an eye on your target.

Physically demanding

Archery can be physically demanding since it needs a lot of tension to create enough force to draw a deadly arrow that will reach the target. Enough power or energy is necessary for your arrows to penetrate the target, as well successfully.

Drawing the bowstrings is very difficult and exhausting, making archery a physically demanding sport than gun shooting.

Therefore, archery is more challenging than shooting, considering the minor deviations and complexity of the sport.
How tough is archery as a sport?
Archery is easy to learn. Although it is easy to learn the basics, it is challenging to master because of the technical difficulty, accuracy, consistency, focus, and even gears that make it a challenging sport.
Some people have been mocking archery for years because it is not as physical as sports like football or soccer. However, this does not mean that archery is not a challenging sport to master. Instead, archery is a mental sport rather than a physical sport.
Besides being a mental sport, archery is also for everyone. It is a popular sport even in the Paralympics. Moreover, it is among the safest sports and is three times safer than golf, according to The National Safety Council.
Nevertheless, it is essential to know how challenging archery is as a sport. The following are the factors that make archery a challenging sport:
Technique difficulty

As you watch and observe the archers, it may look like archery is an easy sport. However, it is much more complex than you think. It is not as simple as nocking the arrow, drawing the bow, and shooting.

To shoot the target with great precision and consistency, you need to use the proper technique. The correct approach will make it easier for you to draw and replicate your shots. The primary concern that archers find difficult is looking for a consistent anchor point.

Archery is more technically complex and technically focused than other technique-focused sports like soccer and rugby.

Considering many techniques involved in archery, the number of factors to remember when shooting your bow may overwhelm you. Factors include draw weight, wind direction, weather, and other external elements that influence how you should fire your arrow to hit the target.

Also, your muscles may begin to cramp and make you weary over time, causing you to lose track of your technique.

Accuracy

It takes years for an archer to build up accuracy in shooting. There are a lot of different elements that can cause inaccuracy, such as draw weight, incorrect stance, and the wrong form, to name a few.

It is harder to correct these mistakes when you are in the middle of competition since you can't see yourself.

Your bow can also be the reason for inaccuracy. It would be best to check your bow if any loose screws or accessories affect your performance.

Consistency

In archery, one must be consistent in aiming a bow at the right target. It will be hard to aim your bow if your form and draw are inconsistent, which newbie archers will likely find very challenging.

Accuracy and consistency go hand in hand in archery. Most inaccuracies are due to inconsistency by the archers, which is a problem that even professional archers experience sometimes.

Focus

Focus is the primary factor that will successfully make you hit the target bullseye. A distracted person will find it challenging to hit their target successfully. Thus, archery requires a lot of concentration from its shooter.

Another one is flinching or often known as "target panic." It is a prevalent issue among archers, which happens when too much emphasis on the release timing.

Right gear

One of the most critical processes in archery is bow fitting. It is when you have to identify which bow fits your height, proportion, or overall frame. Not everyone has the same body frame, and not all bows are fit for all people.

Before purchasing a bow, you need to take specific measurements to help you with what kind of bow will be a good fit for you. It will be easier to shoot without getting weary soon with the right gear that fits your shooting style.

Aside from these difficulties that make archery a demanding sport, there are ways to help you learn archery easier:
Attend beginner classes
Practice often
Purchase optimized gear for accuracy
Seek guidance from the archery community
Overall, mastering archery is very challenging. Nevertheless, it helps improve your focus, patience, and self-confidence, and most importantly, it is a fun sport.
Is there any age limit for archery?
Set by the World Archery Organisation, the age limit to enter archery in the Olympics is 16. On the contrary, if you want to learn archery, the majority of the archery programs accept learners who must be at least eight years old.
You may wonder whether it is too late or too early for you to learn or compete in archery. Like any other sports, there are certain limits even in age.
If you plan to compete in the Olympics, archery has a minimum age limit but does not have an upper age limit. Unlike FIFA, which has an upper age limit of 23 years, it simply means that archery does not have this rule.
According to the World Archery Organisation, archery's official governing International Federation in the Olympics, the minimum age limit for entering the archery competition is 16.
However, there is no maximum age limit. Even if you are 64 years of age, you can still compete if you have the competency.
What matters significantly in archery is not age but the power to pull back the string, accuracy, and consistency to successfully shoot the target. Thus, you can never be too old to enter archery in the Olympics.
However, it can be challenging since archery requires good muscular strength, eyesight, flexibility, and endurance.
For those below 16 years old who badly want to compete in the Olympics, you can compete in the Youth Olympic Games in the meantime. For Youth Olympics, the age limit is 15 to 17.
It is not the same for those who plan to learn archery. Most archery programs accept learners ages eight and up. It may seem quite ideal to learn sports at a very young age. However, it is not the case in archery.
The bowstring's weight is at least 8 pounds. It is best to have enough strength to draw the bowstring back, follow safety procedures, and have the ability to take commands. There is also a need to be psychologically mature enough to pay attention.
Therefore, ages eight and below are not ideal for learning archery intently.
Despite the age talks, what matters in learning archery is that you are ready and have the patience and discipline. It is a mental sport that you can compete in and practice for the rest of your life as long as you have the dedication and drive.
How strong do you have to be to do archery?
You don't have to be too strong to do archery, but it requires physical power. A high endurance coupled with a strength of at least 50% stronger than your bow will help you draw the string and hold it without quivering while waiting for the perfect time to shoot.
In archery, you don't have to have that bodybuilder physique necessarily. Even though archery is not mainly a physical sport, there is still a need to build strength and endurance.
Strength and endurance will help you in your draw and in how long you can hold the string without quivering. It takes a lot of power to draw the string as far as possible in a more extended period.
An archer needs to be at least 50% stronger than the bow for strength. By following this, you'll only use half of your muscles to draw the bow, and the rest of the half can rest between shots.
However, if your strength is at par with your bow, you'll use all of your power and quickly exhaust your muscles.
A high endurance level helps you keep shooting with proper form for 300 arrows in terms of endurance. Endurance is equally as vital as strength.
If you think you don't have enough endurance and strength for archery, there are several exercises you can try:
Upper body exercises
Core exercises
Cardio exercises
SPT (Specific Physical Training) exercises
It's critical to remember that you should work on muscular strength and endurance simultaneously. You can't possibly build muscle strength without the other and vice versa.
Aside from building muscle strength and endurance as the primary focus, other physical requirements for archery are flexibility, physical fitness, and hand-eye coordination.
How many years does it take to learn archery?
Anyone can learn the basics of archery within the first few weeks, and it takes approximately two months to shoot correctly, but it takes at least three years to compete in high-level competitions.
You may be concerned about how long you can master archery, but experts say it takes years. Fret not; you can quickly learn the basics in a few weeks if you practice at least twice a week.
On average, you can properly shoot a bow in approximately two months. In this stage, you can develop consistency and learn the proper techniques. The next few months will be the beginning to refine your strategies and become more consistent in your shots.
If you plan to take it to the next level and master the art of archery, it needs pure dedication, practice, and patience. Six months is not enough to win you an amateur or local competition. However, if you insist, you can find a professional to help you improve fast.
It takes at least three years of archery experience to compete in high-level competitions.
Nevertheless, the number one key in mastering archery is consistent practice. You will notice your inconsistencies and mistakes faster by practicing harder, resulting in better shooting execution.
Archery can be a very challenging sport. Yet, it is a fun activity that boosts one's self-confidence and technicality.