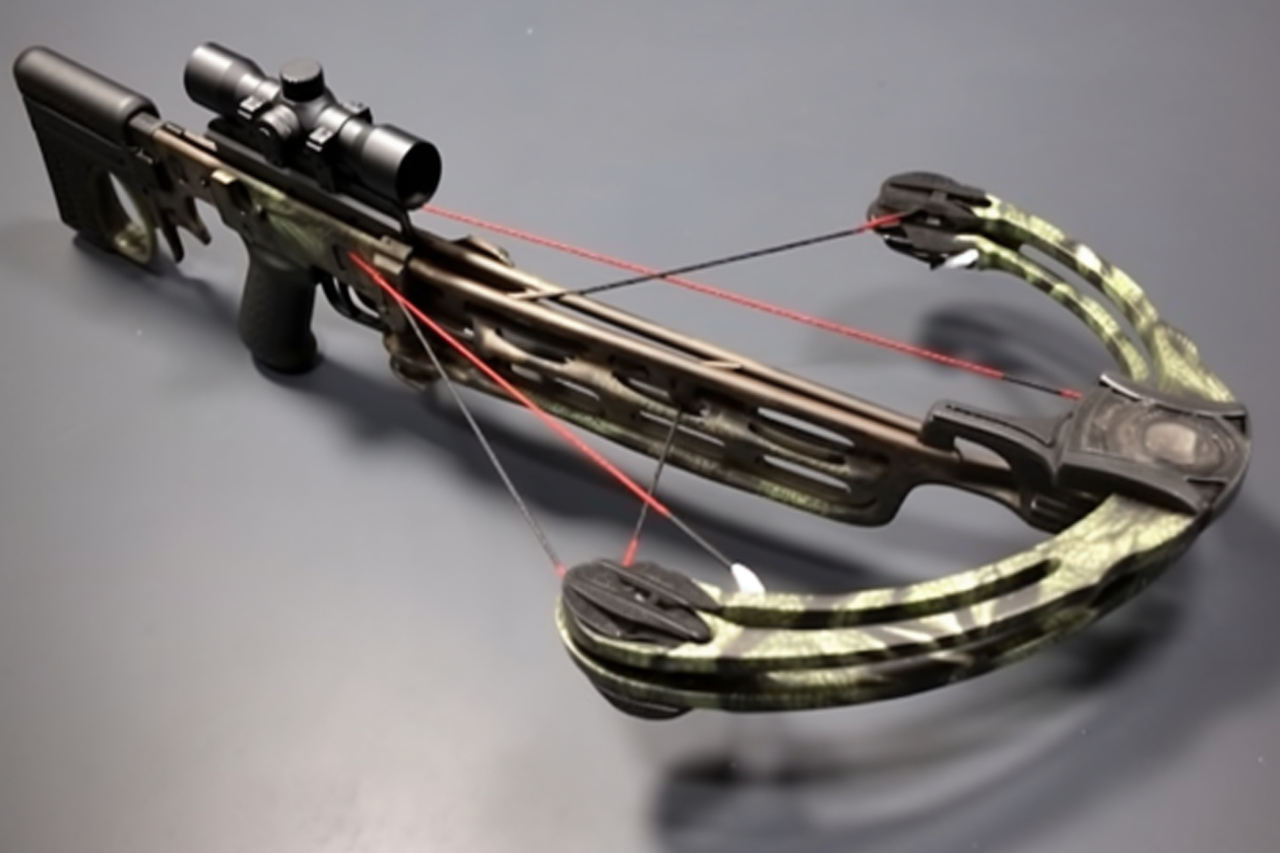 If you're in the market for a crossbow, you want to ensure you're getting the best value for your money. With so many options out there, it can be overwhelming to choose the right one. That's why we've researched you and compiled a list of the best crossbows for the money.
Whether you're a seasoned hunter or a beginner, there's a crossbow on this list that will meet your needs. We've got you covered, from lightweight options for easy maneuverability to high-powered ones for maximum impact.
We also take into account accuracy, durability, user-friendliness, and budget-friendliness. Keep reading to find the perfect crossbow for your next hunting trip.
Lightweight Crossbows for Easy Maneuverability
Looking for a crossbow that won't weigh you down? Check out these lightweight options for easy maneuverability!
When choosing a crossbow, weight is a crucial factor to consider. A lightweight crossbow is easier to carry and offers better handling and accuracy, making it perfect for hunting or target shooting.
One of the best lightweight crossbows on the market is the Barnett Jackal Crossbow. It weighs only 7.7 pounds and features a sleek design, smooth trigger pull, and a powerful 315 fps velocity. It's easy to handle and maneuver, even in tight spaces.
Other great options include the Wicked Ridge Invader G3 Crossbow, which weighs in at only 6.6 lbs and has a compact design for easy maneuverability, and the TenPoint Turbo GT Crossbow, which boasts a weight of just 6.5 pounds and a blazing fast speed of 360 feet per second.
With these lightweight crossbows, you can be sure your hunting or shooting experience will be comfortable and successful.
High-Powered Crossbows for Maximum Impact
These high-powered crossbows pack a serious punch, delivering maximum impact for any hunting or shooting situation. They're designed with advanced technology and materials to produce high velocity and accuracy.
They come with powerful limbs, durable strings, and high-quality scopes that enhance your aim and make your shots more precise. These crossbows are perfect for experienced shooters who want to take their game to the next level. They're also great for hunters who take down big games from long distances.
With their high-powered features, you can be sure they will pack enough power to penetrate the thickest hides and bones. Overall, these high-powered crossbows are worth considering if you're looking for a crossbow that will give you maximum impact.
Accurate Crossbows for Precise Shooting
Accurate crossbows are an excellent choice for shooters who want to improve their aim and precision. These crossbows usually have a lower draw weight, allowing for better shooting control and accuracy. Additionally, they often come with features such as adjustable stocks and scopes, which further help with accuracy.
When considering an accurate crossbow, here are some things to keep in mind:
To increase accuracy, look for models with a lighter draw weight, such as 150 pounds or less.
Choose a crossbow with a longer power stroke, which will help increase the speed and accuracy of your shots.
Consider purchasing a crossbow with a scope or red dot sight to improve aim and precision.
Accurate crossbows are an excellent investment for those looking to improve their shooting skills. Their lower draw weight and added features provide the accuracy and precision needed for a successful hunt or target practice session.
Durable Crossbows for Long-Term Use
When investing in a crossbow, it's important to consider durability for long-term use. After all, you want a crossbow that can withstand the test of time and provide consistent performance.
Look for crossbows made with high-quality materials, such as aircraft-grade aluminum or carbon fiber. These materials are known for their strength and durability, making them ideal for frequently using crossbows.
Another essential factor is the design of the crossbow. Look for crossbows with sturdy limbs and solid stock. These features add to the crossbow's overall durability and provide stability and accuracy when shooting.
Additionally, check for features such as anti-dry fire mechanisms and automatic safety switches, which can prevent damage to the crossbow and ensure safe use.
Investing in a durable crossbow gives you a reliable hunting or shooting companion for years.
User-Friendly Crossbows for Easy Operation
Imagine effortlessly operating a crossbow without hassle – that's the beauty of user-friendly designs. Regarding crossbows, ease of use can be crucial for beginners and seasoned shooters. Fortunately, several crossbows on the market prioritize user-friendliness without sacrificing performance.
One example of a user-friendly crossbow is the Barnett Whitetail Hunter STR. This crossbow has a step-through riser that makes it easier to load and shoot. It also features an adjustable buttstock and foregrip, allowing you to customize the fit and feel of the crossbow to your liking.
The Whitetail Hunter STR is lightweight, making it easy to carry around on hunting trips or to the range. Overall, the Barnett Whitetail Hunter STR is an excellent option for those looking for a crossbow that is easy to use and offers superior performance.
Budget-Friendly Crossbows for Affordable Hunting
Are you looking to go hunting without breaking the bank? Check out these budget-friendly crossbows that will maintain quality for affordability. These crossbows may be less expensive than their high-end counterparts but offer features worth considering.
Here are some options to choose from:
Practice safety and accuracy before heading out on your hunting trip, regardless of your crossbow. These budget-friendly options offer a great way to start without breaking the bank.
Top-Rated Crossbows for Overall Quality and Value
If you want to invest in a crossbow that offers both quality and value, these top-rated options are worth considering.
The TenPoint Turbo GT is a top pick for its accuracy, speed, and durability. It features a lightweight design, a powerful draw weight of 175 pounds, and a speed of up to 360 feet per second. The Turbo GT has various features, including a 3x Pro-View 2 scope, a patented ACUdraw system for easy cocking, and a durable carbon-injected polymer barrel.
With a price point of around $800, the Turbo GT is a solid investment for any hunter looking for a high-quality crossbow.
Another great option is the Ravin R20. This crossbow boasts an impressive speed of up to 430 feet per second and a draw weight of 12 pounds. Its compact design is what makes it easy to maneuver in tight spaces.
The R20's accuracy is also top-notch, thanks to its unique Helicoil technology that eliminates cam lean and ensures consistent arrow flight. The Ravin R20 has many features, including a six-arrow quiver, a built-in sling mount, and a fully illuminated scope.
With a price point of around $2,000, the R20 is more expensive than other options on this list, but its superior performance and features make it worth the investment.
Frequently Asked Questions
What is the maximum distance that a crossbow can shoot accurately?
Consider a few factors to determine the maximum distance a crossbow can shoot accurately. The draw weight, arrow weight, and velocity of the crossbow all play a role in determining its full effective range.
Typically, a crossbow can shoot accurately up to 50-60 yards, but some high-end models can shoot accurately up to 100 yards. However, it's important to note that accuracy can vary depending on the shooter's skill level and environmental conditions such as wind and humidity.
It's also essential to use the right arrow and broadhead combination for the specific crossbow to achieve the best accuracy and distance.
How much maintenance is required for a crossbow?
Maintaining a crossbow is crucial to ensure its longevity and accuracy. You should clean your crossbow after every use, especially if you've fired it multiple times.
Start by wiping it down with a dry cloth to remove debris or dirt. Then, use a lubricant to oil the strings and moving parts. You should also inspect the bowstrings and cables for fraying or damage and replace them if necessary.
Keep your crossbow dry and cool to prevent rust or corrosion. Additionally, it's essential to check the bolts and screws to ensure they're tight and secure.
By regularly maintaining your crossbow, you can enjoy its performance and accuracy for years.
What is the best type of arrow to use with a crossbow?
When it comes to choosing the best type of arrow to use with your crossbow, it depends on a few factors.
The weight of the arrow is one of the most important considerations. You want the one heavy enough to deliver the right amount of kinetic energy to your target but not so heavy that it slows down your shot.
The length of the arrow is also essential. You want the correct size for your crossbow, as using one that's too short or too long can affect the accuracy and potentially damage your crossbow.
Additionally, the material of the arrow can impact its performance. Carbon arrows are famous for their durability and accuracy, while aluminum arrows are lightweight and affordable.
Ultimately, your crossbow's best type of arrow will depend on your specific needs and preferences.
Can a crossbow be used for target shooting as well as hunting?
You can use a crossbow for both target shooting and hunting. The accuracy and power of a crossbow make it an excellent option for target shooting, as it allows for precise shooting over long distances. Additionally, archers often use crossbows in target shooting competitions, where shooters can compete against each other to see who can hit targets the most accurately.
When it comes to hunting, crossbows are a popular choice for hunters who want to take down the game with precision and accuracy. They are beneficial for hunting in areas where firearms are not allowed, such as urban areas or public land.
Whether you are looking to shoot targets or take down a game, a crossbow is a versatile and effective tool to help you achieve your goals.
What safety precautions should be taken when using a crossbow?
When using a crossbow, you should take several safety precautions for yourself and those around you.
First, always read and follow the manufacturer's instructions and guidelines for use. Before firing, inspect the crossbow and arrows for any damage or defects.
Always wear eye protection and never point the crossbow at anything or anyone you don't intend to shoot. Keep your fingers and other body parts away from the crossbow's string and trigger until ready to fire.
Finally, always be aware of your surroundings and the potential for accidents, such as arrows bouncing off hard surfaces or hitting unintended targets.
Following these safety precautions, you can enjoy using your crossbow for target shooting and hunting without risking injury to yourself or others.