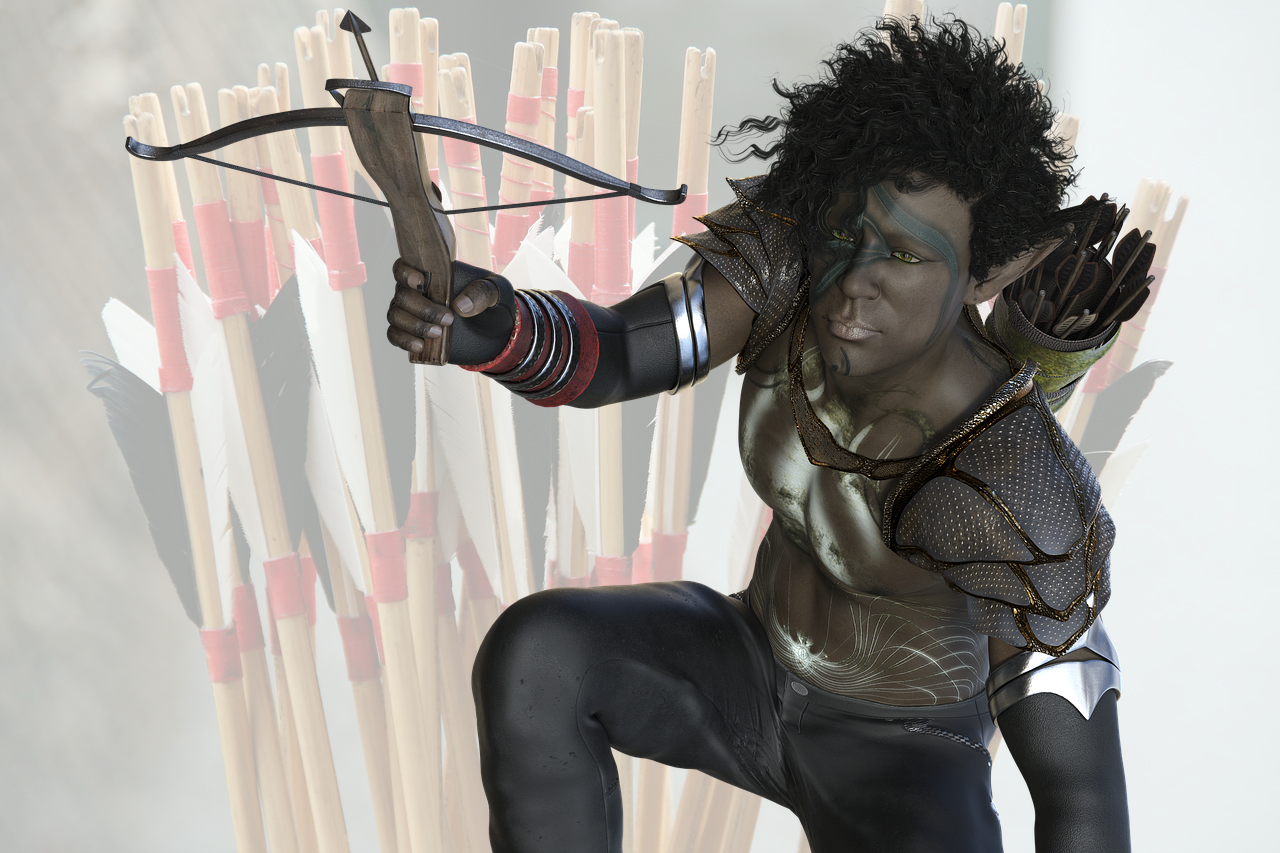 Crossbows are so heavy because they require heavier limbs due to their shorter power strokes and to absorb shock because once fired, the powerful limbs stop abruptly and move at a short distance.
Bows are available in different types, designs, sizes, and even weights. Some are lighter to carry around than others, while some are too heavy. For instance, crossbows are generally heavier than other bows like recurve, compound, and longbows.
Nonetheless, you cannot help to think about the reason behind their heavy weight or whether it is possible to lighten them for easier maneuverability.
Crossbows are an excellent weapon, especially for hunting, because of their immense power than even made them a deadly weapon since their invention in the 13th century.
Even beforehand, crossbows were known to be heavy, and in the 15th century, the weapon's material composition evolved to steel, making it heavier than ever. On the contrary, if we compare it to the modern crossbow models, the newer ones are lighter yet still heavy than other bows.
Crossbows are heavy mainly because of their design. For example, recurve bows, longbows, and compound bows are vertical bows; meanwhile, crossbows have this horizontal design that separates them from others.
Because of their design, crossbows have a shorter power stroke or draw, requiring them to have heavier limbs. The powerful limbs of a crossbow move at a short distance and quickly stop when you shoot the bolt. Thus, crossbows have to be heavier than other bows to absorb the shock from the shot.
In return, the crossbow makes louder noise when discharged than vertical bows.
Another reason for the crossbow's heaviness is the arrow speed. When shooting a traditional compound bow, the string propels the arrow over twice as far as it does with a crossbow.
As a result, a crossbow must have a draw weight that is more than twice as great as a compound bow to produce the same arrow speeds.
Crossbows use hefty draw weights, resulting in their bolts flying at incredible velocities (for a bow). Therefore, the bolts fired from the crossbows fly farther, have a flatter trajectory, and hit more powerfully than bolts fired from older crossbows or modern compound bows.
Due to their complexities, crossbows became known as a heavier weapon to carry around compared to vertical bows. Furthermore, crossbows allow archers to customize them by adding more materials and accessories to aid them in making shooting better.
However, adding more accessories and materials to your crossbow means adding more weight to your already heavy weight. Enumerated below are the following typical crossbow accessories and their estimated weights:
Scope

Scopes are the heaviest yet the most crucial among the various accessories you can attach to your crossbow because they can increase your accuracy significantly. They also enable the shooter to have multiple aiming points, even at longer distances.

However, crossbow scopes typically weigh around a few ounces to around three or more pounds. On average, crossbow scopes are available between one to two pounds, whereas three pounds is not that rare.

Check out these high-quality crossbow scopes with their corresponding weights:
Crossbow sling
Its sling is one of the lightest accessories you can add to your crossbow. It only adds a few ounces to your overall weight, but the slings allow you to carry your crossbow on your back, reducing arm strain. Below is a list of crossbow slings you can find in the market:
Limb dampener
Another accessory most archers and hunters attach to their crossbows is a limber dampener. Its purpose is to lower the vibration from your crossbow as you fire it, saving both your bowstring and arms.
The weight of limb dampeners ranges anywhere from approximately six ounces to less than an ounce. Here are the following limb dampeners you can attach to your crossbow with their respective weights:
Quiver
Quivers are containers used for holding arrows or bolts. Attachable quivers work well and are highly convenient for quick reloading.
However, quivers can put weight on your crossbow. A quiver can weigh less than a pound or more, depending on your bolts' weight.
Below are quivers available on the market if you plan to add one:
The final weight of your crossbow depends on the number of accessories you attach to it. By knowing every weight you add to your crossbow, you will know which supplements to prioritize.
You may be thinking of compromising your crossbow's material by buying cheaper ones sacrificing long-term use and quality. Before rushing to this more inexpensive alternative, it is better to spend a little more on lightweight crossbows with high quality.
Remember that you can always opt to lighten your crossbow by replacing its limbs with lighter but durable ones or buy high-quality accessories with lesser weight.
Another option you can try is to work out your muscles to prevent fatigue and carry your crossbow for extended periods without feeling extreme pain, which can lead to injuries and shooting inaccuracy.
Crossbows are undeniably heavier than other bows. However, its weight affects everything from its user's experience especially shooting accuracy.
Nevertheless, you can always choose from lightweight crossbows available in the market since most manufacturers continue to introduce high-performance crossbows that are not heavy.
How heavy should a crossbow be?
Modern crossbows with no attached accessories yet weigh, on average, around 5.4 to 8 pounds. On the other hand, you can expect a fully equipped crossbow to weigh over 9 pounds. Nevertheless, there is no correct or standard weight for crossbows; it all comes down to a person's preference.
As you scan for crossbows available online or at a local archery shop, you'll see that all crossbows weigh differently from each other. If you're curious about crossbow weights, you might want to know if there is a standard one.
The answer to your question is that there is no standard or correct crossbow weight. Therefore, it depends on whether you want to own a heavy or lightweight crossbow.
You only have to make sure you know what you want and manage your expectations once you start shooting with your newly purchased crossbow.
However, if you are having a difficult time choosing, it will likely help to know the average crossbow weight to narrow down your choices.
An unequipped crossbow typically weighs approximately between 5.4 pounds to 8 pounds. If you attach accessories to it, such as a scope, quiver, silencer, and limb dampener, you'll likely add two or more pounds.
It is safe to say that fully equipped crossbows can weigh over nine pounds depending on how many and heavy the attached accessories are. Some crossbows even reach 15 pounds of weight because of loaded features.
If you compare modern crossbows with medieval ones, the latter produces much heavier crossbows because they are not as efficient as today's models. You can even find modern crossbows with 5.4-pound weight shooting 350-grains bolts at over 300 fps.
Enumerated below are the following examples of crossbows with an average weight that is also ideal for deer hunting:
Wicked Ridge Rampage 360

Wicked Ridge Rampage 360 weighs six pounds, measures 16 inches wide, and shoots at 360 fps. With its unmatched accuracy and quality right out of the box, it is the best premier entry-level crossbow on the market.

It has a built-in Accudraw 50 cocking device, integrated safety wings, Dry-Fire Inhibitor (DFI), and a crisp, 3.5-pound trigger.

The package includes the following accessories:
Three XX75 Aluminum Arrows
A 3-Arrow Quiver
8.5 inches long 3x Multi-Line Scope
Excalibur Micro 360 TD
Weighing only 5.6 pounds, Excalibur Micro 360 TD is the lightest crossbow on the list. It boasts Quick Loc Technology and ambidextrous hand orientation, perfect for right and left-handed users.
In addition, Excalibur Micro 360 TD features an anti-dry fire system with the following included accessories:
Four quill arrows with four 100-grain field points
A 4-arrow quiver
Tactical zone illuminated scope
Scope mount
30mm rings
It also shoots at a speed of 360 fps.
Barnett Explorer XP 400
Lastly, you can also check Barnett Explorer XP 400, the heaviest on the list weighing 6.2 pounds. Despite its weight, it shoots at a speed of 400 fps, faster than previously mentioned crossbows.
It's a high-performance crossbow with dual laminated limbs with the following specifications:
Anti-Dry Fire System
Crank Cocking Device
TriggerTech Frictionless Release Technology
Soft Lok Floating Bristle Arrow Retainer
CNC Machined Aluminum Flight Track
Adjustable Stock
Aside from the specifications mentioned, the crossbow model comes with the following accessories:
Pre-Installed String Dampeners
4x32mm multi-reticle scope
A lightweight quiver
Two carbon arrows
5-pack of 20″ Headhunter arrows
You can also check out these crossbows with their corresponding speed and weight:
Looking for the right crossbow with a suitable weight fit for you can be a challenging task. Nonetheless, it is better to take up the challenge than regret it.
Is heavy crossbow good?
There are positives and negatives to a heavy crossbow. Heavier crossbows prevent powerful recoils and aid in accuracy. Meanwhile, they can be challenging to maneuver around and quickly tire you.
The majority of hunters and archers nowadays prefer lightweight crossbows. That's why the demand to produce light, high-performing crossbows pushes the manufacturers to release new models yearly.
However, you may be wondering whether heavy crossbows are good or not since most users can't help to purchase lightweight crossbows.
Below are the advantages and disadvantages of shooting heavy crossbows:
Advantages

Less recoil

One of the reasons why crossbows are heavy is to lessen recoil. Remember that crossbows are a hybrid combination of bows and firearms. Hence, it is only natural that recoils happen but are not as strong as firearms.

If recoil bothers you a lot, it would be best to look for heavier crossbows since they offer lesser recoil.

On the contrary, you will likely experience more recoil with lighter crossbows since they vibrate more.
Heavier crossbows are more accurate than lightweight ones. Because of lesser recoil, less shaking helps you aim better.
Moreover, strong recoils often make you hesitate to do the proper form because you are afraid to get hit by kickbacks as you shoot your crossbow.
As a result, you are compromising your accuracy.
Disadvantages
Carrying around a heavy object is not easy and will make it difficult to maneuver around, which is true with heavy crossbows.
Especially if you plan to do the "stalk hunting method," shooting your target while carrying a heavy crossbow as you walk for yards is undeniably inconvenient.
Hence, it would be best to opt for the "stand hunting method" if maneuvering your heavy crossbow across the woods bothers you immensely. You can also attach a crossbow sling to it to make it easier to carry around.
You can feel fatigued quickly if you carry around a heavy crossbow. Its weight will weigh you quickly, influencing your aim and shooting accuracy.
Shooting with fatigued muscles is uncomfortable as you continue to fight gravity while you aim. You will also be forcing your muscles to do more, making it difficult to stabilize your crossbow over time.
Therefore, you either buy a lightweight crossbow or continue with a heavy crossbow but make sure to have a solid and steady surface or object ready to rest your crossbow as you take a position to shoot.
Heavy crossbows are not bad, but if using them gives you more disadvantages, you can always purchase lightweight ones perfectly suitable for you.
The crossbow is a heavy weapon designed to deliver powerful shots despite its unique design, making it vary significantly from vertical bows.
Therefore, knowing how heavy a crossbow you can handle is crucial so you won't compromise your accuracy.