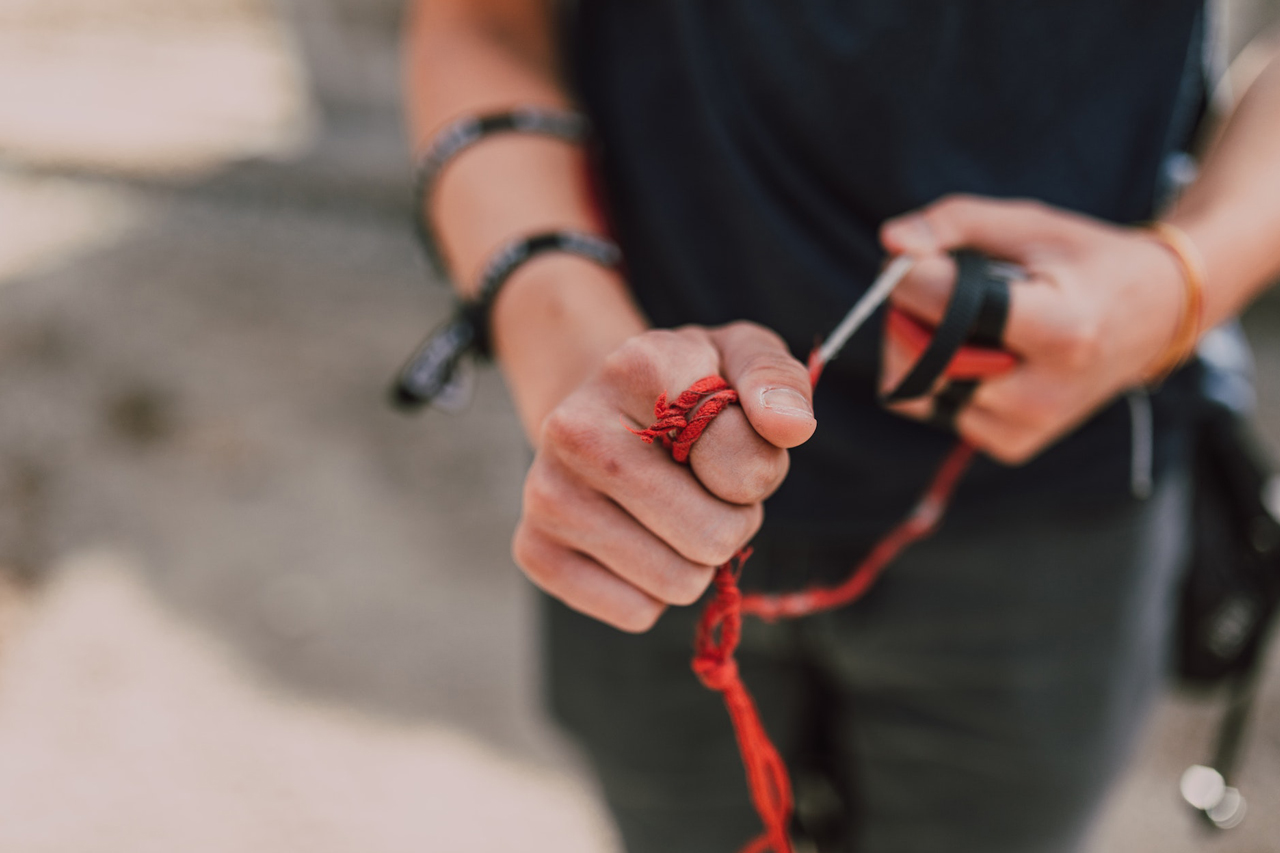 Crossbow strings can last a few months to a year, but it depends on how excellent you take care of them or how many times you use them. It is essential to keep them clean and dry and avoid letting them get too wet or dirty.
Types of Crossbow String
Serving
The outer layer of the string directly contacts the arrow and can wear out more quickly than other parts of the bowstring. It is also ideal for replacing this part every six months to a year or sooner if visible wear or fraying occurs.
Center Serving
This portion connects the two ends of the string and helps distribute force evenly. It should be checked for wear and replaced as needed, typically every one to two years.
Cables
The inner strands of the string provide strength and stability. These can last longer than other parts of the bowstring but should still be inspected regularly and replaced, when necessary, usually every three to five years.
Tips to Extend the life of a crossbow string
Use a string wax
Using string wax not only helps to extend the life of a crossbow string but also improves its performance. When applied regularly, the wax creates a protective layer on the string, preventing premature wear and tear from weather and use.
In addition, it reduces friction between the string and the rail, allowing for smoother shooting with less strain on it. Overall, using string wax is a simple and cost-effective way to prolong the life of a crossbow's most crucial component.
Avoid leaving the crossbow cocked for extended periods
It is crucial to avoid leaving a crossbow cocked for extended periods because it puts constant pressure on the crossbow string, causing it to stretch and potentially break.
The tension on the string also causes wear and tear, leading to fraying and eventual failure. It can be dangerous as a snapped or broken string can injure or damage the crossbow itself.
You should uncock the crossbow after each use and only cock it when ready to shoot. It is worth taking a few extra seconds to uncock the crossbow to avoid potential damage or harm in the long run.
Only use arrows that fit correctly in the groove of the string
Choosing the right arrow for your crossbow can have a critical impact on the life of your string. A too-heavy or too-long arrow puts extra strain on the bowstring, causing it to stretch and eventually break.
On the other hand, an appropriately sized and weighted arrow allows for smoother shooting, reducing wear and tear on the string.
Additionally, using well-made arrows with straight and undamaged shafts helps extend the string's life. Poorly constructed or damaged bow arrows can cause unexpected jerking or snap during shooting.
Store the crossbow in a cool, dry place
Storing a crossbow in a dry place helps to extend the string's life because moisture can cause deterioration and weaken it over time. Excess moisture can also lead to rusting on metal components, potentially causing damage to the crossbow as well.
Keeping the crossbow in a dry environment prevents these potential issues and ensures the longevity of both the string and the weapon.
Proper maintenance and storage are crucial in maintaining a functional and reliable crossbow. By taking the necessary precautions, such as storing the crossbow in a dry place, hunters can ensure that their weapon will continue to perform at its best. A dry storage area also helps to prevent mold or mildew buildup, which can affect the integrity of the string.
Don't dry fire the crossbow
Dry firing a crossbow, or shooting without an arrow, puts excessive strain on the string and can potentially damage or break it. Regularly dry firing a crossbow can lead to premature string wear and eventual breakage, ultimately shortening the string's life. It is not a practice that helps extend the crossbow string's life.
Always use proper maintenance techniques and only shoot with an arrow or bolt appropriately installed to ensure the longevity of the crossbow string and overall function. Following the manufacturer's guidelines and regularly inspecting and replacing it as needed will ultimately extend its life.
Regularly inspecting and replacing worn-out strings can ensure better performance and safety using a crossbow. It's always better to take caution and replace it before they show visible signs of wear rather than risk damage or injury by shooting with a weakened string.
How often should I replace my crossbow string?
How often you should replace your crossbow string depends on how often you use it. If you use your crossbow regularly, you should replace it every six months. If you only use it occasionally, you can wait a year or more before needing to replace the string.
Signs that show the string needs a replacement
Fraying or wearing on the serving
Replacing a frayed or worn crossbow string is essential for several reasons. First and foremost, it ensures the safety of the shooter and those around them. A frayed one could easily snap while shooting, causing the crossbow to release an uncontrolled shot.
A frayed or worn string can also affect the accuracy and power of the shot. It may be unable to propel the arrow properly, resulting in weak or inaccurate shots. Replacing the string can improve shooting performance and increase success while hunting or competing.
Loss of tension or inability to fully draw back the string
When a string loses tension or if you cannot fully draw it back, it can significantly impact your shot. The bowstring may not release properly and cause the arrow to veer off course, leading to missed targets or even injury. Replacing the string can ensure optimal performance and safety.
Additionally, a worn or damaged string can affect the longevity of your bow. Investing in a new one can help extend the life of your equipment.
Cracks in the material
Replacing a crossbow string if it shows cracks in the material is crucial for safety reasons. When it has cracks, the material can weaken and snap during use. It could result in the arrow's release at an uncontrolled and unpredictable velocity, posing a danger to the shooter and anyone nearby.
A snapped string could cause damage to the crossbow itself. Replacing it before any cracks appear ensures that your crossbow functions correctly and safely. It is essential to regularly inspect your equipment and replace worn or damaged parts to maintain optimal performance.
Excessive noise when shooting
The noise in the crossbow string is from fraying or stretching, causing it to lose its tension and affecting the shot's trajectory. A properly functioning bowstring should have a smooth release with minimal noise.
When the crossbow string gives you excessive noise when you shoot, it signifies that you need to replace it. It is because worn or damaged ones can lead to decreased accuracy and increased risk of injury.
Do crossbow limbs wear out?
Crossbow limbs wear out over time. It is a natural result of constant use and strain on the limb materials. However, you can significantly extend the crossbow limb's lifespan with proper maintenance and care.
Ways to Extend the Life of Crossbow limbs
Regularly lubricate the bow limbs and strings to reduce friction
Store the crossbow in a cool and dry place when not in use
Check for cracks or damage and have them repaired immediately
Use proper form and technique while shooting to avoid putting excessive pressure on the limbs
Only use arrows and bolts that are the correct size and weight for your crossbow
If you notice decreased performance or unusual sounds coming from your crossbow, it may be time to replace the limbs. Taking proper care of your equipment can ensure a longer lifespan and better shooting experience.
Replacing Crossbow limbs
Replace the crossbow limbs when they show wear and tear, such as cracks or warping. It is also essential to replace limbs if they are not performing well or shoot inconsistently.
Additionally, if you have upgraded other crossbow components, such as the stock or trigger, it is recommended to upgrade the limbs to match the new parts and ensure optimal performance.
It is important to remember that using damaged or mismatched limbs can lead to accidents while shooting, so it is always better to err on caution and replace them when necessary. Ultimately, it is up to the individual shooter to assess their equipment and determine when it is time for a replacement.
How many shots is a crossbow string good for?
A crossbow string is typically good for around 250 shots. However, this will depend on the string's quality and how often you use it. Inspect the bowstring regularly and replace it when necessary to maintain accuracy and performance.
Top Crossbow String Brands
When selecting a crossbow string, the top brands on the market include Bowtech, TenPoint, and Excalibur.
Bowtech
A Bowtech is known for its high-quality construction and durable materials, making it a top choice for experienced hunters. The company's "PowerTouch" technology allows for a smooth draw and consistent release, giving users maximum accuracy with each shot.
TenPoint
TenPoint is another trusted brand in the crossbow industry, offering strings made from a proprietary blend of materials for maximum strength and durability. Their "XLT" technology reduces string friction, resulting in a smoother shooting experience.
Excalibur
Excalibur is renowned for its high-performance crossbows, and their strings uphold the same quality. Made from TenXalloy material, Excalibur crossbow strings offer superior strength and durability in even the most challenging hunting conditions.
Choosing a high-quality string for your crossbow is essential to ensure accuracy, consistency, and durability in your shooting experience. When selecting a brand, consider its reputation and the specific technology and materials used in its strings.
Factors to consider when choosing crossbow string
When selecting a crossbow string, it is vital to consider the material, length, and draw weight.
Materials
The material of the string can significantly affect its durability and longevity. Common materials include Kevlar, Dacron, and FastFlight. Each material has its benefits and drawbacks, so it is essential to consider your needs and preferences before deciding.
Kevlar strings are popular for their durability and resistance to stretching. However, they can be more challenging to install and require specialized equipment.
Dacron strings have a smoother feel and are often less expensive, but they may stretch more easily over time.
FastFlight strings offer the highest speeds but may also have a shorter lifespan.
The material you choose should match your shooting style and desired performance.
It is also essential to regularly inspect and replace your string to ensure safety and optimal function. Don't skimp on this crucial component of your crossbow – choose a high-quality bowstring that meets your needs and prioritize regular maintenance.
Length
For the crossbow to function correctly, the string must be the correct length. Measurements can vary based on the specific model of the crossbow, so it is essential to consult the manufacturer's guidelines or a professional before purchasing a string.
In ensuring the proper function of the crossbow, selecting a string of the correct length can also impact safety. The one that is too short can cause the crossbow to malfunction and potentially injure the shooter or those nearby. On the other hand, a string that is too long can decrease accuracy and performance.
Draw-weight
The draw weight refers to how much force is required to draw back the bowstring and prepare for firing fully. It directly impacts the speed and power of your shots and how much strain you will place on your muscles during shooting.
Choosing a crossbow string with the appropriate draw weight for your needs is vital for safety and accuracy. A bowstring that is too heavy can cause injury to the shooter or damage to the crossbow, while a string that is too light will result in weaker shots.
Selecting the right draw weight can improve your shooting accuracy and consistency. Using a string with a heavy draw weight can be challenging to maintain control and properly aim the crossbow.
On the other hand, a string with a lower draw weight may not generate enough force to shoot at longer distances accurately.
Selecting the proper crossbow string involves considering material, length, and draw weight. Taking the time to thoroughly research and make an informed decision can significantly benefit your shooting experience.
If you are in the market for a new bowstring, check out these +2,000 strings for a crossbow.