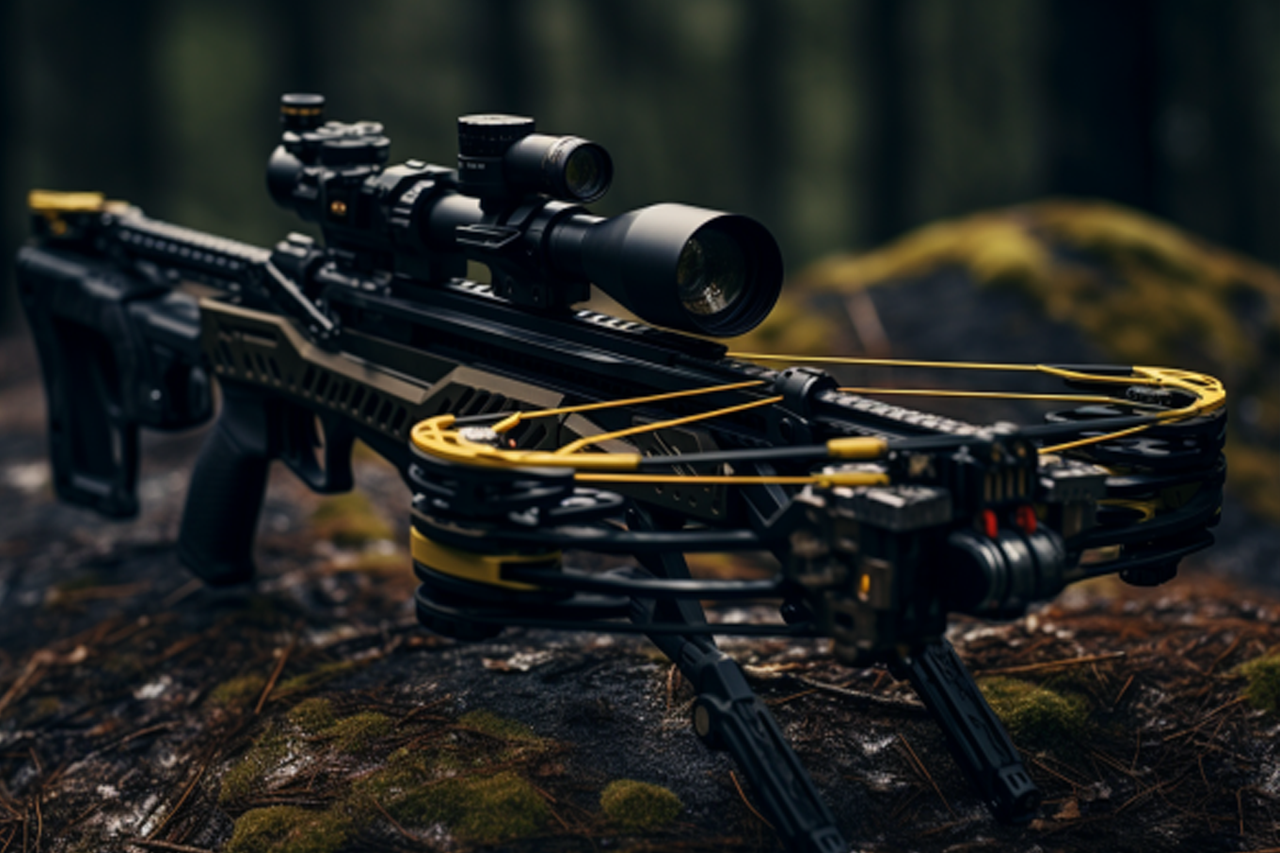 Crossbows are an excellent choice if you're looking for a powerful and accurate weapon for hunting or target shooting. But with so many different types of crossbows on the market, it can take time to know where to start.
Let us take a closer look at the two most common types of crossbows: the recurve and compound.
Recurve crossbows have been around for centuries and are known for their reliability and simplicity. They use a bow that curves away from the shooter when unstrung but straightens out when drawn back.
This type of crossbow is easy to maintain, lightweight, and typically more affordable than other options.
On the other hand, compound crossbows are a modern invention that uses pulleys and cables to increase their power and speed. They require less physical strength to draw back fully, making them ideal for people with less upper body strength.
Compound crossbows are also more accurate than recurve models due to their intricate design.
What is a Crossbow?
What makes a crossbow different from a traditional bow? The answer lies in its unique design and mechanics.
A crossbow is a combination of a bow and a rifle, with the main difference being that it uses a trigger mechanism to release the arrow instead of pulling back on the string by hand. It allows for greater accuracy and power and easier use for those needing more strength or skill to use a traditional bow.
The basic components of a crossbow include the stock (or handle), limbs, string, trigger mechanism, and arrow rest.
The limbs have materials like fiberglass or carbon fiber, providing strength and flexibility. The string is high-tensile synthetic fibers like Kevlar or Dyneema that withstand high tension levels without breaking.
Overall, these elements have worked together to create an efficient weapon for hunting and warfare for centuries.
The Recurve Crossbow: Traditional and Reliable
The Recurve Crossbow is a classic choice for those seeking a reliable and traditional option. It gets its name from the shape of its limbs, which curve away from the shooter when unstrung. This design allows more energy to be stored in the limbs, resulting in faster arrow speeds and greater accuracy.
Here are three advantages of using a Recurve Crossbow:
Easy maintenance: The simple design of recurve crossbows makes them easy to maintain and repair. They do not have as many complex parts as other crossbows, making it easier to troubleshoot any issues that may arise.
Quiet shooting: Due to their simplicity, recurve crossbows tend to be quieter than compound or reverse-draw models. It makes them ideal for hunting or target shooting, where noise could scare off prey or disrupt others at the range.
No need for a cocking device: Unlike compound crossbows that require a cocking device to draw the string back, recurve crossbow models do not need one. It can save you money on additional equipment and streamline your setup.
Here are the +400 Recurve Crossbows you can choose from.
The Compound Crossbow: Modern and Powerful
The Compound Crossbow is a modern and powerful option if you're looking for a crossbow that packs a punch. Unlike the Recurve Crossbow, the Compound Crossbow utilizes a system of cables and pulleys to generate more power with the less physical effort required from the user.
It makes it an excellent choice for hunters or target shooters who need accuracy and power in their shots.
The Compound Crossbow also features an adjustable scope, allowing increased precision when aiming at targets.
Additionally, many models come equipped with anti-vibration systems and noise reduction technology, making them quieter and easier to use without disturbing nearby wildlife or other shooters.
With its power, accuracy, and advanced features, the Compound Crossbow is a top choice for anyone seeking a high-performance hunting or target-shooting weapon.
Check out these +600 Compound Crossbows you can choose for your next hunting trip.
Comparison of Recurve and Compound Crossbows
Take a moment to compare Recurve and Compound Crossbows to determine which style suits your hunting or target shooting needs better. Both types of crossbows have advantages and disadvantages, so it is important to understand their differences.
Recurve crossbows are considered more traditional and simpler in design. They feature longer limbs that curve away from the shooter, which creates tension in the bowstring when drawn back.
This tension helps propel the arrow forward with greater speed and power. Recurve crossbows are also generally lighter, making them easier to carry for extended periods.
However, they require more strength to draw back the bowstring fully and may not be as accurate over long distances due to their shorter power stroke.
On the other hand, compound crossbows use a system of pulleys and cables that reduce the effort needed to draw back the string while increasing accuracy and power over longer distances.
They are also typically quieter than recurve crossbows due to their added components. However, compound crossbows tend to be heavier than recurve ones, making them more difficult to maneuver during hunting or competition situations.
Ultimately, it boils down to your preference when choosing between these crossbows for your hunting or shooting needs.
Choosing the Right Crossbow for You
When choosing a crossbow that suits you, consider your personal preferences and hunting or target shooting needs. Here are a few things to keep in mind:
Draw weight: This is the force to pull the string back before firing. The higher the draw weight, the more power and speed your shot will have. However, it also means more effort to cock the bow.
Size and weight: Crossbows come in different sizes and weights. Consider where you'll be using it most – if you need to hike long distances, a lighter option might be better.
Noise level: Some crossbows are louder than others when fired. If you're planning on hunting, a quieter option might be better so as not to spook the game.
Accessories: Depending on what you plan to use your crossbow for, certain accessories, such as scopes or slings, may be helpful.
Once you know what features are important to you, narrowing down which type of crossbow is right for you is easier. The two most common types are recurve and compound.
Recurve crossbows are simpler in design and easier to maintain. They tend to be lighter and quieter than their compound counterparts.
Compound crossbows generally have higher draw weights and shoot faster arrows thanks to their complex pulley system. They can also be more accurate due to their stiffer limbs.
Ultimately, which one is best for you depends on your personal preference and intended use.
Safety Precautions and Maintenance Tips for Crossbows
Now that you have chosen the right crossbow, knowing how to handle it safely and maintain it properly is important. Crossbows can be dangerous if not treated with respect and caution, so following some safety precautions is crucial.
Firstly, always ensure you unload your crossbow before handling or transporting it. Keep your fingers away from the trigger until you are ready to shoot, and never point a loaded crossbow at anything except your intended target.
When cocking the bow, use a rope cocking device or crank rather than trying to do it by hand. It will help prevent injury and ensure proper alignment of the string. Additionally, make sure to wear eye protection when shooting, as well as sturdy footwear in case of a misfire.
Regarding maintenance tips, regularly inspect your crossbow for any signs of wear or damage before each use.
Check the strings and cables for fraying or other issues, and replace them if necessary. Keep all parts clean and lubricated according to manufacturer instructions.
Finally, store your crossbow in a safe place where children cannot access it. Following these guidelines, you can enjoy using your crossbow safely for years.
When choosing a crossbow type, two common types are available: recurve and compound crossbows. Recurve bows have been around for thousands of years, while compound bows were invented in 1966 by Holless Wilbur Allen Jr., an American engineer working on missile guidance systems during World War II.
Recurve bows work using simple levers such as pulleys, while compound bows use more complex designs which allow greater power output without requiring greater effort from the user.
It makes them easier on beginners who may need more strength but also less traditionalist since they are more modern than recurve models, which rely on simpler mechanisms like springs or cords stretched across wooden frames to give their arrows enough energy upon release.
Frequently Asked Questions
How do you properly load and cock a crossbow?
To properly load and cock a crossbow, first, ensure the safety is on. Next, secure the bowstring in the groove using your foot. Then, use both hands to pull back the string until it clicks into place. Finally, load an arrow onto the rail and aim.
What types of bolts (arrows) are best for crossbows?
For crossbows, the best bolts are carbon or aluminum. These materials offer durability and accuracy when fired. Be sure to choose the correct size and weight for your crossbow model.
Can you use a crossbow for hunting in all states?
You cannot use a crossbow for hunting in all states. Regulations vary by state and often require permits or specific equipment. Check with your state's wildlife agency before using a crossbow for hunting.
How does the accuracy of a crossbow compare to a traditional bow?
Crossbows are generally more accurate than traditional bows due to their design and use of a trigger mechanism. However, this can vary depending on the shooter's skill and the equipment's quality.
Are there any restrictions on where you can use a crossbow, such as in urban areas or public parks?
There are restrictions on using a crossbow in urban areas or public parks, as they are considered weapons. Some states may have specific laws regarding hunting with crossbows as well.
Get a crossbow from this list of +100 different modern crossbows.