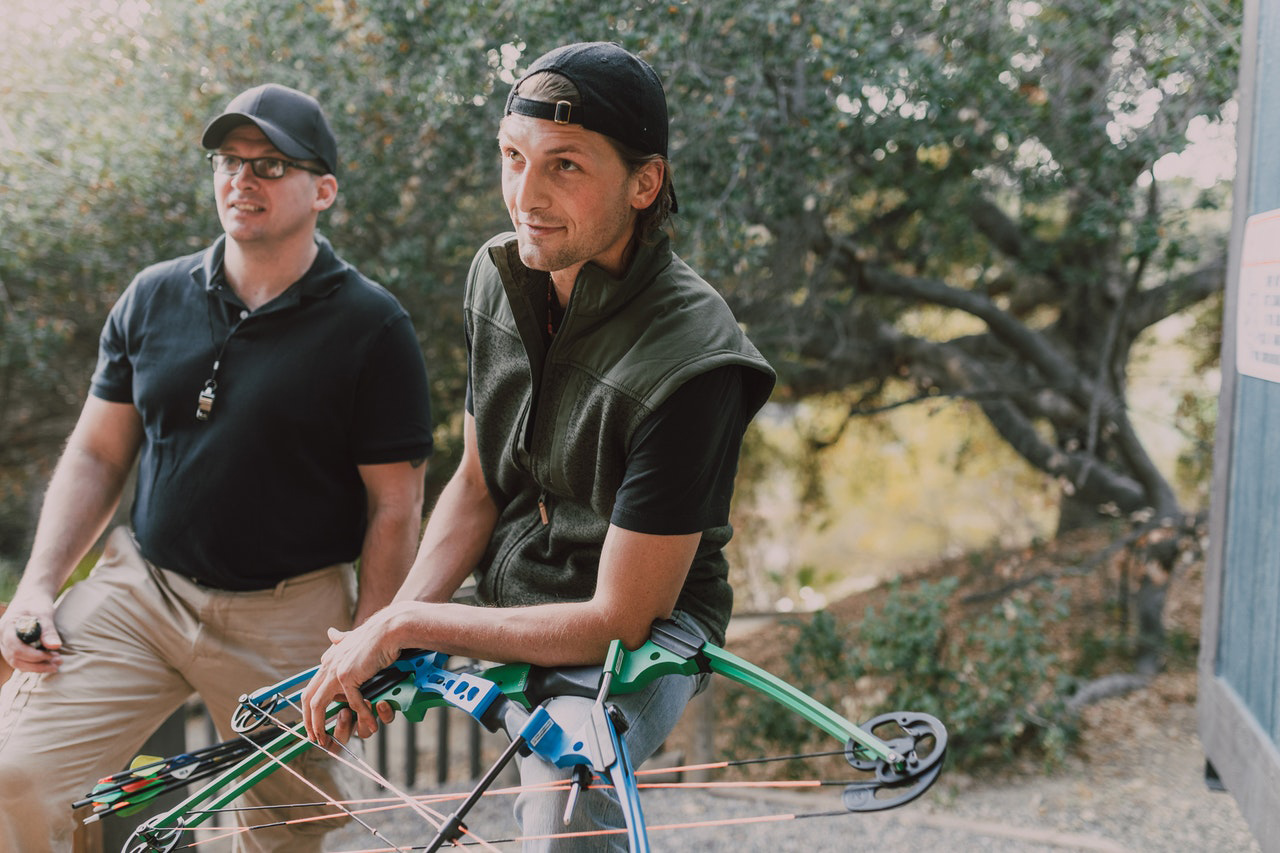 In general, all bows make noise and vibrate when you shoot. For compound bows, you can expect it to emit noise approximately ranging from 76.7 decibels to 83.5 decibels.
Not all bows produce the same noise because they are not all made the same, and compound bows are no exception. You have to understand that some compound bows are quieter than others; some are louder than others.
Generally, no bow is dead silent, and all bows will likely make noise and vibrate when you shoot. The noise your bow produces when you release an arrow is merely a byproduct of the vibration.
However, not all bows have to emit the same noise range. Therefore, compound bows may or may not be louder than other bow types.
If we are to compare the compound bows made years ago, you will notice that they are likely louder than modern ones. It's all due to the pressure given to manufacturers to produce quieter bows. Thus, the demand is high.
Getting the correct updated data of a compound bow's noise range is challenging because of the rapid technological advancement in archery. To know a bow's noise range, you must test each to arrive at an approximate number.
Luckily, Stress Engineering performed a test and determined which compound bow was the quietest and loudest.
As of 2022, Mathews V3X is the quietest bow they tested, with a decibel of only 76.7. On the contrary, the loudest bow with 83.5 decibels is the Bear Refine.
Following the data presented above, we can conclude that the compound bow's noise ranges approximately from 76.7 decibels to 83.5 decibels. Wherein 76.7 is the quietest, while 83.5 decibels is the loudest.
Therefore, if you plan to buy a compound bow, you can expect it to emit noise along the following range. If it suddenly gets louder and makes strange noises, that would mean that your compound bow is experiencing a problem.
Why does my compound bow make noise?
Your compound bow may be making weird noises owing to various factors, including loose parts, cam problems, incorrect brace height measurement, and bowstring length.
As discussed above, compound bows do make noise. However, there are instances that your compound bow has become louder or makes strange noises like clicking, buzzing, whistling, slapping, creaking, or rattling.
When this happens, you cannot simply ignore it since it may be experiencing issues.
Most compound bows that get louder may have gone out of tune. If this is the problem, you can get it tuned at a nearby local archery shop. However, this is not always the case. It may be due to other issues such as the ones enumerated below:
Loose parts

Loose parts are the most likely common and minor issue among the four. If your compound bow suddenly vibrates more and emits a loud noise when you shoot, it may be due to loose parts.

It is important to remember that accessories in a compound bow can get loose over time too. The parts that will likely get loose over time are the arrow rest, stabilizer, and sight.

You can inspect it by gently wiggling your compound bow and observing which part is loose. Thoroughly check every attachable accessory and use a screwdriver to tighten any loose ones.

After ensuring it's all tightened correctly, start shooting and observe if the compound bow is still loud.

Cam problems

Unlike the longbow and recurve bow, the compound bow's mechanics are pretty complex. Cam problems include torque, timing, and sync problems. Also, it has a cam system which other bows do not have.

Compound bow's experience cam issues which result to increased loudness. Cam torque issues are visually easy to spot, whereas cam timing and sync problems are tricky to identify.

To resolve a possible minor cam issue, try to start by visually inspecting your compound bow's cams and see if both are correctly in place. If it seems challenging to pinpoint, it would be best to get it checked at a trusted archery shop.

Resolving a cam issue alone is not the best option unless you are a professional.

Incorrect brace height measurement

Another possible cause is the incorrect brace height measurement. You may be surprised that the brace height has something to do with your compound bow's noise.

An incorrect brace height measurement significantly contributes to your compound bow's loudness. That's why knowing how to calculate the brace height measurement is essential.

Moreover, make sure your compound bow's brace height fits the manufacturer's recommendations.

Bowstring length

Although the bowstring length issue is quite familiar with recurve bows, you should still be mindful of how long or short your compound bow's string and cables should be.

It may cause a rattling sound if the bowstring is too long. In contrast, it can get quite uncomfortable to shoot if it's too short.

The correct bowstring length will eliminate noise and ensure you are shooting comfortably.

If you are thinking of solving the noise issue by using additional tools to silence your compound bow instead of inspecting it, you are only making things worse.

Therefore, before doing so, make sure to give your compound bow the attention it needs by first checking what causes it to make strange noises.
How do I stop my compound bow from making noise?
You can't entirely stop your compound bow from making noise, but you can make it quieter. By investing in a string silencer, limb dampener, string stop, using heavier arrows, decreasing the speed, doing general maintenance, or opting for a heavier bow, your compound bow will emit lesser noise.
Despite the advancement in technology, a dead silent crossbow is still non-existent. Therefore, you can't stop your compound bow from making noise. On the positive side, you can make it quieter.
Although compound bows aren't as loud as crossbows, others prefer to make their compound bows quieter. After ensuring that your compound bow's noise issue gets resolved and confirming everything is fine, you can now start to modify your compound bow to make it stop from making noise.
There are various ways to make your compound bow quieter. On the options enumerated below, some could work for your compound bow, while some don't. Regardless of such factors, below are the options to consider that will help you decrease your compound bow's noise:
String silencer

Using a string silencer is one of the most common options to decrease your compound bow's noise. String silencers, also known as string dampeners, are available in various styles designed to suit any bow type.

They are cheap and don't take much of your time to install them on your compound bow string.

String silencers are attached to your bowstring to reduce its vibration and noise. Three of the suggested string silencer you can find in the market are:
These three differ in design but serve the same purpose, costing you less than $10.
Limb dampener
Another item quite similar to string silencers is limb dampeners. The only difference is that it lessens the limb vibrations instead of the bowstrings, which decreases the noise they make.
Regardless of brand, limb dampeners are a great and practical item to help you quiet down your compound bow. Like the string silencers, they are also cheap and easy to use but sold at a higher price than string silencers.
You can attach it by removing the backing from the dampener, then screw or stick it onto the limb.
A great example of an all-time favorite limb dampener is the LimbSaver SuperQuad Split Limb Dampener. Although priced at $23.53, this limb dampener reduces the noise and vibration of your compound bow by up to 70 percent.
String stop
Before anything else, you must first check if your compound bow has a string stop. These days, most compound bows have pre-installed string stops, which helps cut back the bow's overall noise.
A better explanation is that once you release your bowstring, it moves forward and hits the rubber string stop. It will therefore silence almost any noise your string might otherwise make.
If you are unlucky and your crossbow does not have a pre-installed string stop, you can always buy one in the market.
The LimbSaver String Decelerator Kit is a good string stop to purchase for your compound bow. Priced at $54.80, and although it is more expensive than string silencers and limb dampeners, it effectively slows down your compound bow string to a stop to cut down slapping noise.
Heavier arrows
Another option to consider is switching to shooting heavier arrows. Remember that you cannot use the same arrows for target shooting and hunting.
For instance, when target shooting, you have to use lighter arrows. On the contrary, you have to use heavier arrows when hunting.
If you plan to hunt, you should use heavier arrows to provide enough power to take down your target and keep your compound bow quieter.
Light arrows are noisier because it produces a distinct crack sound once it comes off. Therefore, consider shooting heavier arrows instead of lighter ones to shoot with less noise.
Decrease speed
A fast compound bow is a great deal; however, it also has its downsides, including noise. Always remember that the quicker a bow is, the louder it will be when you shoot. That's why string silencers are known to decrease the speed of your shoot in return for keeping your bow silent.
Before your arrow can hit the deer, there is a high chance that the loud sound from your compound bow triggered it to run for its life.
Thus, you might start considering lessening the speed to decrease the noise. However, if this is non-negotiable, you can always opt for other options that might work well for you.
Do general maintenance
Never underestimate what general maintenance can do to help your compound bow emit lesser sound besides making it perform better.
General maintenance includes rubbing wax on your bowstring and oiling your cams. Please take note that failure to do so will make your compound bow get louder until it snaps, which can be dangerous for you and those around you.
Additionally, doing thorough general maintenance on your compound bow won't take much of your time, so there isn't anything much to lose. Instead, it will cost you a great deal of consequence if you disregard taking care of your compound bow.
Heavier bow
There are bows that you can customize; if your compound bow allows you to do so, you can opt to increase your bow's weight. A heavier setup offers decreased overall vibration; as a result, the sound emitted by your compound bow is less.
Since heavier bows eat up vibration, you may consider buying a heavier compound bow if you haven't purchased any.
The options presented above are excellent ways to make your compound bow quieter. All you have to do is select which ones work best for your compound bow.
Just like any other bows, compound bows make noise too. However, when a compound bow suddenly starts making strange noises, you must tend to it to see any particular issue that needs immediate attention.
As for making it dead silent, that won't be feasible at the moment, but you can always make it quieter by trying various ways to help lessen its noise.