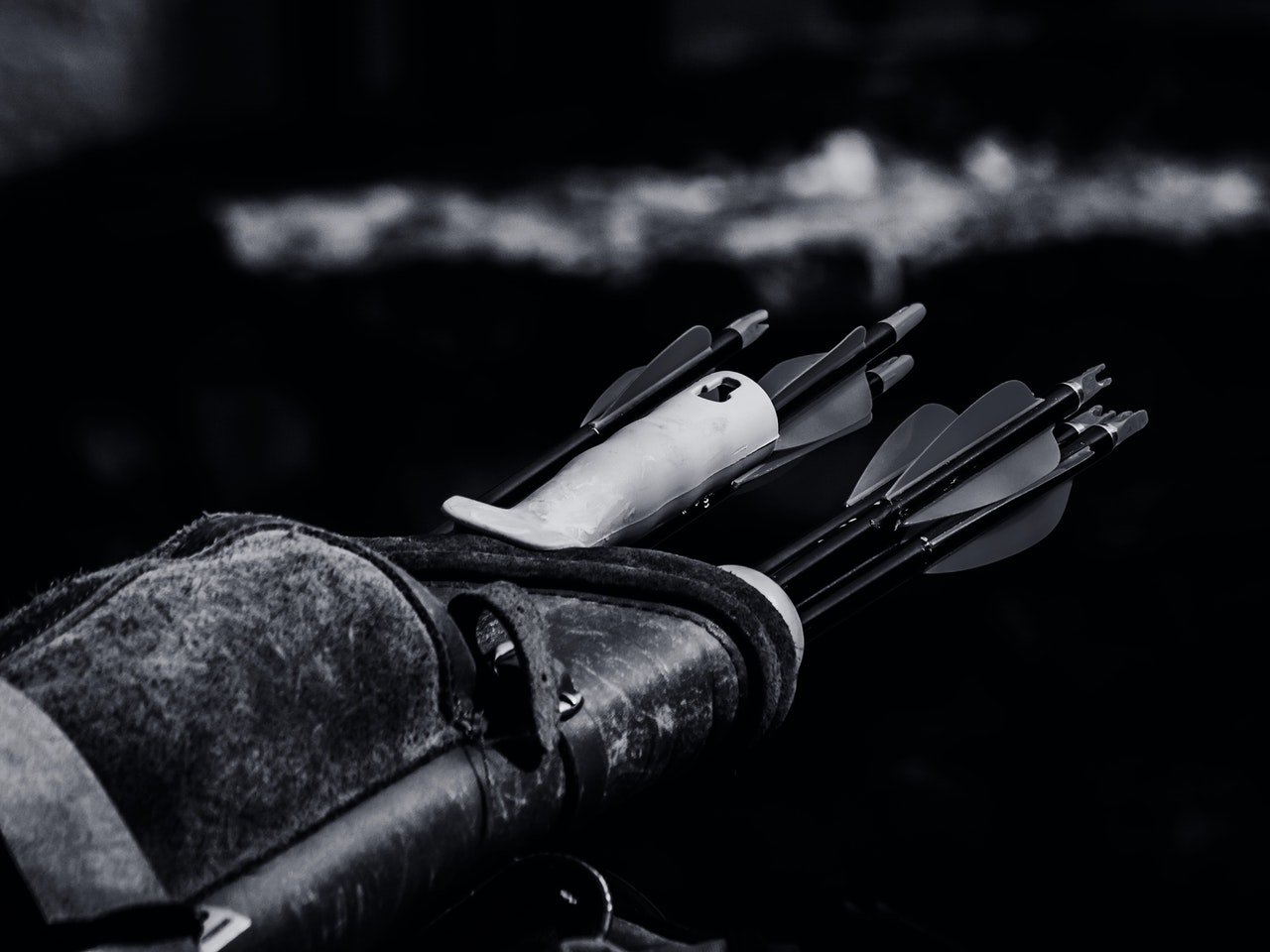 Carbon arrows can last for 10-40 years, but there is no exemption to wear and tear. Their durability depends on the quality of care by the archer, frequency of use, and quality of the shaft. Damage isn't always obvious, so you have to check before you shoot your arrows.
When there is friction, wear and tear will happen on arrows. But as long as you handle them properly, wearing them out is the least of your concerns.
They are lighter than their aluminum counterparts. A lighter weight meant faster flight towards the target. However, a lighter arrow can mean lesser penetration to the target
The impact damage of the side walls is a weakness of carbon arrows. The thinner they are, the less impact they can handle. If you don't notice the thinner walls, the shaft can break during prolonged use.
Arrow manufacturers suggest flexing (also called the flex test) your arrows first before shooting them. By doing that, you will determine the weak point. Keep in mind that any arrow you shot can break if they are frail.
Carbon arrows have factory-made fibers, which will suffer weakness after prolonged use. So better practice shooting your arrows to find out the best ones from the broken varieties.
Check out these carbon arrows on Amazon for an affordable price.
Can you reuse carbon arrows?
Your carbon arrows are still reusable, but you have to check if they're still working before using them again. If your arrows suffer damage, always fix or replace the broken parts to avoid any inconvenience on your next archery session.
Good thing archery isn't an expensive hobby or sport, and its equipment, like arrows, can last for years, like arrows.
Because broken and damaged arrows cause problems, such as exploding arrows, it is best to take them out right away to ensure safety.
Older arrows are usable for shooting at smaller animals. You can also shoot long shots if you don't mind losing them.
You can reuse your new bow with older arrows as long as they have the suitable length for your weapon.
Usable on a new bow too
Carbon arrows are reusable with your new bow, and make sure that the draw weight and length are still the same. If you're changing draw weights, you have to have a more flexible version.
A routine check is so essential
Have a routine visual check before going out to the woods to hunt or compete at a tournament. Do this to make sure your arrows are good to go. Examine your arrows right away after you are in any of these situations:
You missed the target
You hit an animal with the arrow
They don't pass through the target
They don't fly like they used to
There could be an underlying problem if arrows don't fly as you expected them to be. It could be inconsistencies with the shaft or fletchings.
Another sign is the sound of the arrows when they fly – fletchings will make funny sounds if damaged or loose. If you hear uncommon noises, inspect it further.
Check for any wobbling by spinning your arrows. A bit of wobble won't hurt during target practice, but it will decrease your chance to use them during a hunt.
Fletching check
Fletchings can suffer damage too, and it's one of the most common problems with arrows. Inspect it by pulling each vane or feather gently to check if they don't move.
If you're using a plastic vane, check for any tears. If you have feather ones, look for damaged or missing portions. Use steam to recover it from clumps or misshapes.
For curved fletchings, check if their curves are still symmetrical.
Find fletchings for your arrows on Amazon.
Standard check on the nock
Another part that gets frequent damage is the nock, which breaks from regular use (not necessarily hitting something). Before you shoot the arrows, get a few extra nocks in case you damage the ones you have.
Make sure it isn't loose, and the nock has to snap onto the string. If you see any blemish, try to fix it with a pair of pliers. If not, use those extra nocks as replacements.
Don't arrow about losing nocks. Check these out on Amazon.
How about the shaft?
You can check on the flexibility of the shaft by giving it a gentle bend. A bend with pressure isn't a need because you're only checking for brittleness.
When testing for cracks on your carbon arrow:
Hold the head with your index and thumb finger in one hand.
Grab the nock with your other hand.
Apply a bit of pressure to challenge the arrow.
Hear out any squeak or crack as it can mean damage.
How do arrows get damaged?
Damage occurs when arrows hit something hard, like other arrows, rocks, hardwood, and animal bones. Pulling them out of those materials also causes damage to them as well.
There are a couple of situations where arrows suffer damage, especially if it hits something solid.
If your arrow is stuck hard, use an arrow puller. A pair of pliers has to be the last option.
An arrow striking another arrow occurs if one is already in the target and the other hits it. That can cause damage, like dents and cracks, to both.
Damaged arrows in shooting ranges are uncommon. Even so, it's still essential to check them before using.
Even brand new arrows malfunction
Regardless of the arrows are old and new, they are prone to malfunctions too. It will break if the arrow shaft breaks. Never skip the flex-test to maximize safety.
Damaged arrows when hunting
Obstacles are everywhere when you're out on the hunt, such as rocks, bones, trees, and animals.
If you hit an animal, the arrow would pass through or stay in the animal. An arrow could snap if a wild creature lands on it.
Bones can also break your arrows, and a routine check will be beneficial after you've used them.
Using broken arrows: dangerous
If an arrow fails during your check-up, its shaft is already weak and may not stand the energy exerted by the bow. It can snap or shatter, which risks your bowing hand. A broken bow can explode with carbon-fiber fragments scattering into the eyes, hands, and wrist.
How do you maintain an arrow?
Prioritize mini-checks before you use your arrows and always store them in quivers or arrow tubes when not in use. Always repair or replace any damaged parts, like the nocks, fletching, and shaft.
Never put too much inside on each as it will damage the fletchings.
Never overdraw your bow because it will bend and break at some point. Also, clean and dry your arrows by wiping them after your shooting session.
Quiver: a safe place for arrows
A quiver comes in different styles, like leather, vinyl, and cloth. It can also be a simple storage on your belt loop or back.
Its primary usage is to hold your arrows while you shoot or move to another location. A quiver won't cost too much, and it will be worth the purchase.
Don't have a quiver? Click here for Amazon deals.
Arrow tubes
Although less common than quivers, arrow tubes are hard-cased storage for your arrows. You can buy or make your own to transport them safely.
Their bottom parts are solid to protect the arrowheads, which drop in first. The nock and fletchings are at the top.
If you wish to make one, make sure it's as solid and waterproof as it can be. Also, ensure a tight lid to avoid snapping arrows out of place.
Get an arrow tube on Amazon because it's a must-have.
Time to store your arrows
Check this handy guide when you're about to keep your arrows:
Keep the arrows dry. If they are moist, they will attract dust and rust, which causes degradation, like warping and rotting.
Keep the arrows from direct sunlight or freezing temperatures. Extreme heat can damage the shafts and fade the colors of the fletchings.
Keep the arrows in a tube or quiver whether you're traveling or storing them.
Keep the nocks aligned with the feathers. Arrows won't work if their parts have a misalignment.
Moist or wet feathers will also cause the arrow to be heavy, which will affect flight speed. Also, check for any rust or detachment. If you find some rust, use wire wool to remove it.
Rust occurs when metal reacts with oxygen. The storage of your arrows has to be airtight.
If you're hunting during rain, always dry your arrows after use.
Fix your arrows
If you damaged a part of your arrow, don't throw it just yet because you can still fix it.
Here's how:
Fletchings
Nocks
Use pliers to remove the damaged nock. Insert the new nock into place. If you use glue, cut the damaged nock. Make sure you would remove plastic bits before attaching the new nock. Amazon has some pliers for you.
Shafts
Find out where the curved area is by using an arrow spinner. You will be able to spot it in the part where it bends.
Hold the arrow around the bend and put a bit of pressure on the opposite side of it.
Once it is visible, insert the arrow straightener gently. The apex is on the single-pin side.
Picking carbon arrows
When buying arrows, make sure that you choose the ones that are in good condition. Brand new arrows won't mean quality arrows because some varieties may have snags.
Select a shaft pattern for you. It's a matter of personal style as arrows have different choices in design, like camo, black, and wood grain. Another positive thing about carbon arrows is that they're easy to customize. Examples of these are adapters, inserts, and arrow nocks.
You don't have to concern yourself with straight shafts for carbon arrows. Focus on cracks instead. Carbon arrows are composite-made materials, which means that they are more durable. But some may have exceptions due to factory defects.
The grain weight for carbon arrows is lighter than wooden ones. But if you wish to look for more penetration, heavier counterparts are also available in the market.
More carbon arrow maintenance
Tune an arrow to a bow, which is easier to do with carbon arrows. You can modify the weight with different points and inserts. You can also put assorted arrow nocks to balance their weight.
Get the proper tools to cut a carbon arrow. Saw blades aren't the best options. Choose an abrasive wheeled cut-off saw to get a more accurate cut.
Although carbon arrows have limited spine varieties, they create faster speeds and are more forgiving when you fire them to the target.
Correct spine and arrow length
The spine tells you how much the shaft bends. Shafts with more bending can have higher deflection as they're more fitting for lower weight bows. Stiffer spines are better options for bows with heavier poundage.
But before anything else, take a test kit or check on the spine selection chart when choosing carbon arrows. A test kit is essential because everyone has different shooting styles and bows. You need to determine which spine is best.
A shorter arrow can be more dangerous because it may slip off the arrow rest. Choose one that is more than an inch taller than the arrow rest to make sure you have a safer release.
If your arrows are too long, cut them with a more suitable saw to preserve their structure.
Never rush on choosing arrows because they are as crucial as your bow of choice. Any miscalculation can end up in expensive mistakes and shot inaccuracy.
Tips for beginners
Bought arrows come in sets of 10s or 12s, which manufacturers produce simultaneously in the factory. That explains why stores offer them in batches.
You can choose either ready-made arrows or assemble parts yourself. The former offers more affordable prices while the latter has more customized options.
Experts recommend ready-to-use versions as they're more convenient to beginning archers – but it's really up to you.