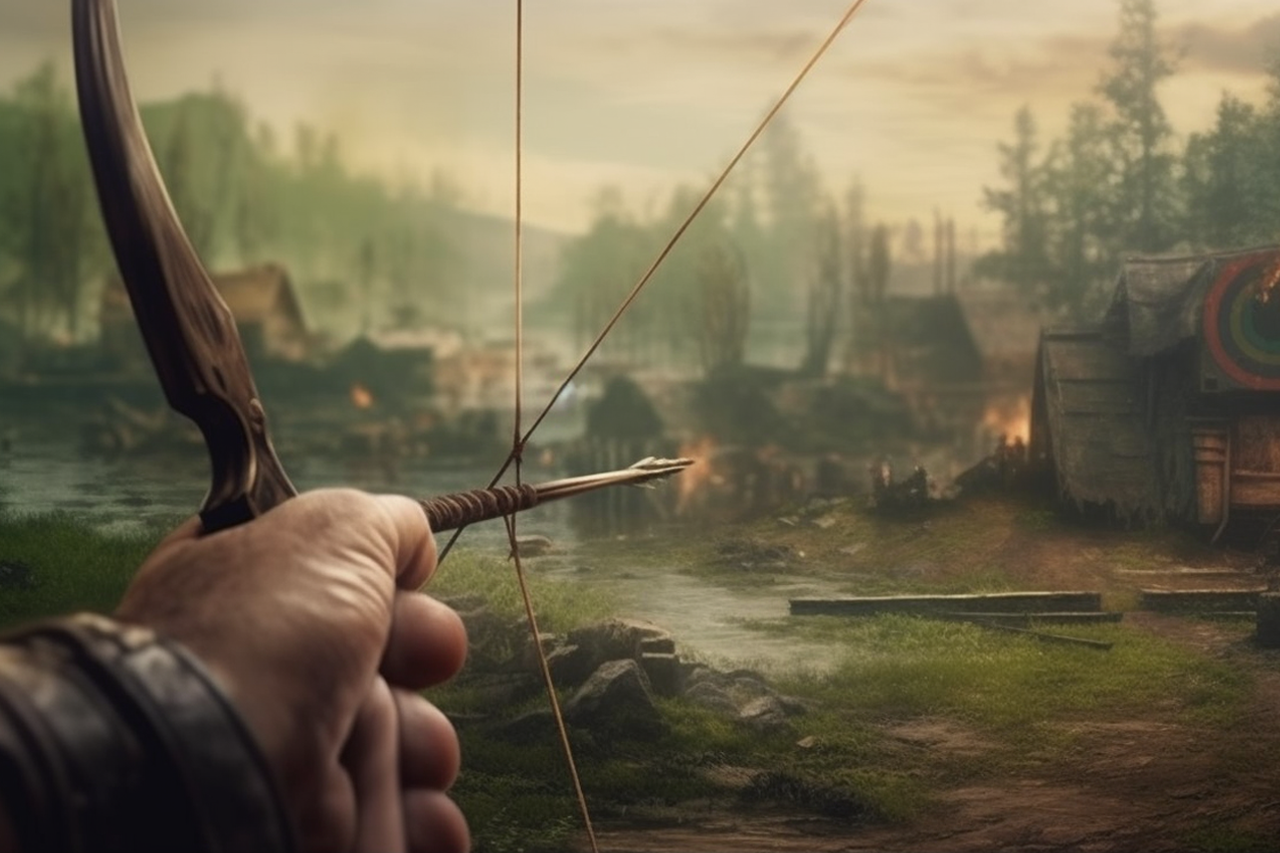 Do you need help with accuracy when it comes to archery? Are you tired of missing your target and feeling frustrated with your performance? If so, consider using a bow peep sight.
It is a small device that attaches to your bow and helps you aim more precisely by providing a clear view of your target. Using a bow peep sight can make all the difference in improving your archery skills.
Not only does it help you aim more accurately, and it allows you to focus on the shot itself rather than worrying about where the arrow will land.
In this article, we'll explain how bow peep sights work, their benefits for archers, how to choose the right one for your needs and tips for using them effectively. Whether you're new to archery or looking to improve your skills, a bow peep sight may be just what you need to take your performance to the next level.
What is a Bow Peep Sight and How Does It Work?
If you want to improve your aim and hit those targets dead on, you must try using a bow peep sight – it'll make you feel like a sharpshooter!
A bow peep sight has a small hole in the centre that allows you to line up your shot precisely. The peep sight design helps eliminate any guesswork when aiming at your target.
Using a bow peep sight is simple. Attach the device to your bowstring and look through it as you aim towards the target. The small hole in the centre of the peep sight will help guide your eye towards where you want to shoot.
By using it, you'll be able to hit those bullseyes and improve your accuracy over time consistently, so if you're looking for an easy way to enhance your archery skills, give a bow peep sight a try!
Benefits of Using a Bow Peep Sight for Archery
Using a bow peep sight can enhance your archery skills by providing improved accuracy and consistency in your shots. Here are some benefits of using a bow peep sight for archery:
Better alignment: The peep sight helps align the bowstring with the aiming aperture, allowing for more precise shots.
Improved focus: By looking through the small aperture, you can better focus on your target without distractions from surrounding objects.
Consistent anchor point: The peep sight is a reference point for consistent anchoring, which is crucial for accurate shots.
Faster target acquisition: With practice, using a peep sight can help you quickly acquire targets and shoot faster.
Overall, using a bow peep sight is an effective way to improve your accuracy and consistency in archery. Whether you're a beginner or an experienced archer, incorporating this tool into your practice routine can help take your skills to the next level.
Choosing the Right Bow Peep Sight for Your Needs
Take advantage of finding the perfect peep sight to take your archery game to the next level!
When choosing a bow peep sight, there are a few things you need to consider. Firstly, think about what type of shooting you'll be doing.
If you're shooting longer distances, you might want a smaller peep aperture, as it'll give better accuracy. On the other hand, if you're shooting at shorter distances, a larger aperture will make it easier for you to see your target.
Another thing to consider is whether or not you want an angled or straight peep sight. An angled peep sight can help align your eye with the string and reduce torque on the bowstring. However, some archers prefer straight peep sights as they believe it offers them more control over their shot and allows them to aim more accurately.
Ultimately, it comes down to personal preference and what feels comfortable when aiming and shooting your bow.
Installing a Bow Peep Sight on Your Bow
Installing a bow peep sight can make all the difference in your accuracy and overall archery performance. Here's how to do it:
First, gather all necessary tools, such as pliers, a bow press, and the peep sight itself.
Next, use the bow press to relieve tension on the bowstring before installing the peep sight. It prevents any potential damage or warping of your bowstring during installation.
Then, slide one end of the peep sight over the bowstring while holding onto both ends of the string. Use pliers to twist and secure the peep sight into place while keeping equal tension on both sides of the bowstring.
Finally, use an arrow to check that your line of vision through the peep sight is clear and aligned with your intended target.
Properly installing a bow peep sight may take some practice, but once you get it right, you'll see a noticeable improvement in your aim and precision on every shot!
Adjusting Your Bow Peep Sight for Optimal Accuracy
To truly elevate your archery game, fine-tuning the positioning of your bow peep sight is crucial. It will ensure you hit your targets with optimal accuracy and precision. After installing the bow peep sight on your bow, it's important to make adjustments until you find the sweet spot for maximum accuracy.
Start by adjusting the height of the peep sight – this can greatly impact how well you aim. Make small adjustments until you find what works best for you and allow for clear vision through the peep sight.
Next, adjust the angle of the peep sight to align perfectly with your eye. It will allow for proper alignment with the front view and improve accuracy.
You'll hit bullseyes quickly with some practice and patience in adjusting your bow peep sight!
Tips and Tricks for Using a Bow Peep Sight Effectively
Now that you've adjusted your bow peep sight for optimal accuracy, it's time to learn some tips and tricks to use it effectively. Using a bow peep sight can greatly improve your aim, but certain techniques can take your accuracy to the next level.
Firstly, ensure you're properly aligning your eye with the peep sight. It means keeping both eyes open and focusing on the target while also placing the centre of the peep sight in line with your dominant vision. It will help ensure you have a consistent anchor point and reduce any errors caused by inconsistent positioning.
Additionally, try using a smaller aperture size on your peep sight, as this will increase focus and clarity on the target. Lastly, remember to relax and breathe before taking a shot, as this will help steady your aim.
Follow these simple tips and tricks to effectively use a bow peep sight for better accuracy in archery. Remember that practice makes perfect, so keep honing your skills with regular shooting sessions!
Common Mistakes to Avoid When Using a Bow Peep Sight
Don't let these mistakes ruin your shot accuracy and frustrate you using a bow peep sight! Here are four things to avoid:
Improper alignment – ensure your peep sight aligns with your front sight and target before shooting.
Incorrect size – choose the right size of peep sight for your bow and shooting style.
Poor maintenance – keep your peep sight clean and debris-free to ensure clear visibility.
Ignoring lighting conditions – adjust the brightness of your pin or use a different coloured pin in low-light situations.
By sidestepping these errors, you can maximize the benefits of using a bow peep sight by improving aim, accuracy, and overall performance. Remember, practice makes perfect! Take time to hone in on the correct technique for using a peep sight effectively and avoid these common pitfalls that may hinder progress.
Frequently Asked Questions
Can a bow peep sight be used for all bows or only specific ones?
You can use a bow peep sight for all types of bows, including compound bows, recurve bows, and longbows. It's a popular accessory among archers because it helps improve accuracy by providing a consistent point of reference when aiming.
The peep sight attaches to the bowstring and allows you to look through a small aperture or hole that lines up with your front sight pin. It creates a clear and precise sight picture, making aligning your shot with the target easier.
Whether you're a beginner or an experienced archer, using a bow peep sight can significantly improve your shooting performance.
Is it necessary to have a bow peep sight for archery, or can accurate shots be achieved without it?
Regarding archery, having a bow peep sight is optional for accurate shots. It can be helpful for beginners who are learning to aim and shoot, but experienced archers often prefer shooting without one.
Practice and proper form are the keys to achieving accuracy without a peep sight. By mastering the basics of archery technique, such as stance, grip, and release, you can consistently improve your aim and hit your targets. Using other tools like a stabilizer or arrow rest can also help with accuracy.
Ultimately, whether or not to use a bow peep sight is up to personal preference and what works best for each archer's shooting style.
Can a bow peep sight be adjusted for different distances, or is it only effective for a specific range?
A bow peep sight can be adjusted for different distances, making it a versatile tool for archers of all levels. The peep sight is typically attached to the bowstring and requires the user to look through a small aperture to aim accurately.
By adjusting the position of the sight on the string or changing the size of the aperture, an archer can compensate for varying distances and achieve pinpoint accuracy at any range. It makes a bow peep sight an essential tool for anyone looking to improve their aim and consistency when shooting arrows.
Are there any maintenance requirements for a bow peep sight to ensure longevity?
There are a few maintenance requirements that you should keep in mind to make sure your bow peep sight will last long. Firstly, check the alignment of your peep sight regularly, as it can become misaligned over time.
Additionally, clean your peep sight with a soft cloth to prevent debris or dirt from accumulating after each use. And if you notice any signs of damage, such as cracks or chips in the material, it's important to replace your peep sight immediately to avoid potential safety hazards.
By following these simple steps, you can help prolong the lifespan and effectiveness of your bow peep sight for years to come.
How do you know when to replace a bow peep sight, and what signs should you look for?
Knowing when to replace a bow peep sight can be tricky, but there are a few signs to look out for.
First and foremost, if you notice any cracks or chips in the sight itself, it's likely time for a replacement.
Additionally, if you find the sight constantly moving or sliding around on your bowstring during use, this could also signify wear and tear that requires a new sight.
Lastly, if you're experiencing consistent accuracy issues despite adjustments and practice, consider a new peep sight – sometimes, even small defects can impact your aim!
Overall, watching for physical damage and regularly assessing performance will help ensure that your bow peep stays in top condition, enabling you to hit those bullseyes easily.
Conclusion
Congratulations, you now better understand how a bow peep sight can improve your aim in archery. By using this simple tool, you can enhance the accuracy and precision of your shots, making you a more skilled archer.
Remember to choose the right type of bow peep sight for your needs, install it correctly on your bow, and adjust it for optimal accuracy. With practice and patience, you can effectively use a bow peep sight.