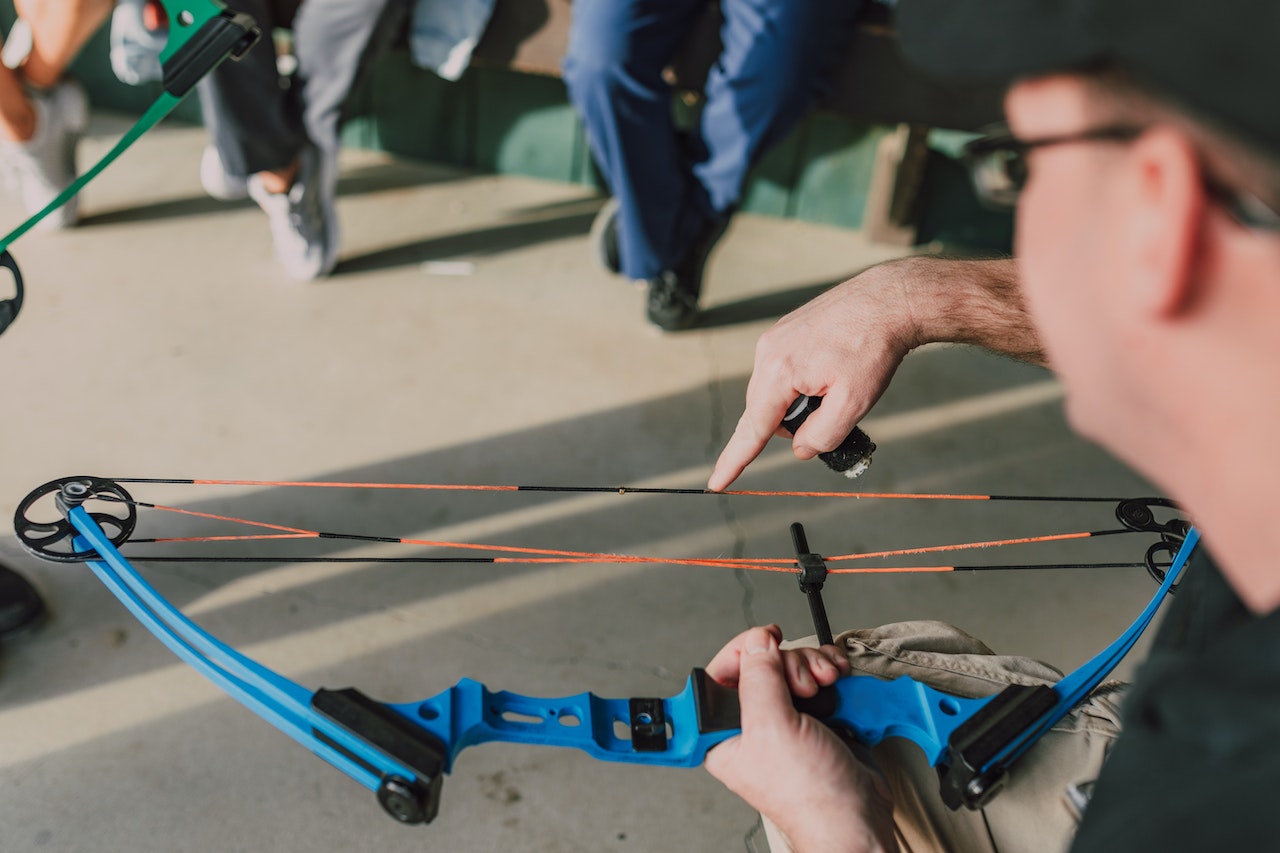 Restringing your compound bow at Bass Pro Shops can cost you around $10 to $15 for labor alone. A new bowstring, however, can cost you between $50 and $200, depending on the quality, type, and brand. Thus, you can generally expect to spend approximately $60 to $300 on restringing your compound bow at Bass Pro Shops.
Archery can be quite an expensive hobby, sport, or profession. It only makes sense that a lot of archers are finding cheaper alternatives that can help them lessen their expenditures.
However, it is part of your duty as an archer to maintain the condition of your bow at all times, which includes restringing your compound bow as necessary.
Bowstrings can last for two to three years in general. Nevertheless, some factors play a critical role in its lifespan, including but not limited to how frequently you shoot and the quality of the bowstring itself. If you see any signs of wear, tear, or fray, restring it before reshooting it.
Bass Pro Shops is among the most popular, if not the number one, archery shop with countless branches in the United States. As a result, restringing your compound bow at the Bass Pro Shops may have crossed your mind, but you are curious about the cost.
Having your compound bow restrung at Bass Pro Shops can cost you about $10 to $15, but this only pertains to labor fees. You need to know that restringing your compound bow can cost you more than the labor fee, especially if you need a spare bowstring to replace the old one.
Assuming that you don't have a spare bowstring, you'll likely spend another $50 to $200 for a new bowstring alone. Hence, you can expect to pay a total of at least $60 if you plan to restring your compound bow at Bass Pro Shops.
However, also please note that the prices may go higher or lower depending on what the business sees fit. Consult them directly through email in case of sudden price changes, especially if you are tight on funds.
You may also want to find out if there are any significant differences in price if you intend to restring your compound bow by yourself or have it restrung by a professional:
A. Having your compound bow restrung by a professional
Aside from Bass Pro Shops, other archery shops offer restringing services on compound bows. Labor fees may vary from one store to another. For instance, some archery shops may ask for a price of $20 to $50.
Meanwhile, it costs less if you have your compound bow restrung at Bass Pro Shops. Also, some archery shops charge $50 to $100 per hour for labor fees.
Restringing a compound bow will likely take only half a day or more than a few hours, so you can rest assured you will only spend a little of your money on labor alone.
Aside from labor, you'll likely need to buy a new bowstring which can generally cost $50 to $200 per set, depending on the brand, type, and quality. Additionally, bowstrings made of natural materials are more expensive than synthetic ones but guarantee a longer lifespan.
It is always advisable to purchase bowstrings of high quality. However, if you don't shoot too often and are on a tight budget, choose the one that is at least known to be durable from a well-respected brand.
Therefore, you will probably spend $50 to $300 if you plan to restring your compound bow with an archery shop's hired professional and also with the following enumerated advantages and disadvantages:
Advantages
No need to buy a bow press since the archery shop has it
They use proper tools to quickly and safely restring your compound bow.
It can be cheaper and safer than doing it alone.
Disadvantages
If you live far, transportations cost may be inevitable.
It can cost more for those with prior experience restringing their compound bow by themselves.
Have your compound bow restrung at a trusted local archery shop near you to avoid additional costs.
B. Restringing your compound bow by yourself
You may be thinking of restringing a compound bow by yourself instead after knowing how much it will cost you if you have it done by a professional. However, it may not be as convenient as you expect.
Restringing a compound bow by yourself excludes you from labor fees. Nevertheless, it is essential to know that restringing a compound bow is more complex than restringing traditional bows because you would need a bow press to do it properly.
A bow press can cost you between $50 and $200. Therefore, including the bowstring price, you would spend around not less than $100 if you choose the DIY method of restringing your compound bow.
Besides the cost, here are the following advantages and disadvantages that can help you figure out if DIY is the best option:
Advantages
There is no need to travel or go to the archery shop
You can use your bow press for other purposes
No need to spend a lot of time deciding which is the best archery shop to have your compound bow restrung
Ideal for those who have the skill to restring a compound bow correctly
Disadvantages
It can cost you more since bow presses aren't cheap
It can be dangerous, especially if you don't have prior experience and enough knowledge to rest your compound bow
Remember that there is a significant stress on the compound bow's components, which can cause the bowstring to snap if done incorrectly. Nonetheless, if you are eager to do it by yourself in the following years, you should start learning how to rest your compound bow correctly to save labor costs.
Many archers had their compound bow restrung at Bass Pro Shops. If you feel comfortable having them handle your compound bow's restringing, look for the nearest branch so you can save yourself from transportation fees.
What are the signs you need to restring your compound bow?
You need to replace your old bowstring with a new one at some point. Apart from age and frequent use, other signs that require restringing a compound bow are fraying, dryness, stretching, serving separation, and breakage.
Bowstrings, no matter what bow type, have a limited lifespan. Therefore, restringing your compound is a responsibility you can never avoid as long as you use it. As mentioned, you need to replace it depending on how frequently you shoot it and when its lifespan expires.
Unfortunately, age and use isn't the only sign that calls for restringing. Below are the other signs you need to look out for that will help you determine if your compound bow needs restringing as soon as possible:
Fraying

When the bowstrings' fibers unravel and get worn at the edges, it is a sign of fraying, which also happens on cables. So, if you see any sign of fraying on your compound bow's bowstring or cable, it is your cue to restring it immediately.

Fraying is not as severe as breakage but can cause your bowstring to snap. Some archers ignore this sign and think they can still shoot with the bowstring by applying wax to fit it. Unfortunately, using wax on a frayed bowstring or cable is only a temporary fix and can be risky for the shooter.

Hence, if you see any fraying on your bowstring or cable, discontinue using it and restring your compound bow before you can shoot again.

Dryness

A "waxy" bowstring is a healthy bowstring that is a product of regular waxing as part of its maintenance routine. You can tell your bowstring is dry if you rub it with your fingers and find it dry and slick like it needs quick waxing.

In addition, the bowstring would look like the tiny strands are sticking up and looking "furry." Waxing is only a temporary solution; you will eventually notice individual strands coming loose or sticky out, which is why you need to restring your compound bow to eradicate the problem.

Stretching

Bowstrings stretch over time which is natural and happens even on high-quality ones. It is because the bowstrings absorb the energy when drawn, and repeated shooting can cause it to stretch slightly longer than when it was brand new.

Stretching progresses fast if you shoot your compound bow frequently. Bowstring stretch usually happens after 50 to 100 shots. Remember that shooting overstretched bowstring is counterproductive because it will interfere with the arrow's speed and accuracy.

Your compound bow will also become less powerful and hurt your shooting performance which calls for restringing.

Serving separation

"Serving" is a synthetic fiber material that covers the bowstring and cables on compound bows. You can find it in the bowstring's nocking area and can touch the compound bow's string stop, roller guard, and cam.

Since there is a possibility that the serving will separate as time goes by due to usage, there is a need to inspect it thoroughly for safety. That's why if you see that the serving starts to separate, it would be best to restring your compound bow to avoid danger.

Breakage

The most apparent and alarming sign is when your compound bow's bowstring or cable gets broken. Breakage happens with cheap bowstrings and can also occur with those made of synthetic fibers.

You can never shoot with a broken bowstring, and restringing is the only solution so you can use your compound bow again.

Any of the signs above calls for immediate attention and action, which you can solve best by restringing your compound bow.
What is the best compound bow string?
There are numerous excellent quality compound bow strings in the market. Nevertheless, KESHES Dacron Bowstring is the best for compound bows because it lasts longer than others and can snap back to its original length each time you pull it.
Low-quality bowstrings will only last for a while compared to those with top-tier quality. If you are looking for high-quality bowstrings for your compound bow, there are various brands you can check in physical and online archery stores that don't help you narrow your search.
Instead of checking every bowstring, it would be better to look for the best and start from there. KESHES Dacron Bowstring is the best compound bow string many archers recommend.
If you have yet to learn, one of the best bowstrings brands is the Dacron. Many archers and hunters use this bowstring brand for hunting or target shooting. The KESHES Dacron Bowstring stands out from the rest, making it one of the best bowstrings on the market.
Similarly powerful Dacron's B-50 bowstring model, KESHES Dacron Bowstring, has a longer lifespan than the former due to its less permanent stretch. It means that when pulled, it snaps back to its original length immediately, preventing creeps from happening. It promises superb performance and has high durability.
KESHES Dacron Bowstring is also available in different sizes, catering to various archers.
Besides KESHES Dacron Bowstring, there are also other high-grade compound bow strings you may want to consider:
You can also consult your local archery shop if they recommend any ideal bowstrings for your compound bow. Aside from consulting professionals, you can also request a custom bowstring, but it may cost you more depending on your compound bow's model.
Restringing a compound bow can cost you whether you plan to do it alone or with the help of a professional at an archery store like the infamous Bass Pro Shops.
Compared to other archery shops, restringing your compound bow at Bass Pro Shops seems cheaper as long as it won't cost you additional costs like transportation and delivery.