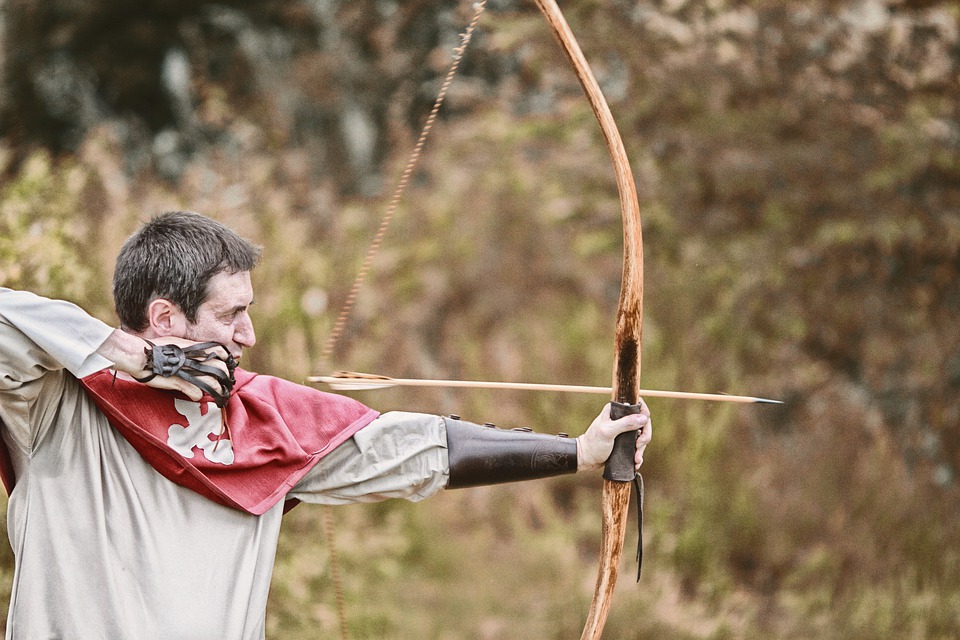 Some archers prefer to use a thumb release, while others use a wrist release. They are both made from natural materials, are ergonomic, and give you a good grip on the string to release it.
One of the essential aspects of archery is form. The form is crucial to shooting your bow accurately and consistently. A vital part of proper form is releasing the arrow at the correct time during the draw cycle.
There are many different types of releases used by archers, but one comparison that continued to come up was between using a thumb release or a wrist release.
What is a thumb release?
A thumb release generally consists of a piece of leather on the back of the hand. It is mainly with buckles, cords, or strings attached to your bowstring. It is probably the most common type of release used by archers.
The thumb release has a small hole at one end where you can insert your thumb, and there is a bigger hole at the other end to thread your bowstring.
The main advantage of a thumb release is that it is very adjustable and versatile. It's easy to adjust how hard you can pull back on your bowstring with your hand, as well as where you position the buckle/strap for maximum comfort and performance.
The strap is also adjustable for your finger size and is easy to release.
The main disadvantage of a thumb release is that it can hurt your fingers if you don't wear the correct size or incorrectly position the strap. In addition, if the release is set too loose, it may not hold fast enough, and you could release prematurely, thus affecting your accuracy.
A tight thumb release will put pressure on your thumb (or possibly even cut off the circulation), and you will tire out your thumb faster. This can be an extreme annoyance for some people, sometimes causing them to switch over to a wrist release.
If you are looking to purchase a thumb release, here is a large selection of 300+ thumb releases you can choose from.
How do you use a thumb release?
To use a thumb release, flex your wrist slightly so your fingers touch the top of the release, and your thumb touches the bottom. You will then pull back on your bowstring and hold it there until you decide to shoot.
Because you can adjust a thumb release in many ways, it's essential to know how to position your hand while using a thumb release and position the strap itself.
If you wear an archery glove, put that on last after positioning your hand and strap. You may also want to wrap some athletic tape around your thumb so it won't slip inside your release as you pull back on the string.
When releasing with a thumb release, I recommend keeping your elbow up close to your face to maintain proper form and avoid hurting yourself.
How do you choose a thumb release?
When getting thumb release equipment, the primary things that you need to consider are the materials, size, wrist strap adjustment, finger adjustment, and style.
Material

Natural leathers are comfortable, but they stretch out over time and can get dirty or too soft. Besides animal hide, some other materials are nylon webbing, rubber, plastic, polyester, and metal alloy (like aluminum).

Size

Your hand size will determine what size thumb release you can wear comfortably. First, measure your hand around the knuckles with a flexible tape measure. If you are right-handed, use that number for your right hand and if you are left-handed, use that number for your left hand. The measurement should be in inches.

A medium-sized thumb release is meant for a hand that measures 5 to 6 inches around the knuckles. A large size is best if your measurement is above 6 inches, and a small size is ideal if it's below 5 inches.

Wrist strap adjustment/release tension

Adjusting the buckle on your thumb release can make a huge difference in how it feels when you use it.

You can set up the buckle so that it's loose, so you have to pull back extra hard on the bowstring to get any tension on your release. If this is what you need, make sure the strap can hold fast once a bit of pressure is applied.

Finger adjustment/release positioning

The strap itself and where you position your hand on it will affect how your thumb release feels and performs while you're shooting.

If you shoot with hefty draw weight, you'll want to choose a strap that has a lot of finger adjustment so you can move your fingers as far apart as possible. This will give them plenty of room to slide through the webbing and avoid pinching against the metal clips or snaps on the strap.

Style

When choosing a thumb release, consider how comfortable you are with the style of release. For example, the single-strap design that wraps around your wrist has a button to lock it in place is best for beginners who shoot relatively close to their bodies.

The double-strap design is usually similar to the single strap, but it doesn't require you to lock your release in place with a button.
What is a wrist release?
A wrist release is a type of archery shot where the arrow is released from the bow using only the hand and wrist motion.
It is considered one of the most challenging shots to execute accurately and is often used in competition to score higher points.
To perform a wrist release, the archer draws back on the bowstring with their fingers and then releases it using the back of their hand to help guide the shot.
This way of drawing is called a "fingers draw" because the archer has to use their fingers to release the string with an arrow nocked.
Types of Wrist release
Three-finger release. The most common type of wrist release. In this release, the archer holds the bowstring with their first three fingers and uses the back of their hand to release it.
Pinch Release. In this release, the archer uses their thumb and first finger to pinch the bowstring and then use their other fingers to release it. There are also releases where the archer uses their thumb and first two fingers, or their thumb and first three fingers.

When using a wrist release, the most important thing is to maintain a consistent anchor point. This is the point on your face where you draw the string back to each time, and it's essential to keep that point in the same spot every time so your shots are more accurate.

Wrist releases can be challenging to learn, but they provide an advantage when shooting longer distances or scoring higher points. You can become a successful archer with this type of release with practice.

Shop an awesome +400 wrist releases from Amazon here.

How do you wear a wrist release?

Wrist launchers are easy to install on any compound bow or recurve bow. However, there are some things that you should know about them before you decide to buy one.

For example, how do you put on a wrist release? You don't need any tools or devices for this; however, make sure that your bow is unstrung and cool before installation, otherwise you could risk damaging the bowstring.

A wrist release, or a wrist launcher strap as it's also known, is the most common product used to shoot an arrow farther. This simple accessory can give you an increase of up to 15 yards in your overall distance.

Wrist releases are very similar to bowstrings in terms of length and performance. The length of the wrist release is measured from one anchor point to another, and it's usually about 3′ long.

There are some longer releases available for those who prefer extended shooting range or if you're a person whose draw length exceeds their comfort setting with shorter releases.

Wrist releases are straightforward to put on and take off. But before starting, make sure your bow is unstrung and cool. You want to ensure that there's no chance of damaging the bowstring or the cam of your bow during installation.

Prepare both ends of the release strap by sliding it over a few inches. This will allow the ends to slide freely without twisting.

Find the point where you want to release your release anchor, usually about 2-3 inches above the grip of your bow. Mark this spot on both sides with a pen or marker.

You should not make these markings too close to the D-loop because it can make attaching your wrist release very difficult.

To attach your wrist strap, grab both sides of it where you've made your marks and stretch it tight over the bowstring.
Take the loose end on the right side of your bow, bring it under the string behind your arrow rest, then slide it through the loop coming from your bow.
Repeat this with the opposite side, making sure both ends are on top of your bowstring. Making it too loose will make your release slide down your bow, whereas making it too tight won't allow you to draw correctly.
Once both ends are attached to your wrist release, pull them slowly to test tension. The strap should be snug enough so it won't slide off your bow. If you find that the release is too tight or too loose, adjust the location of your anchor points.
To remove your wrist strap, grab both loose ends and pull them gently away from each other. The strap should come right off.

How tight should a wrist release be?

You want your wrist strap to be tight enough so that it won't slide off, but not too tight. If you're using a release for target shooting, you may prefer it to be slightly looser than average.

However, if your release is too loose, it will slip down your bowstring whenever you shoot an arrow or take your hand off the grip. This could cause it to catch on your bowstring or arrow rest during release, which could potentially damage your equipment and injure you.

If you're using a wrist strap for hunting, then you should make sure that it's tight enough; otherwise, your buckle might slide off when you take your hand off the grip.

This could potentially put your bow in the wrong position at the wrong time, leading to an unsuccessful hunt.

How long does a bow release last?

In general, a bow release should last for many years. However, there are a few things that can cause it to fail.

The bow release has two parts: the release and the wrist strap.

You will wear the release on the string side of your dominant hand, while the wrist strap is worn on the backside of that same wrist.

The bow release is held in place by a spring-loaded mechanism. When you draw the bowstring back, the release is pulled tight against your hand. As you let go of the bowstring, the release pops off your hand and fires the arrow.

Here are a few things that can cause the release to perform inaccurately:

Spring mechanism. Over time, this mechanism will lose its strength and eventually fail.
A metal mechanism. The metal mechanism holds the release to your hand. This part of the release is called the jaw; you need to adjust it appropriately to work well. If you never make adjustments and keep the same jaw setting, this part of the bow release will also wear down over time.

Training regularly can also wear out the bow release. When you pull back on the bowstring, you put a lot of tension on the release. If you do this too often, the spring mechanism can break, or the metal jaw can become worn down.

Overall, a bow release should last for many years with proper care. However, it can fail prematurely if it is not maintained correctly.