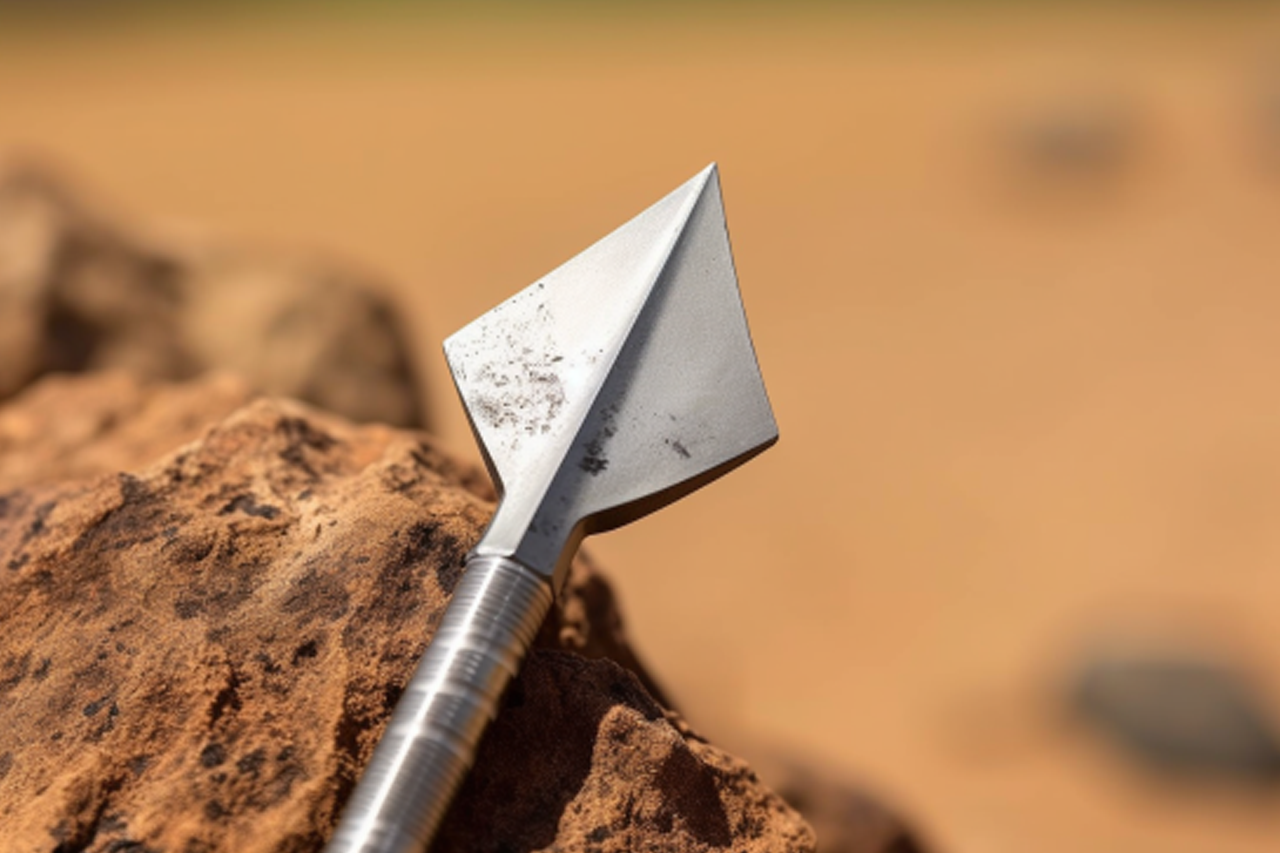 Are you an archery enthusiast looking to up your game? One important factor to consider is the type of arrow you use.
There are two main types: single-bevel and double-bevel arrows. Each has advantages and disadvantages and choosing the right one can greatly improve your accuracy and overall performance.
Single-bevel arrows have a sharpened edge on only one side, while double-bevel arrows have sharpened edges on both sides. The differences between these two types may seem subtle, but they can significantly impact your arrow's performance in flight and upon impact with your target.
This piece examines the advantages and disadvantages of each type of arrow to help you make an informed decision when choosing which one to use for your next archery session.
Understanding the Differences Between Single and Double Bevel Arrows
Let's dive into the nitty-gritty of single versus double bevel arrows and understand what sets them apart.
Single-bevel arrows have a sharpened edge on only one side, while double-bevel ones have a sharpened edge on both sides. This difference in design affects how it flies through the air and penetration its target.
Single-bevel arrows are known for their ability to spin in flight, which helps stabilize their trajectory. They also tend to penetrate deeper into targets due to their asymmetrical shape. Double bevel arrows, on the other hand, offer a more balanced flight path and can cut through materials with greater ease thanks to their dual edges.
Ultimately, the choice between single or double bevel arrows comes down to personal preference and intended use.
Advantages of Single Bevel Arrows
The superiority of using single-bevel arrows can truly enhance your archery experience. These arrows have a chisel-like edge on one side and a flat or slightly convex surface on the other.
It makes them more efficient in penetrating through the target and reducing drag during flight. Additionally, single-bevel arrows have higher rotational stability, meaning they spin faster and more consistently in the air, improving accuracy.
Furthermore, single-bevel arrows are ideal for cutting through tough materials such as bone or thick hide. They create a clean entry wound with minimal damage to the surrounding tissue, making them an excellent choice for hunting applications.
Single-bevel arrows also provide better penetration power than double-bevel ones since they concentrate force along one edge instead of dispersing it across two.
Overall, if you're looking for an arrow that delivers maximum penetration and accuracy while minimizing drag and damage to your target, then single-level ones are worth considering!
Disadvantages of Single Bevel Arrows
Consider the drawbacks of using single-bevel arrows before deciding on your archery equipment. While there are advantages to their design, there are also notable disadvantages that could affect your overall performance.
Difficulty in Tuning: Single bevel arrows require a specific type of tuning that can prove challenging for novice archers. It must spin correctly in flight, which can take time and practice to perfect. If properly tuned, the arrow's trajectory will be protected, leading to accurate shots.
Limited Range: Due to their unique shape and design, single-bevel arrows have a limited range compared to double-bevel ones. It means they may not travel as far as you would like them to when shooting longer distances.
Higher Cost: Due to their specialized design and manufacturing process, single-bevel arrows tend to cost more than double-bevel ones. It could influence your decision if you are working with a tight budget.
While single-bevel arrows offer advantages in penetration power and accuracy when used by skilled archers, they have some notable downsides you should not take for granted when selecting your archery equipment.
Consider these points carefully before choosing the option that best fits your needs and skill level as an archer.
Advantages of Double Bevel Arrows
With their symmetrical design and balanced weight distribution, double bevel arrows offer a smooth and stable flight path that can improve your accuracy and consistency as an archer.
The double bevel design allows the arrow to spin more consistently in flight, resulting in less wobbling or deviation from its intended path. It means you will have greater control over where your arrow lands, making it easier to hit targets precisely.
In addition to their improved flight performance, double-bevel arrows penetrate deeper into targets than single-bevel arrows. It is because the two cutting edges of the double bevel design create a larger wound channel upon impact, leading to more tissue damage and, ultimately, better-stopping power.
Overall, if you are looking for an arrow that offers superior accuracy and penetration capabilities, then a double-bevel design may be the way to go.
Disadvantages of Double Bevel Arrows
If you're considering double-bevel arrows, it's important to note that they require more precise manufacturing techniques and materials. Additionally, the added complexity of a double-bevel design may lead to inconsistencies in arrow flight and accuracy.
Here are some other potential disadvantages of double-bevel arrows to keep in mind:
Due to their increased complexity, double-bevel arrows can require more maintenance than single-bevel arrows.
The sharper angles on the blade edges of double-bevel arrows can cause greater damage or injury upon impact.
Double bevel arrows may not perform as well on certain types of targets or games due to differences in density or toughness.
Some archers may find that double-bevel arrows' extra weight and size impact their shooting form or technique negatively.
It's worth noting that not all archery competitions allow the use of double-bevel arrows, so if you're primarily interested in competition shooting, this could limit your options.
Choosing the Right Arrow for Your Needs
When determining the most appropriate arrow for your needs, it is important to consider various factors.
Firstly, you should assess your skill level and experience with archery. If you are a beginner, choosing a too-heavy or long arrow may hinder your progress.
On the other hand, if you are an experienced archer, selecting an arrow that is too light or short could negatively impact your accuracy and consistency.
Another factor to consider when choosing arrows is their intended use—for example, plan on participating in competitions where precision and speed are crucial. Single-bevel arrows might be a better choice due to their ability to penetrate targets more efficiently.
However, for general target practice or hunting purposes where penetration isn't as critical, double-bevel arrows may suffice while being more affordable than single-bevel ones.
Lastly, remember budget constraints when deciding, as different types of arrows vary greatly in price depending on their materials and manufacturing process.
Tips for Improving Your Archery Game
Improving your archery game requires consistent practice and a willingness to learn from mistakes. One of the most important things you can do is to work on your form. It means focusing on your stance, grip, and release.
Make sure you are standing with your feet shoulder-width apart and your bow arm extended straight out in front of you. Your grip should be firm but not too tight, and you should be using a three-finger hold on the string.
Another way to improve your archery game is to work on your aim. You can use visual aids such as sights or practice at varying distances.
You may also want to consider working on your breathing techniques, as this can help you remain calm and focused when taking a shot.
Remember, consistent practice is key to improving any skill, so set aside time each week specifically for archery practice.
Frequently Asked Questions
Can single bevel arrows be used for hunting?
You can use single-level arrows for hunting. They penetrate deeply and create a larger wound channel. However, choose the one with the right weight and spine matching your bow's draw weight and length.
Is there a significant difference in accuracy between single and double bevel arrows?
In terms of accuracy, single-bevel and double-bevel arrows perform similarly. However, single-bevel has the advantage of deeper penetration, while double-bevel offers better flight stability.
Ultimately, it comes down to personal preference and intended use.
How do single and double bevel arrows affect penetration power?
Single bevel arrows tend to have more penetration power due to their design, which allows for deeper and cleaner entry wounds. The double bevel may cause more surface damage but can lose momentum upon entry, resulting in less penetration.
Are there any specific types of bows that work best with single or double-bevel arrows?
When choosing between single and double-bevel arrows, the type of bow you're using is an important factor. For example, traditional bows often work best with single-bevel, while compound bows may benefit from double-bevel options.
How do single and double bevel arrows differ in durability and lifespan?
Single and double bevel arrows differ in terms of durability and lifespan. Double-bevel tend to have a longer lifespan due to their thicker edges, but single-bevel ones may offer better penetration.
Proper care and maintenance will also extend the lifespan of both types of arrows.
Try one of these +70 single or double-bevel arrows on your next hunting sessions.