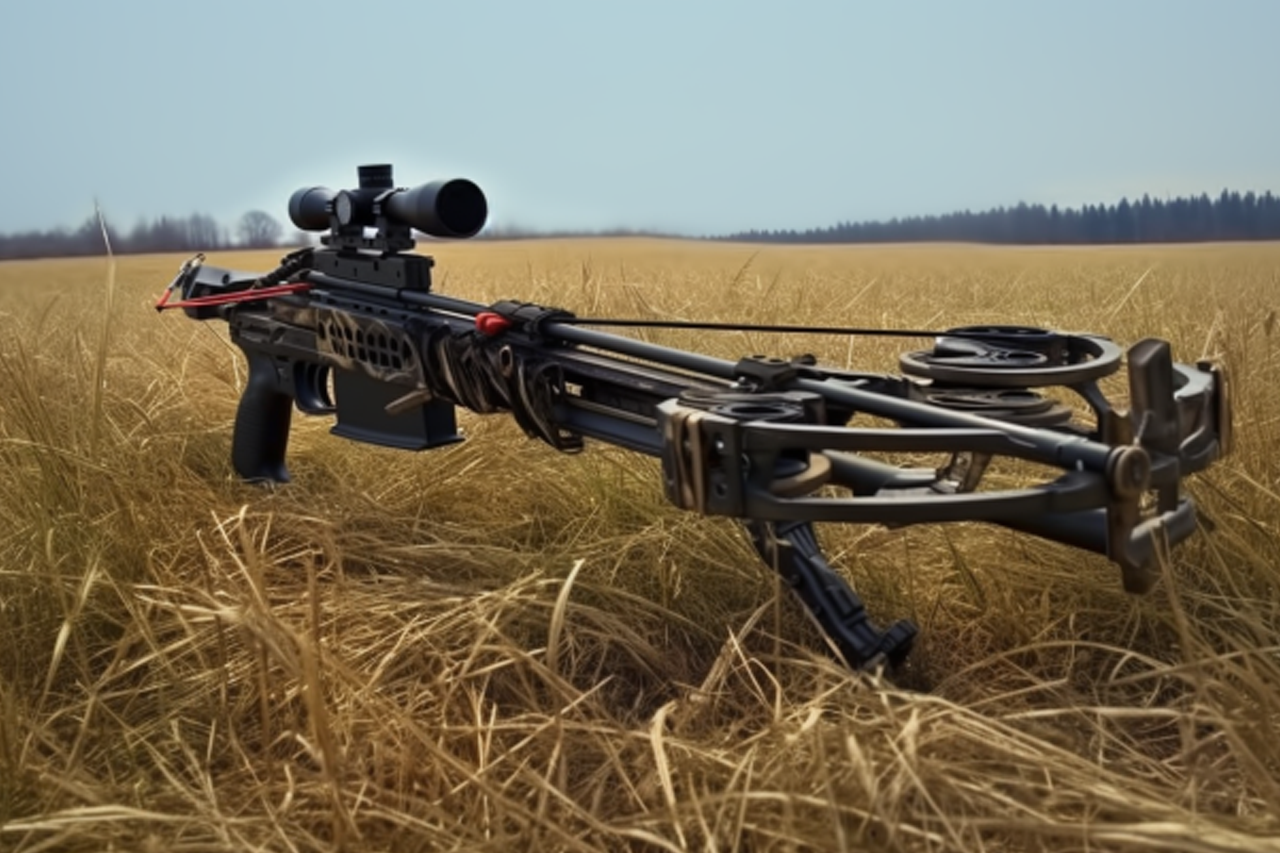 Are you looking to take your hunting game to the next level? Look no further than Scorpyd Crossbows. With advanced technology and precision engineering, Scorpyd delivers unparalleled results for hunters of all levels.
The Scorpyd Crossbow features a reverse draw system for increased power, lightweight and compact design, adjustable draw weights and lengths, and a range of accessories for customization, making them ideal for seasoned hunters for equipment upgrades or novice hunters seeking an edge in the field.
Discover how Scorpyd can help you achieve greater success on your next hunt.
Advanced Technology and Precision Engineering
You'll feel like a modern-day Robin Hood with the Scorpyd crossbow's advanced tech and precision engineering. The Scorpyd crossbow boasts an impressive array of features, making it one of the most accurate hunting tools on the market.
Its reverse draw technology helps to distribute weight evenly, making it easier to handle and aim accurately. It also has a high-quality trigger mechanism for smooth and consistent firing. This feature is crucial for hunters who must take quick shots at moving targets, ensuring they don't miss their mark.
Additionally, its patented cable system reduces shooting friction, increasing accuracy even further. The Scorpyd crossbow's precision engineering sets it apart from other hunting tools in its class. Each bow is handcrafted using top-quality materials, ensuring it can withstand even the harshest conditions in the field.
With such attention to detail and dedication to excellence, you can trust that your Scorpyd crossbow will deliver unparalleled results every time you use it.
Reverse Draw System for Increased Power
Feeling like a true hunter, you can't deny the power of using a crossbow equipped with a reverse draw system. Scorpyd Crossbows have taken this technology to the next level by incorporating it into their designs. The result is increased power and accuracy, making your hunting experience more successful than ever.
Here are three reasons why the reverse draw system in Scorpyd Crossbows is so effective:
The design of the reverse draw system allows for longer power strokes, which means you transfer more energy to the arrow upon release. This results in faster arrow speeds and greater kinetic energy, making it easier to take down even the largest game.
The reverse draw system also helps to reduce noise and vibration during firing, which makes it easier to stay stealthy while hunting. This feature is vital when hunting sensitive animals that spook easily by loud noises.
Scorpyd Crossbows with a reverse draw system have better balance and weight distribution than traditional crossbows because of their unique design. It makes them easier to handle and aim accurately, even over long distances.
If you want unparalleled results on your next hunting trip, consider investing in a Scorpyd Crossbow with a reverse draw system. With its advanced technology and precision engineering, you can easily and confidently take down even the most challenging game.
Lightweight and Compact Design
When it comes to hunting, having a lightweight and compact crossbow is essential for maneuvering through difficult terrain and taking quick shots. The Scorpyd Crossbow delivers on both of these fronts, making it an excellent choice for hunters who want to take their skills to the next level.
With its streamlined design and high-quality materials, this crossbow is built to last and provides unparalleled results in the field.
One of the key benefits of the Scorpyd Crossbow's lightweight and compact design is that it allows for greater mobility in tight spaces.
Whether stalking prey through dense underbrush or navigating rocky outcroppings, this crossbow will help you move quickly and quietly without weighing you down.
Additionally, the compact size of this crossbow makes it easy to carry on long hunts without getting fatigued or weighed down by heavy gear. Another advantage of the Scorpyd Crossbow's lightweight and compact design is that it makes it easier to shoot accurately at longer distances.
Because the bow is lighter than many other models on the market, you can hold steady for longer periods without experiencing muscle fatigue or hand tremors. It can be imperative when hunting a game that requires precision shooting from a distance.
Overall, if you're looking for a high-quality crossbow that will help you take your hunting skills to new heights, look no further than the Scorpyd Crossbow, with its impressive combination of power and maneuverability!
Adjustable Draw Weights and Lengths
Hunters can customize their crossbows to fit their needs and preferences for a more personalized shooting experience.
The Scorpyd crossbow offers this feature with ease, allowing you to modify your equipment according to your physical strength and hunting requirements.
Whether you want a lighter or heavier pull or a shorter or longer draw length, the Scorpyd has got you covered. The adjustable draw weight is significant for those who are just starting in the sport of hunting.
You may still need to develop more upper-body strength to handle a heavy bow, which could lead to poor aim and missed shots.
With the Scorpyd's customizable draw weight, you can start with something light and work your way up gradually as your muscles become stronger. It makes it an ideal choice for beginners as well as experienced hunters.
Furthermore, adjusting the draw length of your crossbow can help improve accuracy and precision. When fully drawn back, draw length is the distance between the bowstring and grip.
If this distance is too long or too short for your build, it can affect how well you shoot. By adjusting to this feature on your Scorpyd crossbow, you can find that sweet spot that allows for optimum performance every time you aim at your prey.
Range of Accessories for Customization
Accessorizing your crossbow is a great way to make it feel like your own and enhance your hunting experience.
Scorpyd Crossbows understands this, so they offer a wide range of accessories for customization. These accessories add personal flair to your crossbow and improve its functionality.
One popular accessory is the crank cocking device, which makes it easier to load the bowstring by reducing the draw weight needed. It can benefit hunters with physical limitations or those who want to conserve energy during long hunts.
Another must-have accessory is the illuminated scope, which lets you see targets clearly in low-light conditions. Other options include quivers, slings, and even custom strings.
But Scorpyd doesn't just stop at basic add-ons – they also offer advanced features like suppressors that reduce noise and vibration when firing and anti-dry fire mechanisms that prevent accidental firing without an arrow loaded.
All these options allow you to tailor your crossbow exactly how you want it, making it a more efficient and enjoyable tool for hunting. With Scorpyd's range of accessories, you can customize every aspect of your crossbow to fulfill all your hunting needs and preferences.
Ideal for Seasoned and Novice Hunters Alike
Whether you're a master hunter or just starting, Scorpyd's crossbow accessories provide personalized enhancements for your hunting experience. You can customize your crossbow to match your specific needs and preferences with various options available.
Here are some of the benefits that make Scorpyd crossbows ideal for hunters of all levels:
Improved Accuracy: Scorpyd's accessories help improve shooting accuracy by providing better grip and stability. It helps ensure that your shots hit their mark every time.
Easy to Use: Scorpyd's crossbows are easy to use, even if you're new to hunting. The lightweight to carry around, while the adjustable stock allows for comfortable handling regardless of height. .
Safety Features: Scorpyd's crossbows have features like an anti-dry fire system and finger guards, which help prevent accidents during use. .
Investing in a quality crossbow can be expensive, but with Scorpyd, you get what you pay; high-quality materials and superior craftsmanship deliver unparalleled results.
Whether you're looking for improved accuracy or want a more comfortable hunting experience, Scorpyd has got you covered. So why not take advantage of their range of customizable accessories today?
Taking Your Hunting to the Next Level
You can elevate your hunting game by incorporating today's latest and greatest accessories. And one of the most amazing tools you can add to your hunting arsenal is a Scorpyd crossbow.
This remarkable device has repeatedly proved to deliver unparalleled results for hunters of all levels. The Scorpyd crossbow boasts an impressive range, accuracy, and speed that exceeds traditional bowhunting equipment.
It's lightweight and easy to use, perfect for seasoned hunters and those just starting.
Whether you're looking to hunt small game or big prey, this crossbow will give you the edge you need to take down targets with ease. It's important to invest in quality equipment that will help you achieve your goals.
A Scorpyd crossbow is a wise investment that will pay dividends for years. So why not give yourself an advantage in the field? Try out a Scorpyd crossbow today and see how it can transform your hunting experience like never before!
Frequently Asked Questions
What is the price range for Scorpyd crossbows?
Generally, Scorpyd Crossbow can cost anywhere from around $1,000 to over $2,000. There are a few different models available, and prices can vary depending on what specific features you're looking for.
Of course, it's worth remembering that these are high-quality hunting tools designed to deliver unparalleled results for experienced hunters and newbies. Investing in a Scorpyd crossbow could be a great way to take your skills and game hunting to the next level.
Does Scorpyd offer a warranty or guarantee on their crossbows?
Scorpyd offers a limited lifetime warranty on their crossbows. This warranty covers any defects in quality or materials for the original owner's life.
Additionally, some dealers of Scorpyd offer a 30-day money-back guarantee if you're not satisfied with your crossbow. However, this guarantee only applies to unused and undamaged crossbows returned in their original packaging.
It's always important to read and understand the terms and conditions of any manufacturer's warranty or guarantee before purchasing.
Are Scorpyd crossbows legal for hunting in all states?
Scorpyd crossbows are legal for hunting in all states. However, each state has its regulations regarding the use of crossbows for hunting. It's important to note that some states may require a specific type of broadhead or restrict draw weight and arrow length.
Check with your state's wildlife agency before using a Scorpyd crossbow for hunting to ensure compliance with all applicable laws and regulations. Additionally, it's always important to practice safe and ethical hunting, regardless of the equipment used.
How does the noise level of Scorpyd crossbows compare to other brands?
Scorpyd crossbows are some of the quietest on the market. Their Reverse Draw Technology produces less vibration and noise than traditional crossbows. However, as with all crossbows, there will still be some noise when firing.
It's important to note that noise levels can be affected by specific models and accessories. Overall, if you're looking for a relatively quiet hunting experience with a high-quality crossbow, Scorpyd is definitely worth considering.
Can Scorpyd crossbows be used for target shooting as well as hunting?
You can use the Scorpyd crossbows for both target shooting and hunting. These crossbows provide accuracy and consistency, making them ideal for enthusiasts in both activities.
Many archery enthusiasts choose Scorpyd crossbows for their target shooting capabilities due to their advanced technology and high-quality construction.
Scorpyd crossbows have adjustable stock and trigger options and the ability to shoot at a range of distances. Therefore, they are versatile for any archer looking to improve their skills.
Own from this list of +10 Scorpyd crossbows and take your hunting experience to the next level.