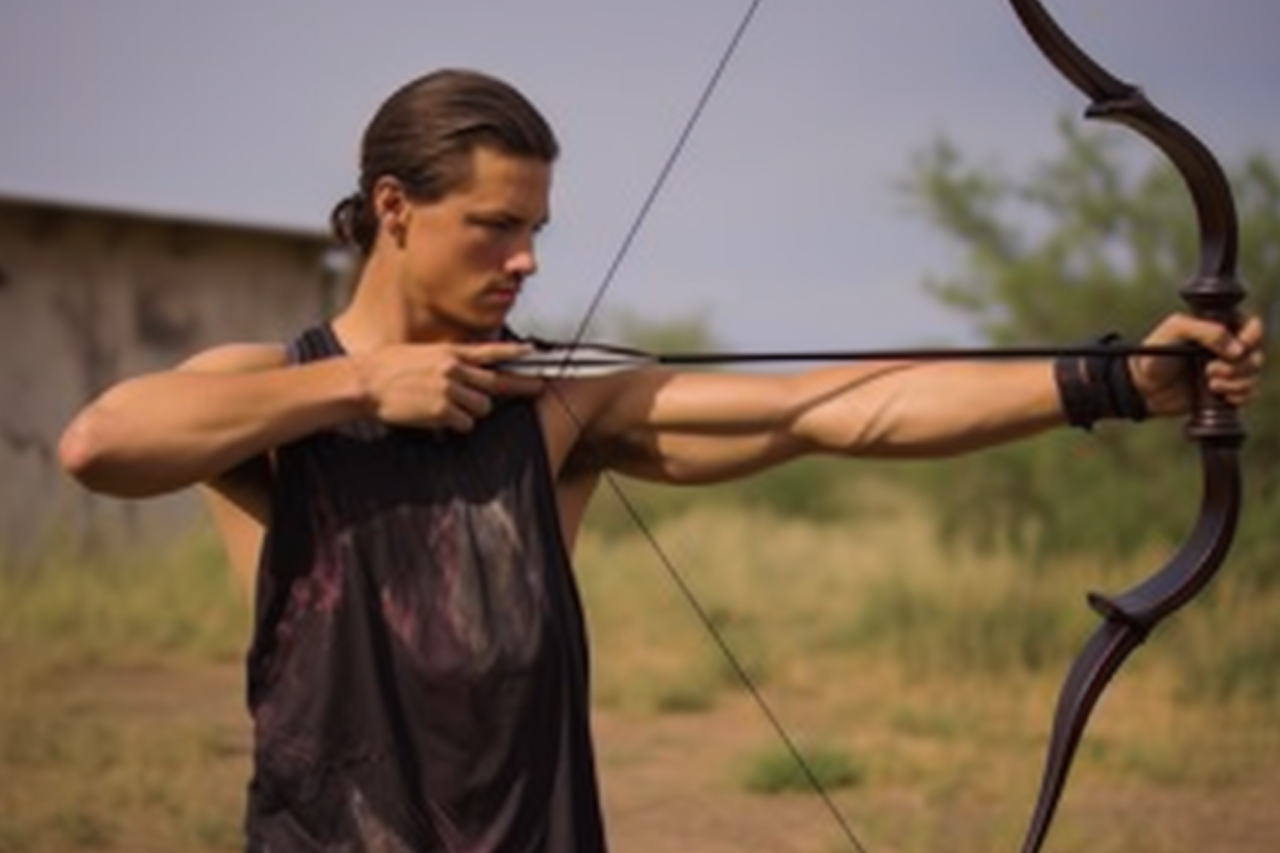 Are you an archery enthusiast looking to improve your accuracy? Strengthening the specific muscles used in archery can greatly enhance your performance.
This article will guide you through exercises and techniques designed to target and strengthen the muscles essential for accurate shooting. Incorporating these exercises into your training routine increase your strength and improve your stability, balance, and flexibility, ultimately leading to more accurate shots.
We will first focus on upper body exercises targeting the muscles used to draw and hold the bow. These exercises, such as rows, pull-ups, and shoulder presses, will help improve your arm, shoulder, and back strength, allowing you to maintain steady control over your bow.
Additionally, core strengthening exercises, such as planks and Russian twists, will be crucial in developing stability and balance, as a strong core serves as a solid foundation for your entire body during the shooting process.
Lastly, we will discuss lower-body workouts focusing on stability and balance, such as lunges and squats, as a stable lower body is essential for maintaining a steady shooting posture.
By following the exercises and techniques outlined in this article, you will be well on your way to strengthening your archery muscles for improved accuracy. Remember to incorporate resistance training, fine-tune your form and technique, and prioritize consistency and progression in your training.
With dedication and practice, you'll soon notice a significant improvement in your archery skills, leading to more accurate and satisfying shots.
So, grab your bow, get ready to train, and let's strengthen those archery muscles!
Upper Body Exercises for Archery
Want to improve your accuracy in archery? Strengthen your upper body with these killer exercises!
Archery requires a strong upper body to maintain stability and control during the shot. You can target the muscles needed for a steady aim and consistent release by incorporating specific exercises into your training routine.
One crucial muscle group to focus on is the shoulders. Strong shoulders provide stability to steady the bow and execute a precise release. Try shoulder presses, lateral raises, and bent-over rows to strengthen your shoulders. These exercises target the deltoid muscles and help improve your posture and stability while drawing the bowstring.
Another essential area to work on is the back muscles. A strong back helps maintain proper form and prevents fatigue during long shooting sessions. Exercises like lat pulldowns, bent-over flies, and rows are great for targeting the back muscles. These exercises strengthen the muscles for drawing the bow and improve your overall posture, which is crucial for consistent accuracy.
Lastly, remember your core muscles. A strong core provides stability and transfers power from your lower body to your upper body during the shot. Planks, Russian twists, and bicycle crunches are excellent exercises to strengthen your core. By developing a strong core, you'll have better control over your movements and be able to maintain a steady aim throughout the shot sequence.
Incorporating these upper body exercises into your training routine will help strengthen the specific muscles needed for accuracy in archery. Remember to start with a weight that challenges you but allows proper form.
Gradually increase the weight as you become more comfortable and stronger. You'll see improved accuracy and overall archery performance by consistently working on your upper body strength.
Core Strengthening for Stability and Balance
Improve your aim and stability on the archery range by focusing on core strengthening exercises. Your core muscles, which include your abdominal muscles, lower back muscles, and obliques, play a crucial role in providing stability and balance during the shooting process.
By strengthening these muscles, you can enhance your ability to maintain proper form and control your body movements, ultimately leading to increased shooting accuracy.
One effective core exercise for archery is the plank. Start by getting into a push-up position with your hands directly under your shoulders and your toes on the ground. Engage your core muscles by pulling your belly button towards your spine.
Hold this position for as long as possible, aiming for at least 30 seconds to start. As you get stronger, gradually increase the duration of your plank. This exercise targets your entire core, helping to improve stability and balance.
Another beneficial exercise for archery is the Russian twist. Sit on the ground with your knees bent and feet flat on the floor. Lean back slightly, keeping your back straight. Hold a weight in front of your chest.
Engage your core muscles and twist your torso to one side, touching the weight or ball to the ground beside you. Return to the starting position and twist to the other side. Repeat this movement for a set number of repetitions or times. The Russian twist targets your obliques, which is important for rotational stability during archery.
Incorporating core strengthening exercises into your training routine will help you develop the stability and balance needed for accurate archery shots. Remember to start with proper form and gradually increase the intensity and duration of your exercises as you progress.
By focusing on your core muscles, you can enhance your aim and overall performance in the archery range. Keep practicing and stay committed to your core strengthening routine, and you'll see improvements in your archery accuracy over time.
Lower Body Workouts for Improved Stability
Take your archery performance to the next level by incorporating lower-body workouts to increase stability and balance on the range. Strengthening your lower body muscles is crucial for maintaining a strong and steady stance while shooting arrows.
Here are three effective lower-body workouts that will help you improve your stability and accuracy:
1. Squats
Squats are a fantastic exercise for targeting your quadriceps, hamstrings, and glutes. Stand with your feet shoulder-width apart and your toes pointing slightly outward. Lower your body as if sitting back in a chair, keeping your knees aligned with your toes.
You may need to lower yourself until your thighs are parallel to the ground and then push through your heels to return to the starting position. Repeat for several sets, gradually increasing the weight as you get stronger.
2. Lunges
Lunges are excellent for targeting your quadriceps, hamstrings, and glutes while improving balance and coordination. Stand with your feet hip-width apart and step forward with your right foot.
Lower your body until both knees are bent at a 90-degree angle, ensuring your front knee is directly above your ankle. Push through your right heel to return to the starting position and repeat on the other side. Perform several sets on each leg to build strength and stability.
3. Calf Raises
Strong calf muscles are essential for maintaining a stable base and proper foot alignment during archery. Stand with your feet hip-width apart and place the balls of your feet on the edge of a step or a raised surface.
Lower your heels as far as you can, feeling a stretch in your calves, and then rise onto your toes as high as possible. Hold the top position for a moment before lowering your heels back down. Perform several sets of calf raises to strengthen your calves and improve your stability on the range.
Incorporating these lower-body workouts into your training routine will help you develop stronger muscles and enhance your stability and balance while shooting. Remember to start with lighter weights and gradually increase the intensity as your strength improves. Stay consistent with your workouts, and you'll see improvements in your archery performance in no time.
The Importance of Flexibility in Archery
Enhance your archery performance by prioritizing flexibility, as it allows for fluid movements and a greater range of motion, enabling you to achieve a more graceful and balanced shooting form. Flexibility is crucial in archery, as it directly affects your ability to draw the bowstring back smoothly and consistently.
By improving your flexibility, you can increase your shooting accuracy and reduce the risk of injuries.
It is important to focus on stretching exercises targeting the key shooting muscles to enhance flexibility, specifically for archery. These muscles include the shoulders, back, chest, and arms. Incorporating dynamic stretches, such as arm circles and shoulder rolls, before shooting can help warm up these muscles and increase their flexibility.
Regular stretching routines outside archery practice can greatly improve your overall flexibility. Choose exercises targeting the major archery muscle groups, such as the quadriceps, hamstrings, and hip flexors.
Static stretches, where you hold a stretch for a certain period, can be particularly effective in increasing flexibility. Always stretch within your comfort zone and avoid excessive or painful stretching that could lead to injury.
By prioritizing flexibility in your archery training, you will enhance your shooting performance and reduce the risk of muscle strains and imbalances.
Make flexibility exercises a regular part of your training routine and reap the benefits of improved fluidity, range of motion, and shooting accuracy. Consult a qualified coach or trainer to ensure you perform the stretches correctly and safely.
Incorporating Resistance Training into Your Routine
Consider incorporating resistance training into your routine to maximize your performance and prevent muscle imbalances. Resistance training involves using external resistance, such as weights or resistance bands, to strengthen specific muscle groups.
One key muscle group to focus on is the back muscles, including the rhomboids, trapezius, and latissimus dorsi. These muscles are responsible for drawing and holding the bowstring. Strengthening them will increase your pulling power and help maintain proper form throughout the entire shot process.
Exercises such as rows, pull-ups, and lat pulldowns can effectively target these muscles, building the necessary strength for a steady and controlled release.
Another important muscle group to train is the core muscles. A strong core provides stability and balance, allowing you to maintain a steady shooting platform. Planks, Russian twists, and bicycle crunches are great exercises to target the abdominals, obliques, and lower back muscles.
By strengthening your core, you can improve your posture, reduce the risk of lower back injuries, and enhance your ability to hold a full draw for longer periods.
Incorporating resistance training into your routine helps strengthen the specific muscles used in archery and improves overall body strength and stability. Focusing on the back muscles and core can enhance your pulling power, maintain proper form, and reduce the risk of injury.
Remember to start with lighter weights and gradually increase the resistance as your strength improves. With consistent training, you'll notice significant archery accuracy and performance improvements.
Fine-Tuning Your Form and Technique
Refining your form and technique in archery can greatly contribute to your overall skill and consistency. It's crucial to pay attention to the finer details of your form to improve your accuracy.
Here are some key aspects to focus on:
1. Stance
Your stance sets the foundation for a stable shot. Ensure your feet are shoulder-width apart, perpendicular to the target, and balanced. Distribute your weight evenly between both feet to maintain stability throughout the shot.
2. Grip
The way you hold the bow can significantly affect your accuracy. Maintain a relaxed grip with your fingers wrapping around the bow handle. Avoid squeezing or gripping too tightly, which can cause tension and interfere with your shot execution.
3. Anchor point
Consistently anchoring your drawing hand to the same point on your face is crucial for consistent shots. Find a comfortable anchor point, such as the corner of your mouth or the tip of your nose, and ensure you reach it consistently for every shot.
4. Release
The release is the final moment of the shot, where you let go of the string. A smooth and controlled release is essential for accuracy. Practice releasing the string without jerking or flinching, allowing the bowstring to slip off your fingers naturally.
Attention to these aspects of your form and technique can refine your archery skills and enhance your accuracy. Remember to practice consistently and seek guidance from experienced archers or coaches to ensure you're on the right track. You can become a more precise and accurate archer with dedication and attention to detail.
Consistency and Progression in Training
Maintaining consistency in your training and gradually progressing is key to improving your archery skills. Establishing a regular training routine and sticking to it when strengthening your archery muscles for accuracy is important. Consistency allows your muscles to adapt and become more efficient in performing the specific movements required for archery.
Aim to practice at least three to four times a week, dedicating specific sessions to different parts of your training, such as strength, endurance, and accuracy.
It's crucial to gradually increase the intensity and difficulty of your training to progress effectively. Start by building a solid foundation of strength and endurance in your archery muscles. You can achieve this through resistance band pulls, shoulder rotations, and core stability exercises.
As you develop a strong base, gradually incorporate more challenging exercises such as pull-ups, planks, and dumbbell rows to enhance your strength and stability further.
As you progress in your training, tracking your performance and accordingly adjusting is important. Record your scores, accuracy, and other relevant measurements to monitor your progress. It will help you identify areas that need improvement and allow you to set specific goals for yourself.
Additionally, feel free to seek feedback from a coach or experienced archer who can provide valuable insights and guidance on further refining your technique and optimizing your training routine.
Maintaining consistency in training and progressively challenging yourself can strengthen your archery muscles and improve accuracy. Remember to approach your training with a knowledgeable and precise mindset, focusing on proper form and technique. Dedication and perseverance can enhance your archery skills and achieve greater shooting accuracy.
Check out these +2,000 archery bows you can use for practice.
Frequently Asked Questions
What is the best type of archery equipment for beginners?
The best type of archery equipment for beginners is a recurve bow. It is versatile, easy to use, and helps develop proper shooting form. It is also more forgiving and less expensive than other types of bows.
How often should I practice archery to see improvements in accuracy?
To see improvements in accuracy, practice archery at least three times a week. Focus on proper form, aim, and release technique. Gradually increase shooting distance and incorporate strength training exercises to enhance your archery muscles.
Are there any dietary recommendations to support muscle growth for archery?
To support muscle growth for archery, incorporate a balanced diet rich in protein, such as lean meats, fish, eggs, and dairy. Additionally, consume complex carbohydrates, fruits, and vegetables to provide the energy needed for training and recovery.
Can I use yoga as a form of flexibility training for archery?
Yes, yoga can be an effective form of flexibility training for archery. Regular yoga practice improves flexibility, balance, and core strength, helping you maintain proper form and increase accuracy in your shots.
Are there any specific warm-up exercises recommended before starting an archery session?
Before starting an archery session, warming up is important to prevent muscle injury and improve performance. Recommended warm-up exercises include arm circles, shoulder stretches, and light jogging to increase blood flow.