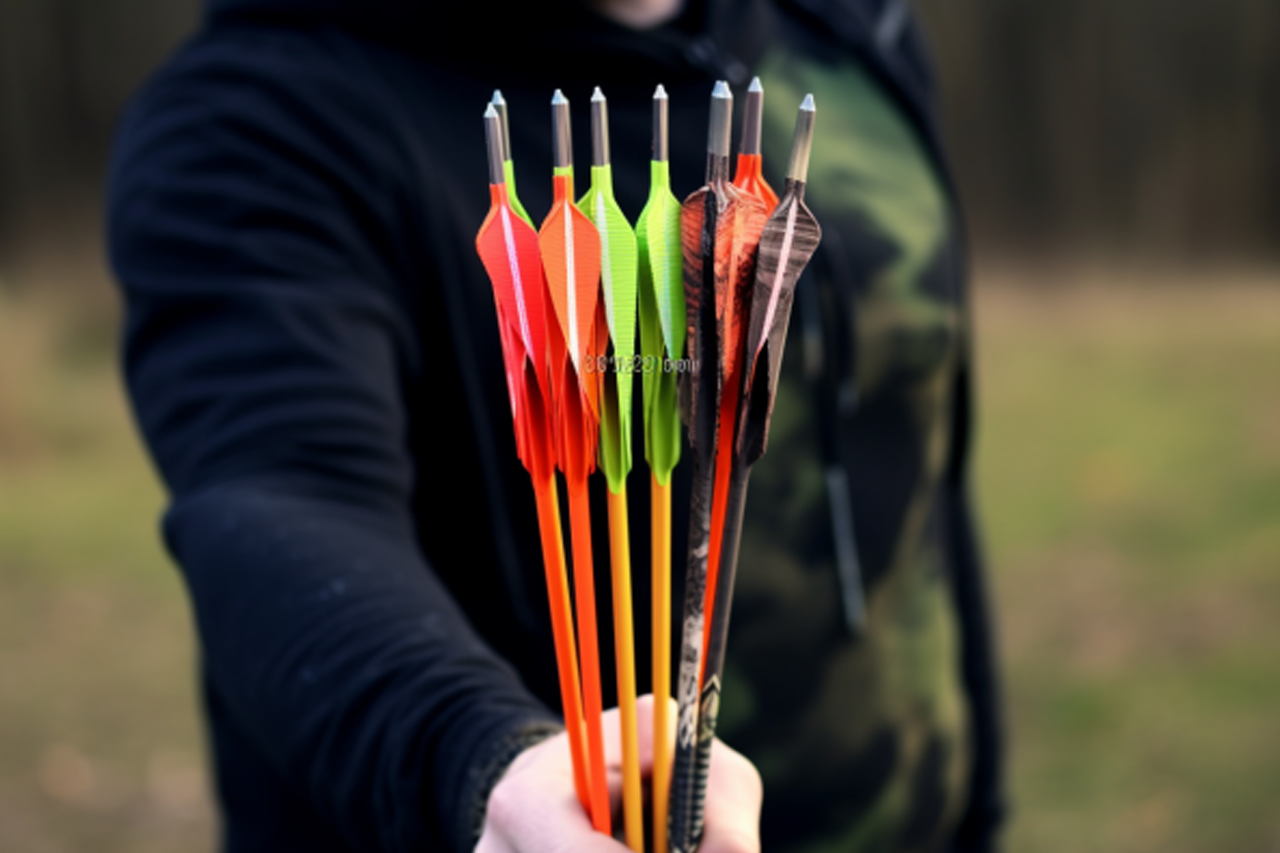 Are you an archery enthusiast looking for the best-lighted nocks in the market? Look no further than Lumenok and Nockturnal, two of the most popular brands in this niche.
Both offer high-quality products with unique features that can enhance your archery experience. However, choosing between them can be daunting if you need to know what to look for.
This article will compare Lumenok and Nockturnal based on their brightness, battery life, durability, and compatibility performance. We will also discuss the benefits of lighted nocks in archery and how they work.
By the end of this article, you'll clearly understand which brand is right for your archery needs. So read on to make an informed decision and take your archery game to the next level!
The Benefits of Lighted Nocks in Archery
Lighted nocks add a mesmerizing glow to your arrows and make it easier to track your shot in low-light conditions. They are beneficial during dawn or dusk hunts when visibility is limited. With a lighted nock, you can easily see where your arrow hits the target, which helps you determine if you need to adjust your aim for the next shot.
In addition to improving visibility, lighted nocks also help prevent lost arrows. An arrow shot into dense foliage or tall grass can be difficult to locate without a visual aid.
A lighted nock makes it much easier to find your arrow and retrieve it quickly. It saves time and reduces the risk of losing expensive ones.
Overall, using a lighted nock is a smart investment for any archer who wants to improve accuracy and reduce the chances of losing their arrows.
How Lighted Nocks Work
Imagine shooting an arrow and seeing its flight path in real-time, thanks to a simple device attached to its back that lights up upon release. It is exactly how lighted nocks work.
They are small battery-powered devices that attach to the back end of an arrow and provide visibility during low-light shooting conditions. When you shoot your bow, the lighted nock activates upon release, illuminating the path as it travels toward its target.
Lighted nocks typically consist of a housing unit and a light source. The housing unit is a plastic or aluminum shell that contains batteries, electronics, and other components needed for operation.
The light source can be either LED or incandescent bulbs that emit bright enough light you can see from afar. Once installed on an arrow shaft, these devices improve accuracy by helping archers track their arrows' movements in low-light situations.
Features of Lumenok Lighted Nocks
You can easily identify your arrow's flight path with these innovative nocks' bright LED light source and durable plastic housing. Lumenok Lighted Nocks offer reliable performance and come in various colors to suit your preference. The LED light is activated upon release, allowing you to track your shot even in low-light conditions.
These lighted nocks fit snugly onto your arrow shaft without affecting weight or balance. They are also equipped with an easy-to-replace battery, ensuring long-lasting use. With Lumenok Lighted Nocks, you can be confident that you will have a clear view of your arrow's flight path every time you shoot.
Features of Nockturnal Lighted Nocks
Equipped with a durable polycarbonate construction, Nockturnal Lighted Nocks can withstand tough hunting conditions while providing reliable visibility of your arrow's flight path. These lighted nocks are engineered with the hunter in mind and offer the following features:
Easy installation: The Nockturnal nocks can be installed easily and quickly without requiring additional tools.
Bright illumination: With high-visibility LEDs that emit bright illumination, these nocks provide excellent visibility even in low-light conditions.
Long battery life: The batteries used in these nocks have a long lifespan and can last for up to 20 hours, ensuring they won't run out of power mid-hunt.
Compatibility: The Nockturnal nocks are compatible with most crossbow bolts and arrows, making them a versatile choice for hunters.
Waterproof design: These lighted nocks feature a waterproof design that ensures they won't malfunction if exposed to wet conditions.
Overall, the Nockturnal Lighted Nocks offer excellent performance and durability. Whether you're new to archery or an experienced hunter, these lighted nocks can help improve your accuracy and simplify tracking your arrows.
Performance Comparison: Brightness and Battery Life
When choosing lighted nocks, you'll want to compare the brightness and battery life of different options. Regarding intelligence, both Lumenok and Nockturnal offer great visibility in low-light conditions.
However, many archers find that Lumenok nocks appear brighter due to their design, allowing more light to emit from its nock.
Battery life is another important factor to consider when comparing these two brands. Nockturnal nocks are known for having a longer battery life than Lumenok nocks, which means less frequent replacements and more shots per use.
Generally, Nockturnal batteries can last up to 20 hours, while Lumenok batteries last around 8-10 hours, depending on usage. Ultimately, the choice between these two brands may be personal preference and the features most important for your hunting or shooting needs.
Performance Comparison: Durability and Compatibility
If you're looking for durable and compatible lighted nocks, it's important to consider the materials used and how well they fit with your arrows.
The Lumenok lighted nocks have high-quality components such as a polycarbonate shell, brass inserts, and stainless steel activation switch. These materials ensure that the nocks can withstand the impact of shooting and last for a long time.
On the other hand, Nockturnal lighted nocks are also built with durability in mind. They use a lightweight yet sturdy design to handle high-speed shots from crossbows or compound bows.
Additionally, they come in different sizes to match various arrow diameters, making them more versatile than some other brands. Ultimately, choosing between Lumenok vs. Nockturnal for durability and compatibility is all about personal preference and finding what works best for your specific setup.
Making the Right Choice for Your Archery Needs
To make the best choice for your archery needs, you'll want to picture yourself in the field with your bow and arrow, considering factors like shooting distance, lighting conditions, and personal preferences. Here are a few things to consider when choosing between Lumenok and Nockturnal:
1. Shooting distance
If you plan to shoot longer distances, Lumenok may be the better choice as they tend to have a brighter glow than Nockturnal. However, if you mostly shoot at shorter distances or in low-light conditions, Nockturnal may work just as well.
2. Lighting conditions
If you often shoot in bright sunlight or other high-light situations, Lumenok may be more visible due to its brightness. But if you frequently shoot in low-light or dark environments, Nockturnals can offer a clear advantage with their colored LED lights.
3. Personal preferences:
Ultimately, the choice between Lumenok and Nockturnal will come down to what works best for your particular style of archery and personal preferences. Some archers prefer the traditional look of no illuminated nocks, while others appreciate their added visibility.
Carefully considering these factors before making your purchase decision, you can ensure that whichever brand of illuminated nock you choose will meet your unique needs in the range or the field.
Frequently Asked Questions
How much do lighted nocks affect accuracy in archery?
Using lighted nocks in archery can affect accuracy due to the added weight and potential for slight variations in arrow flight. However, the benefits of improved visibility and easier retrieval may outweigh this small downside.
Can lighted nocks be used in all types of bows?
You can use lighted nocks in all types of bows. However, it's important to ensure the size and shape of the nock matches your arrow shaft and bow string to ensure proper fit and function.
Are lighted nocks legal for hunting in all states?
Lighted nocks are legal for hunting in most states, but it's important to check your state's regulations before using them. Some states require specific colors or prohibit their use during certain times of the year.
How long do lighted nocks typically last before needing to be replaced?
Lighted nocks typically last about 20 hours of continuous or several months of occasional use. But, it may vary depending on the brand and type of battery used. It is important to check the manufacturer's recommendations and replace them as needed for optimal performance.
Can lighted nocks be turned off to conserve battery life?
You can turn off lighted nocks to conserve battery life. It is usually done by gently pulling the nock out of the arrow and pressing a button or switch to turn it off.