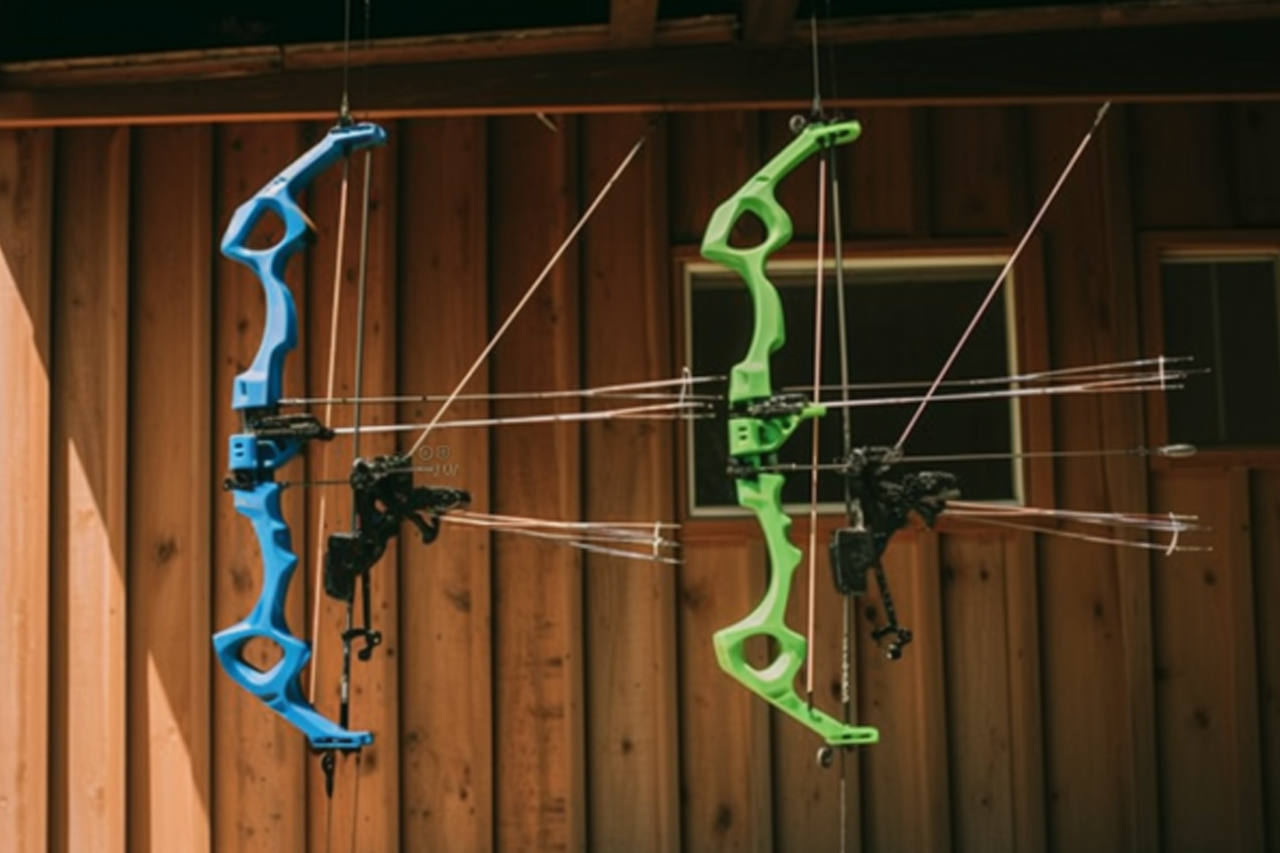 Are you curious about compound bows? If so, you have come to the right place. Compound bows are a type of bow with pulleys and cams, making them more efficient than traditional recurve or longbows.
In this article, we'll show you how compound bows work, what benefits they offer over other archery bows, and how to choose the right one for your needs. We'll review some accessories and discuss target shooting and hunting with compounds.
So let's get started! With an understanding of the history of compound bows and knowledge of their components, you can make an informed decision on which one is right for your next outdoor adventure.
History of Compound Bows
You may not have realized it, but the compound bow has been around for centuries – in fact, it was invented way back in 1966! This revolutionary design increased archers' range and accuracy with much less effort.
Since then, the compound bow has seen some modifications and enhancements that have allowed archers to tailor their bows to their shooting style and needs.
These modifications include:
Adjustable draw weights which allow the user to control the amount of force needed to draw back the bowstring;
Cams specially designed pulleys that help reduce the physical effort when drawing;
Stabilizers, which help minimize shooting vibrations;
Sights for improved accuracy, and many others.
All these features make compound bows a great choice for any level of archer, from beginners to competitive shooters.
Compound bows offer many advantages over traditional recurve or longbows: they're more accurate, easier to use, and easily adapted with accessories such as sights or stabilizers.
With all these benefits combined, it's no wonder why so many people are turning towards compound bows for their next archery adventure!
Understanding the Pulley System
Exploring the pulley system of compound bows is worthwhile; it can provide insight into how this archery equipment operates.
Compound bows are unique in that they use a combination of cams, cables, and pulleys to create an arrow-launching mechanism, unlike any other type of bow. The pulley system comprises two primary components:
The Cams:
These are the round discs on the ends of each limb. They have specific curves and cam tracks that help increase an arrow's speed and distance when shot from the bow.
As you draw back on the string, these cams rotate along their respective tracks, thus creating stored energy released when you let go of the bowstring.
The Cables:
It is where most of the power behind a compound bow comes from. It has thick strands that attach to either side of each cam and stretch across to its corresponding cable anchor point on the opposite limb.
When drawn back, all four cables work together to generate maximum tension so that as soon as you release your hold on the string, all that energy is transferred onto your arrow for greater speed and accuracy when shooting at targets or game animals.
Understanding how this complex system works helps explain why compound bows have become popular among hunters and archers.
Knowing how this technology works can also ensure your equipment is set up correctly for optimal performance in the field.
Benefits of Compound Bows
Unlock the potential of compound bows and reap the rewards of their power, precision, and accuracy.
Compound bows offer a unique advantage over traditional recurve or longbows in power and efficiency. Unlike traditional bows, which require large amounts of energy to draw back the string, compound bows use pulleys that reduce the force needed to draw back the bowstring.
It means you can shoot arrows with greater poundage at higher velocities for longer distances while expending less energy. In addition to increased range and accuracy, compound bows have more "let off, "meaning you can hold a full draw with less effort than on a traditional bow.
It makes them ideal for hunting situations where you must steady your aim while waiting for the game to enter your shooting lane. Furthermore, certain models come equipped with adjustable draw-weight settings to customize your bow for specific target practices or hunting scenarios.
Compound bows have safety features in mind, such as anti-dry fire mechanics, which prevent them from being fired without an arrow loaded onto the string. They are also much easier to maintain since they have fewer moving components than other archery equipment.
Plus, they are usually lighter, making them easier to carry when hiking or trekking through woodlands on a hunt. Finally, because they don't require as much physical strength as other types of bows, they are often preferred by novice archers who may not be comfortable drawing heavier weights when starting in archery practice sessions or competitions.
No matter what level archer you may be, beginner or veteran, there is no doubt that compound bows provide countless advantages over traditional recurve and longbows, including:
greater distance shots with improved accuracy;
reduced fatigue;
adjustable settings;
added safety measures;
easy maintenance;
Lightweight portability;
And an overall increase in performance capabilities without needing additional muscle strength from the shooter's arms and shoulders.
Draw Weight and Draw Length
Feeling the bowstring's tension, you'll quickly realize that draw weight and length are essential for getting the most out of a compound bow.
Draw weight is important because it determines how hard you must pull on the bowstring to achieve a full draw. Generally speaking, lighter bows can be drawn with less effort than heavier ones, making them better suited for beginner archers or those with weaker arms.
You can determine it by measuring your arm span from fingertip to fingertip and subtracting 15 inches from this figure. This measurement will accurately indicate how long your ideal draw should be to get the maximum performance out of your compound bow.
Combining these elements helps determine how much energy is transferred through the string when released and what range your arrows will reach once fired.
It's crucial to note that having too high a draw weight or too short a draw length could negatively impact accuracy and distance, resulting in weaker shots – even if your form is perfect!
For this reason, many archers use adjustable-length bows to customize their setup according to their preferences and abilities.
Knowing how to properly adjust both draw weight and draw length on a compound bow can make all the difference when it comes time to aim and fire.
Taking time before shooting to ensure everything is tuned correctly means greater accuracy and more enjoyable shooting experiences overall – no matter what skill level you may be at!
Choosing the Right Compound Bow
Finding the perfect compound bow can be an exciting and rewarding experience, unlocking a world of possibilities for your archery journey. You must consider several factors to ensure you get the most out of your compound bow. These include draw weight, axle-to-axle length, brace height, and let-off rate.
Draw weight is important when selecting a compound bow as it determines how much energy is stored in the limbs, propelling the arrow forward with greater force or speed.
Similarly, axle-to-axle length affects accuracy and helps you determine whether the bow will fit you properly. Brace height also impacts accuracy by deciding how far back you can draw an arrow before releasing it from the string, while let-off rate indicates how much pressure it takes to pull back on a given compound bow compared to its full draw weight.
In addition to these aspects of a bow's design, other considerations such as accessories (sight pins), cam type (dual/single), riser material (aluminum/carbon fiber), and limb material (fiberglass/wood laminate) you should take into account before making a purchase decision.
Combining all these elements, you can choose an appropriate compound bow that meets your needs and budget.
Accessories for Compound Bows
Once you've chosen the perfect compound bow, you must equip it with the right accessories to maximize your archery experience.
A good arrow rest is essential for accurate shooting. Two main types of arrow rest: full capture and drop away. These work differently depending on how much stability you desire.
Full capture arrow rests provide maximum strength, as they hold it in place when you draw back and release it once you let go.
Drop-away style rests move out of the way when drawing back and then return to their original position after release. Whichever type of rest you choose should be adjustable to fit arrows of different lengths and widths.

Here is a list of +1,000 arrow rests you can use for your Compound bow.

Bow Sight

Another important accessory for a compound bow is a sight or scope, which will help with aiming accuracy.

Sights come in various styles, such as fixed pin, single pin slider, multi-pin slider, pendulum sights, and scopes.
Fixed pin sights use one sight pin at a predetermined distance.
Single-pin sliders allow for adjustments between different distances.
Multi-pin sliders feature multiple pins that you can adjust up or down depending on the location of your target.
Pendulum sights are designed for hunting since they automatically adjust to different angles.
Scopes offer more accuracy than other types due to their magnifying capabilities but require frequent calibration if used often.
Check out these+1,000 bow sights for compound bows.
Stabilizers
Stabilizers significantly reduce vibration from shooting and improve accuracy by providing balance and counteracting torque created during firing.
While all bows may benefit from a stabilizer attached, heavier bows may help more since they produce more vibration upon release than lighter ones.
They also come in various sizes and weights, so choose one that best suits your needs. If your bow already has great balance, opt for a lighter model, whereas heavy models work better with unbalanced bows or those used for long-distance shooting.
Get your compound bow stabilizer from this +200 list of bow stabilizers.
Compound Bow Hunting and Target Shooting
Now that you know all the accessories that can help you get the most out of your compound bow, it's time to discuss what you can do with it!
Compound bows are incredibly versatile. You can use them for hunting and target shooting.
A compound bow can be handy for taking down your prey when hunting. Here are some tips on how to get started:
Practice regularly to become familiar with your bow's weight and balance.
Learn how to adjust your sights depending on wind conditions or distance from the target.
Get comfortable in different weather conditions, which could affect your accuracy.
Familiarize yourself with local wildlife regulations to abide by them when hunting.
Target shooting is also possible with a compound bow, although there are some differences between this practice and traditional archery.
Generally speaking, target shooting requires less draw weight than hunting since shots will be taken at much closer distances. Additionally, target arrows tend to have more fletching than hunting arrows due to their lighter shafts and points, which helps improve accuracy at close range.
Furthermore, many target ranges require special foam targets instead of regular hay bales typically seen in traditional archery ranges to protect against over-penetration of the arrows into the backstop area.
All these factors should be considered when preparing for a day at the range with your compound bow!