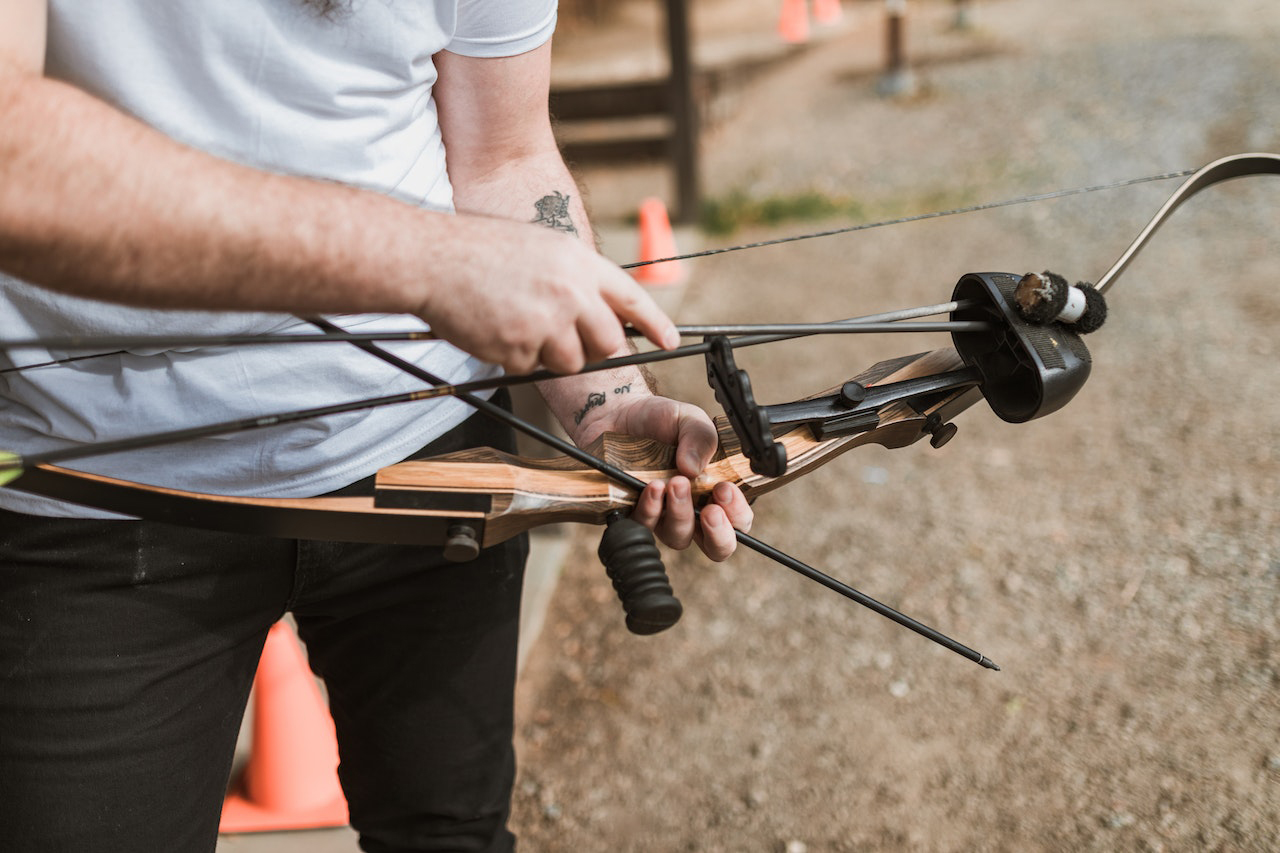 It is possible to hunt an elk with a recurve bow, but it is ideal to use a 60 to 70-pound recurve bow and shoot within 40 yards to kill it ethically. Avoid low-poundage recurve bows because they won't be able to take down elks.
For hunters, it is a great joy to hunt such majestic and aloof wild animals weighing around 600 to 1000 pounds. Because of their keen sense and hugeness, the success rate in hunting them is low.
If it's part of your goal as a hunter to hunt an elk, you may be wondering whether using a recurve bow is enough and whether your state bowhunting regulation allows it.
Before anything else, you must check first with your local state laws whether they entirely prohibit the use of bows or if there are certain conditions hunters must meet, like the minimum size of broadheads, draw weight, etc.
Most states nowadays allow hunters to use crossbows, compound bows, recurve bows, and longbows for hunting elks. However, better yet, read your state's bowhunting regulations first, then you can decide from there what bow you may want to use to hunt down elks.
If all is clear and you decide to use a recurve bow to hunt elks, you should know that low-draw weight bows won't work. Low draw weight bows are not ideal for shooting elks because they lack the needed penetration power to kill the enormous wild animal successfully.
Thus, it would be best to use a 60 to 70-lb recurve bow with a distance of 40 yards for hunting elks. Remember that shooting recurve bows requires you closer distance, unlike longbows that can penetrate at far reaches.
Shooting within 40 yards with high poundage recurve bow ensures enough penetration to kill the elk aiming at its vital organs ethically. Nevertheless, it would take skills, experience, shooting accuracy, and consistency to kill an elk.
How to prepare for elk hunting with a recurve bow?
The things you need to prepare when hunting an elk with a recurve bow are training, diligent practice, the right clothes to wear, and knowledge about shot placement. Elk hunting isn't the same as hunting whitetail deer, turkeys, bears, and immovable targets. Hence, you must make preparations if you want to take home an elk as a trophy.
To increase your success rate, below are the preparations you can follow:
Training

Most hunters forget that preparing for the hunting season isn't only focusing on shooting accurately and consistently. As the one drawing the bowstring, you need to get in shape and be fit for longer stamina and energy when the hunting season comes.

Especially with hunters who signed up for elk hunting, you need enough strength and fitness to take down an over 600-pound animal. Here is the following routine you can try for your training:
Start with getting up daily as soon as the sun rises since this time of the day is the best time you'll be able to find them.
Train simultaneously this early every day, so you get used to it.
Refrain from allowing yourself to get distracted during training to alleviate focus.
For your training to-do list, you can opt to do high-intensity interval exercises to help you get fit efficiently and fast.
Try these exercises and allot 20 seconds per exercise, followed by 10 seconds of rest before moving on to the next. Make sure you perform each movement in eight consecutive sets in a row:
Burpees
Start this exercise by standing upright, then squat until your chest and thighs touch the ground. Next is to push yourself back to a standing position, raise your hands above your head, and clap.
You'll have to use a 20-inch box and step up and down on it. Make sure to alternate your legs and do it at the same intervals.
Take long steps while moving forward, and your back knee must reach the ground while maintaining a good posture as you lunge.
Aside from doing training exercises, make sure that you are eating healthy food as well. Refrain from eating unhealthy snacks and eat vegetables and fruits instead. As a result, you will notice that you have the stamina and energy for elk hunting.
Practice diligently
Nothing beats diligent practice; however, you must be keen on what kind of shooting practices you must do for hunting elks. Remember that elks are moving targets bigger than you, and practicing at a target archery range won't help you achieve the right skills you need.
Aside from mastering the basics of archery and having the right equipment, don't forget to assess your skills and take note of the areas that need more improvement.
Moreover, get used to shooting a recurve bow with high draw weight so you won't get easily worn out during the hunt. You also have to remember that shooting recurve bows demands more accuracy skills, thus, making it a habit to shoot accurately and consistently.
Another important note is that elk hunting is different from whitetail deer hunting. Therefore, hunters must have the proper training and practice to earn a successful hunt:
Unlike whitetail deers that allow you to shoot in regular shooting positions, mainly from an elevated area, anything can happen in elk hunting.
It means that it will be hard to pinpoint what kind of shot to expect in shooting elks because it can be in rugged terrain, steep slopes, and varying habitat and vegetation.
Therefore, it is best to practice different positions by following these tips:
Try shooting in and around a bush.
Be creative with your practice shots by shooting at some steep terrain, on your knees, sitting down, standing up, slightly slope, or under unusual conditions.
Shoot between a tree or grass, covering up half the target.
The more you get used to shooting at varying positions, the higher your chance to perform an ethical shot on an elk.
As mentioned, it is best to shoot an elk within a 40-yard distance when using a recurve bow. However, there are some instances when it is difficult to get closer to elks without startling them.
Shooting at 10 to 30 yards is possible with whitetail deers, but you might consider practicing shooting over the ideal distance with elks.
Try to practice shooting consistently at 60 yards with some shots at 50 and 40. Keep practicing until you feel incredibly comfortable at those distances. Thus, when the elk present itself 40 yards away from you, it will be easier and more comfortable for you to shoot.
Physical and mental condition
Compared to hunting other wild animals, expect to be exhausted, beaten, and worn out mentally and physically when elk hunting.
Practice shooting in a worn-out and beat-up state, even out of breath, if you want to battle out possible mental and physical challenges during the big hunt.
You can do this by shooting right after doing your training exercises. It will allow you to condition your body to calm, control your breathing, then shoot.
By doing the above practices, you can accurately and efficiently shoot the elk when it presents itself, no matter what condition. Always remember to seize the opportunity, and don't make all your preparations go to waste.
Prepare what clothing to wear.
It is a given to clothing that allows you to camouflage to help you not stand out and startle the animal when hunting. Aside from this, your choice of clothing material to wear is important too.
For elk hunting, it would be best to wear clothes made of wool. It is naturally water-repellant, so it helps you not get wet in case of rainstorms. However, you may be wondering what makes wool the best option in elk hunting:
It absorbs light rather than reflects it compared to newer synthetic cloth materials.
Known to be durable, soft, and quiet and protects you from cold since you will never know when the temperature drops in the mountain.
Most hunters recommend a neutral gray colored wool to blend perfectly into the forest and trees.
Shot placement
Because of their size, you may think placing a shot on an elk is more accessible than on other animals. If you aren't confident with your shot placement, you must consider improving it since elks are extremely tough and tend to lose plenty of blood before dying.
Avoid high double lung shots in shooting an elk since it often leaves little to no blood trail. Additionally, 3D archery targets are often misleading, so it's better not to rely on them entirely.
Learn all you can about an elk's anatomy and take note of a spot close to the top of its heart where it intersects with the lungs. Furthermore, learn various shot placements as you note where it is best to shoot them.
Especially for first-timers in elk hunting, you will find it too challenging because of less experience. Nonetheless, it is essential not to ignore making preparations to get the most out of this big game hunting.
What are the best recurve bows for elk hunting?
Recurve bow models such as Samick Sage, HYF, and SinoArt are among the best ones most hunters use for elk hunting. These three are famous for their high quality, features, design, and performance and have proven to be effective in taking down elks.
Not all recurve bows are ideal to use in hunting because of their design and other features they lack to take down elks. Fortunately, various bow manufacturers produce recurve bows designed solely for elk hunting.
These three are among the best recurve bow models you can find in the market to shoot elks:
Samick Sage

Samick Sage Takedown Recurve Bow is the best-selling hunting bow because of its following features and specifications:
Two fiberglass replaceable laminated limbs with a complete set of arrow rest and Dacron bowstrings
Manufactured with high-quality Maple wood
Ergonomic design
Durable with a comfortable grip and lightweight bow
Suitable for either left or right-handed archers
It provides excellent convenience and is a perfect choice, especially for elk hunters.
In contrast, some archers have problems properly using this recurve bow model, while some have zero difficulties using it. Please refer to the instruction manual provided by the manufacturer for easy assembly and maneuvering.
HYF
You can also check HYF Takedown Recurve Bow Package R3 if you are looking for another high-quality recurve bow perfect for elk hunting. Below are its specifications and features:
Known for its high-quality offering of high strength, grade alloy, and light material
Ergonomic design
Have limbs with high elasticity, which prevents them from cracking or chipping during use
Strong and quality performance
Comfortable and suitable for right and left-handed archers
Buying this comes with complete kits and packages: arm guard, arrow puller, bow sight, replaceable fiberglass arrows, tube arrow quiver, bow stringer tools, Allen Key combo, string wax, and target paper.
Expect it to last longer and helps you shoot efficiently and accurately.
Some archers have negative reviews on their maneuverability and are hard to use according to their wants. Nevertheless, it is still an excellent recurve bow for elk hunting and target shooting.
SinoArt
Last on the list is the SinoArt Takedown Recurve Bow which is also a nice recurve bow to consider for elk hunters. Refer to its specifications and features below to know if it's the model you are looking for:
Suitable for left and right-handed users
Have bamboo limbs containing black fiberglass material from the German lamination tech
Durable and offering strong power, ideal for hunting
It has a fine, ergonomically designed wooden handle with round edges.
Comfortable grip with an overall simple design and gorgeous finish
Cheaper compared to other recurve bow models.
Compact, lightweight, and promises shooting accuracy.
Unfortunately, some archers' review indicates that the model's bowstring tends to slip out if not handled properly. However, you may want to consider buying this recurve model if you are looking for an excellent recurve bow for elk hunting at a lower price.
Hunting elk isn't easy, no matter what bow type you use. Nevertheless, opting for a recurve bow to hunt an elk is an excellent choice as long as you made enough preparations to alleviate your skills and improve your overall hunting abilities.