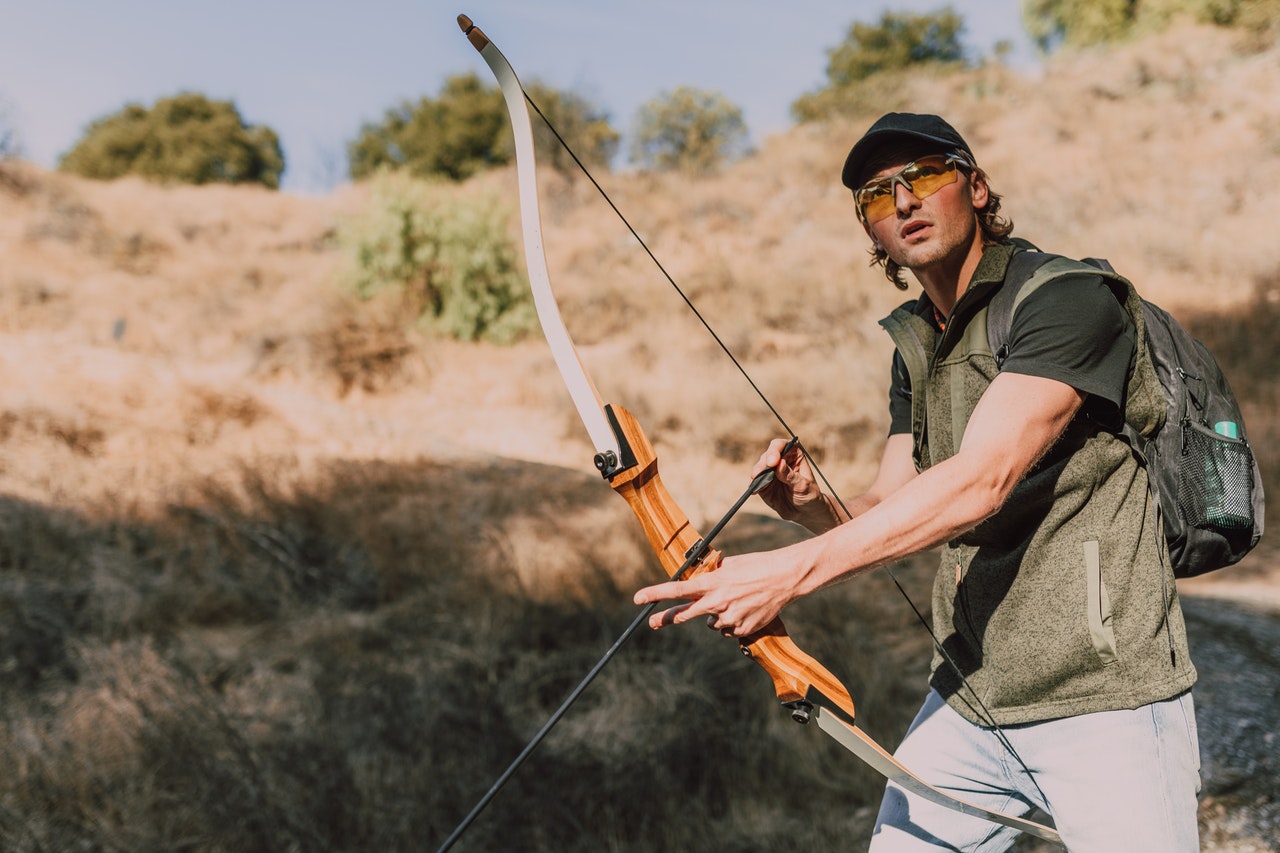 No law in the state of Illinois prevents you from shooting your bow in your backyard. You don't need a license to own a bow and arrow either.
Illinois is strict on residents owning firearms. You have to apply for a Firearm Owner Identification (FOID) card. The application takes time to conduct a personal background check.
But the state never considers bow or crossbow firearms. So you don't have to get a license for your bow.
Shooting a bow and arrow within corporate city limits is illegal. But Illinois state law allows practice in archery if done in a safe place. Adults need to go with children with competent supervision.
Don't shoot in unstable conditions like windy and stormy weather. It's better safe than sorry.
Can I bowhunt in Illinois?
You can bowhunt in Illinois. You have to get the proper requirements before you hunt. These are hunting licenses, permits, and electronic state habitat stamps.
Taking bowhunting education classes in Illinois is optional. But the state encourages individuals to attend a bowhunting class.
Illinois has two ways to take the course:
You can enroll in traditional classes with the guidance of an instructor. Classes can take at least a day to a couple of days.
You can also study online through a self-study course. You can complete chapters at your own pace.
Both methods have an exam at the end of the course.
Illinois allows the sale of licenses online – it is convenient too. You can use a paper application as a last resort. You can also find the nearest vendors selling over-the-counter licenses and permits.
Hunters must get an electronic state habitat stamp in most cases. You have to buy a habitat stamp if you are 18 years old and older. Illinois law exempts veterans with disabilities from getting a habitat stamp.
Waterfowl hunters need both the federal waterfowl stamp and electronic state waterfowl stamp. Federal stamps are available in post offices and selected offices.
You can hunt migratory game birds. But you need to register for the Harvest Information Program. Examples of these birds are doves, ducks, and geese. You will also need to get species-specific permits when hunting other wildlife.
How much does it cost to hunt in Illinois?
The Illinois Department of Natural Resources recorded about 290,000 licensed hunters. Illinois has a total of 1.4 million licenses, tags, and permits sold. The state generated about $31 million in sales.
You have to get a license and state-issued habitat stamp from the IDNR and accredited vendors. You can apply online.
Here are the most common hunting licenses in Illinois:
A temporary Resident Hunting License costs $12.50, while a lifetime license costs $360. A lifetime fishing license costs $435.

A non-resident license costs $57.75. A five-day version costs $35.75.

A hunting apprentice license costs $7.50. This license is available to both residents and non-residents.

A youth hunting license is available for hunters younger than 18 years old. They only have to pay $7.

An electronic state habitat stamp costs $5.50. A migratory waterfowl stamp is worth $15.50.
Is there good bowhunting in Illinois?
The state of Illinois is always busy in preparation for hunting season.
Bowhunting is a good idea in Illinois. Bowhunters love to hunt there because of plentiful wildlife. The hunting seasons are generous too. Firearm season only has a periodical schedule. Each schedule lasts only about 3-7 days. But archery season lasts for over three months.
A shortened gun season means more time for bowhunting for big game. Examples are large whitetail bucks and coyotes. You can also target small game for advanced hunters.
Illinois has over 480,000 square acres of huntable public land. So the state has plenty of spots to hunt.
Before you get out in the woods to hunt, take time to get ready.
Invest in practicing at a shooting range. Never miss your shot in the actual bowhunting. Make sure you practice long-range shooting.
Practice in different locations. Practicing on the ground level is good. But you have to step up your game by doing it from different elevations. Try shooting at a tree stand or shooting while sitting down.
Practice shooting with broadheads, which is a need for bowhunting. Sharpen the broadheads, and use the same broadheads for hunting – this is a confidence builder.
No matter what, always have a good time hunting. Catch or no catch, make sure you find satisfaction. After all, you want to enjoy and build memories.
Can I hunt on my own property in Illinois?
You can hunt on your property in Illinois. The state allows you to hunt on other private property with permission.
The Illinois Department of Natural Resources issues a Land Access Permission Card. Both the landowner and hunter complete the document. The department also issues Property Only Hunting permits for Qualified landowners.
Landowners need to complete the location of hunting, time, and activities permitted. Hunters need to specify the hunting activity, date, and time. They also need to describe the specific property.
Illinois also has public areas in different counties for hunting. You might need to get a windshield card before you hunt on public land. You might also need to get site-specific permits.
A windshield card is free. You have to report your catch online. If you were unable to catch wildlife, the state of Illinois still requires you to tell them as well.
Report your harvests online by February 15 each year. You may lose your hunting privilege if you fail to do so.
But if you are unable to get an issued windshield card. You have to contact the Illinois program administrator.
What is the legal draw weight for bowhunting in Illinois?
The draw weight to bowhunt in Illinois is 30 pounds in a 28-inch draw length at the least. The least arrow length is 20 inches.
Use broadhead arrows. Illinois needs hunters to have fixed and expandable broadheads. They must have at least a 7/8-inch diameter when opened.
You have to knap broadheads with fixed cutting surfaces – using metal, flint, or obsidian. Expandable broadheads must be metallic.
For crossbows, the least peak draw weight is 125 pounds. The smallest length is 24 inches. Hunters have to use fletched bolts and arrows. They must not be less than 14 inches in length. Crossbow hunters have to use broadheads too.
Electronic devices on arrow tracking are illegal.
About 69% of bowhunters in Illinois use compound bows. About 30% used crossbows. The remaining 1% used traditional bows. So never worry about being lonely during bowhunting.
Bowhunting challenges you. At the same time, bowhunting is a form of workout. You climb trees and hills. Run around terrain while carrying gear. Bowhunting develops your muscles and cardiovascular health.
Bowhunting pushes you to outsmart wildlife and be within bow range. You can also find food for your dinner and gain friends along the way.
Hunting animals can be rewarding. It also helps you conserve the environment by eliminating predators in the wild.
Do you have to wear orange during bow season in Illinois?
The state of Illinois requires hunters to wear solid blaze orange or blaze pink. Use the colors when wearing caps and upper outer garments. The wardrobe needs to have at least 400 square inches of the selected colors.
You have to follow this when hunting deer in all firearm seasons. When tracking wounded deers with a dog, you must also wear the colors. Individuals with young hunters must also follow it.
Camouflage varieties never meet the requirements. So better stick with the solid orange and pink colors.
The state of Illinois is strict in implementing rules and regulations. Here are other safety precautions to follow when you are hunting in Illinois:
Illinois never allows you to carry any firearm while hunting with a bow and arrow.
The state never allows you to hunt protected species except with a gun and bow and arrow.
The state never allows you to carry a loaded gun or bow with a nocked arrow outside legal hunting hours.
The state doesn't allow you to use archery equipment on private land. The only exception is firearm deer season.
Is deer hunting good in Illinois?
Illinois has a deer population of 650,000. Hunters harvest 50,000 deers each year. Experts consider Illinois a stable area for deer hunting.
Be careful of the Illinois deer limit. The state only allows you to kill one deer for each deer hunting season.
Take note of these regulations when you hunt deer:
Never harvest more than two antlered deer during a year. The seasons include archery, youth, firearm, and muzzleloading. Harvesting any white-tailed deer after hunting hours is unlawful too.
Never use many tree stands or ground blinds owned and managed by the state.
Never construct any tree stand using nails or screws. Using devices that cut the bark of trees on any state-owned site is unlawful too.
You need to remove tree stands after your hunt. They must be portable too. Exemptions may apply to some specific sites.
The state of Illinois never allows you to use a dog or horse to harvest deers with a firearm or bow. Never use automobiles or any vehicle while hunting too.
But there are conditions you have to meet if you need to use a dog while hunting:
While tracking a wounded deer, you must have physical control of the dag. Maintain not more than a 50-foot lead attached to the collar of the dog.
Tracking a wounded deer with a dog, you must wear blaze pink or orange.
Dog handlers are exempt from any hunting license and deer hunting permits. You have to go with dogs with careful supervision.
Never hunt a deer by using bait – any solid or liquid to attract deer. Bait can be in the form of salt minerals or food.
Never cut or mow standing crops or any agriculture while hunting. Plant harvesting and cultivation is illegal in too.
You have to report any harvested deer by 10 pm on the same day. You have to confirm that the deer is still whole. You can only dismember deer after the check-up. You can only remove the harvest tag and confirmation number after mandatory checks.
What can I hunt in Illinois?
You can hunt deers, turkeys, and waterfowls in Illinois. You can also hunt upland game, furbearers, and doves. You can harvest pheasants, squirrels, and bobwhite quails too.
Most wildlife has specific trapping and hunting seasons all year long. You have to plan your hunting trips. Look for the Digest of Hunting and Trapping Regulations issued by the state.
Aside from deer, here are species you can also hunt on specific hunting seasons:
You can hunt coyotes on both public and private properties. Illinois has no bag limit on harvesting coyotes.
You can hunt rabbits for four kills a day.
You can hunt squirrels up to five kills a day. Squirrel-hunting is off-limits during firearm deer season.
You can hunt woodchucks or also known as groundhogs. The state has no bag limit for them too.
Turkey hunting is during spring and fall. You can also hunt for doves with a 15 kill limit per day. You can harvest two pheasants and partridges each. You can also kill eight quails per day.
Hunting is a human survival skill in prehistoric times. But hunters today use it for recreation and bonding. Never overkill animals. Follow the bag and kill limit.
Excessive hunting or poaching is unlawful. It also imbalances the food chain. Know your limits and abide by state regulations.
Hunt with responsibility. Cooperate with law enforcement. Follow the rules to avoid the reduction of the animal population.
Try to kill wildlife by not alarming or chasing them. You have to have a well-placed shot to the vital organs like the lungs and heart. This is the best and painless way to put down an animal.
Also, never shoot in unfair situations like an animal stuck in rough waters or snow. Never shoot animals that have offspring with them. Think of the young animals if their parents get killed.
Your actions have consequences. Be a good sport by taking fair shots too. Always know the distance of your target.