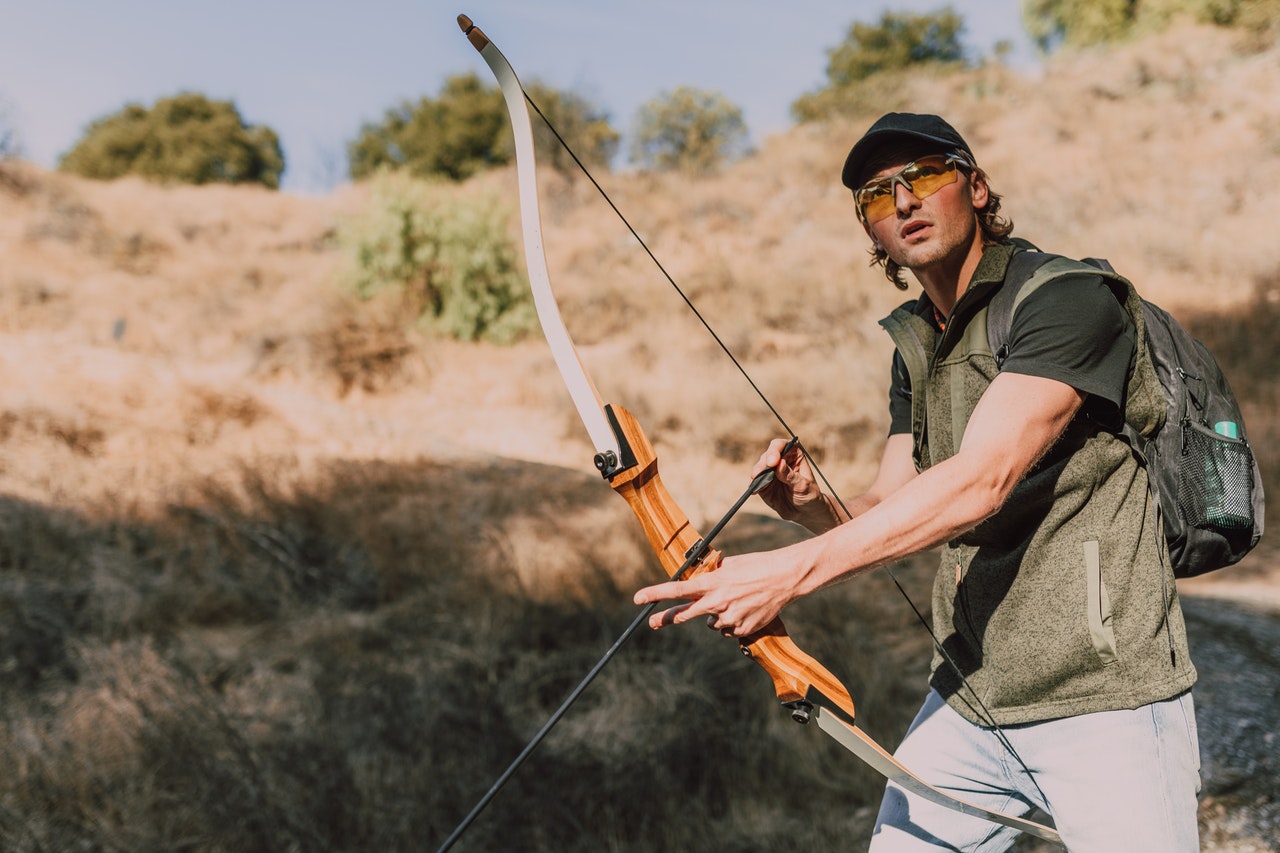 No law in Illinois prevents you from shooting your bow in your backyard. Also, you don't need a license to own a bow and arrow in Illinois.
Shooting a bow in your backyard to hone your archery skills is often the most cost-effective option compared to going to and from the archery range. Like any other state in the country, Illinois also has its governing agency that oversees and is responsible for implementing archery laws.
The Illinois Department of Natural Resources handles Illinois archery laws, which means they are the best point of reference regarding questions about bow and arrow use in the state.
Since laws can get updated and changed from time to time, it would be best to consult and double-check with the Illinois Department of Natural Resources by going thru their official website or contacting them directly.
Luckily, Illinois archery laws allow archers to practice target shooting with a bow in their backyard.
On the other hand, if you are interested in hunting with your bow on your property in Illinois, you would be glad to know that the state allows you to hunt on your property and others.
Enumerated are a few factors you need to know before you can legally hunt on someone's property:
The Illinois Department of Natural Resources issues a Land Access Permission Card, which requires both the landowner and hunter to complete the document. The department also issues Property Only Hunting permits for Qualified landowners.
Landowners must complete the location of hunting, time, and activities permitted. Hunters need to specify the hunting activity, date, and time. They also need to describe the specific property.
Without the owner's or tenant's consent, hunting or allowing a dog to hunt within 300 yards of an inhabited structure is unlawful.
Damage or destruction on another person's property is unlawful while trapping or hunting on their land.
A purple paint mark on a tree or post on private land can serve as a "no trespassing" sign indicated by the landowner or lessee.
It is illegal to take or attempt to take any wildlife within or upon another's land without permission from the owner or the owner's designee.
Knowing what is legal and illegal in Illinois can help you avoid legal trouble. Aside from the Illinois Department of Natural Resources, you can also check or refer to Illinois General Assembly's website, which contains the state's bills, resolutions, and other legal matters for your guidance and awareness.
Can I bowhunt in Illinois?
You can bow hunt in Illinois. However, Illinois archery laws require you to obtain the necessary license, permits, and electronic state habitat stamps before you can hunt.
Bow hunting in Illinois is an archery activity that thousands of residents and non-residents enjoy. May it be within their property or on another's or by joining seasonal bow hunting large or small game.
Nevertheless, there are essential things you need to take note of to comply with the state's archery regulations, as set down by the Illinois Department of Natural Resources:
1. Bowhunting education
Taking bowhunting education classes in Illinois is optional compared to states like New York and Idaho. But the state encourages individuals to attend a bowhunting class known as Bowhunter Education.
Illinois has two ways to take the course, with an exam at the end:
You can enroll in traditional classes with the guidance of an instructor. Classes can take at least a day to a couple of days.
You can also study online through a self-study course wherein you can complete chapters at your own pace.
2. License
The Illinois Department of Natural Resources recorded about 290,000 licensed hunters, with a total of 1.4 million licenses, tags, and permits sold. As a result, the state generated about $31 million in sales.
You must get a license and state-issued habitat stamp from the IDNR and accredited vendors by applying online or in person.
Here are the most common hunting licenses in Illinois:
Resident Hunting License
Non-resident license
Hunting apprentice license
Youth hunting license for young hunters ages 18 and below
In most cases, IDNR will require an electronic state habitat stamp aside from a hunting license. A habitat stamp is a must for those 18 years old and up, except for veterans with disabilities.
On the other hand, waterfowl hunters need both the federal waterfowl stamp and the electronic state waterfowl stamp. Federal stamps are available in post offices and selected offices.
You can hunt migratory game birds, but you must register for the Harvest Information Program. Examples of these birds are doves, ducks, and geese. You will also need to get species-specific permits when hunting other wildlife.
3. Bow specifications requirement
Illinois archery laws impose the following minimum bow specifications requirements as shown in the table below:
| | | |
| --- | --- | --- |
| Minimum legal archery equipment requirements | Vertical bows (longbow, recurve bow, and compound bow) | Crossbows |
| Draw weight | 30 pounds | 125 pounds |
| Draw length | 28 inches | 24 inches |
| Arrow length | 20 inches | 14 inches |
Illinois archery laws prohibit the use of electronic arrow-tracking devices on crossbows. Moreover, the bolts should have broadheads.
Additional points to remember aside from the table above are:
Hunters in Illinois must have fixed and expandable broadheads with at least a 7/8-inch diameter when opened.
Use metal or flint-, chert-, or obsidian-knapped broadheads with fixed cutting surfaces; broadheads with expandable cutting surfaces must be metal.
4. What to wear
Illinois requires hunters to wear solid blaze orange or blaze pink. Use the colors when wearing caps and upper outer garments. The wardrobe must have at least 400 square inches of the selected colors.
You have to follow this when hunting deer in all firearm seasons. Individuals with young hunters must also follow it. You must also wear the colors when tracking wounded deer with a dog.
It would be best to stick with the solid orange and pink colors instead of camouflage.
5. Species you can hunt in Illinois.
Like other states, Illinois archery laws have a limited list of species you can hunt as an act to preserve wildlife, especially the endangered ones:
Deer
Turkey
Squirrels
Waterfowl
Rabbits
Upland birds
Furbearers
Hunting is a human survival skill in prehistoric times, but hunters today use it for recreation and bonding. Always follow the bag-and-kill limit as indicated on the Hunting Illinois website.
Excessive hunting or poaching is unlawful—it also imbalances the food chain. Know your limits and abide by state regulations.
Hunt with responsibility. Cooperate with law enforcement. Follow the rules to avoid the reduction of the animal population.
Try to kill wildlife by not alarming or chasing them. You must have a well-placed shot to the vital organs like the lungs and heart since it is the best and painless way to put down an animal.
Also, avoid shooting in unfair situations like an animal stuck in rough waters or snow or those that have offspring with them.
Illinois is strict in implementing rules and regulations. Here are other safety precautions to follow when you are hunting in Illinois:
Illinois never allows you to carry firearms while hunting with a bow and arrow.
The state never allows you to hunt protected species except with a gun, bow, and arrow.
The state never allows you to carry a loaded gun or bow with a nocked arrow outside legal hunting hours.
As a hunter, you are responsible for abiding by the state's bow hunting laws whether you are a resident or not. Doing your research is one step closer to enjoyable and memorable bow hunting in Illinois.
Can you shoot a bow in city limits in Illinois?
Shooting a bow and arrow within city limits is illegal in Illinois. It means you cannot shoot your bow upon, along, across, or from a public roadway, right-of-way, or highway in Illinois, but you can shoot or hunt in your backyard or someone's property with their permission.
Having a hunting license doesn't permit you to use your bow and arrow anywhere and whenever you feel like it.
Illinois, like any other state in America, prohibits you from discharging your bow and arrow or gun in city limits for trapping, hunting, or other purposes. As a result, it is essential to know what city limits are in Illinois.
The state refers to areas upon, along, across, or from a public roadway, right-of-way, or highway. Right-of-way or highway refers to the width between the boundary lines of all public roads.
On the other hand, roadways, excluding the berm or shoulder, are the parts of a public road that have been renovated or are for vehicular transit.
Since city limits described in the law are pretty general, you can refer to Illinois' map below showing the significant highways you need to avoid shooting with your bow: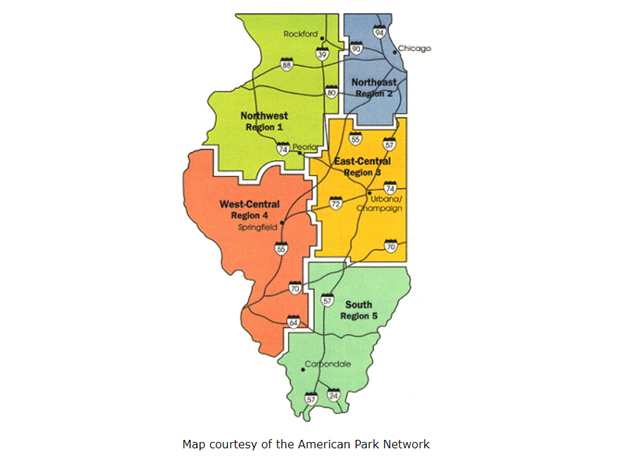 The map's lines indicate the significant highways in Illinois sourced from IDNR's Hunter Fact Sheet Information Page.
Another easy way to determine where you can legally use your bow in Illinois is by identifying which areas are exclusive hunting sites. An excellent reference would be Hunt Illinois' Hunting Site Directory. Here, it displays a list of hunting site names, locations, and animals you can hunt.
You can also use the IDNR Division of Wildlife Hunt Illinois Application with detailed map navigation of the IDNR Boundaries Site colored in yellow. It provides the best visualization and well-informed hunting map of Illinois.
Always ensure that when your bow is not in use, remember to uncock or loosen the string and have it secured in a bow case. Public areas not intended and permitted for bow use can get you into trouble and hurt random citizens around you.
Do you need a FOID card for a crossbow in Illinois?
Residents in Illinois must apply for a Firearm Owners Identification or FOID card if they want to possess ammunition or firearms legally. Since Illinois doesn't consider crossbows as firearms, you don't need a FOID card for a crossbow in Illinois.
The creation of Firearm Owners Identification or FOID card is part of Illinois' initiative for public safety by identifying residents that are eligible to acquire and possess firearms and ammunition. It is also not a "conceal and carry" card.
Illinois doesn't require non-residents to have a FOID card, meaning that only Illinois residents must apply for a FOID card, given that they seek to possess firearms and ammunition legally.
Each state in the country has its definition of firearms, which can sometimes identify crossbows as one. Although Illinois is strict on residents owning firearms, the state never considers bow or crossbow as firearms.
Therefore, you don't need to apply for a FOID card to use a crossbow. Instead, Illinois classifies crossbows under "bows" together with vertical bows such as longbows, compound bows, and recurve bows.
Contrary to what most people assume, Illinois State Police issues the FOID card, not the IDNR. Moreover, you first need to fill in the online FOID card application link to obtain a FOID card.
You can apply for a FOID card anytime with a few conditions for those under 21 years old:
You need notarized consent from your parent or legal guardian.
Your legal guardian or parent must possess a FOID card before providing consent.
There should be no misdemeanor on your record other than adjudged delinquent or traffic offense.
Illinois' FOID card is valid for ten years, effective starting from the issuance date. Expect a non-refundable processing fee that may cost you about $10 for the application process.
The Illinois State Police conducts a personal background check while processing your application. It is necessary to conduct a background check to determine whether any prohibitive factors prevent an individual from possessing a firearm.
Illinois residents with a felony conviction, battery or assault charges, and domestic violence charges are ineligible to apply for a FOID card.
Supposed that you now have your FOID card, you have to know the following rules and regulations for purchasing firearms:
Firearm dealers in Illinois need to withhold the delivery of a handgun for 72 hours as required by state law.
On the other hand, long guns like rifles and shotguns have at least 24 hours of withholding time from the purchase date.
The age requirement for a long gun is at least 18 years old, and the required age for buying a handgun is 21 years old and up.
Although there is no need to get a license to possess a bow and arrow in Illinois, there are bow regulations that you need to remember to avoid any legal trouble whether you are a resident or not.
But, if you merely want to practice target shooting in your backyard in Illinois, you can easily do so; however, if you wish to participate in hunting, it is your responsibility to be aware of Illinois archery rules.