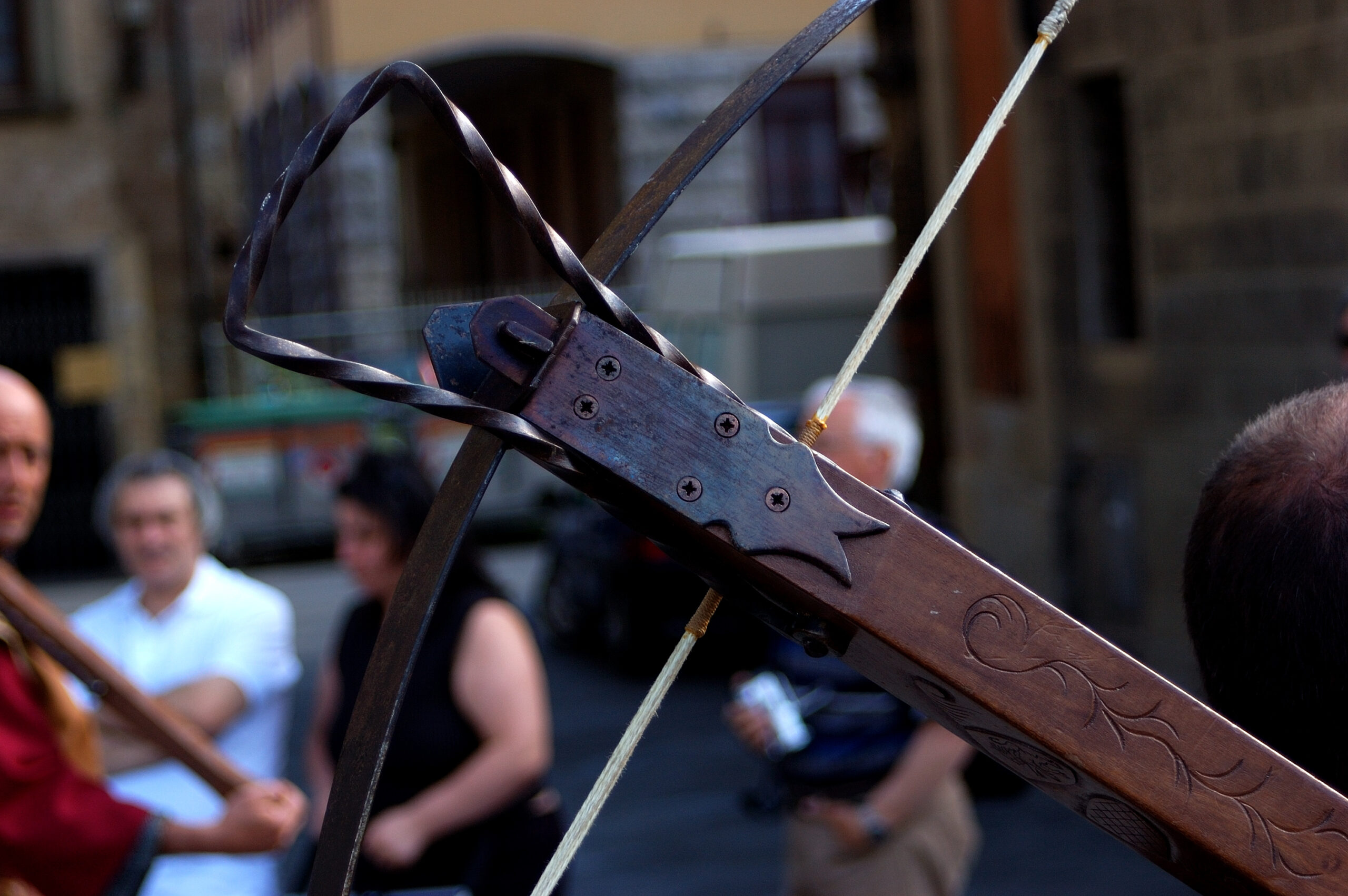 You can use a crossbow for hunting small game animals because it is accurate and efficient to use. Shooting small animals using a crossbow requires very little strength.
More bowhunters prefer crossbows as their go-to hunting tool due to their efficiency at firing high speeds towards game animals. A draw weight of 150-250 pounds is enough to shoot a powerful but ethical shot.
North America is the dominant consumer of crossbows as they take 37% of the total sales volume in the world. In 2016, alone North American archers bought 250,000 units in 2016 alone.
Crossbows are excellent weapons for hunting because they help you improve your aim as you learn to hit big and small games. Hunting small animals develops more patience and accuracy.
Small game hunting is more challenging because animals are tinier, such as weasels, doves, and prairie dogs.
Practice shots
Before hunting with a crossbow, you must learn how to use it. It is heavier than other bows, so you must dedicate yourself to mastering it.
Before hunting a rabbit, you have to target squirrels first. The key here is adjusting as you learn to get more familiar with bow and arrow placement. Instead of going straight to your intended target, shoot a precise shot on a smaller one.
Do you need a crossbow before anything else? You can find some of the best deals on Amazon.
Pick the right arrowheads
Broadheads are available in the market for your small game hunting needs. Manufacturers produce varieties that are preferable for it.
Judo tips are unique, and they allow you to shoot through trees and open fields without losing your arrows.
Rubber blunts are essential for hunting small and fast critters, like squirrels, in rocky areas. They won't get stuck in trees, too, so you don't have to worry about losing them.
Solid steel blunts are ideal for larger small animals, like game birds, with rear-cutting flanges. They are also suitable for rocky terrain and resist sticking into trees.
Regardless of what size you're pursuing, your blades have to be sharp to maximize penetration and cutting.
Check out some crossbow bolts on Amazon.
Check regulations first
States and other jurisdictions have specific small game hunting seasons longer than different animal hunting periods. So you have lots of time to prepare and go out into the woods for your next hunt.
Check the specific dates for hunting and make sure you have state or area-specific requirements on weapons, permits, tags, and licenses.
Why should you hunt small game?
As a crossbow hunter, you should hunt small-game animals because it helps you learn essential skills before hunting larger animals. It is also less intense but challenging without expensive hunting gear.
Think of a close miss on a small target. Consider it a good shot on a large animal, such as an elk or deer.
You don't need much crossbow equipment and strategies to harvest small games. You can catch many rabbits and squirrels, and they need lesser devotion to shoot. You can go on for days without gathering big games, like deers.
Here are some benefits of hunting small game:
Small games provide fur and feathers
Fur is a tradeable good because it is a quality source to produce clothing. Other resources from small animals include squirrel tails (used for tying flies for fly fishing) and bird feathers (for stuffing).
Unused animal meat and bones for your pets
You can give unused meat and bones to your pets as they provide a nutrition boost to them. It also saves you money as you don't have to buy lots of precious animal food from stores.
Small game hunting: a warm-up
Consider small game hunting as a warm-up before going ahead with hunting huger targets, like deers and elk. Check out this guide:
Gear up and hunt

Along with your crossbow, bring other essential stuff. Examples are your arrows, quivers, and protective gear. Other items will also come in handy, such as a flashlight, knife, food, water, and a first aid kit.

As you get more familiar with crossbow hunting, you will learn the difference between whether something is a need or less is more.

Once you're good to go, enjoy the moment and, at the same time, learn as you go along the way. You can also bring with you a buddy or someone more advanced.

Cook your harvested animal

If you're a beginner, you may have second thoughts on cooking. But you can always learn how to clean and cook some wild catch. You can find everything on the Internet. Start by searching for YouTube videos.

Small game meat is lean because they have an active lifestyle, and their diet comes from natural resources.

Plan the next hunt

Mastering small game hunting with your crossbow is a warm-up to get into shooting bigger games.

Check for hunting guides for more information on your next hunt. You can also speak with other hunters for the next hunt, and archery clubs are perfect for getting information.
What animals are considered small game?
Small-game animals include ducks, squirrels, rabbits, pheasant, quail, doves, or wild critters that weigh below 40-50 pounds. However, the definition of the small game depends on which state or area you're hunting.
In general, small game animals are smaller wild animals intended for hunting for meat and recreation.
For instance, a state may consider foxes as either small game or furbearer. Or a quail can either be a small game or upland bird. So you have to check on a species-specific license before you go out hunting.
Arizona considers pigeons a small game, but Iowa classifies them as upland. Quails are upland birds in California and Texas, but they are small game in Arizona.
Here are more examples of small games, depending on the area:
Mammals include prairie dogs, muskrats, beavers, skunks, groundhogs, badgers, and foxes.
Birds include geese, turkey, swans, grouse, snipe, crane, woodcocks, and partridges.
Reptiles and amphibians include turtles, toads, and frogs.
Ducks
You can hunt as many as 22 varieties of ducks in the United States alone. It depends on the preferred landing spot. Crossbow hunters set up decoys and calls to lure them into the field or waters.
One preferred setup is finding a pond or field where ducks rest and hide along with the decoys or banks with more cover. Then, aim at them as they get near your range. Use a standard duck call to attract them to your spot.
Rabbits
Rabbits are a sight to see for small game hunters too. North America has the eastern cottontails as the most common rabbits, and you can find them in eastern, midwestern, and southern states.
When you hunt them, prefer to look for an open field with underbrush or tall grass. Walk on the edges and circle around them to find them. If you haven't shot at anything, cut further into the area and have another lap. Repeat until you find some.
Squirrels
The good news for small game hunters is the familiar gray squirrels are endemic in North America.
People often call them tree rats. But their wild meat is sought after by people.
Hunting them goes back to the early Native Americans and is passed on to future generations.
They are easy to harvest, and you can hunt them with your crossbow by walking and listening to them while you're under a food tree. Camouflage is optional as you can move slowly and surely to shoot at the animal.
Doves
Hunting doves is a tradition in the southern states during Thanksgiving diner. They don't have much meat if you only eat one. A typical person can eat about six to eight doves in one sitting.
Open fields are the go-to spots for doves. You will have a good shoot if you are in a field surrounded by woodland or has power lines set on it. Doves also eat small pebbles and stones to grind their food, so check out parking lots and gravel roads.
Pick a game species common in your area
Choose a small game animal that is abundant in your area or region, and study it to get the best success rate. Contact the state agency or research small game populations so you can learn about their habitat and behavior.
For example, experts recommend squirrels. Check out some facts and details about these rodents:
They dwell in nut-producing trees in mixed forests.
They leave their nests to look for food after or during daybreak.
They prefer to eat berries, seeds, and nuts.
Scout for hunting land
Aside from your crossbow equipment, prepare for areas where you see the small game. Inspect there on-site to check for signs that animals dwell there. Squirrels tend to stay in tree cavities and leafy nests on the treetops.
For rabbits, they are usually in farmlands. They eat herbaceous plants in open grassy areas by the woods.
Is it legal to hunt with crossbows?
In the United States, crossbow hunting is legal in 49 states. Oregon is the only state that prohibits the use of such weapons. Meanwhile, Canada allows you to hunt in all ten provinces and two territories except the Yukon Territories.
Licenses, permits, and tags
While you don't have to register your crossbows, you still need state-specific hunting licenses. They come in different varieties too. Some are for general hunting, which you will need for small game hunting in certain areas.
Tags are special permits or special licenses for one animal only. Any state or province will need you to purchase one, like deer hunting tags. That is aside from the hunting license itself.
Get a license and take a hunter education course
Some states need you to sign up, but some may not. But consider it an investment because you will be learning lots of stuff: wildlife management, conservation, crossbow safety, ethics, laws, and regulations.
Courses are available online on the wildlife commission website, and they are often free or inexpensive. Instructors will guide you to be seasoned hunters too.
Permission on hunting in owned property
You don't need a license to hunt on your property or someone else's. However, asking permission must be a staple because trespassing laws still apply.
Some areas will need you to have written permission before hunting on private property other than yours.
Small game hunting seasons
Wildlife commissions set up hunting seasons so that hunters won't interfere with the mating, birthing, and hatching periods. Small game seasons fall between September to March the following year.
Also, any state can set specific hunting seasons once a certain species begin to overpopulate. If an animal population begins to shrink, regulators will assign dates to give the animal time to repopulate.
Search for the next bowhunting season in your area because the schedule can change every year.
Safety in crossbow hunting
Always obey crossbow and field safety rules because you don't want to risk yourself or anyone. They complement other safety regulations at home or in a shooting range.
Never carry a cocked crossbow while you are traveling. That applies to travel by land, vehicle, or airline. Store it in a protective case to avoid damage.
Don't shoot an animal if it's standing on a ridge, where it's not a safe background to recover it.
Never go in hunts beyond your physical limitations or if you're exhausted. It's always practical to stay in good shape while practicing your crossbow.
Crossbows are heavy to carry in long periods. So you have to plan on holding or hanging your bow if you're on an elevated or treestand.
Ethics
Don't go out to hunt and hurt animals. Instead, aim at them with a quick shot kill them without pain. Your shot placement is crucial on this part. Shoot at small animals on their head or heart for a fast kill.
Never shoot at an animal if you don't intend to harvest it. Always track your preferred animal to gather it. Aiming at their stomach area won't guarantee an ethical shot as they still have a chance to crawl away.
Poor shoot accuracy will result in a bad shot. If you hit a bad shot, you may not hit the correct part of the animal cleanly. The animal will suffer instead of an instant kill.
So you have to prepare yourself before you hunt by mastering your proper form to hit the animal's heart, brain, or longs.
Some areas will require you to report any animal kill or non-kill too. You have to abide by this to avoid any inconvenience with the authorities.