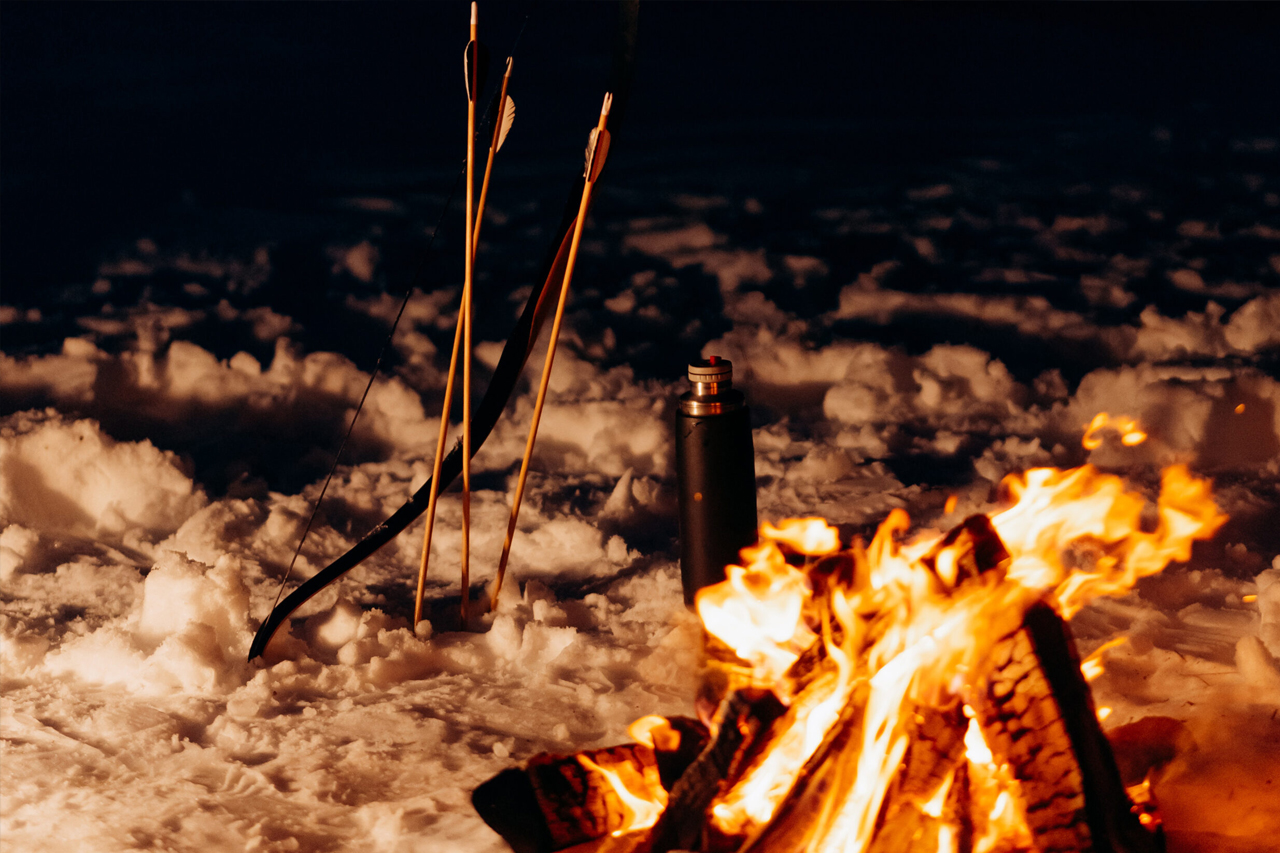 Wood arrows are good because they are cheaper and lightweight, and they're great for big game hunting and stump shooting. However, they have drawbacks too. They are less durable, consistent, and accurate than aluminum and carbon arrows.
Wooden arrows have already existed for thousands of years. They give you a more traditional feel through their organic nature and rich history.
People in ancient civilizations used bows and arrows for hunting. Archery spread across and influenced your ancestors in Greece, Rome, Japan, and China (art and mythology).
Unlike synthetic varieties, wood arrows are delicate to handle. They are only ideal for recurve and longbows. They are no match for the compound bow's brute force.
Archers, who've used wood arrows for years, recommend others to be patient in straightening, weighing, and finishing arrows. Although wood varieties may not be as robust as carbon or aluminum, they offer good results.
If you're looking for wooden arrows, check some of the coolest ones on Amazon.
Before choosing an arrow of choice, check out this guide on the advantages and disadvantages of wooden arrows:
Advantages of wood arrows
More accessible to choose from due to lots of options – selecting wood arrows is more accessible than carbon and aluminum arrows. If you're shooting between 45-50-pounds, wood arrows are available for bows between the 45-60-pound range.
Buy cheaper arrows or create your own – Wood arrows are an excellent selection for beginning archers and have minimal cost. You can even craft them and enjoy them as you do it.
A glimpse of ancient human history – they help you understand what archery was like in ancient history. They give you a glimpse of the tools used by humans before to survive, unlike today, where it's used primarily for recreation and sport.
Customization is one significant advantage, too – you can customize arrows. They have designs with decorative arrows and crests with family names. You can pick up a few dowel rods to put on them too.
Disadvantages of wood arrows
Consistency is a challenge – a problem for archers on wood arrows is inconsistency. You can get them with different flexes, which leads to inaccurate shots. That's because no two wood arrows are alike.
Wood arrows are unfit for competitive archery – unless it's for traditional competitions. If you're an avid fan of conventional archery, you may need to find tournaments that don't require the use of modern arrows.
Unable to tolerate extreme temperatures – they are easily affected by temperature changes and humidity levels. Feather vanes get wet too. That leads to different results in flight.
Prone to damage – due to its light material, they get more chances to have chips or splinters. They can easily bend after repeated use too. Like any wooden product, they can decay over time.
Are wooden arrows safe?
Wooden arrows are only safe using a traditional bow, such as a recurve and longbow. It isn't safe if you use them on crossbows and compounds bow because wood arrows can't tolerate that much energy.
You must remember that wooden arrows will break at some point. They will warp right away if shot beyond their capacity too.
It would be helpful always to check your arrows before you use them. A standard arrow check must be a top priority, like checking the bow and bowstring.
Never shoot an arrow if you don't know it's safe. Don't use it if you're doubtful too.
Improper storage can be a culprit that causes splintering. It will be worse if the place is too damp or too hot. Also, you need to check the straightness of the arrow.
Have this guide with you to check your arrows, making sure that you're safe to use them:
Inspect the shaft through a finger and flex test. The shaft is also known as the arrow's body. Any signs of crack mean it's time for you to fix or replace it. Be careful when touching because the tiniest splinters can hurt your hand.
Hold both ends of the arrow using each hand to do a flex test. Twist and flex it carefully. Check for some cracking sound, splintering, and denting.
Check the arrow point. Make sure that it is seated in the correct position. The shaft's area behind it must be whole.
Examine the arrow nock. Always check that the nock is attached to the shaft. Look for any signs of damage or bends too. The nock must have proper alignment with the feathers.
Look at the feathers too. The feathers need to be together with the shaft. Ensure that there are no broken feathers. Inspect the quill and web to check for any damage.
Other inspecting tips
To see the arrow's straightness, get a smooth-surfaced table. Roll the arrow's shaft on the surface. A straight one will have a smooth roll. You will find no wobble or rattling sound too.
Proper storage is another step to preserve your wooden arrows. Never store them in extreme temperatures.
Never shoot your arrow that's too short because it causes failure. A short one will lodge in the arrow rest and some behind the riser. That leads to arrow failure, leading to arrow damage or archer's injury.
You must only fire an arrow at full draw where the end of the shaft rests at least an inch in front of the arrow rest.
Before firing an arrow, the nock must be seated on the bowstring. Otherwise, it may fall from the string. If the arrow drops and you release the bow, it will imitate a dry fire. Dry fires can damage your bow and cause you injuries too.
Can you make an arrow out of wood?
Making an arrow out of wood is possible. You need to get a suitable type of wood, like cedar and pin. Choose a variety that's straight and thin too.
Building wood can be time-consuming. But doing such will be a handy skill in creating stuff. Follow through the guide so you can make your wood arrows without worries:
Straighten the wood
It's alright if you're unable to get the straightest pieces. You can peel off the bark with a knife. Make sure that the wood is free from knots and twists. It must have no insect damage.
You can put some oil and hold it over a fire source. Do that to keep the material warm and straight but flexible. The oil's purpose is to make it pliable without drying the wood.
If you have an arrow straightener, use it to an advantage. You can check its straightness by rolling the shaft on a flat surface. The purpose of this is to look for any bend.
Don't you have an arrow straightening tool? Click the link for some excellent Amazon products.
Cut and taper the shaft
Cut them according to your desired length when your arrows are already straight. Consider the distance from the point to the nock before cutting. Leave enough space for the shaft to mount them.
Get a tapering tool that matches the shaft's diameter. Use it to taper the ends of your arrow shafts. The taper allows you to mount your preferred nocks and points.
Click here to get a tapering tool.
Stain and seal the shaft
Staining and sealing prevent the shafts from absorbing moisture. Choose a sealer and apply a coating to the post.
Sealers and stains are available in archery retailers. Buy a can of sealer here to get it going.
Polyurethane is also a quick and easy option. However, it creates inconsistent arrows. Some archers complain that those are hard to pull out of a target.
Hang your arrow shafts to dry. Once dry, apply at least one coat of sealer.
Place in the nocks and points
It would help if you had super glue to put in the nock. Look at the nock's orientation carefully as you install it. The grain lines must be perpendicular to the bow after you nocked the arrow in place.
Before you continue, get a couple of extra nocks here. Or click here for your arrow points.
Place the nock on the shaft. The opening of the bowstring has to be perpendicular to the wood grain too.
If you have a blow torch, heat the glue first. Smear some of it onto the taper. Grab a pair of pliers to get hold of the point, which you will briefly hold over the flame.
Insert the taper into the point and spin the shaft. Do that while you insert the point to put in enough glue. Wipe off any excess glue afterward.
Install the fletchings
Put the shaft in the fletching jig while the fletching is in the clamp. It would be best to run a thin glue bead down to the fletching's length. Lightly tap the fletching using a paper towel to remove extra glue. Get a fletching jig here.
Put the clamp on the jig with slight pressure. So you can seat the fletching against the stop. Wait for the glue to dry and continue the process for the next fletchings.
You can also put some customizations, like custom marks and extra paint designs.
Once done, behold your wooden arrows. You're ready to test them out in your backyard or the field.
Other details that can come in handy
It would be great to know other options for your wood shafts and what comprises a specific arrow part.
You can also opt to use any wood available. Other great woods are birch, spruce, and bamboo. Oak and ash are suitable for military arrows, which weigh over 1,000 grain.
Archers use cedarwood arrows because they are lightweight, resistant to decay, and repellant against insects.
You can fletch arrows with feathers. Some varieties of fletching have bright paint, which makes the design colorful.
Nocks can be plastic, but some traditional materials include horns and hardwood. Points come from iron, brass, or horn.
How heavy is a wooden arrow?
Light wooden arrows weigh about 350-400 grains, medium-weight arrows are between 420-500 grains, heavy arrows weigh more than 600 grains.
In pounds, light arrows weigh between 0.05-0.57 lbs, medium weights between 0.06-0.072 lbs, and heavy ones weigh more than 0.085 lbs.
The arrow's weight is the total weight of all components. That includes the shafts, fletchings, broadheads, field points, inserts, nocks, and wraps.
The weight also includes the shaft's material, thickness, and length.
Manufacturers use grains (or grains per inch) to measure the arrow's weight. The measurement is the industry-standard too.
Arrow weight matters
Safety is why arrow makers set arrow weights for specific draw weights. Your wooden arrows have to be heavy enough to absorb the bow's energy after you pull the bowstring.
Manufacturers will recommend around five pounds per pound of draw weight to prevent injuries.
If you shoot too light arrows, it can imitate a dry fire, which is dangerous to you and your bow. The bow and arrow can explode, and shards of broken parts fly.
If your arrows are too heavy, they won't create that much danger. But the hand loses speed quickly. Therefore, it reduces the hang time and shooting distances.
Lighter arrows often shoot faster and flatter. They also produce louder noise. Heavier varieties penetrate through animals better, retaining more momentum.
More comparison: lighter vs. heavier arrows
If you wish to take longer distances, choose a variety of arrows that weigh less than 400 grains.
Any forgiving arrow means you have more margin of error. Or it is less affected by the archer's errors. Lighter ones are better than heavier varieties on that part. They also drop more slowly.
However, heavier arrows are more straightforward to tune on windy days than lighter counterparts. They can tolerate more wind speed.
Heavier arrows are slower, but they absorb the bow's kinetic energy more. They are also quieter to shoot.
Wooden arrow's weight is up to you
Choosing between light and heavy arrows is more of a personal choice. Be sure to shoot the proper spine. If you aren't sure, you can go to someone more experienced or a pro shop, so they can help you choose the best arrow weight.
Spend some time practicing your arrows. That way, you will find it if you must adjust your draw weight or retune to the right arrow weight for you.
Once you do that constantly, you will discover the right weight and become more accurate in shooting your arrows.