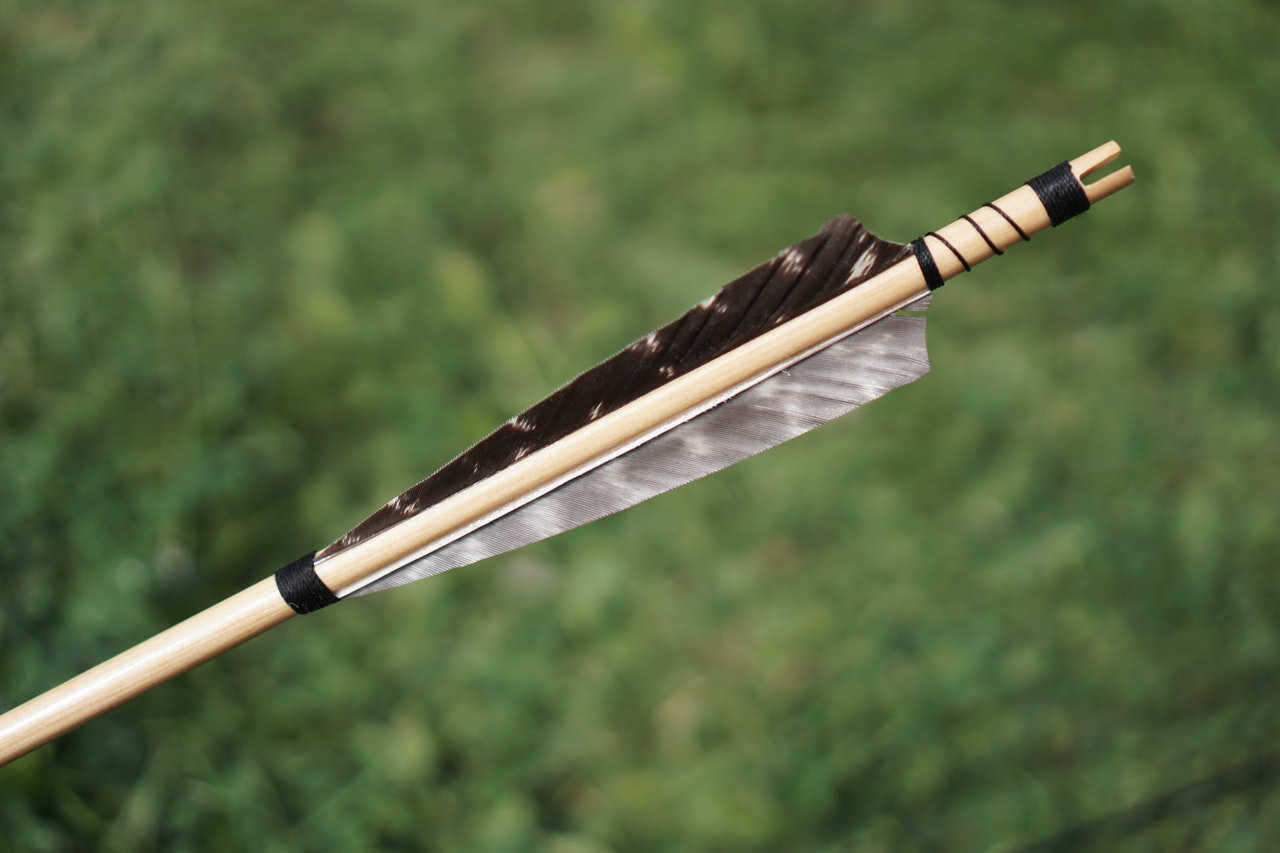 The difference between short and long arrow vanes is a matter of aerodynamics. Short vanes are more effective on shorter, faster arrows. Long arrow vanes increase the drag on the vane itself, decreasing the drag on an arrow as a whole.
Short arrows require short vanes to increase accuracy and speed. However, to shoot accurately with a fast-flying arrow, the archer needs all the help they can get to stabilize the archery arrow in flight.
The shorter vane is more effective because it has a smaller surface area concerning the arrow's size, giving less wind resistance. While long arrows don't need as much help to stay on course and fly straight, so long vanes aren't necessary.
However, the increased drag on the long vane is worth considering because it helps the arrow fly smoothly and has less turbulence.
This is especially important when shooting arrows over great distances. For this reason, you can use long archery arrows in hunting and target competitions. So, the choice between short and long arrow vanes is a matter of personal preference. If you're looking for speed and accuracy, go with short vanes.
Whichever type of vane you choose, make sure they appropriately fit your arrows and shooting style.
How long should arrow vanes be?
Most vanes come in two sizes: small or standard. Small vanes are 1.5-2.25 inches long, while standard vanes are 2.25-3 inches long.
Standard-sized vanes generate more lift while small vanes produce less noise when shot and are lighter, making it easier to recover your arrow from the target or ground if you miss.
You can measure the vane dimensions with a ruler or caliper. When measuring, make sure to include the length of the vane and the adhesive. If you are not confident in measuring them correctly, it is always best to contact the manufacturer for guidance.
Like most vanes, you need to trim them after installation. The amount to cut depends on the arrow's spine. You can use a sharp pair of scissors for the cutting.
Additionally, you can add a drop of glue when attaching the vane to the arrow shaft for it to fit perfectly. Many manufacturers suggest that it is best to use solvent-based contact cement when using this method because other types may damage the vane material.
When it comes to vanes, bigger isn't always better. When deciding between a small and standard vane, weight is necessary. The lighter the vane, the less you will feel your arrow's weight when aiming and shooting at your target.
When choosing an arrow vane, here are a few things you need to take into account.
The weight of your bow

As a rule of thumb, if you have a heavier bow, the longer you will need to make your vanes to keep them from twisting in-flight and creating erratic arrow flight.

The size/length of your arrow shaft

A lighter arrow shaft will generally need shorter vanes to keep the vanes from "torquing" in flight, leading to an erratic arrow flight and loss of accuracy.

Length of the vanes

The longer your vanes are, the more surface area they will have to create lift and stabilize the arrow in flight.

The shape of your arrowhead

A blunt-tipped arrowhead will need longer vanes than a sharp-tipped arrowhead, as the blunt-tipped arrowhead has more drag and needs more lift to ensure stability in flight.
Small vanes also tend to produce less noise when shot, which can be advantageous in hunting situations where you need to stay hidden from your prey. However, standard vanes generate more lift and are better suited for target shooting.
Arrow Vane Lengths
When measuring the length of an arrow vane, you must start from the notch of the nock to its end. Remember that the spine rating on your arrows refers to how stiff they are, not their total length.
So, you can have a longer arrow with a lower spine rating than one with a shorter length and stiffer construction.
Most bowhunters prefer different arrow vanes lengths depending on their shooting distance. For example, normal bowhunters would use short vane arrows to aim at a target 15 yards away.
However, if you plan to shoot a target at 60 yards, maybe longer vane arrows will be more beneficial.
Does arrow vane length matter?
The arrow vanes matter because they are equally crucial as the arrow itself. The arrow vanes give stability, trajectory, and accuracy when in flight.
Arrow vanes help to stabilize the archer arrow and provide lift and drag. As a result, it is vital to ensure that they are in their correct size and shape appropriate for a particular bow and arrow.
When the force of movement acts on the shaft, it creates a vibration that moves along its length. The energy travels down the arrow to the feathers and finally the tips. Having a vane on each side will help stop this vibration and stabilize its in-flight.
The length of the vanes does not significantly impact the flight of an arrow, but rather the width and design are more important. If the vanes are too short, they may not provide enough stability, and they could wobble in flight.
Conversely, if the vanes are too long, they could create more drag and slow down the arrow. However, if they are appropriately designed and fitted, their length will not significantly impact its flight.
Are longer arrow vanes better?
Longer arrow vanes are not necessarily better, but they can provide more stability in flight. In addition, the longer vanes create more drag on the arrow, creating more stability and accuracy.
Beginners should start with 2-inch fletching, while experienced archers may want to try three or 4-inch fletch or vanes. You can measure the length of an arrow's fletching in centimeters or inches. The most common measurements are 2 inches, 3 inches, and 4 inches.
Longer fletching does make the arrow more stable in flight, but it can also make it less forgiving and more challenging to shoot. Some archers believe that longer arrow vanes provide more stability and accuracy, while others find them more difficult to tune in windy conditions.
As a general rule, longer arrow vanes provide more stability and accuracy. However, this is a double-edged sword because you typically must make a tradeoff in windy conditions.
Longer arrows are difficult to tune and become less forgiving if improperly adjusted. As a result, it can be harder to get your bow shooting the same arrow every time.
On the other side of things, shorter arrow vanes are more forgiving in windy conditions. However, this means that they will be less stable and less accurate, making it harder for you to shoot a consistent group. There is no clear advantage here because it depends on what you want from your arrows.
Are longer vanes more accurate?
Generally, the longer the vanes, the more accurate it can be because it helps the arrow stabilize while in flight.
Some shooters believe that the increased surface area provided by the longer vanes allows for more excellent stability and a more consistent flight path, resulting in improved accuracy.
However, other archers believe that the longer vanes create more drag, making the arrow less efficient and potentially less accurate. Ultimately, the decision to use longer or shorter vanes is personal, based on the individual shooter's preferences and shooting style.
Whatever vane length you decide on, always ensure that you cut the arrows to the proper sizes. Using arrow vanes that have already been cut to length will open the possibility of using a vane that is not compatible.
This will render them useless and potentially dangerous because they might lose their intended path and land to someone or something, causing injury.
Most arrow manufacturers will indicate the proper length of an arrow on the packaging. So, better check them before installing. Also, when applying vane tape, be sure to align it with each side of the nock grooves to ensure that the fletching and vanes are entirely in line with the shaft.
Vane tapes and adhesives are usually included in the package, but you can get one from this huge selection of +100 vane adhesives and tape from Amazon.
What size arrow vanes should I use?
The choice of vanes depends on several factors: the type of bow you are using, the weight of your arrow, and the speed of your bow.
Arrow vanes come in various sizes, and it may not be easy to determine which size is best for you. However, selecting the proper size vane for your bow and arrow setup is essential, as improper sizing can lead to decreased accuracy and overall performance.
As a general rule, heavier arrows require larger vanes for optimum stability, while faster bows need smaller vanes to maintain accuracy.
Arrow type vs. Vanes sizes
Smaller-diameter arrows require smaller vanes for adequate stability, while larger archery arrows can use larger ones without adversely affecting flight.
Competitive archery Arrows: you can use vane sizes between 1.5 to 2-inch. The arrow should have a spine rating that matches the bow's draw weight.
Hunting Arrows: The most common vanes for hunting arrows are between 0.7 and 1 inch in diameter. However, some archers prefer slightly larger or smaller vanes depending on the type of game they pursue– whether the arrow is for big or small games.
Target archery arrows: Target arrows typically have larger vanes, often around 1.5 inches to 2 inches. In comparison, some competitive archers prefer even larger vanes on their arrows to provide the highest degree of accuracy and stability.
Smaller Arrows: 0.5 or smaller inches in diameter, depending on the type of arrow and the bow's draw weight.
Weight of the shaft vs. size of the vane
The arrow must be very light to fly as far and straight as possible. But having a very light one also makes it fly slower. To compensate for this, many archers increase the weight of the arrow shaft.
In turn, it affects the size of the vanes to use.
Use smaller vanes if you use a lighter arrow, like carbon or aluminum arrows.
If you use heavier aluminum or fiberglass arrows, they require larger vanes for stabilization.
When choosing vane size, it's essential to consider the weight and its stiffness.
Heavier arrows need larger vanes to provide enough drag, while lighter arrows can use smaller ones without sacrificing accuracy. However, vanes that are too small or too large can cause accuracy and flight path problems.
Small vanes can cause the arrow to spin too quickly, while large vanes can cause it to drift off course.
Speed of the bow vs. size of the vane
When it comes to bow speed, many factors come into play. Arrow vanes are one such factor.
Larger arrow vanes create more drag on the arrow as it flies through the air. This means it will travel more slowly than smaller arrow vanes.
However, this point does not mean that you should always choose the smallest arrow vanes possible. If your bow is very powerful, then you can get away with using larger arrow vanes without sacrificing too much speed.
Conversely, if your bow is not very powerful, you will need to use smaller arrow vanes to achieve the desired speed.
Here are the recommended arrow vanes sizes for different speeds:
Slow bow – Small arrow vanes
Medium bow – Medium-sized arrow vanes
Fast bow – Large arrow vanes
Remember that these will serve as a guide, and you may need to experiment a bit to find the best size for your specific bow.
The speed at which your bow fires an arrow directly impacts which size vane will work best. Faster bows typically require smaller arrow vanes, while slower bows need larger vanes to help the arrows fly straight and true.
If you are not sure which vanes to choose, I would recommend that you consult your local archery shop when you buy one. An expert at your local archery shop can help you select the correct size vane for each of your arrows, ensuring that they have the appropriate size and perform at their best.
While there are no hard and fast rules, most archers agree that using the correct size vanes for your arrows is essential for accuracy and consistency. Unfortunately, vanes come in various sizes, so you must know how to choose the right ones for your archery arrows.
While using large vanes to look cool may be tempting, but they will cause the arrow to fly high and drift off course. On the other hand, vanes that are too small will reduce drag and drop that causes them to quickly over long distances.
If you're not sure what size vanes are best for your arrows, it's always best to ask an experienced archer for advice. They will help you find the right size of vanes and improve your accuracy and consistency.
Find good quality arrow vanes of different sizes. Explore this list of 500+ Arrow vanes you can choose from!