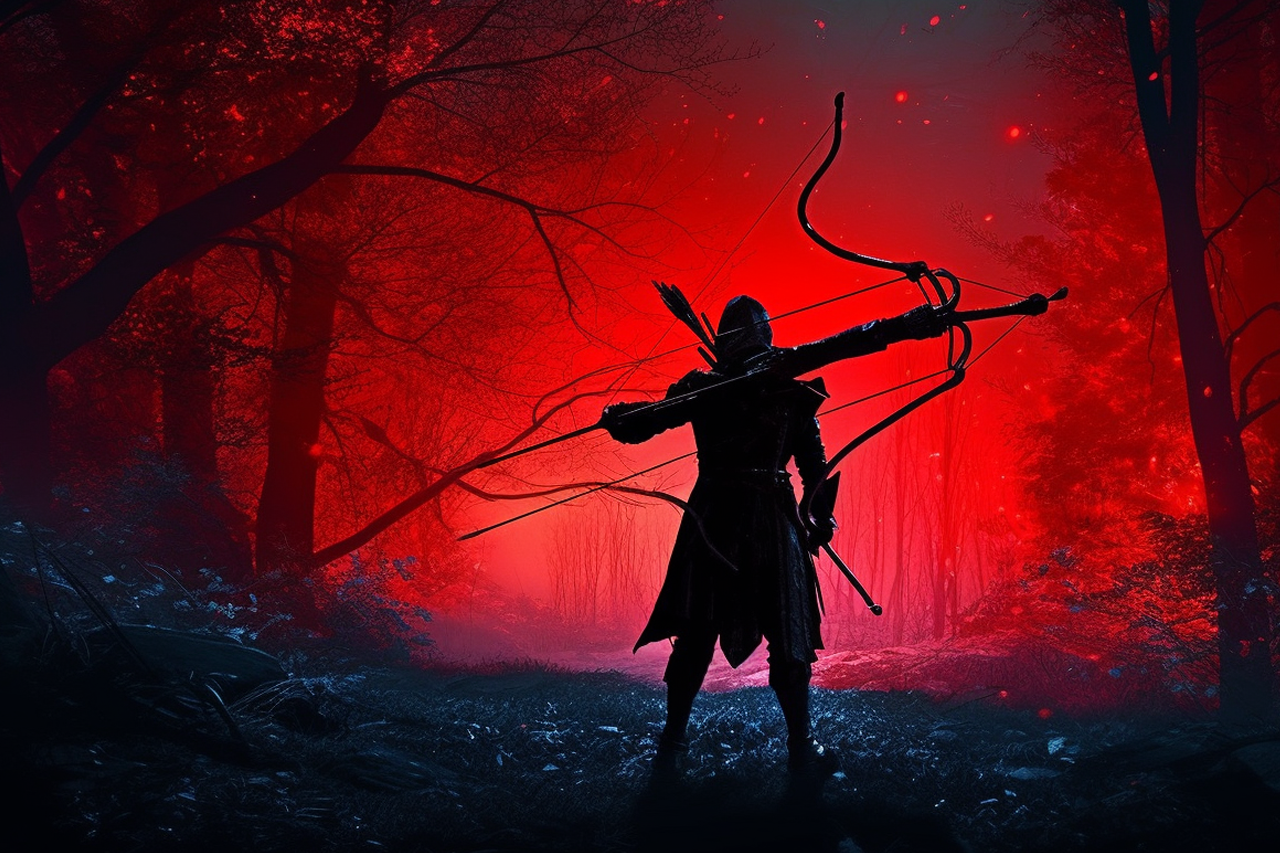 You may have heard about the wonders of a crossbow laser sighter, but do you know what it can do for your shooting skills?
A crossbow laser sighter is a device that helps improve accuracy when shooting with a crossbow. It's becoming increasingly popular among hunters and archers alike.
This article explores how a crossbow laser sighter can help you become an even better marksman. We'll cover the benefits of using one, how to set it up and use it properly, best practices for shooting with one, and troubleshooting tips if something goes wrong. Finally, we'll discuss choosing the right crossbow laser sighter for you.
What is a Crossbow Laser Sighter?
A crossbow laser sighter is a must-have accessory for any severe crossbow shooter, allowing them to hone in on their target and improve their accuracy quickly.
Essentially, it works by projecting an illuminated red dot onto the target so that you can accurately line up your shot. It can be beneficial when shooting at long distances or in low-light conditions where it is difficult to see the target.
Crossbow laser sighters also teach new shooters how to correctly aim and use their weapons. By providing a visual reference point, they can quickly learn how to adjust for windage and elevation by simply changing the sight until the red dot lines up with their desired target.
It makes it easier for them to become proficient with a crossbow without having to spend hours of practice trying to get used to aiming without the help of a sighting device.
In addition, using a crossbow laser sighter allows shooters to maximize their potential accuracy and increase their confidence in taking longer shots that would otherwise require more time and effort practicing without one.
With this tool, they can consistently hit targets within a reasonable range with much greater precision than ever before.
Benefits of Using a Crossbow Laser Sighter
Harnessing the power of laser technology, you can easily hit your mark with pinpoint accuracy. A crossbow laser sighter offers some benefits for any shooter:
**Accuracy** – Laser sighting allows more precise aiming than traditional methods, providing improved accuracy and greater chances of hitting your target.
**Speed** – The speed and ease of aiming offered by a laser sighter eliminate the need to take multiple shots at different points to get an accurate shot.
**Durability** – Crossbow laser sights are highly durable and designed to withstand extreme temperatures, wet conditions, or dust without compromising performance.
**Visual Clarity** – Unlike traditional scopes, laser sights offer enhanced clarity when viewing targets in low light settings or bright sunlight conditions.

Crossbow laser sighters give shooters an edge over other shooting methods. They are easy to use, reliable, and require minimal maintenance while delivering superior accuracy and precision in hunting or target shooting activities.

With its ability to increase accuracy while allowing shooters to set up their shot, a crossbow laser sight quickly is an invaluable tool for any shooter looking to improve their skill level and become more proficient at hitting their mark every time they shoot.

How to Set Up a Crossbow Laser Sighter

Installing a crossbow laser sighter can help you hit your target with greater accuracy and ease, allowing you to take advantage of all the benefits laser sights offer. Setting up a crossbow laser sighter is relatively straightforward.

The basic steps involve:
Mounting the laser sighter onto the rail of your crossbow.
Making sure it is securely fastened.
Zeroing in on the sight so that it's properly aligned with your target.
Calibrating the scope to account for distance and windage.
Pros:
Increased Accuracy
Easier Target Acquisition
Improved Shot Placement
Cons:
Requires Careful Setup
Costly InvestmentBattery Dependent
With these simple steps, you can immediately get started shooting with improved accuracy. When done correctly, a crossbow laser sighter is invaluable for any archer looking to expand their skill set or become more accurate when shooting targets.
As such, any serious shooter who wants to improve their skill level should consider investing in one. However, remember that even though setting up a crossbow laser sight is not difficult, you must be careful, as mistakes may result in inaccurate shots or damage to equipment.
How to Use a Crossbow Laser Sighter
Once you've set up your laser sighter correctly, you can use its precision aiming capabilities to hit your target easily. Seeking with a laser sighter differs from traditional scopes because it uses a beam of light instead of an image.
To use the laser sighter, align the crosshairs of the scope onto the spot you want to hit and then move the beam of light around until it points directly at that spot. Once this is done, fire away and watch as your arrow hits where you aim every time!
Using a crossbow laser sighter takes practice but will eventually become second nature. It's essential to know that wind will affect how far off-target your shot might land and adjust accordingly.
Suppose the wind blows; factor in its direction and strength when setting up your aim with the laser sighter for maximum accuracy. Additionally, always have the proper shooting stance to hold steady while using a laser sighter for maximum accuracy.
Using a crossbow laser sighter gives hunters an edge in terms of being able to quickly and accurately line up their shots without having to guess or estimate distances between them and their target.
With enough practice, you will learn how to use one properly and take your shooting skills to the next level!
Best Practices for Shooting with a Crossbow Laser Sighter
Utilizing a crossbow laser sighter can dramatically enhance your accuracy and refine your shooting technique. Here are some tips to follow for the best results:
Always check that you properly calibrate the crossbow and laser sighter before shooting.
Practice with the laser sighter until you are familiar with its features and adjustments.
Sight in at various distances to ensure accuracy at all ranges of shooting.
When using a crossbow laser sighter, practicing proper safety measures such as wearing eye protection and being aware of your surroundings while aiming or shooting is essential.
Additionally, pay close attention to both the power setting of the laser sighter and also how much weight is loaded onto the bowstring – too much power or too heavy an arrow can cause issues with accuracy or even damage to both your equipment and yourself!
Troubleshooting Your Crossbow Laser Sighter
If you're having trouble getting your laser sighter to work right, don't worry – troubleshooting it is easier than you may think! The first thing to do is check the batteries. If they are running low or dead, replace them with new ones.
Make sure you inserted the batteries correctly and that all connections are secure. If the laser isn't working, try cleaning it with a soft cloth and lens cleaner. It will remove dirt or grime that may be blocking the beam of light from reaching its target.
Next, ensure you appropriately calibrate your crossbow with a laser sighter. Check the manufacturer's instructions in the manual for specific details on calibrating your bow.
This step is significant as an improperly calibrated crossbow can cause inaccurate readings from the sighter and thus lead to poor shooting accuracy.
Additionally, if there is windy weather, you should adjust your crossbow settings accordingly to compensate for wind gusts and other environmental factors that can affect accuracy when shooting with a crossbow laser sighter.
Finally, verify that you have set up your sight correctly before aiming at your target. As with any sighting system, proper alignment of sights and optics and correct eye relief are essential for accurate aiming when using a laser sighter on a crossbow.
With these steps in mind, you should now have no problem adjusting to get the maximum performance out of your crossbow laser sighter!
Finding the Right Crossbow Laser Sighter for You
Choosing the proper laser sighter for your needs can significantly enhance your archery experience. A good laser sighter should make shooting faster, easier, and more accurate.
Here are four (4) key points to consider when selecting a crossbow laser sighter:
**Durability**. Look for a laser sight with sturdy materials that withstand harsh conditions like rain or snow.
**Brightness**. You want a laser sight that is bright enough to be visible in daylight yet dim enough not to overpower your target in low-light situations.
**Price**. Crossbow laser sighters can range from very affordable models to costly ones with all types of features and bells and whistles. Consider how much you're willing to spend and what features you need before making a purchase decision.
**Ease of Use**. Some models are more straightforward, so think about how quickly you want to get set up and start shooting accurately.
Once you have identified the right crossbow laser sighter for your needs, it's time to take it out on the range or into the field and see what kind of results you get.
With practice and patience, a quality crossbow laser sighter can help even novice shooters become confident marksmen in no time.