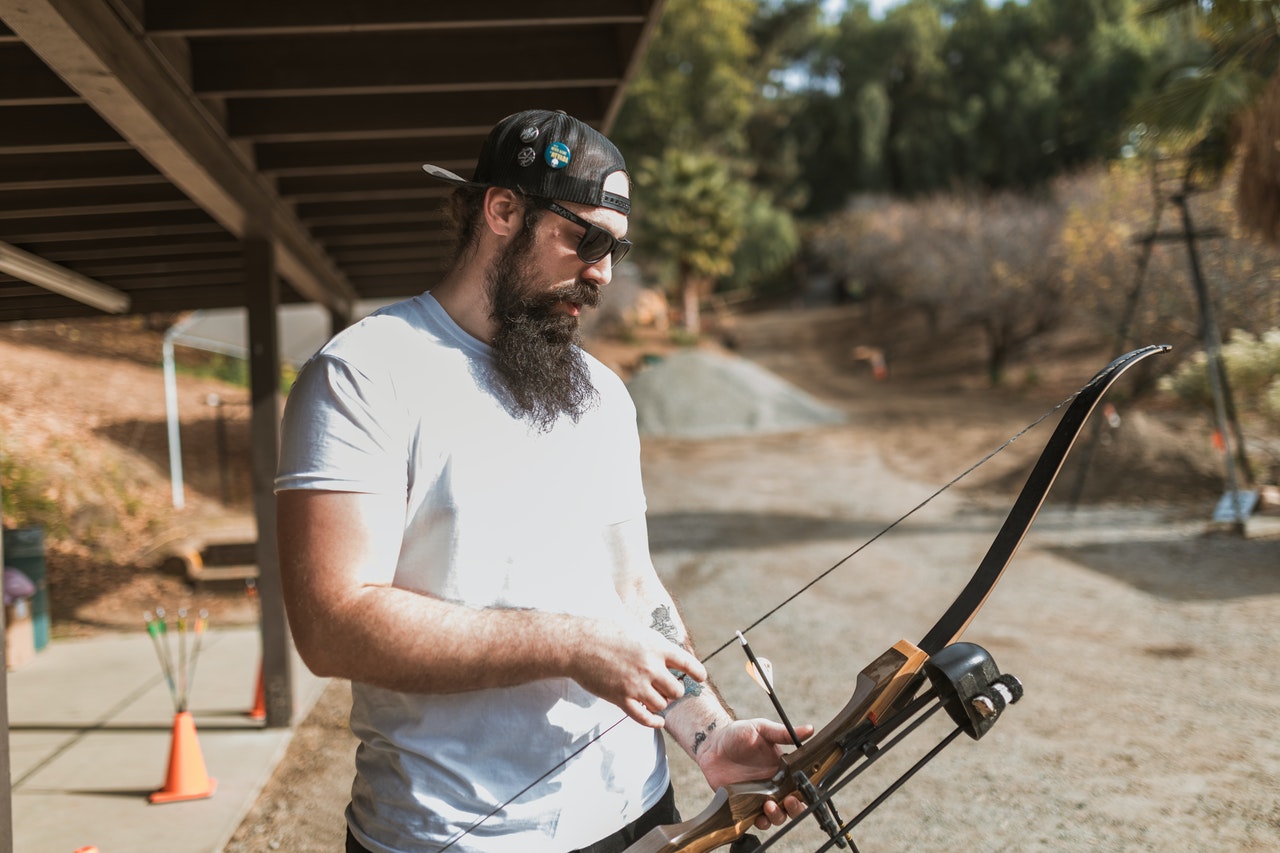 Recurve bows need proper maintenance, like any other bow. Modern bows have bowstrings of durable quality. However, you have to take good care of these to maximize their performance.
Waxing your recurve bow is, no doubt, a practical way to strengthen the bowstring. The wax prevents frays on the string and waterproofs the strands without altering the condition of the bow.
Look for these signs if it's time to wax the bowstring:
Dry feel on the bowstring
Rainy or moist archery environment (moisture destroys bowstring)
Other harsh conditions, like dusty and hot archery ranges
A drizzle of rain is enough to cause bowstring problems. So prioritize waxing as part of your archery routine.
Wax lubricates the bowstring and, at the same time, protects it from wetness, dirt, and rust. A soggy bowstring will reduce the arrow speed and spray water on its path.
You never have to worry about keeping the wax because it will fit in your pocket or archery case. Take a look at these products on Amazon.
What is a bowstring is made of
The bowstring may look simple, but it serves its purpose – to create energy to launch the arrow forward.
For over 600 years, waxed linen strings dominated the market for bowstrings until the 1950s. But innovation gave way for more quality bowstrings.
Bowyers use different composite materials for the bowstring, depending on which type of bow. They use Dacron for entry-level or traditional bows, and they pair a synthetic material, Dyneema, to high-end versions.
Manufacturers also use traditional materials for the bowstring, such as linen, sinew, and silk. Some also use high-density materials, like Spectra, Vectran, and Kevlar.
The great thing about today is that you have access to well-constructed bowstrings. They have consistent strand tension when bowyers make them. Synthetic bowstrings are more resistant to moisture and temperature changes.
Click on this Amazon link if you're looking for a bowstring.
Bowstring wax composition
Manufacturers make bowstring wax out of different mixtures. Some are a combination of pure beeswax and rosin. Other varieties are natural (like mineral oil), hydro-carbon, and silicone-based, depending on your preference.
Depending on the mixture, some wax products will give your string a soft, tacky, or silky feel.
Every authentic wax is a guarantee to help preserve the bowstring, and choosing the proper product is a matter of personal choice.
Avoid using paraffin and pure beeswax
Paraffin wax is a common ingredient in making candles, polishes, and cosmetic products. But it's not suitable for waxing your bowstring because it degrades the fibers.
Since paraffin is a by-product of petroleum (which breaks down the synthetics), it doesn't protect the string from moisture, debris, and dirt too.
Pure beeswax used to be a common material for waxing traditional bowstrings. It is still usable for bowstrings with natural fibers but not for synthetics. It will provide only limited protection for the bowstring.
Use proper wax recommended by bowyers and expert archers to get the most protection for your bowstring. Manufacturers make modern bowstring products that suit your bowstring, ensuring they are effective and affordable.
Buy authentic products, not cheaper alternatives
You want to get the most protection for your bow. That is why you have to get the best bowstring wax in the market. Although other alternatives (like petroleum jelly and chapstick) are more affordable, they still attract dirt and debris because of their stickiness.
The best thing to do is to wait and buy the proper wax for your bowstring. Authentic wax is ready-made and has a low melting point, which means it's not hard to melt it on the string.
Do you have to wax your bow more often?
Experienced archers will recommend you to wax your recurve bowstring every two to three weeks. But consider how often you use your bow first. If you use your bow every day, try every two weeks. If you shoot only a few times, monthly wax maintenance will do.
Aside from the frequency of use, check on the condition of the bowstring too. A well-waxed bowstring will give you a smooth texture. Otherwise, a dry or discolored string means you need to wax it.
Another factor is the environment of the shooting range. Moist areas will make the string heavier as it absorbs moisture or water, which affects the string quality.
If your area is extremely humid or hot, wax your bowstring regularly. The same thing applies if you don't have proper bow storage. Dry weather or climate will dry out your bow, which will cause issues too.
Clean your bow first
For a beginner, they may think that a simple micro-fiber cloth is enough to clean their equipment – doing this alone isn't enough. Some may even think cleaning the string isn't a need.
A bowstring gets dusty or dirty every time you use your bow, and old wax will also build up from frequent use. So clean it first before you apply it.
Here is a guide for you to check before putting the wax on the bow:
How do you use wax on recurve bowstrings?
Before you apply wax on your recurve, you need to string it fully. After you clean your bowstring, apply a generous amount of wax onto it and rub it up and down using your thumb and index finger. Use enough pressure to heat the wax to melt it onto the string.
Some archers use a leather piece to wax the recurve, but your fingers are enough to produce friction on it. Using the leather too much can overheat the string, which speeds up premature wear.
Make sure the entire string has wax applied to it. A beginner would only wax some portions of it, which defeats the purpose. Careful not to wax the nocking point on the limbs as well.
Remove any excess wax left on the bowstring. If you overdo it, it will become too sticky – attracting more dirt and debris. Don't worry if you put excess wax as you can wipe it away.
You have to make sure that you're waxing the bowstring alone. Don't wax the riser and limbs because it will make those parts sticky too.
Once you're done, touch your bowstring, which has to be waxy. Dry strings will result in physical stress when you pull an arrow.
Use of leather
Some archers use a piece of leather for a frictionless touch on their fingers. A disadvantage of leather is how fast it can heat the string. So it's better not to overdo it if you use it.
If using leather, use a smooth one. Using a rough side leaves bits of suede on the bowstring.
Have proper storage for your bowstring wax
Although bowstring wax is non-toxic, you still have to keep it in proper storage. Store it in an area with good ventilation to avoid vapor formation, which can irritate your eyes and nose.
Properly wash your hands after wax use too, and never eat or drink when using the product. Observe good hygiene and housekeeping.
Bowstring wax: scented or not scented?
Using an unnatural scent is a disadvantage if you're hunting. Animals, like coyotes and deers, can detect it right away.
If you're into shooting in archery ranges or competitions, either scented or unscented is fine.
How often do you have to replace the bowstring?
Your recurve bowstring can reach about two to three years before a replacement takes place. But replacing depends on the condition, such as broken strands, frayed strings, and regular maintenance.
Change it if you find broken or overstretched strands because it will do no good. Never use it because it also affects the shape of the bow.
The bowstring has a lifespan that depends on the frequency of use, quality maintenance, proper storage, and climate.
Some archers tend to replace their bowstrings upon breakdown. But that is impractical because they will be missing their targets. Worse, it will cause physical injuries to the archers too.
Check for any frays and fuzzing on the string. Also, look for other signs, like inconsistent shot placement, loss of poundage, and string stretch. Inspect the bowstring for any overstretching, which will be obvious when it ages. A repair shop will be able to twist it back to its correct length.
The exciting thing about bowstring replacements is that you can choose custom colors to let your bow have a personal touch.
Old strings need replacement
Bowstrings get old and degrade with repetitive use, but this is part of the natural process. If you use it more than the regular, give it about two years for a replacement. If you don't use it often and store the bow, it can last longer.
Choosing the right bowstring
Think of a new bowstring as an investment. So choose the best available bowstring for your bow.
Determine the length of the bow first before you but the string. Measure it on both ends of the string groove. A recurve bow is about three to four inches shorter than the bow length.
You need to decide on the number of bowstring strands, depending on the bow material and draw weight. You need a few strands for lighter bows and more if they're heavier.
Choose a suitable bowstring loop
You can choose from two types of bowstring for your recurve: the endless loop and the Flemish twist.
The endless loop has continuous loops of wrapped serving material. It has fewer fibers at the ends (wear and tear happen here the most). But you can still serve the string.
Meanwhile, the Flemish twist has a more traditional feel as preferred by some archers. The laid-in loop makes it easier to fit the nock of the bow during stringing and unstringing. Target archers choose this due to their precise construction.
If you're unsure, visit the local pro shop or approach archery experts for better assistance.
Maintain your recurve bowstring
Bowstring maintenance has to take place before and during the practice session. You can't risk shooting a bow with a faulty string.
When checking your recurve bow, look at the nocking point and the areas above and below it. Also, check where the string attaches to the limb.
Listen to the release of the arrow. Unusual noise or vibration can mean the string is loose.
Invest in a bow stringer. It may be time-consuming, but it is a good practice to prevent the warping of the limbs.
Have a bow case when storing or transporting your recurve. Use a hard plastic case because it will provide more protection than a soft case, especially when you're traveling and moving out.
When you store your recurve, remove the bowstring after shooting competition or practice to extend its life. That prevents string stretch when not in use. Check out some recurve bow cases on Amazon.
If you don't find a need in a case, at least hang it somewhere safe. Choose a spot that's high enough to keep your bow safe from disturbances.
A yearly bow check-up is another option to choose. A professional bowyer will take care of your bow and look for any alignment, consistency, and microfractures issues. They will re-tune everything too.
Never dry-fire if you want your bow to last long. Releasing the bowstring without an arrow will create structural damage, and your bow may never be the same again.