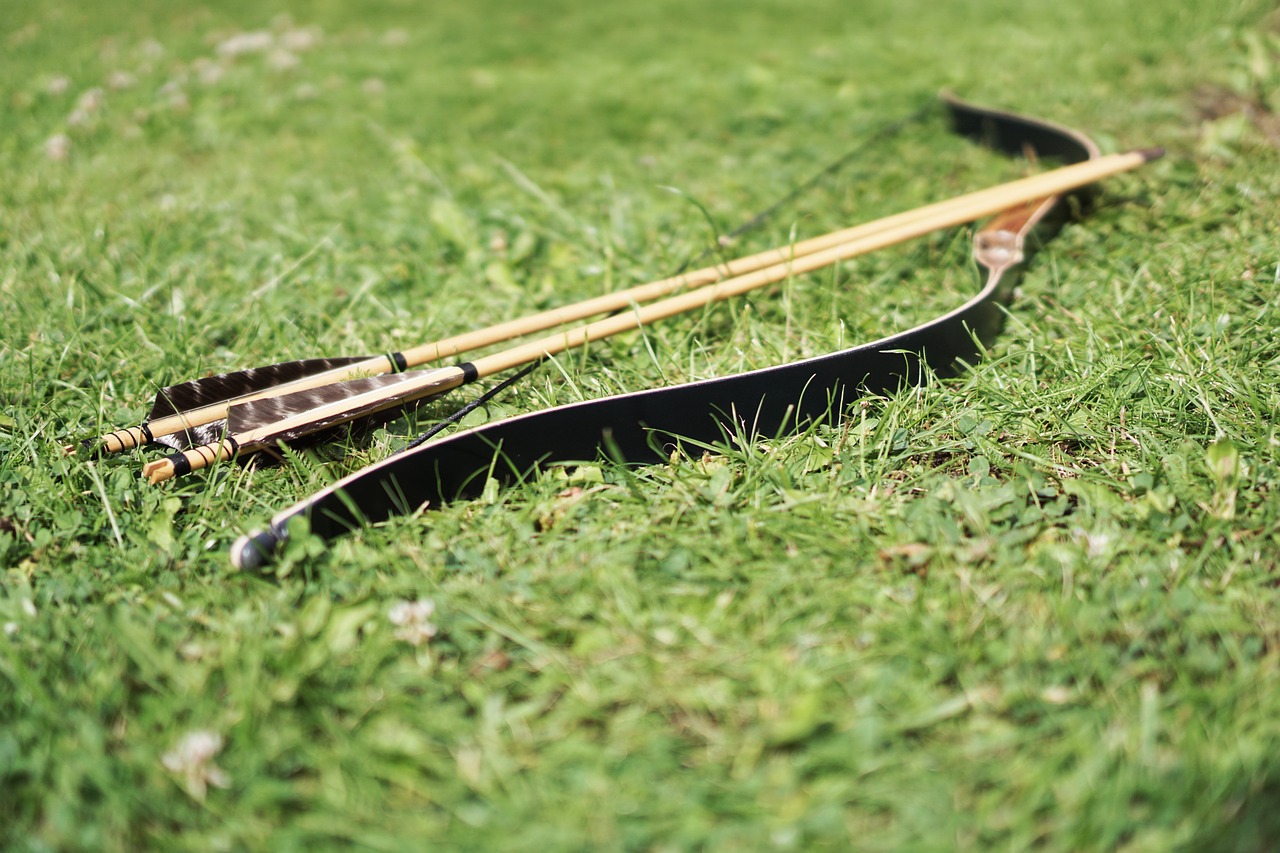 Old recurve bows, like ones made in the 1960s-1990s, may not be as valuable as other classic weapons. They may even stay in storage boxes or garages for years.
However, not all old recurve bows are worthless from an economic standpoint. Some bows were made by reputable manufacturers then, and vintage collectors will love their unique patterns and mesh. So the quality may be just as good as they were back.
Vintage recurve bows range between $80 to $250 in marketplaces such as eBay, Amazon, and bow collectors online. Rarer recurve collections are worth a fortune that values as much as $500 to $9,000.
The value of a vintage recurve depends on its brand, quality, and materials used to manufacture these. Vintage bows depreciate over time, depending on factors like dry firing, frequency of use, and damaged parts.
Some recurve bows never got out of their hard cases. Limited edition bows were handcrafted with ivory, ebony, rosewood, and gold. Some recurves had repairs before they were sold.
A portion of the recurve bow market is more willing to pay for design and craftmanship than innovative bows. Some vintage bows are even as strong as their modern counterparts.
Tips on choosing vintage recurve bows
For a beginner, older bows can kickstart for someone who's looking to get into archery. When lucky, you may get a $50 recurve from a garage sale
To know one vintage bow's worth, you always check its current condition:
Check for any cracks and holes on the recurve bow. Never use a bow that has cracks in the riser wood and holes in the limb.
Once you bought a vintage recurve. Look for any splinters, which are fixable with high-quality superglue.
You can fix problems with its appearance through refinishing. Cosmetic issues can lower the price of the bow. You can sand the rough marks and put in varnish to make it look good.
A twisted recurve limb can be a quick fix. If the twist is minor, you torque the limb to the opposite direction of the twist. As you turn it towards the proper position, release your grip as slow as possible.
Why is a recurve bow better?
The name recurve comes from the number-three shape of the bow frame. The tips of the recurve bow make a curve towards the target, which gives more power when you pull the string back.
Recurve bows store energy in the limb when you draw the string back. The arrow propels forward during the release of the bowstring as the limbs move forward.
The modern recurve bow is the only bow allowed in the Olympics except for the Paralympic games, which permit compound bows.
A recurve bow is lighter to carry and use but exerts more energy than a straight-limbed bow, producing more energy and speed to the arrow. They are also more affordable and easier to maintain than other bows.
The draw length is more crucial on a recurve than a longbow due to the recurves having a set drawback length, which is adjustable with bow maintenance tools.
Advantages of a recurve bow
The limbs of the recurve bows make more noise with the shot due to the great energy it exerts. But they are self-reliant hunting bows without necessarily leaving out the technology.
Before using advanced bows like compound bows, master a recurve because it is as fundamental as ever due to its technique and artfulness.
Experts also recommend recurve bows for beginners while developing their form and strength in using their bow. Children can also use this bow as they can handle the draw weight of the recurve bow.
Amidst the shortness of the recurve bow, you can maintain a full draw length while having the spread of the force of the draw weight remain intact.
When you fire a bow, the tip of the limb travels the longest. But the design of recurve limbs makes the acceleration of the tips easier. Since the limb's tips are attached to the string, the arrow absorbs and throws more energy.
Recurve bows are great for target and stationary archery
Experts say the recurve bow is the modern evolution of archery, which has existed for thousands of years. Although the rules around recurve bows have changed, competition remains unchanged.
When you wish to practice target archery, buy a recurve bow. Target archery is the Olympic version of competitive archery, which people see on TV and the Internet. Recurves are the only bows allowed in the Olympics.
When you practice field archery, you shoot at stationary targets at different distances. You can use a recurve bow to hit a target in a straight line while standing still.
Use a recurve bow during bowhunting
Although compound bows are more advanced, you can use a recurve bow for bowhunting animals. The latter teaches you patience and preparation while you practice your shot in the wild.
Recurve bows have a better draw weight, which plays a major factor in penetrating the animal.
Your recurve bow has t have a draw weight of at least 40 pounds, which is enough to kill your prey, not injure it. After all, you are aiming for a clean and ethical shot.
A recurve bow will allow a shorter bow than a simple straight limb to maximize arrow energy.
Are old recurve bows safe to shoot?
Your old recurve bow is safe to shoot if it is on proper storage, like in a hard case. As long as your bow has no fractures or cracks, you can still shoot without worrying. If you're still unconvinced, the nearest local archery store can also help you check your bow for any broken parts.
Inspect your old recurve bows for any damages or cracks. Also, clean it up or replace any damaged part right away.
Work on an old bow by stringing its bow. Then, draw it back at about 12 inches a little like 25-30 times. Draw it again at 16 inches until you reach a full draw. If you hear cracking noises as you string the bow, something is wrong with the bow.
Don't dry fire as you because you are only stretching your bow to see any defects after months or years of not using an old bow.
Instead, you can try shoot arrows on targets. Remember to wear an armguard, chestguard, and even safety glasses.
Be mindful that old recurve bowstrings don't fit in with modern strings. Old recurve bowstrings need a stretchable material, such as a B50 Dacron string.
Do recurve bows last?
Manufacturers design modern bows to last for decades. Quality bows mean more years of use beyond warranty.
If you take good care of your recurve bow through proper storage and maintenance, it can last for 25 years or even more. You also have to consider factors that affect how your bow lasts. Factors include the frequency of use, your shooting technique, and the type of arrows used.
The longevity of your bow also depends on how you treat it and what can wear or break it. Another limiting factor is the price and availability of spare parts due to the development of technology.
Adequate maintenance is a practical way to make sure you prolong the life of the bow.
Shooting arrows also put mileage on your bow. Light and heavy versions absorb different quantities of kinetic energy. Too much energy stresses the bow, causing too much vibration.
The number of quality time you spend on your bow in bowhunting or target archery impacts its lifespan too.
The type of bowstring you use also affects the life of the bow. Therefore, you have to condition your bowstring or replace it when broken. Also, apply bow wax to keep it smooth and waterproof.
Good thing recurve bow parts are replaceable
A recurve bow has more parts than a longbow, but a recurve has more replaceable parts. If you notice signs of wearing on the limbs or change in draw weight, you can replace the limbs with new ones.
If you buy a recurve bow, experts recommend a takedown recurve than a one-piece recurve. You can assemble and disassemble takedown recurve bows out of a rise and two limbs.
Takedowns have two advantages. You can transport them into a smaller case when disassembled. You can also change the configuration of the bow by changing its limbs.
Tips for maintaining your recurve bow.
Let your recurve bow relax by removing its bowstring when you store it, preferably in a hardshell case. Disassembling the string takes the pressure off the limbs.
Also, never put your bow in direct sunlight because it bleaches and brittles the materials that make up the bow.
The lifespan of the recurve depends on the materials in the limbs and riser. However, the frequency of vibrating and flexing is a greater factor that wears the bow.
Your routine has to have a pre-shooting checklist, making sure that every part is accounted for. Regularly tighten the fasteners and apply lubricant to waterproof your bow to prevent problems from occurring.
Choose carbon arrows as they are the best choice for recurve bows since they are durable and accurate. You can use carbon arrows when you complete, hunt, and practice target shooting.
Carbon arrows are also lightweight and fast, and they're sold in many styles and sizes, which you can customize.
Safety rules apply to recurve bows
You have to follow protocols to ensure that you are using your recurve bow safely.
Inspect your bow before you hunt or shoot in practice. Check your string, limbs, and rise that everything is not damaged.
Don't dry fire your bow for the sake of testing. Dry firing damages your bow because it makes your bow absorb all the energy of the shot instead of the arrow.
Never expose your recurve bow to excessive heat and moisture, both of which can damage your bow.
Can you paint recurve bow limbs?
Archers don't have to paint their bows as the natural color of the bow is enough. But some want to change the color of their bows. However, they are asking if they can paint their recurve bow.
Regardless of your recurve bow is made of metal, wood, or plastic, you can paint the limbs of your bow. Painting it doesn't have a direct impact on the performance of the bow.
You can start by removing the rug rest, grip, bowstring, and quiver first.
Then, lightly sand the limbs using coarse-grit sandpaper to remove any clear coat on them. Removing the original paint with sandpaper is essential because the original paint on the bow will stop a new color from sticking.
Then, clean your bow first with a scouring pad or cloth with rubbing alcohol, making sure to remove any adhesive, oil, and dirt off the bow.
Use an adhesion promoter, which aids in making the paint stick to the hard surface of the bow.
An important reminder to choose the right paint
Apply a primer coat of spray paint to avoid runs. Choose a coat suitable for surfaces like fiberglass, carbon fiber, or flexible plastic because the limbs will bend when you use it.
Paint your chosen color. You can apply about 3-5 coats of paint, depending on your preference. Don't forget to lightly sand between each layer of paint as it will help the color stick to the limb.
Some archers spray their bows with multi-colored paint, which you can also do.
Lastly, put on a finish to protect the paint job of your bow. Each process is different in each manufacturer. So follow the guidelines on the product you've chosen.
Remember that you don't have to worry about making a mistake in painting because you can repeat the part where you missed or smudged.
Other things to consider
For bowhunters, you will likely choose a dull mate finish over natural colors, which blend with the terrain you hunt in. Dull colors don't increase the visibility of the animals.
For archers using their bows in competition or shooting ranges, you can use glossy finishes and flashy colors. Camouflaging is the least of your concern in contrary to bowhunting.