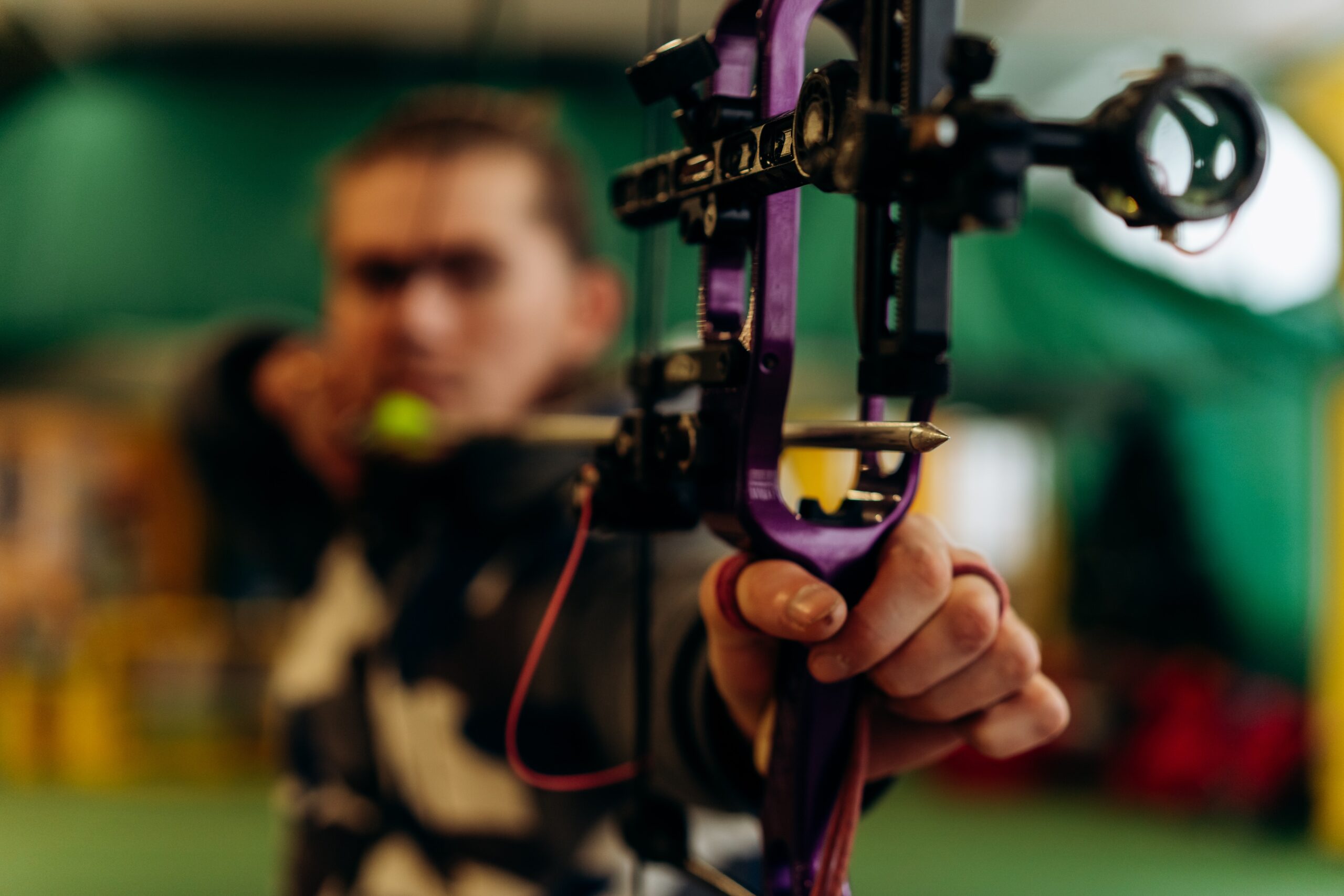 Bowhunters use broadheads as projects to their bows in hunting wildlife. Durable and sharp, broadheads have to match your equipment to ensure safe and quality archery.
As long as you have proper shock collars on your bow, you can shoot a crossbow broadhead out of your compound bow. As long as the crossbow arrows have the length and weight that fit your compound bow, you don't have to worry about the proper function of your bow.
Given that crossbow broadheads are heavier, the shock collars of your compound bow prevent the blade from prematurely deploying. You don't have to bump your arrow or reset your blade with the correct shock collar.
Try to shoot a couple of broadheads, and see how they flow. If their flight is straight and consistent, don't hesitate to use it during archery practice or hunts.
Make sure you have the correct shock collars for your compound bow and put the blades as close to the center of the petals as possible. Never aline the blade with the notches in the collar. Doing such can bind the blade to the collar.
If you're misfiring your arrows, there may be a misplacement of your shock collars. Another reason can be shooting at over 400 feet per second, which requires high energy absorbed by the shock collars. Or your bolt or arrow may not be seated properly on the string.
Experts say that arrow speed is the challenge when shooting crossbow broadheads. Crossbows shoot faster than a compound bow, so the former can tolerate larger broadheads.
Using a compound bow, you may struggle to shoot consistent arrows that have larger blades. However, you can still work on your shot to adjust to the bigger blade. Always take your time to practice until you master shooting your shot.
Replace or sharpen your blades
Manufacturers also recommend replacing the blades of broadhead arrows than sharpening them. But the decision is up to you.
If you have a replacement blade, use them right after you use your broadheads. Otherwise, sharpen it at a consistent angle by using a sharpening jig.
Is there a difference between a crossbow arrow and a compound arrow?
Crossbow arrows are often called bolts, and they measure about 16-20 inches (shorter than compound arrows). However, manufacturers today market crossbow bolts as arrows too. Therefore, both bolts and arrows are interchangeable for your crossbow and compound bows.
Experienced archers consider any broadhead that is under 16 inches a bolt. More than it's called an arrow.
But more crossbow aficionados use arrows to name their projectiles as crossbows are seen as archery gear today. Although people call them bolts, more enthusiasts call them arrows too.
The mass and passionate archers have a notable divide on the use of the terms bolt and arrow, but either term is correct.
A shorter arrow has a more consistent and faster flight as manufacturers make heavier heads with shorter arrows for crossbows.
Tips when choosing the right arrow
For first-time archers, picking the right arrow is as essential as choosing between a compound bow and crossbow. Different brands, sizes, and lengths can be confusing. But here are some tips:
Arrows are bound not to last forever. You can start buying cheap ones for practice. Buy expensive ones when you are already good.
Never use arrows lighter than the manufacturer's recommended weight. Although heavier arrows affect the speed, they are safer to use.
Never use arrows that are shorter than what the manufacturer recommends. Although uncommon, an arrow will fall off the bow's rest or hit the crossbow's rail.
Although arrow makers try to convince you that their products are excellent for your archery experience, the perfect arrow is a matter of personal choice.
Arrows have different factors that affect their quality, and you have the task to discover what arrow works for you.
How strong are crossbows compared to compound bows?
You only need about 200 feet per second (fps) to kill an animal. Crossbows can fire bolts at 300-350 fps on average, and compound bows can produce 280-300 fps or more. Although crossbows create more energy than a compound bow, both weapons are still deadly.
The most capable crossbows can push bolts at a shocking 500 fps while the strongest compound bows are capable of over 350-360 fps arrow shots.
Advantages of using a crossbow
Speed isn't what kills; accuracy does. You have to hit the target on the right spot to be an effective and efficient hunter.
Both crossbows and compounds are more than capable of having an accurate shot in the hands of a well-trained shooter.
With the right amount of accuracy, crossbows launch higher arrow speeds and kinetic energy.
Using crossbows, you don't have to worry about strength or other variables that affect your shot. You cock the crossbow and pull the trigger to shoot, but you don't need to worry about your rest tuning and torque.
Hunters can pick up a crossbow with accuracy in a short time. They can learn with a short learning curve when using crossbows on how to pick it up.
Crossbows can be the right weapon of choice during the winter season, where your body is stiff because of the cold.
Another advantage of crossbows is that these allow people who are unable to hunt with a compound bow, to hunt any time of the year. Examples of these are the aging hunters, children, and people with injuries or disabilities.
Advantages of using a compound bow
On the other hand, modern compound bows shoot better than their vintage counterparts.
First-time archers can accurately shoot a bow within 30 minutes or so of basic archery instructions, enough to get the proper technique, weight, and size of their bows.
Regardless of the type of bow you use, you need to practice a lot to get more accurate in high-pressure situations.
If you're going out in the woods as a bowhunter, you owe your accuracy to yourself and to the game animals you're pursuing. Never think you can get a bow and become a master bowman right away.
Don't think that you're already great if you've hit a bunch of bull's eyes in one practice session. To become a responsible and ethical bowhunter, you have to practice your shots.
Start by enrolling in archery associations or shooting ranges. Or you can build a short archery range in your backyard.
Compound bows outshine in some areas as well. They are easier to carry at about 2-3 pounds or 25% lesser weight than crossbows, which are 8-10 pounds heavy.
Compound bows have a better quality of being maneuverable, which means that compounds can make archers move freely.
Though crossbows are good for ground hunting, compound bows are the best choices when you hunt on top of tree stands or branches.
Compound bows generate less power but are significantly quieter than crossbows. Crossbows create more speed and noise, which comes with a trade-off of a lot more noise.
Experts say that the majority of hunting opportunities, crossbows are single-shot weapons. That means crossbows are harder to use when shooting a follow-up shot or recocking the bow itself. Compound bows, on the other hand, give more ease to shoot multiple arrows without unnecessary noise.
Effective range in a bowhunting situation
Experts say that an effective range for compounds bows is around 40 yards. On the other hand, manufacturers market crossbows as your next rifle for long-range.
However, accuracy in long ranges doesn't equate to accuracy during bowhunting. Experts said that crossbows have an effective range of 50 yards during hunting.
Regardless of how weapons shoot, you have to consider the factors during your hunt. Examples are your concentration and skill. External factors also matter, such as air temperature, humidity, and wind. Therefore, any slight miscalculation of movement can affect your accuracy.
Even the animal itself and its ability to escape are factors that affect your accuracy. Big game animals can have unparallel speed and instincts to move away or go at you.
How do I choose arrows for my compound bows?
Choosing the correct length for older compound bows can be complicated. But thanks to technological advancements, work is more convenient today.
Measure your draw length. Add about 0.5 to 1 inch to determine the correct length of the arrow. If your draw length is 29 inches, choose one that is a maximum of 28 inches. Do this to give you an idea to get an arrow that will be enough to clear the front-most part of the arrow itself.
Once you determine your draw length, choose an arrow length. Measuring your arrow length was a bit complicated back in the day, but technology and design improvement have made the job easier.
Determining your arrow length will give enough space to clear the front-most part of the arrow shelf. The length of the arrow is measured from the deepest part of the nock groove to the end of the shaft. Length of the field points and broadheads are exempt.
Your arrow weight depends on your purpose
The next step is to choose the right arrow weight, which depends on your objectives.
To target practice, you need an arrow with 5 to 6 grains per pound of draw weight. If you have a bow that has a 50-pound draw weight, use one with a 250-300 grain.
To hunt, get an arrow that is 6-8 grains per pound of draw weight. So a 50-pound draw needs a 300-400 grain variety.
Stay mindful to never use an arrow less than 5 grain per pound of draw weight because this will damage your bow. Worse, this damage can void the warranty of your manufacturer.
Another alternative
An alternative to choose the perfect arrows is to go to an archery shop and let them determine the right arrow for your compound bow.
Take out your bow and tell them the draw weight. Explain your objective, like if you want to use your bow to shoot at archery targets or hunt animals.
Remember that the perfect arrows depend on what is perfect for you. By determining what is best for you, you start by shooting your arrows.
What is the best material for compound bow arrows?
Carbon arrows are best for compound bows because of their durability and accuracy. Their fiber strength but lightness is an all-time favorite for professional archers and enthusiasts in hunting, target shooting, and joining competitions.
More hunters are putting carbon arrows on their quivers. Due to their extreme accuracy and flexibility for accessories, carbon arrows are the go-to arrows for bowhunters.
Though carbon counterparts are more expensive than aluminum, advancements have made carbon arrows more durable and straight, even if these are bent.
You don't have to worry about carbon arrows getting broken. You can definitely focus on your form in the shooting.
Aluminum is the second-best option
Aluminum arrows have the most consistency in straightness and weight tolerances. But as manufacturers started to make faster bows, hunters are demanded lighter ones too.
For archers wanting to shoot aluminum with maximum speed, their arrows have to have thinner walls and smaller diameters.
Remember that though aluminum arrows are dead quiet, the aluminum walls get thinner as the strength lessens.
Aluminum arrows are cheaper options than carbon arrows. Aluminum is consistent and straight. The only downside is that it's not durable as carbon. However, if you're on a tight budget, aluminum can be a good option.
Wood arrows aren't good for your crossbow
Arrows made of wood have been used for thousands of years, and these were used for hunting mammoths and tigers and defending people during wars.
Wood takes the most work to become an arrow as it needs to be stained, sealed, and taped for knocks and points. Wooden arrows are lighter and quieter to use as well.
However, wooden arrows are not for a compound bow. Bows are mechanical, which has a force that can shatter wooden arrows. These arrows have cables and pulleys that utilize lots of energy to fire an arrow.
Wood is the most inconsistent out of the three materials mentioned, and its durability is not a strength either. But if you use it to have a traditional .or purist feel, wooden varieties are worth a try.