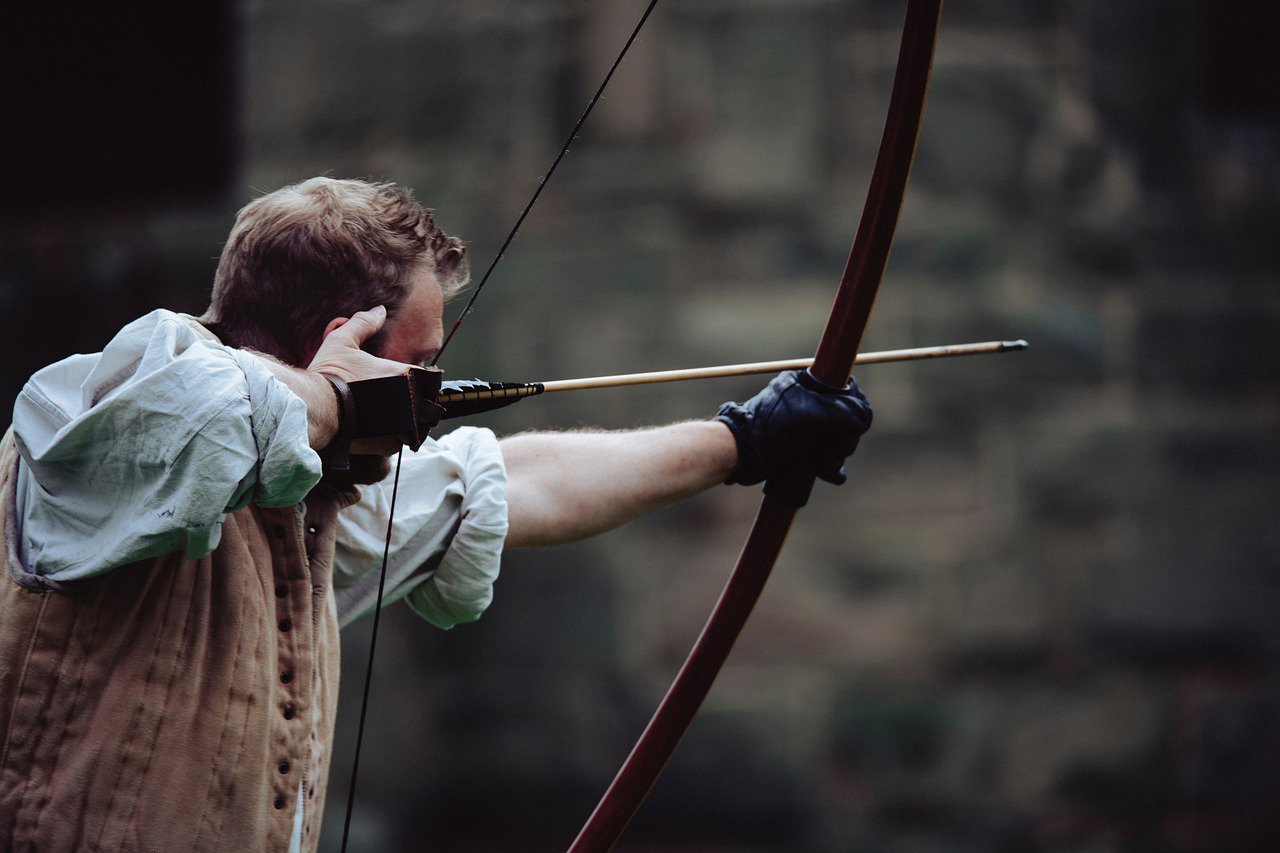 Generally, a bow and arrow range over long distances with reasonable accuracy is up to about 300 yards. However, determining the range may depend on various factors, including the angle at which you are shooting, the arrow's type and weight, the archer's skill level, and even environmental conditions such as wind speed and temperature.
Angles to Shoot with Bow and Arrow
You can shoot the arrow at various angles depending on the desired effect. For instance, shooting it straight into the air will cause it to go higher than shooting it at a more horizontal angle.
Additionally, aiming the arrow slightly downward will result in its trajectory curving slightly under gravity, and thus it will fall faster than if shot at a more horizontal angle.
It's essential to consider the desired effect to know which axis of the arrow to aim along. Shooting at a more horizontal angle allows you to hit your target at longer distances while shooting up into the air will give you greater height but requires a clear line of sight and anticipating where your arrow will fall.
Overall, there is no one "best" angle to shoot an arrow at. Each has its benefits and drawbacks, and you must carefully consider your goals before choosing the best trajectory for your particular situation.
Type of Arrow
The type of arrow used in archery plays an essential role in determining the effective shooting range of a bow and arrow. Depending on the type of arrow used, a bow and arrow can have a shooting range starting from several meters to several kilometers.
Arrows have different weights and aerodynamics, affecting how far they fly when shot from a bow. Additionally, its construction can also impact its flight path and range.
For example, arrows made with feathers or other flexible materials tend to be more accurate and fly farther than arrows made with stiff materials or without feathers.
There are three main types of arrows: target, field, and hunting.
Target Arrows

Target arrows are typically shorter than other types. They have smaller, thinner heads and are made out of lighter materials. It makes them ideal for shooting at the bullseye target in archery competitions. When you shoot with target arrows, the range will reach around 100 meters.

Field Arrows

Field arrows are longer than target arrows and have larger, heavier heads to allow them to shoot further distances. Depending on the weight of the arrowhead and wood shaft, these arrows can reach up to 200 meters when shot.

Hunting arrows

Hunting arrows are for various shooting ranges and hunting situations, which is why they are often a combination of target and field arrows. They might have shorter or longer shafts, thicker or thinner fletchings, and heavier or lighter arrowheads.

For example, a hunting arrow with a smaller head and thin fletchings might be the best choice if you can shoot small game animals at close distances.
Archer's Skill Level
The archer's skills significantly affect the shooting distance of a bow and arrow. The archer's strength, accuracy, and focus affect how far it travels.
While an archer's strength is undoubtedly vital for producing powerful shots, it doesn't necessarily determine how far the arrow will fly.
Instead, archers must also have good form and proper technique to achieve maximum power with their shots. It means they must be skilled in their stance, arm position, and posture while aiming.
An archer's accuracy is also critical in determining how far the arrow travels. If the archer has a poor aim or doesn't hit the target consistently, it will be difficult for them to shoot accurately over long distances.
On the other hand, an archer with excellent accuracy will likely be able to shoot long distances more efficiently.
Furthermore, an archer's focus and mental strength are crucial for achieving accurate shots over a long distance. If the archer gets distracted or loses concentration, they can hit their target accurately.
But if the archer can stay focused and committed throughout the entire shot, they'll be better able to improve their range.
So, in summary, an archer's skills are essential for achieving accurate shots over long distances. Whether it's strength, accuracy, form, or mental focus, each factor plays a role in determining how far an arrow will fly. So, to improve the range, archers must work on each of these skills and develop them.
Weather Conditions
Weather conditions can significantly impact the archery shooting range of a bow and arrow. Wind speed, humidity, and temperature affect how well an archer can shoot their bow effectively.
Wind speed is one of the most important factors when shooting in archery. Strong winds can make it challenging to hit your target, and they can also affect the trajectory of your arrow.
If you are shooting in strong winds, you may need to adjust your technique or aim slightly higher to compensate for wind speed.
Humidity is another important factor that can have an impact on archery performance. High humidity levels can make your bowstring and arrow slick, making it challenging to shoot accurately. You may also have trouble drawing back on the arrow if there is high humidity.
Temperature can influence how well you shoot as well. Hot temperatures can cause muscles to fatigue more quickly, making it harder to maintain good shooting technique. In contrast, cold temperatures can make your muscles tense up, impacting your ability to shoot accurately.
How far can you accurately shoot an arrow?
Generally, you can shoot an arrow accurately at about 50 yards. However, the more accurate and the better your shot you want to be, the closer you will need to be to your target.
If you are trying to hit a specific target or area smaller than a few feet in diameter, you should be within 30 yards of it.
It is because arrows have a lot of momentum and can be challenging to control once they have left the bow. If you shoot at a target further away, it will likely veer off course or even hit something unintended.
Tips to Help Improve Shooting Accuracy
Bow and arrow shooters use a variety of different tips to help improve their accuracy. Here are some of the most effective strategies for improving your shooting accuracy:
Practice regularly

The best way to improve your accuracy is by often practicing to get used to the physical motions involved in shooting a bow and arrow accurately. Aim to practice a few times per week and even more if you can.

Focus on your breathing

When shooting a bow and arrow, it's crucial to control your breathing so that you don't shake or become distracted by the physical sensations involved in drawing back the bowstring and releasing the arrow. Take slow, deep breaths and focus on nothing but your breathing as you aim and shoot.

Stay relaxed

Another key to improving your accuracy is staying as comfortable as possible while shooting with a bow and arrow. If you're tense or rigid, it can be difficult to remain steady when aiming at your target, which can cause your shots to miss the mark. Make an effort to stay loose and fluid when shooting, and don't let any anxiety about your performance get in the way of your accuracy.

Use a quality bow and proper technique

To achieve optimal accuracy with a bow and arrow, you need to invest in a good bow that fits your body properly and learn how to use it correctly. Take the time to learn about proper bow and arrow techniques, and practice regularly to develop the muscle memory needed to master accurate shooting.

Practice with a variety of distances

Whether you're shooting at short, medium, or long-range, work on refining your technique to consistently hit your mark. It will help you develop the muscle memory needed to adjust your accuracy based on the distance between you and your target.

Practicing shooting at multiple spaces is essential to become a well-rounded archer who can accurately shoot at various distances.

You can do many things to help improve your shooting accuracy with a bow and arrow. By regularly practicing, focusing on your breathing and relaxation, investing in a good bow and learning proper technique, and practicing at different distances, you can become an expert archer in no time!
What is the farthest an arrow has been shot?
The farthest an arrow has ever been shot is by Matt Stutzman, an American archer who shot an arrow a record-breaking distance of 310 yards. But the average hunter's rangefinder can only accurately measure a target up to 250 yards.
To make his shot, Stutzman had to use specially adapted equipment, including a recurve bow reinforced with carbon fiber and steel cables for additional strength and a specialized arrow rest that allowed him to shoot his arrows more accurately.
In addition, he had to use a high-powered rifle scope mounted on top of his bow to ensure that he could line up the correct shot angle and track the arrow's flight path.
Dangers associated with shooting arrows at long distances
Archery is a sport that people all over have been practicing the world for centuries. However, as with any other sport or activity, there are some dangers associated with shooting arrows at long distances.
Some of these include the following:
Misdirection or deflection of the arrow

When shooting arrows at long distances, it can be challenging to accurately predict where they will land. An archer must account for things like wind speed and direction and any obstacles or other objects that could cause their arrow to miss its target.

Injury to bystanders

When shooting arrows at long distances, the archer must be aware of the potential for injury to nearby people. It can happen if an arrow misses its target and strikes someone else accidentally or if it comes into contact with a person's body in any way.

Injuries caused by broken arrows

When shooting arrows at long distances, there is always the risk that they will break or splinter as it hits their target. If this happens, it can cause injury to both the archer and anyone else nearby.

Harm to the target

When shooting arrows at long distances, it can be challenging to control exactly how much force you apply to a target. It can damage vehicles or other structures that the arrow may hit.

As you can see, several dangers are associated with shooting arrows at long distances. To prevent these dangers, archers should always exercise caution when shooting arrows and ensure they are using proper safety gear. And during the sport itself, you must be familiar with these risks and take the necessary steps to mitigate them.

Additionally, you should be cautious of your surroundings at all times and avoid situations where there may be a risk of injury to bystanders or property damage. With proper precautions, archery can be a safe and enjoyable sport for people of all ages and skill levels.
What is considered the long archery shot?
The long archery shot refers to an archery shot taken more than 100 yards away. To successfully make a long archery shot, you must accurately judge the distance between your location and the target and compensate for factors such as wind speed and direction.
Generally speaking, to successfully take a long archery shot, an archer must be able to accurately judge the distance between himself and his target and the wind speed and direction.
In addition, you need to understand how to counteract these factors when making an archery shot. So, if the wind is blowing from right to left, an archer would need to aim slightly to the right to compensate.
There are many different ways that an archer can practice taking long archery shots.
Use a longbow or crossbow, which allows archers to take shots at much greater distances than they would be able to with traditional archery equipment.
Practice shooting in an open field that offers unobstructed views of the target. It will help archers understand how wind speed and direction impact their shots.
Archers can seek out archery competitions that cater to long archery shots. It will allow them to get feedback from experienced archers on improving their technique and accuracy when taking these shots.
Many archers will also practice their long archery shots by shooting at targets set up in unconventional locations, such as from the top of a hill or building. It helps them better understand how various terrain features impact the trajectory and accuracy of their shots.
While taking long archery shots may seem intimidating to some archers, with practice and the proper techniques, it is a skill that anyone can master passionately. If you want to try something new and challenging, go for long archery shooting.
If you are thinking of practicing archery, here are +500 bows and arrows you can check.