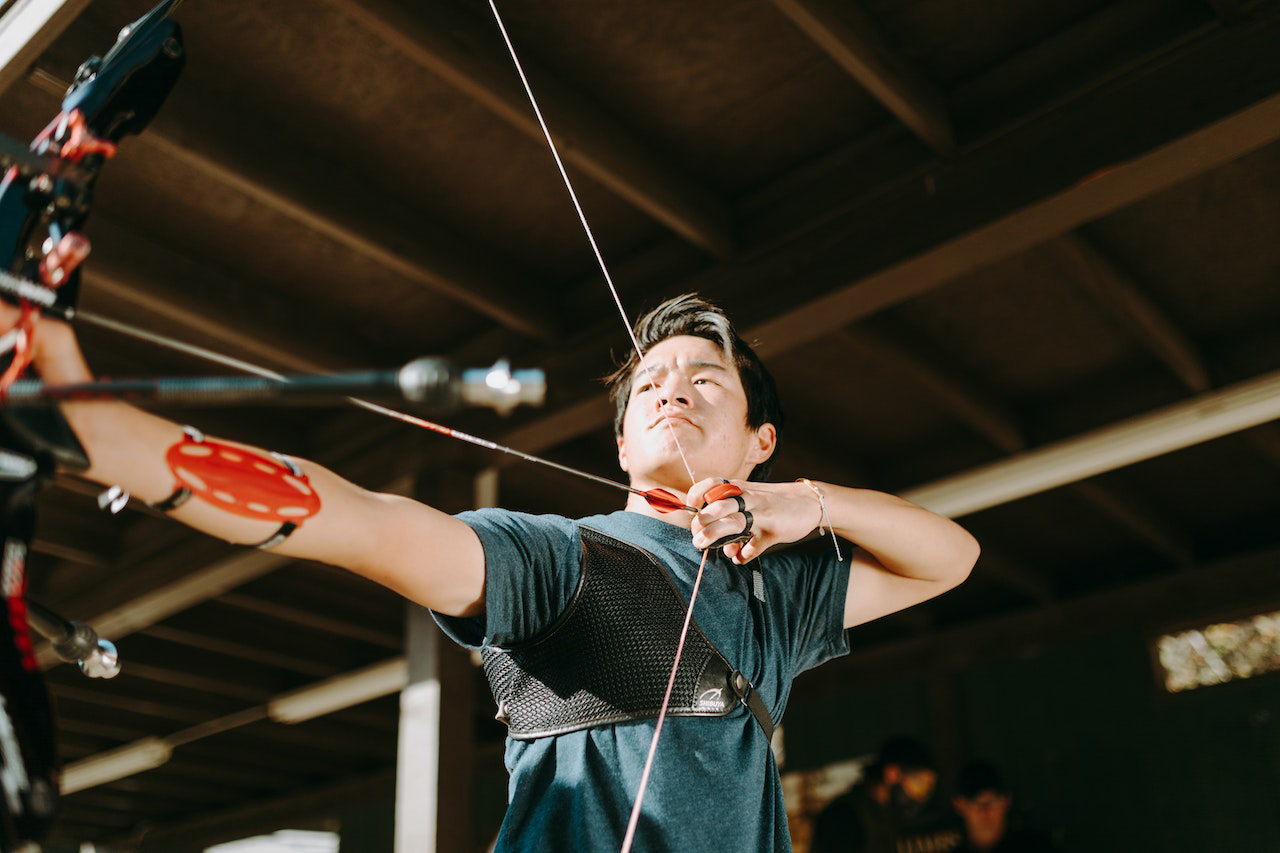 The right length of your longbow should fit your height, plus two more inches as a guide. If you have a longbow that is too short, the bow will not feel smooth to draw. If it is too long, you exert extra energy when drawing.
It can be overwhelming when you go through all the products in the market. So, conducting your research before making your purchase is important. Asking various questions about the product is vital, especially if you are a beginner.
Thus, here are the things you need to know about what kind of longbow you should get. First, we start with the types of archery to provide you with a stable background in the sport.
Types of Archery
Every type of archery has a different scoring system. Each class has its own rules and categories.
It could sound intimidating if you're new to the sport. However, once you have tried all types, you can discover which ones you enjoy the most.
Here is a basic rundown of the types of archery to get you started.
Target Archery
This type of archery is common to all. It is the type where the archer shoots at round paper faces at fixed locations and distances.
Target archery is something you commonly see at the Olympics.
Field Archery
In this type of archery, there are unmarked distances.
This type of archery is the one where you shoot at 3D animals or paper faces. The setting is always a woodland setting.
Clout Archery
Clout archery is where you shoot at a flag at set distances. The distance depends on several factors, including age and gender. The differences can also be up to about 180 yards away.
There are score zones on the floor surrounding the flag.
Flight Archery
This archery allows you to shoot an arrow to gain a great distance.
The Size
Now, let us go back to the question.
What size of longbow do you need?
As mentioned, the longbow should fit your height. Add a couple more inches to guide you to get the perfect longbow size.
If you shoot a longbow shorter than necessary, you will discover that the bow will not be smooth to draw.
On the other hand, if the longbow is too long, you will be wasting too much of your energy. A longer bow will have you exert extra effort when you do a full draw.
What are the types of archery bows?
The most common are longbow and recurve bows. Other types are compound bows, horse bows, and American flat bows.
In archery, there are several types of bows to choose from.
While there are the typical bows, there are also the types you do not hear of in your everyday life.
Here are the types of archery bows.
Recurve Bows

Recurve bows are perfect for beginners.

When new to the sport, you can go for recurve bows. This type is also the type of bow that the Olympics associate with.

There are modern-style bows with stabilizer rods. Most modern recurve bows also come with balance weights and sights.

However, there are also traditional recurve bows.

The more traditional ones come without all the bells and whistles. You will find that the conventional recurve bows come in wood and laminates.

Compound Bows

This type of bow is the most high-tech of them all.

It was around the 1970s when compound bows made themselves known in the market. It comes with high-tech features and the promise of great accuracy.

Compound bows come with cams. These cams make drawing higher bow weights easier to hold even at full draw.

The bow also comes with a mechanical release aid.

Longbow

If you think of the sport, you would most likely think of a famous character – Robin Hood.

Here, we talk of the English longbow (or simply the longbow). The most basic kind of bow is this one. Aside from being basic, this bow is the one that gives you all the fun in archery.

A longbow comes with a simple stick and a string.

This type of bow will test the archer's skills and instincts. It may be the most challenging. However, if you master longbows, this is also the most rewarding out of all the bow types.

Each longbow is unique. There are no two longbows alike.

The bow comes with wooden arrows. The fletchings used are also traditional – feathers.

American Flat Bow

The American flat bow is what most archers describe as the American longbow.

The development came about in the 1930s.

Howard Hill made this type of bow famous in the sport.

The American flat bow replaced the English longbow in target shooting.

The Olympic-style recurve bows you see now are mere products of the evolution of the American flat bow.

With flat bows, we use fiberglass and wood veneers like red oak and black locust in their construction.

Horse Bow

The horse bow is a style that has been used for many centuries. This type of bow is expected in the Eastern and Asiatic regions of the world.

The horse bows are shorter compared to the longbow.

These bows also come with recurved limbs.

These bows also come with rigid limp tips.

Like in the movies, you can shoot with a horse bow while on horseback. But you can shoot with a bow even without a horse.
What are the two most common bows?
The two most common bows are the recurve bows and the longbows. Longbows come in two types, the English longbows and the American flat bows, also known as the American longbows.
While there are several types of bows, there are two most popular bows in the world of archery.
Here they are.
Longbows
When you talk about longbows, it depends on how you define them.
This type of bow comes with a D-shaped profile. It can be a longbow in the UK, which archers call the classic English longbow. These longbows are the ones used during medieval times.
You can learn to shoot with an English longbow in a few minutes. However, it takes a lot of practice to master and be good at it. However, there is always fun in learning how to do well in archery with longbows.
If you know Robin Hood, you would know what an English longbow is. Most archers consider English longbows as the more fun of the two.
English longbows are usually made from one type of wood. These bows are also made from one piece of wood. The most common type of wood is yew or osage orange. Regarding the type of wood, we are aiming for tighter growth rings.
The tighter the growth rings, the better. Tighter growth rings come with better compression strength.
Sometimes, archers refer to this type as a self-bow. These types also come with many-grained wood laminates.
The choice of wood you use for your longbow affects the speed and performance of your bow and arrow.
The bow usually comes with a length of 72″ or longer . You shoot longbows off the hand. There is no shelf. There is also no sight to assist the archer.
It is a simple bow when it comes to design. And it is the hardest to master.
English longbows come with nostalgia and romance. It brings to mind not only Robin Hood but princes and kings of fairy tales and old stories.
The next type is the American flat bow . The American flat bow is also what archers call the American longbow.
The American longbows are perfect for shooting and hunting, developed in the 1930s.
Lastly, Victorian-style target bow .
These are longer draw-length military bows used in medieval wars. And yes, this is something we love in archery.
Here, you can shoot longbows with feather fletches. With longbows, carbon shafts are rarely heard of.
It is because, with longbows, you will use wooden arrows. And for me, that is enough to bring smiles to your faces.
Recurve Bows
There are several types of recurve bows.
The Olympics has its style of recurve bows. This type comes with weights, stabilizers, long rods, sights, and clickers.
And then, we have the traditional recurve bows. These types could either come in one piece or takedown.
A takedown is where you change the limbs to alter the bow poundage.
When it comes to length, recurve bows are shorter than longbows.
These types of bows are easier to use, even in challenging environments. You can use these bows in dense forests. You can use these bows even while on horseback, where longbows that are longer can be a hindrance.
And because of its recurve tips, recurve bows are better in speed and power.
What type of bow is best?
When you are a beginner, a recurve bow is ideal. Recurve bows will allow you to learn the sport's basics with versatility and cost efficiency. For fun and adventure, longbows are perfect.
There are numerous justifications for picking a longbow. There are also many reasons why you should use a recurve bow.
For beginners, a recurve is perfect. It is easy to use even in the densest forests. It is also less pricey than the compound bows.
On the other hand, longbows are super basic and require skill, mastery, and a lot of practice.
You can go back and connect with your battle-hardened forefathers with this type of bow. This type of bow is also ideal if you are in archery for fun.