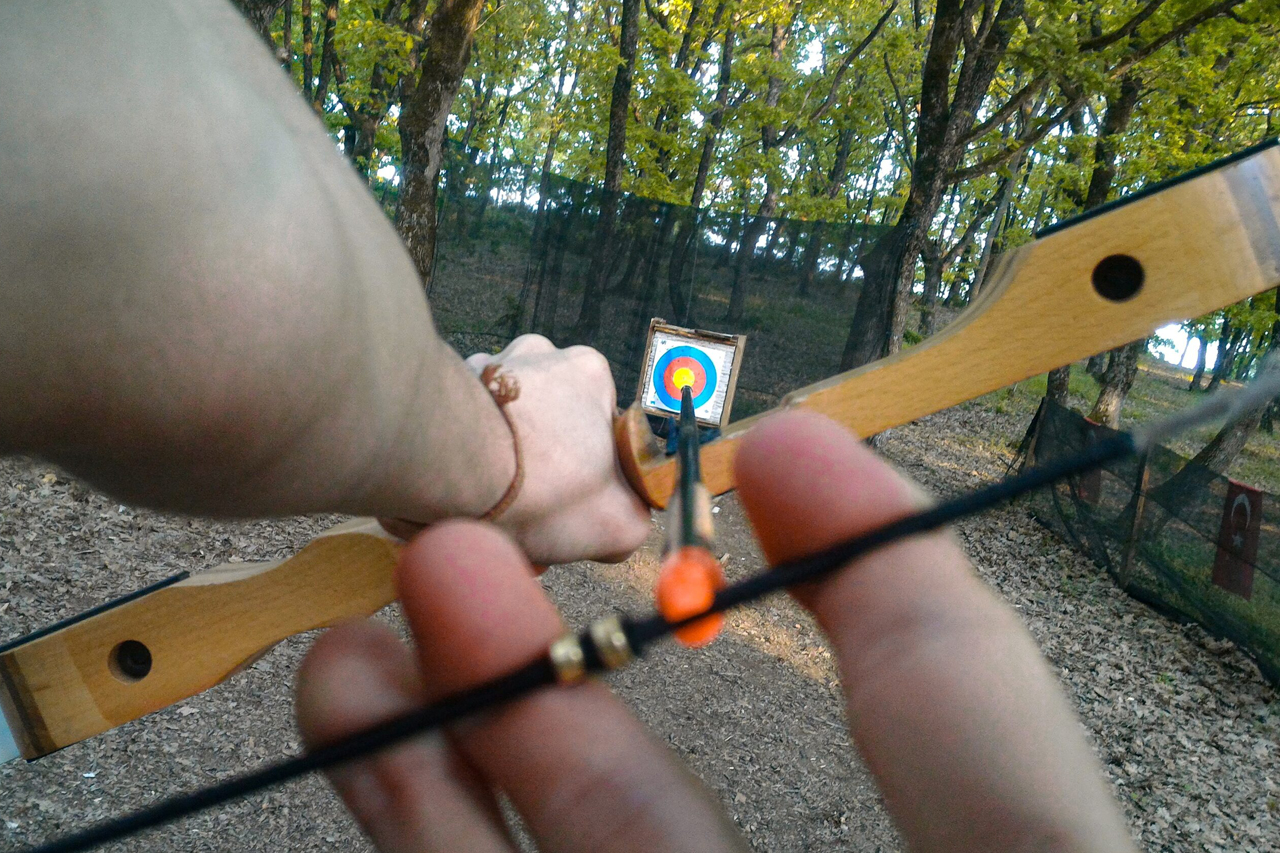 Carbon is better than aluminum because they are more durable, stronger, and heavier. Though aluminum arrows are cheaper than carbon, they are less resilient than the latter.
There are a few factors that you may consider when selecting between carbon and aluminum. But the first thing that you may check is their similarities and difference, their advantages and disadvantages.
Comparison
Durability

Carbon is more durable than aluminum. Carbon arrows will not break no matter how many times you shoot them. It can be shot in-game or target practice without damaging it, while aluminum can be split into pieces when being used just one or two times only.

Weight and speed

An arrow's weight and speed are the most crucial factor in bow-hunting. Carbon can be lighter than aluminum, but it has a better speed than aluminum. Aluminum arrows are fast but not as quick as carbon.

You can determine the speed of an arrow by its diameter size, which you can choose based on the bow's draw weight. For example, carbon arrows are typically smaller in diameter than aluminum arrows.

Cost

Carbon is more expensive than aluminum because carbon archers get their arrows customized based on length to get the perfect shooting range that they need. While aluminum can be bought at a lower price but not as accurate, it doesn't mean you can't afford to buy one.

Availability

Carbon is more available than aluminum. You can easily find carbon arrow suppliers in your area, not to mention online stores where you can order for it without any hassle. Aluminum arrows are harder to get, especially for hunting.
Advantages of Carbon
Shooting range and accuracy

Carbon is designed to be light, smaller in diameter, and sturdy. These features make carbon arrows very accurate when shot from a high draw weight bow, which most archers prefer because it provides more incredible speed for a longer distance. In addition, you can shoot lightweight carbon arrows with less effort than aluminum.

Customizable

Carbon arrows are not only available in different colors but can also be customized based on length, weight, and fletching. An archer usually goes for carbon because the arrow companies offer better customization than aluminum, which has a limited number of configurations instead of designs.

Lightweight

This factor is a clear advantage of carbon arrows. As mentioned, light carbon arrows can be shot from high draw weight bows, giving the archery arrow a more incredible speed for a more extended range. In addition, it doesn't have to carry extra weight because you have to use low draw weight to shoot it, and that will take more time, effort, and strength.
Advantages of Aluminum
Price

Aluminum arrows are cheaper than carbon arrows. But the price doesn't mean it's not good; there are plenty of excellent quality aluminum arrows that you can buy at a reasonable price.

Availability

It is easier to acquire aluminum arrows because they are more available than carbon arrows. In addition, aluminum arrow companies offer more configurations than carbon, and they also have excellent quality aluminum arrows at a lower price.

Weight and speed

Aluminum is heavier, but its speed is better than carbon, although not as fast as the latter. As a result, aluminum has a good combination of weight and speed, making an arrow fly farther with less power.
Are aluminum arrows any good?
When it comes to budget, an aluminum arrow is a good choice. For some reason, beginners also use this type of arrow because they are lighter, which is helpful if you are starting to learn how to use an archery arrow in archery.
There are two main types of arrows in archery: aluminum and carbon. Both aluminum and carbon arrows have advantages and disadvantages, although some consider them a better choice for a beginner to start with an aluminum arrow.
Aluminum arrows for Beginners
For beginners, aluminum arrows are easier to use since they are lighter than carbon arrows. However, aluminum arrow shafts tend to bend when shot at their full draw length. This is not good for the life of the archery arrow, especially if you plan on using one for target practice.
Carbon arrows are much more rigid as they won't bend as much, but they are much more expensive than aluminum arrows. But if your budget is tight, an aluminum arrow should be enough for your needs.
Aluminum Arrow for Target Practice
When it comes to target practice, aluminum arrows are a perfect choice. Since you will be firing the arrow only a short distance, investing in a more expensive carbon arrow is unnecessary.
However, most aluminum arrows are not durable and can only endure a few shots before the vane needs replacement. If you plan to use one for target practice, you can solve this problem by buying a few aluminum arrows.
Aluminum Arrow for hunting
When you are hunting, aluminum arrows are not a very good choice. Since you may have to shoot your target from a long distance, it would be better to use carbon arrows.
The lightweight aluminum shafts make them unsuitable for hunting because the hunter has no way of knowing whether their arrow has successfully penetrated the prey or not – something that is important if they plan on eating it.
Can you hunt with aluminum arrows?
You may hunt with aluminum arrows as they are affordable yet strong. You can use them to take down large game animals such as deer and boar with a powerful shot.
However, there are also some disadvantages of aluminum arrows that hunters should consider before using them:
Aluminum arrows may shatter on impact, which could lead to injury or death of the prey.
Aluminum arrows may look too similar from a distance to metal objects such as barbed wire, leading to accidents.
Aluminum arrow tips are not sharp enough to pierce the skin of some animals, so they can still run off and die away from you before you have a chance to track them.
Hunters who use aluminum arrows should take extra care to ensure a safe and successful hunt. They should practice with their gear before going on the hunt, so they learn to judge distances accurately.
They should also ensure that their arrows are strong enough to pierce the skin of their prey to kill it quickly. So, if you are a novice, you may want to consult an expert on the use of aluminum arrows before going on a hunt.
There are some downsides to using aluminum arrows, but they can still be used for hunting games animals successfully if you are careful and practice your skills ahead of time.
Are carbon arrows safe?
Carbon arrows are generally safe to use, even for hunting, due to their low deflection rate in flight. However, there are some factors that you need to consider before purchasing one. For example, make sure your bow is compatible with the arrows you choose, and your target should also be clear from any obstacles.
Compatibility

You need to ensure that carbon arrows are compatible with your bow. For example, you should not shoot an archery arrow made for high-performance bows if you have a low draw weight. Similarly, if you have a high-performance bow, it will be harmful to your performance to use less powerful arrows.

Shooting Areas

Another area to consider for carbon arrow safety is where you will be shooting your arrows. While they are generally more reliable than aluminum or wooden arrows, if you accidentally hit an object with it, it can still cause damage. So, ensure that the areas you plan to shoot are clear of any obstacles that might damage your arrow.

Price

Arrows made of carbon tend to be more expensive than those made of aluminum or other materials, and you will need to decide if the increased safety and reliability are worth the higher price.

Expertise

You should use carbon arrows with bows with draw weights lower than 20 pounds because these arrows were designed for use with higher-powered bows. You should only shoot by experienced hunters familiar with what to look for in both an archery arrow and a target so you can avoid damage.
The safest way to carry arrows
Today's archer can choose from many arrowheads but takes extra precautions while carrying them around. Depending on how you transport or store them, not all arrowheads may be safe enough to use for target practice or hunting.
Carry your arrows in a quiver. This prevents people from accidentally stepping on or grabbing your archery arrow. A quiver should always be within your close reach, so it is best to get a belt attachment for extra convenient carrying.
Always make sure that you safely tuck the tips beneath the feathers of the fletching. If an arrowhead sticks out too far, it may unintentionally stab someone when you sit down or put the quiver on a surface.
It is essential to keep the arrowheads clean, so they won't get stuck inside your target or accidentally poke someone.
For extra safety, always practice with blunts. Blunts significantly reduce the risk of damage and injury but still provide a real arrow impact feel. Blunt-tipped arrows can be used safely in groups as well, allowing you to practice with a bigger group of people.
Always carry your arrows securely and with extra caution! Don't put them down on the ground or leave them where they could get stepped on, as this poses a high risk of injury for both you and others.
Safely carrying your arrows will ensure that everyone can enjoy a fun and safe archery experience without worrying about getting into accidents.
Do carbon arrows get old?
Carbon arrows do not become "old" in the classical sense. The fibers that compose a carbon arrow never weaken or lose their elasticity over time. However, they can become damaged if abused or misused by the user or archer.
Misusage occurs in the following instances:
When an archer shoots a wood, aluminum, or another material arrow into a tree branch, animal, or ground, it disfigures it.
A carbon arrow can be further damaged if you ever drop it on a hard surface. If the fletching is dented or bent, that will also create instability in flight which reduces accuracy.
You can avoid drop damage to carbon arrows by storing your equipment away from hard surfaces. A bow case is the best place to store your bows and archery arrows. Alternatively, you can place it into a tube sock or wrap it in bubble wrap before inserting it point-first into the quiver pocket of your backpack.
Carbon arrows are also susceptible to damage if you don't pay close attention while removing them from your bow. When removing archery arrows from your bow, hold them by the fletching and grip them close to where they attach to the string.
How long do carbon arrows last?
On average, with proper care, carbon arrows can last up to 3 or 4 years of continual use. In comparison, an aluminum arrow may last a full 30 days in a row of shooting.
This is why many hunters use carbon arrows to take down big game. They last longer and can you can use them in all weather conditions.
The reason carbon arrows can last longer than other arrows is because of the way it's built. However, the best way to protect your carbon arrow investment is to store them in a dry place, away from natural elements such as extreme heat and humidity.
If you're out hunting during rain or snowstorms, it may be wise to bring along an arrow cover. This way, your arrows can be safely protected from the elements and will last for years to come.
Here are some tips to keep your carbon arrows in good condition:
Ensure the arrow's nock doesn't twist, as this can damage the shaft. Also, make sure it doesn't slide up and down on the string, as this too can cause damage.
Only use broadheads with a field point that matches your arrow's diameter. Using a larger or smaller tip can damage your shaft.
Never dry fire an arrow without a tip on it, as this can cause stress cracks, which are very difficult to spot.
Never cut the nock off of used arrows and re-use them because they can break easier when shot.
Avoid storing your arrows in hot places, which can cause the shaft to warp slightly. This is barely noticeable, though, so generally, there's no need to worry about it if you have an excellent arrow case.
Make sure the fletching isn't bent or torn on your carbon arrows, as this will significantly decrease accuracy and range.
Select your archery arrows from this list of +800 carbon and aluminum arrows.