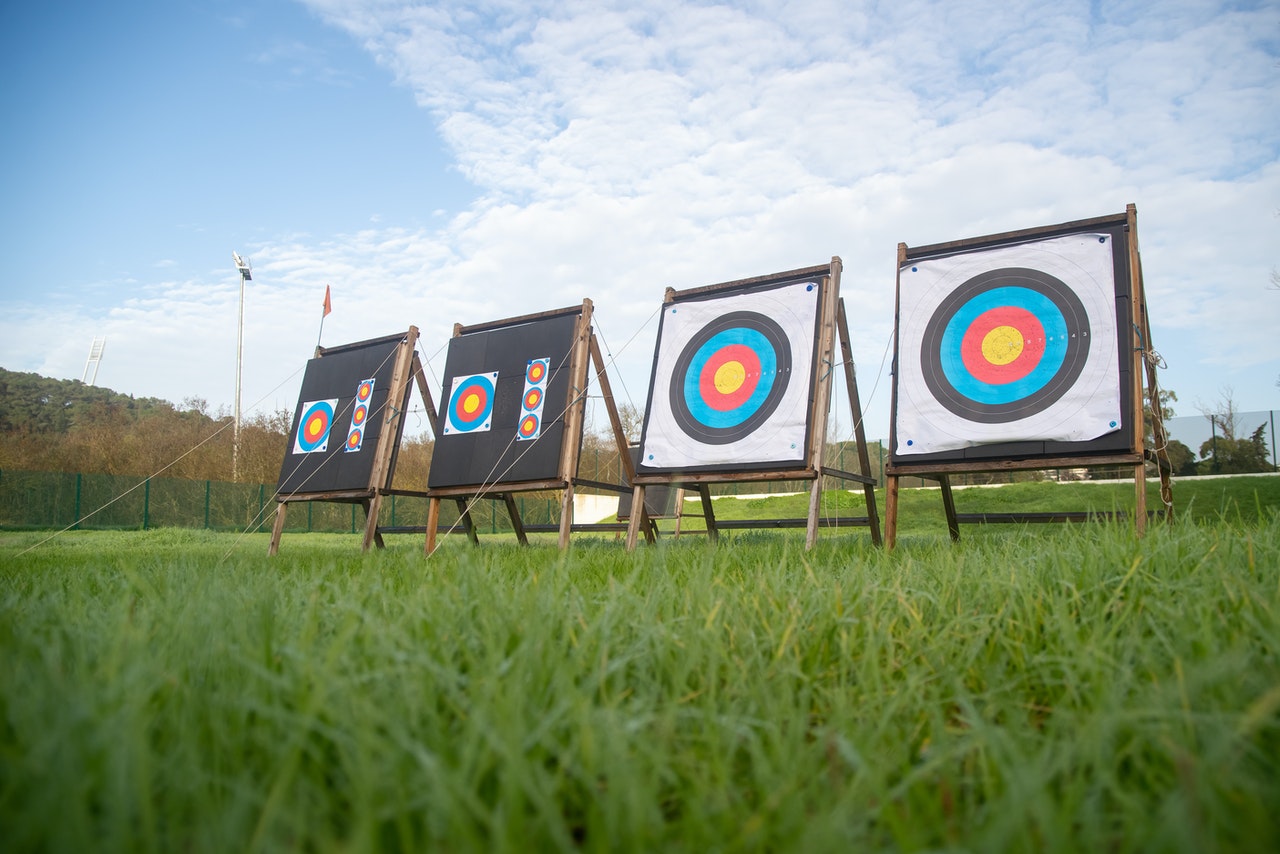 The size of an archery target varies depending on your shooting range. For example, at 5 meters range, you would need 20-inch diameter targets, and at 15 meters, you will need 40-inch diameter targets.
Then, at 20 meters distance, a target has a 20-centimeter diameter. Finally, at 40 meters away, a target has a 40-centimeter diameter.
Target selection is an essential step in archery and bowhunting. However, buying the wrong target can lead to frustration, wasted money, and even injury. So, be careful when choosing your archery target and consider a few things before buying your first archery target or upgrading your existing one.
A little knowledge about the different types of targets and each one's pros and cons would help decide which type will work best for you.
There are a lot of archery targets out there that can be overwhelming for someone new to this sport or looking to buy their first target. However, since each one has its unique features, it is helpful for you to be familiar with them and their effect on your overall experience with that particular type of target.
Here are some of the things you should consider when buying an archery target:
Size

The size of the target is necessary to consider because it can affect the price, ease of use, and durability.

Construction materials

Knowing the material used to construct your target can help you assess its toughness and how long it will last before needing replacement.

Weight

The weight of a target helps determine its stability for long-term outdoor usage. However, it also affects the portability, ease of use, and transportation of the target.

Foam density/softness

Predicting how soft or hard a particular type of archery target can affect your accuracy and overall experience.

Appearance and aesthetics

You might not think that something like this matters, but it does. Again, this aspect of your target is unnecessary, but it can affect how you enjoy using it, especially if that's important to you.

Price

The price should be the last thing on your mind when shopping for new archery targets. However, it may significantly affect what type of archery target you will get, especially if you are on a limited budget.
What kind of archery target should I buy?
The archery target you need to buy depends on your needs. You can choose from archery targets like foam core, archery mats, paper targets, or field point targets.
Each type of target has benefits and drawbacks for its use. For example, foam core is durable but might deflect an arrow if it's not the correct type of foam core. Likewise, archery mats are very good at stopping archery arrows, but you can't use them for outdoor shooting due to their fragile nature.
Paper targets are inexpensive, but it might be hard to find a large one that's sturdy enough for outdoor use. Field archery targets are great if you shoot at various distances since they're adjustable. But they're expensive and might not suit beginners.
Types of Archery Targets
Foam Core Archery Targets
Benefits: Foam core targets are very sturdy. They won't rip or tear if shot with field points, so it will be safe to use them outdoors. In addition, if it's the correct type of foam core, an arrow will not deflect when shot at the target.
Drawbacks: It might be hard to find the right type of foam core, depending on what you want to do with the target. If you're shooting at a group of foam cores, arrows might get stuck in them if you are not shooting straight into its very core.
Archery Mats
Benefits: Archery mats are great for outdoor use since they're lightweight and easy to move around. They can't get damaged by weather and will not deflect an arrow when it's shot at them.
Drawbacks: It might be hard to find a large archery mat that can hold up to heavy use outside. If you're shooting at a group of archery mats, the arrows could get stuck in between mats if you won't hit them or in the wrong place.
Paper Targets
Benefits: Paper targets are very inexpensive and easy to replace, so you don't have to worry about someone else damaging your target when you're not around. It can be durable enough for outdoor use if it's a large paper target.
Drawbacks: It might be hard to find a large paper target that's sturdy enough for outdoor use. If you're shooting at a group of paper targets, arrows could get stuck in between the rolls and fail to stick into the archery target completely.
Field Point Targets
Benefits: Field points are great for practicing different distances since you can set them on an adjustable field point target. You can also use them outdoor since they are very durable.
Drawbacks: Field point targets are expensive and might not suit beginners. If arrows are shot at the target incorrectly, they could get stuck between the blades of grass made by the field points instead of completely penetrating through or deflecting away from them.
Generally speaking, archery mats are great for beginners because they're lightweight, sturdy, and inexpensive. Archery targets made of foam core can be used outdoors with field points without deflecting arrows.
Paper targets are very cheap but might not be durable enough for outdoor use. Field point targets are adjustable but expensive and might not work well for beginners.
How much does an archery target weigh?
Generally, the weight of an archery target depends on the type of archery target and its size. Usually, you can expect a three-dimensional archery target to weigh around 90 pounds. However, a huge archery target could weigh approximately 175 pounds or more.
Many different materials are used to create an archery target, and their specific gravity and weight contribute to how much an archery target weighs. For example, homemade archery targets are typically made of concrete and thus will be heavier than an archery target made of rubber or foam.
The weight of the material that makes up the outer surface also affects how much an archery target weighs. As a reference point, the average three-dimensional archery target can be used for several thousand shots before you need to replace them. In contrast, a cardboard target might only last one hundred archery shots.
Importance of Determining the Weight of an Archery Target
The weight of an archery target is crucial because it determines how easy it is to transport, set up, and shoot at the target. For example, it would be challenging to transport a 175-pound archery target very far by yourself.
Also, heavier targets are harder to move when you are shooting them, making it easier for your shots to hit where you aim accurately. Knowing how much an archery target weighs will help you choose the right target type for your specific needs.
Depending on its thickness, the average three-dimensional archery target weighs around 40 to 90 pounds.
A 15-inch-thick target weighs approximately 40 to 50 pounds.
Those 25-inch-wide targets can weigh upwards of 70 pounds
Those 36 inches or thicker typically weigh around 90 pounds.
Archery targets made from lighter material likely weigh less by nature, and those made from heavier materials probably weigh more than 90 pounds. And an archery target made from rubber could weigh around 30 pounds, and one made from concrete could weigh well over 100.
Although most three-dimensional archery targets are similar in weight, you must treat each of them separately depending on its specific material and dimensions.
Generally, the more weight an archery target has, the more stable it will be while you try to hit it with your arrows. This makes the archery target easier to use and hit shots more accurate. Knowing how much your archery targets weigh can help you choose the right type for your specific application.
How long do archery targets last?
The general recommendation for archery targets is to replace them every 3-10 years, depending on their frequency of use and materials.
For a high-density foam target, for example, it is recommended to replace the target every 2-3 years if you are using it regularly. A paper archery target can last a bit longer, but it may become unsafe to shoot after about three years of regular use.
Archery targets can last a long time. If properly maintained. An archery target can last for hundreds of hours of use before being replaced.
Initially, it is vital to determine what kind of archery target you have and its recommended lifespan. The longevity and durability of an archery target depend on the density and type of materials.
Proper Handling and Storing of Archery Targets
It would help if you hung the archery targets in an area that allows ample room surrounding it (12+ feet) and where there is no room for error. Arrows can go through an archery target, and they are typically made of dense material that will stick into the ground if shot with sufficient force.
If your target hangs in front of a wall or fencing, ensure enough clearance, so arrows do not ricochet off the surface during use. If you mounted your target to a wall, make sure you anchored the screws securely to provide enough support for the target's weight without sagging.
Store your archery target in a dry, ventilated area with a moderate temperature when not in use. And cover it with a cloth or blanket to reduce exposure to the sun.
You need to position if you have wooden targets with wooden backs or plastic backings with wooden faces to lean slightly forward when not in use to allow water to run off the support and avoid staining the surface.
The targets should be placed face-up on a flat surface when being transported. Protect the front of the target with a blanket or tarp to prevent it from rubbing against any sharp objects that may cause damage.
What size is a crossbow target?
If you are using a crossbow, your target size should be at least four feet by six feet. Alternatively, smaller target sizes are available for first-timers or those who do not want to go to the trouble of setting up the larger size. These smaller targets should be at least twenty yards away from the shooter.
Another factor contributing to your choice of target size is how far you plan to shoot. If you are only practicing your aim, smaller targets may be good for you. However, the downside of using small archery targets is that it is easier to miss them entirely, especially if you shoot with magnified optics or crosshairs.
If the old target is too easy for you, consider purchasing a larger one. But do not go much bigger than four feet by six feet. Instead, pick only the smallest size available if your goal is to shoot at targets from thirty yards away or more.
This technique will improve your chances of hitting the target and increase your accuracy. Then you can later increase the size to improve your skills.
If you are trying to increase the difficulty of hitting your target, purchase a larger one. Larger archery targets may be harder to shoot accurately at first. Still, once you have mastered accuracy with a smaller target at shorter distances, you can move on to more challenging targets further away.
This way of practice will require more patience, but it is an excellent way to challenge yourself and improve accuracy.
If you are not sure what size target you need or want, consider visiting a crossbow shop in your area. Sellers typically have sample targets to show you to understand the different size targets and the shooting distances suitable for them. This is easier to figure out what you need, so go down to the shop and have a look.
Once you have found a size that looks right to you, buy your target and start practicing. As long as you practice regularly, your skill will improve and you an expert in archery.