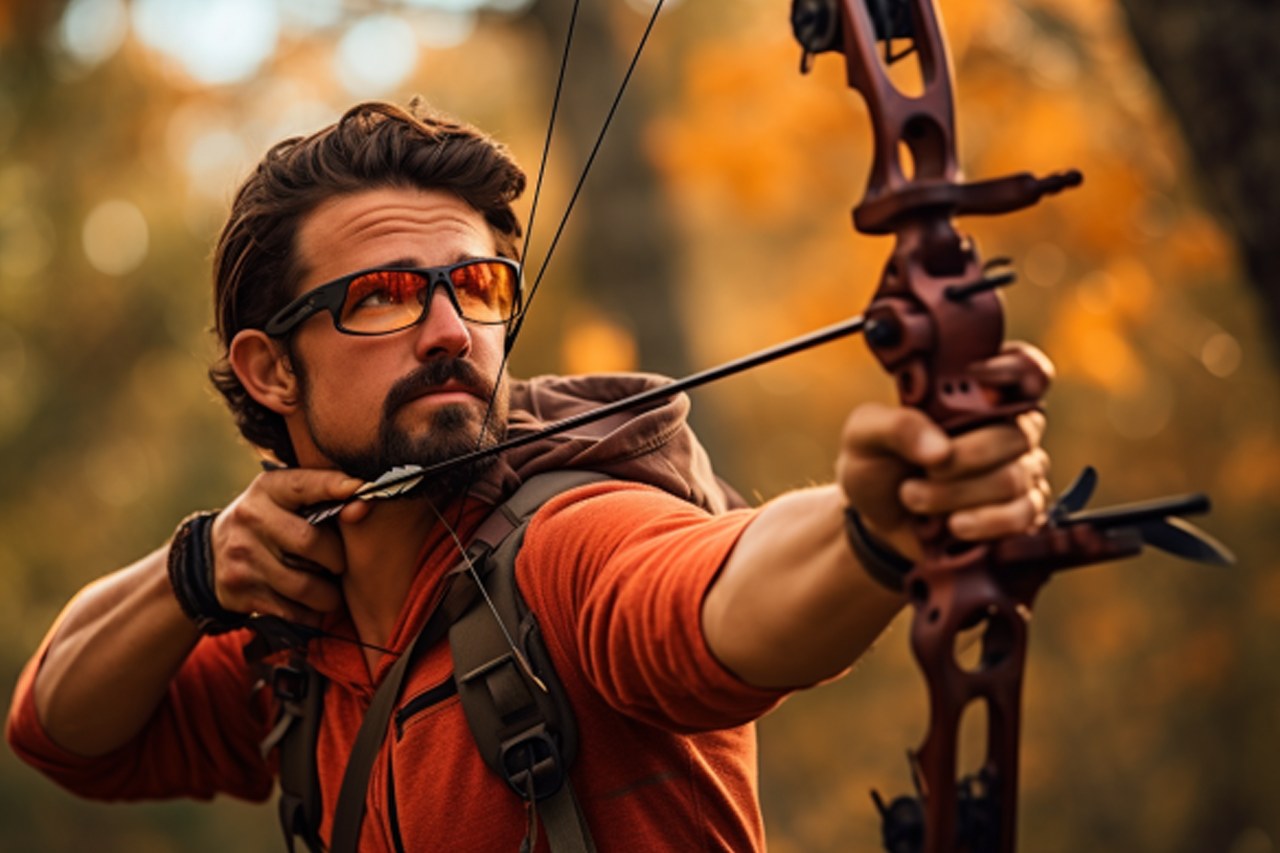 If you're an archer or bowhunter, you know the importance of accurately tracking your arrows. One solution that has gained popularity in recent years is using light-up nocks.
These small devices attach to the back of your arrow and emit a bright light upon release, making it easier to see where your shot landed and adjust accordingly.
However, like any piece of equipment, light-up nocks have pros and cons. In this article, we'll take a closer look at the benefits they offer – such as increased visibility and improved trajectory monitoring – as well as some potential drawbacks, such as higher cost and possible interference with shooting accuracy.
By weighing these factors carefully, you can determine whether light-up nocks are the right choice for your shooting needs.
Increased Visibility for Tracking Arrows
You'll love how light-up nocks make it easier to follow your arrows, even in low-light conditions. With traditional nocks, it can be difficult to see where it landed once it hits the target or if it misses altogether.
Light-up nocks solve this problem by illuminating the path of your arrow, allowing you to track its trajectory and locate it easily. Moreover, increased visibility helps you find them and improves your accuracy.
By seeing where each shot lands, you can adjust your aim accordingly and make necessary changes to improve your form. It means that with light-up nocks, you are more likely to hit the target consistently and hone your skills as an archer.
Overall, the improved visibility of light-up nocks is a significant advantage for those who enjoy archery or hunting in low-light situations.
Improved Trajectory Monitoring
Enhanced trajectory monitoring is possible using light-up nocks, providing valuable data to archers. These nocks emit a bright light upon release from the bowstring, allowing archers to track their arrows more accurately as they travel through the air.
This feature is beneficial when shooting in low-light conditions or when there are obstacles in the arrow's path.
By using light-up nocks, archers can observe how their arrows behave during flight and make necessary adjustments to improve their accuracy.
The light emitted by these nocks allows for better visualization of arrow trajectory, making it easier for archers to identify problems such as wobbling or deflection that may be affecting their shots. Additionally, by tracking how far an arrow travels before hitting its target, archers can gain insights into factors like wind resistance and arrow speed that may impact their overall performance.
In short, improved trajectory monitoring offered by light-up nocks helps archers shoot more consistently and with greater precision.
Higher Cost of Implementation
Unfortunately, implementing light-up nocks costs more than traditional arrow nocks. The technology behind these nocks has improved significantly over the years, but it still requires additional materials and manufacturing processes that drive up the cost of production.
The LED lights, batteries, and circuitry required to make these nocks work to add to the final price tag. Additionally, the extra features that come with light-up nocks, such as automatic shut-off timers or different color options, can further increase their cost compared to standard arrow nocks.
However, it's important to note that this added expense may be worth it for some archers who prioritize enhanced visibility and trajectory monitoring while shooting. Ultimately, whether or not you choose to invest in light-up nocks will depend on your individual needs and budget.
Potential Interference with Shooting Accuracy
Be careful when using light-up nocks, as they may interfere with your shooting accuracy, potentially causing frustration and disappointment during your archery session.
While these nocks help you track the trajectory of your arrows in low-light conditions, they can also throw off your aim due to their added weight and bulkiness.
The extra weight of light-up nocks can affect the balance and flight of your arrows, especially if you're used to shooting without them. Additionally, the larger size of these nocks may cause them to rub against your bowstring or other parts of your equipment, altering the angle and direction of your shots.
It's important to test different types of light-up nocks before settling on one that works for you.
Compatibility with Different Types of Arrows
Choosing the right light-up nock for your arrows can significantly impact compatibility and performance. Here are four important factors to consider when selecting light-up nocks:
Arrow diameter: Light-up nocks come in different sizes to fit various arrow diameters. Choosing the right size is crucial so that the nock fits snugly on the arrow without affecting its flight.
The shape of the arrow shaft: Some light-up nocks have a straightforward design, while others are angled or curved to match the shape of specific arrow types. Choosing a nock that matches your arrow shape can help improve accuracy and consistency.
Material of the arrow: Certain materials like carbon may require specific light-up nocks due to their stiffness and other properties.
Weight of the arrow: Adding a light-up nock can affect the weight distribution of your archery arrow, potentially impacting its accuracy. Choosing a lightweight nock that won't add too much weight is important.
Consider these factors when choosing light-up nocks for your arrows to ensure optimal compatibility and performance, ultimately improving your shooting experience overall.
Durability and Reliability of Light-Up Nocks
You want light-up nocks that'll withstand wear and tear, providing reliable performance every time you shoot. Regarding durability and reliability, light-up nocks vary in quality depending on the brand.
Some brands offer nocks of high-quality materials that can last hundreds of shots without issues. However, there are also cheaply made options that may not hold up well over time.
One important factor to consider when evaluating the durability of a light-up nock is whether or not it's waterproof. If you plan to use your bow for hunting or shooting in wet conditions, having waterproof light-up nocks is crucial to ensure they continue working properly.
Additionally, some brands offer extra features such as shock resistance or battery-saving modes to enhance reliability. Investing in a high-quality set of light-up nocks can provide peace of mind, knowing they'll function consistently throughout your shooting sessions.
Overall Effectiveness and Value of Light-Up Nocks
If you're looking to take your archery skills to the next level, incorporating high-quality light-up nocks into your setup can greatly enhance your overall effectiveness and provide great value for the price.
Here are four (4) reasons why:
Improved Accuracy: Light-up nocks make tracking your arrow's flight path easier, allowing you to adjust mid-flight for improved accuracy.
Better Visibility: Light-up nocks provide better visibility of your arrow's location and trajectory in low-light conditions or when shooting at longer distances.
Easy Retrieval: With a brightly-lit nock, locating and retrieving arrows that have missed their mark becomes much easier.
Customization Options: Many manufacturers offer customizable colors and patterns for their light-up nocks, allowing you to personalize your setup and stand out on the range or in competitions.
Investing in quality light-up nocks is a smart choice for any serious archer looking to improve their game. They offer practical benefits like improved accuracy and visibility and add a unique personalization touch that can help you stand apart from other archers on the range.
Frequently Asked Questions
Are light-up nocks legal for use in hunting?
Yes, light-up nocks are legal for use in hunting in most states. However, checking with your local wildlife agency or department is important to confirm their legality in your area.
Some states restrict the type of equipment used during hunting season, so it's always best to err on caution and double-check before using them.
Additionally, while light-up nocks can make it easier to track the flight path of an arrow and locate a downed animal, they may also give away the hunter's position if they're too bright or visible from a distance.
Overall, light-up nocks can be useful for hunters but should be used responsibly and follow local regulations.
How long do the batteries in light-up nocks typically last?
Light-up nocks are a popular addition to arrows for archers, but the question of battery life is important. Typically, light-up nock batteries can last from 20-40 hours of use, depending on the brand and quality of the product.
However, it's important to note that even if the battery still has some power left, it's recommended to replace them every few uses as they may not function properly or as brightly. It's also important to turn off the light-up nocks when not in use to conserve battery life.
Overall, light-up nocks can be a helpful tool for tracking arrows and locating games in low-light situations, but it's crucial to keep track of their battery life and replace them regularly for best performance.
Can light-up nocks be used with traditional or compound bows?
Light-up nocks can be used with both traditional bows and compound bows. They're designed to fit on the back end of an arrow and provide a light source that helps archers track their shots. The nock is activated when the bowstring is released, which triggers a small battery-powered LED light to turn on.
This feature can be handy in low-light conditions, such as early morning or late evening hunts, or when shooting in heavily wooded areas with reduced visibility. However, some archers argue that they can be distracting and may affect accuracy if not properly aligned with the bowstring.
Additionally, they're more expensive than regular nocks and require batteries to operate, which may need to be replaced frequently depending on usage. Whether or not to use light-up nocks depends on personal preference and shooting style.
Do light-up nocks affect the weight or balance of the arrow?
If you're wondering whether light-up nocks affect the weight or balance of the arrow, the answer is yes.
Light-up nocks add a small amount of weight to the back of the arrow, which can slightly affect its balance and trajectory. However, this effect is usually minimal and may only be noticeable to some archers.
Many modern light-up nocks are designed to be as lightweight as possible while providing reliable functionality. Therefore, you need to be an extremely experienced archer with particular requirements for your equipment to notice a significant difference in arrow performance when using light-up nocks.
Are there any safety concerns associated with using light-up nocks?
There are some safety concerns associated with light-up nocks. First, the battery used to power the light can add weight to your arrow, which may affect its trajectory and accuracy.
Additionally, there is a risk of the battery exploding if it's damaged or punctured during use. Finally, the lights can be distracting or disorienting to other archers on the range.
It's important to weigh these potential risks against the benefits of using light-up nocks before deciding whether or not they're right for you.
Conclusion
In conclusion, light-up nocks have their advantages and disadvantages. They increase the visibility of arrows, making tracking and retrieving them easier. This feature also allows archers to monitor their archery arrows' trajectory accurately. However, the higher cost of implementation may deter some archers from using them.
One potential drawback is that light-up nocks may interfere with shooting accuracy if incompatible with different types of arrows. Additionally, their durability and reliability might be a concern depending on the quality of the product.
Overall, weighing the pros and cons before deciding whether or not to use light-up nocks is essential. If you prioritize visibility and trajectory monitoring over cost and compatibility issues, these nocks could be an effective addition to your archery equipment.
Ultimately, it comes down to personal preference and individual needs when choosing between traditional nocks or light-up ones.
Check out these +100 light up nocks you can use for hunting!