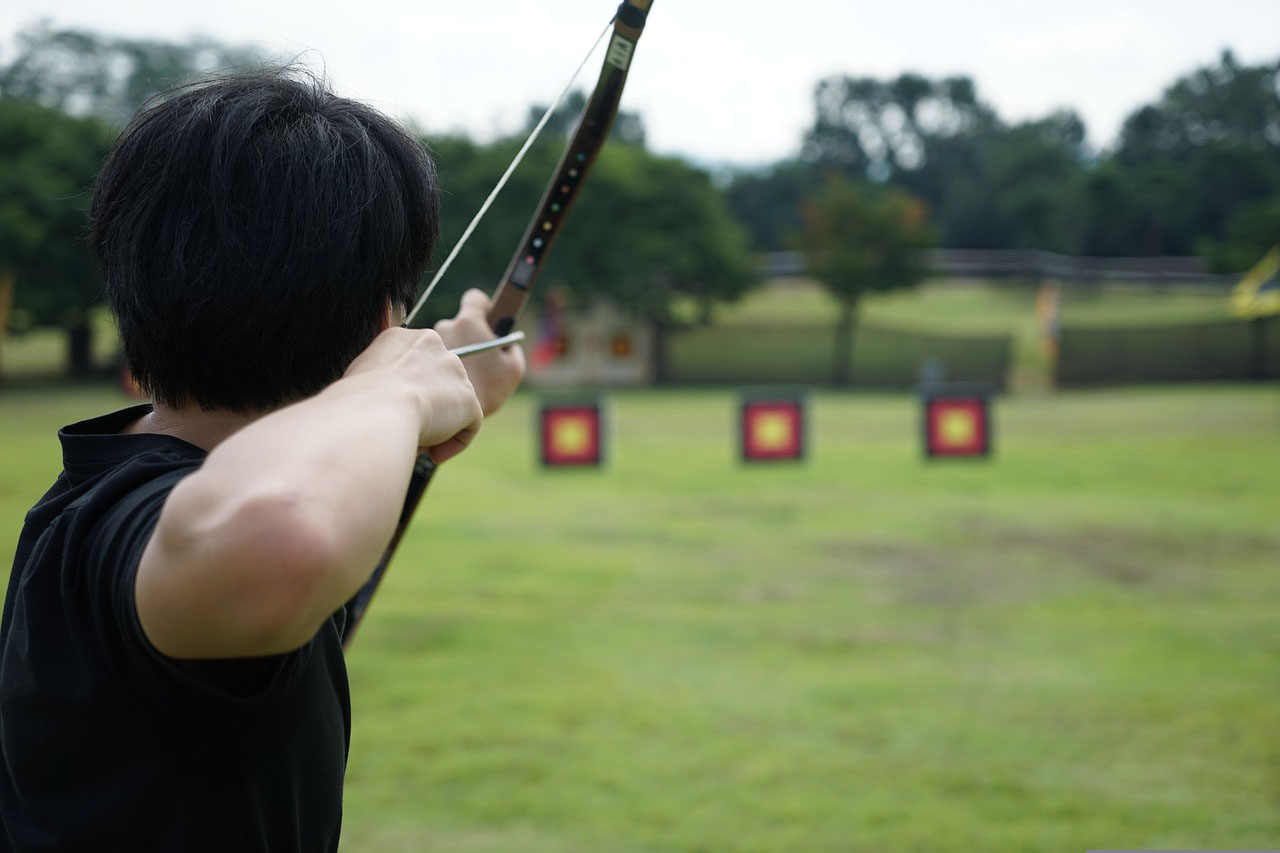 A 50 lb recurve bow is strong enough to kill a deer and possibly large game-hunting animals like elk, moose, or bear. However, a 50 lb recurve bow can be too much if you only plan to use it for target archery.
Recurve bows are available in various draw weights catering to people who plan to shoot for hunting or target archery purposes. In contrast, some people prefer to shoot a recurve bow with high draw weight than lower ones.
Bows usually fall into two categories: low draw weight and high draw weight. Recurve bows with a draw weight less than 40 lb typically belong to low draw weight ones; meanwhile, those with 50 lb and up belong to those with higher poundages which are ideal for hunting season.
On the other hand, bows with a draw weight between 40 lb to 50 lb are the ones in the middle ground and are ideal for target archery and hunting since they aren't too heavy or too weak.
Nevertheless, archers have this notion of always seeking to use a bow with higher draw weight. The numbers seem a big deal since shooting with low draw weight would not make them seem cool and weak for not being able to shoot bows with stronger poundages.
Due to this overemphasis on draw weight measurement, you may wonder how strong a 50 lb recurve bow is and what makes it desirable for some.
A 50 lb recurve bow can be enough to kill a whitetail deer. In addition, it is the minimum draw weight you should seek if you intend to hunt large wildlife such as moose, bears, and elk. Thus, a 50 lb recurve bow is strong enough to help you have a successful hunt.
However, don't forget that 50 lb recurve bows are not for everyone. If it is beyond your supposed draw weight, you must train your muscles first before shooting a 50 lb recurve bow.
Aside from your minimum draw weight, it would help if you also considered your purpose of shooting a 50 lb recurve bow. If you plan to use it for target archery, you won't necessarily need a 50 lb to recurve bow to shoot well.
Unlike hunting, target archery requires you to shoot over a hundred shots in one day, which can strain your muscles easily if you shoot with high poundage recurve bow.
That's why most target archers go for low draw weight bows instead of high draw weight ones. The latter are mostly more handy for hunting due to their high penetration power and speed.
Therefore, a 50 lb recurve bow is perfect for hunters because of its capability to kill even large game animals. Meanwhile, it is not necessary for target archers since high penetration power and speed are unnecessary in target archery.
What are the advantages and disadvantages of a higher draw weight?
Shooting a bow with higher draw weight has advantages, including but not limited to wind resistance, reduced arrow drop, and increased penetration power. In contrast, there are disadvantages, such as full draw tension, decreased accuracy, and muscle fatigue.
Before buying a bow with a draw weight of 50 lb and above, it would be best to take note of the advantages and downsides of using higher draw weight bows. By doing so, you are saving yourself from misspending your money because of wrong calculations.
Enumerated below are the advantages and disadvantages of shooting high draw weight bows:
A. Advantages
Wind resistant

The wind is the primary, most influential environmental factor that causes the arrow's trajectory to be off. Especially when you are shooting outside, windy, your arrow speed will decrease, and you will likely miss the target.

We all know that there is no way anyone can control the wind. As a result, it is better to shoot heavier bows because they allow you to shoot heavier and stiffer arrows which means they are more wind resistant than their opposites.

Thus, it is more convenient for hunters who hunt outside 100% of the time than target archers.

Produces flatter arrow trajectory and crisper string release

For target archers, there are a few advantages of shooting bows with higher draw weight which produce the following:
Flatter arrow trajectory
Crisper release of the bowstring
Higher draw weight bows don't need as much bow elevation, allowing an archer to maintain better form for longer shots. Additionally, because more force causes the bowstring to move out of the way, the path becomes straighter, making a crisper bowstring release.
Hence, using a higher draw weight bow for target archery doesn't only offer downsides but a few advantages as well.
Reduced arrow drop
Even in archery, the laws of physics still apply, which is apparent with arrow drop in which you must lower your sight when shooting at long range if you have noticed.
Arrow drop isn't a big issue because you can lower your sight, but shooting at long range with a low draw weight might bottom out, leading to you not being able to place the view lower.
As a result, the only solution you can go for is to increase your bow's draw weight, mainly if you shoot at distances over 70 meters.
High penetration power
Remember that draw weight has a direct correlation with penetration power. It means that the higher the draw weight, the more you can penetrate the target successfully.
Penetration power isn't a significant factor in target archery as long as your arrow sticks to the target enough that you won't have any difficulty retrieving your arrows.
On the contrary, the amount of penetration is necessary and needed for hunters because they need sufficient penetration to kill their targets ethically.
For instance, some states have bow regulations that impose a minimum draw weight to avoid unethical killing. If you have noticed, some state laws don't allow a draw weight of less than 30 to join the hunting season. Some also impose a separate and stricter minimum draw weight law for large game hunting.
The more extensive the animal, the higher the draw weight required to generate enough penetration power for the arrow to hit the animal's thick skin and kill it with a single shot.
Higher durability
Compared to other bows, the limbs of traditional bows, including recurve bows, are prone to breakage. It is essential to note that a bow's limbs are one of its weakest parts because they bend when you shoot.
However, those bows with a heavier draw weight have limbs made up of thicker materials compared to those with lower draw weights. Therefore, their limbs are less prone to breakage and stronger.
Avoid buying bows with low draw weight, and an extended draw length since the chances of them breaking soon are faster.
B. Disadvantages
Causes fatigue

Shooting a heavy draw weight bow requires a tremendous amount of muscle strength. It can strain your muscles because pulling it at full draw and maintaining the same form without making you wear out quickly can be very challenging.

Here are the following things that will happen if you try shooting a bow with a draw weight higher than you need:
You'll feel your body vibrating more.
You won't be able to aim at the target correctly.
Time spent to aim the target will be shorter
You will fire fewer arrows per session.
You'll experience difficulty focusing on your technique.
On the brighter side, you can always train your muscles if you want to shoot a bow with a higher draw weight. However, it doesn't happen overnight and will probably take a long time.
Nevertheless, you can achieve this by working on your upper body muscles and spending a lot of time shooting arrows while increasing your draw weight.
Produces more tension at full draw
As mentioned, pulling back a heavy draw weight bow can be tricky since it produces more tension at full draw. You will have difficulty maintaining your correct form and aim because the longer you pull the bowstrings back, the more shaky your body will become, leading to hurt accuracy.
Therefore, you won't only be unable to shoot at your full potential but also risks getting hurt.
Possible decreased accuracy
Due to muscle fatigue and trouble pulling the bowstring back, your shooting accuracy decreases, making you miss your target. It is not worth going for a heavy draw weight if you can't even draw your bow ultimately.
Thus, shooting a bow with a higher draw weight has advantages you can't ignore. However, it is always to choose wisely and avoid getting overbowed since it distorts your shooting form and takes away the fun out of shooting.
What is the range of a 50 lb recurve bow?
A recurve bow's effective range for hunting is approximately 20 to 40 yards depending on the draw weight. Thus, the higher the draw weight, the longer the range you can shoot.
After knowing how strong a 50 lb recurve bow can be, you may be curious about its range. Determining a bow's range can be pretty challenging because there are several factors to consider before one can come up with a conclusion. Nevertheless, you can always refer to estimations to help manage your expectations.
For instance, bows generally have a maximum range of 200 to 500 yards. However, the effective distance is usually less, about 150 to 350 yards. When it comes to hunting, the range gets shorter to only 15 to 25 yards for newbies, while it's typically 30 to 60 yards for skilled hunters.
Since bows have different designs and unique specifications of their own, the approximate range can be opposite from one another.
Regarding recurve bows, they have a maximum range of 280 to 300 yards. But, shooting at maximum distances does not guarantee accuracy compared to an average distance.
Another factor to consider is the purpose of the shooting; if you plan to do target shooting, the accurate range is between 60 to 100 yards. On the contrary, it is lesser with hunting and can only be between 20 to 40 yards.
However, this all depends on the draw weight of the bow you are shooting. The lower the bow's draw weight, the shorter the range, which you can understand better by referring to the table below:
| | | |
| --- | --- | --- |
| Recurve Bow Draw Weight | Effective Range | Maximum Range |
| 30 lbs | 15 to 20 yards | 200 to 220 yards |
| 35 lbs | 20 to 25 yards | 220 to 240 yards |
| 40 lbs | 25 to 30 yards | 260 to 280 yards |
| 40 lbs and up | 30 yards and above | 280 to 300 yards |
If you notice, the distance increases as the draw weight increases. Therefore, you can say that a 50 lb recurve bow can shoot at an effective range of over 30 yards.
Despite this, the estimates aren't absolute due to the following determining factors that influence a bow's range:
Bow style

Design and style play an essential role in the effectiveness and range of the bow. For example, a recurve bow's shape allows its limbs to store more energy than bows with a traditional form.

Therefore, the extra power in its shape design provides a decent range and makes it a favorite choice for those who hunt in bushy and wooded areas.

However, a recurve bow's range is shorter if you compare it to a longbow's range.

Arrow weight

Heavier arrows won't travel as far as lighter arrows due to their slower speed. On the brighter side, heavier arrows are more accurate and deliver a better penetrating impact, although they have a lesser range.

In comparison, lighter arrows travel farther than heavier ones, but they are less accurate because they are prone to deflect by wind and obstacles like twigs and branches. Furthermore, they provide lesser penetration power which isn't ideal for big game hunting.

However, if the range is essential to you, you might as well use lighter arrows.

Arrow Construction

Arrows are available in different designs, especially fletchings that influence an arrow's trajectory. Their purpose and range will vary depending on what purpose they intend to serve.

Bow material

Depending on the material composition of the bow, it can store energy more efficiently when drawn and transfer that energy to the arrow more efficiently when released.

Whether your bow is composed of wood, carbon, or synthetic materials, it impacts a bow's range. Hence, determining your bow's composition material is essential to achieve a specific distance.

Environmental conditions

Another thing you have to consider is the external factor which is the environmental conditions of where you are shooting. The farther the distance, the higher chances the wind will deflect your arrow's trajectory, hurting accuracy.

That's why taking longer shots requires archers to compensate for wind.

With the above factors, you can manage your 50 lb recurve bow range expectations.

A 50 lb recurve bow is an ideal draw weight, especially for hunters who aim to join the big game hunting season. It also promises a farther shooting range than those with lower draw weights.

Therefore, shooting a 50 lb recurve bow can be tempting, but always make sure you can pull it at full draw, or you'll end up wasting money on a bow with the incorrect draw weight.