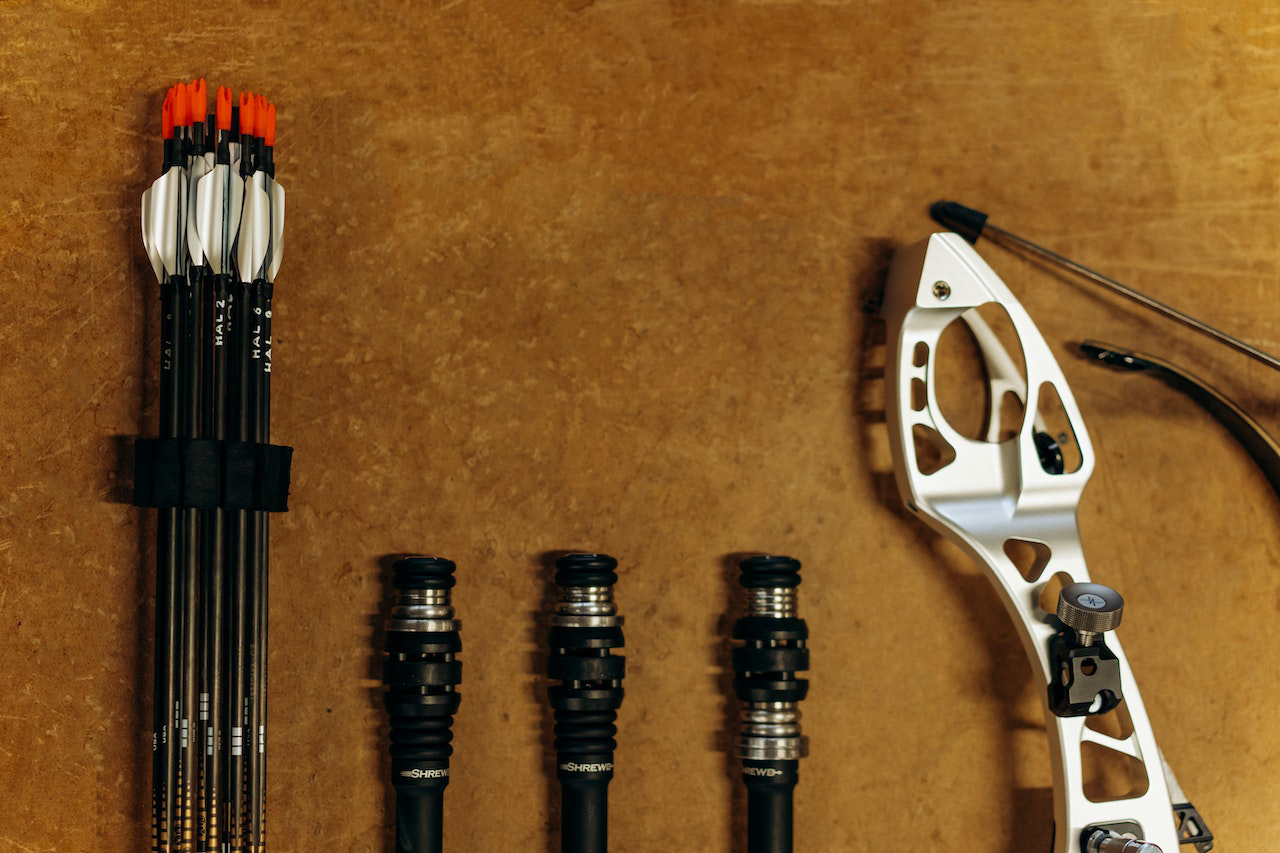 You can paint a fiberglass bow. Most archers prefer a muted, non-metallic look for their equipment, and it's possible to achieve this effect with standard spray paint.
Fiberglass is a type of glass made from magnificent strands of glass. Bow manufacturers use it to make bows because it is firm and flexible. It is also lightweight and does not add so much weight to the bow making it easier to carry and use for long periods.
In addition, fiberglass is less likely to break than other materials, making it a good choice for someone who wants to use their bow for a long time. Fiberglass bows are also relatively low-maintenance, which is why they are popular with archers.
Ways to Paint On Fiberglass Bows
Remember a few things when painting a fiberglass bow to get a professional-looking finish that won't chip or crack.
It is essential to sand the bow down for the paint will have a smooth surface to adhere to. You'll want to use finer grit sandpaper for this step so that you don't end up with any visible scratches.
Apply a primer designed for fiberglass use. It will help the paint adhere to the surface and provide extra protection against chipping and cracking.
When selecting your paint, choose one specifically designed for fiberglass use. With these simple tips, you'll be able to achieve a beautiful and durable finish on your fiberglass bow.
You can protect your painted bow by applying a clear coat of polyurethane to it. It will create a barrier between the paint and the elements, preventing it from chipping or fading.
You should apply the polyurethane in thin coats, allowing the coat to dry completely before applying the next.
Once you have applied a sufficient number of coats, your painted bow will be better able to withstand the rigors of outdoor use. With proper care and protection, your painted bow will be sure to last for many years to come.
What paint will adhere to fiberglass?
The paints that will adhere to fiberglass bows are acrylic paints and automotive paints. These two types of paint can withstand constant movement while it is in use, while ordinary ones tend to chip or crack under these conditions.
Some notable finishes explicitly designed for fiberglass bows are also available, such as polyurethane topcoats, which provide excellent protection.
You can apply them in addition to acrylic or automotive paints. Depending on the type of finish you are looking for, and your budget, acrylic or automotive paints are a good choice for painting your fiberglass bow.
Factors to Consider when Choosing Paints for Fiberglass Bows
When it comes to choosing paints for fiberglass bows, there are several factors that you should take into consideration.
Color of the Paint

The first thing to consider is the color of the paint. For example, if you want a bright and bold paint color, you may want to look for paints designed explicitly for fiberglass surfaces.

These paints typically contain unique UV-resistant pigments that help them last longer in direct sunlight.

Finish the Paint

Another vital factor to consider is the paint's finish. Some are glossy, while others are more matte in appearance. If you want your fiberglass bow to have a sleek and shiny look, you may want to go with a glossier paint finish.

However, a matte finish may be the better option if you prefer something that looks more understated or casual.

Type of Paint

Another factor to consider is the paint type that you choose. Some are water-based, while others are oil-based. Depending on your preferences and the surface you're painting, you may opt for a particular type of paint over the other.

Ease of Application

When choosing paints for fiberglass bows, it's essential to consider the ease of application. Some may be more challenging to apply than others, so choosing a product that is straightforward to work with is crucial.

It will help ensure that the paint is applied evenly and properly, without any splotches or unevenness.

Overall, when choosing paints for fiberglass bows, there are several factors to consider to get the best results. You can create a stunning and long-lasting paint job by picking a product that suits your needs and preferences.
Importance of Painting Fiberglass Bows
There are several reasons why painting fiberglass archery bows is essential.
Painting provides protection against moisture and UV damage, which can cause the bow to become brittle over time.
Paint can improve your bow's overall appearance by giving it a sleek, finished look that is sure to impress.
Painting fiberglass bows can help them stand out from other archery bows in a crowd and allow you to personalize your equipment however you choose.
Overall, painting your fiberglass archery bows is a great way to improve the durability and appearance of your equipment while also allowing you to customize it to suit your specific style and preferences fully.
Whether you're an experienced archer or are just starting, painting fiberglass archery bows is a great way to take your equipment to the next level.
Can you paint fiberglass without sanding?
You can technically paint a fiberglass archery bow without sanding. However, if you want an even and professional finish that will last for years, then it is recommended. It helps cut down the loose fibers and prepares the surface for painting.
Many types of sandpaper can be used for this process, though you'll likely want to stick with a fine grit (around 220). Begin by sanding along the grain of the bow in gentle circular motions. Then, switch to a more aggressive sanding technique once the surface is smooth.
You can do it by either an orbital sander or hand-sanding in different directions on the surface. If you have a lot of grooves, nicks, and gouges on the bow, it's best to do this by hand using small sandpaper or a sanding block/sponge.
Benefits of Sanding Fiberglass Bow
Sanding helps to create a smooth surface that will better adhere to the paint.
Sanding also helps remove imperfections and dents before you cover them in paint.
Without sanding, you may find that the paint develops bumps or air bubbles and does not provide the consistent look you want.
If you want to try painting a bow without sanding, clean the surface well with soap or degreaser before applying a cover coat of primer. It can help ensure that the painted finish adheres correctly and appears smooth when dry.
In addition, allow adequate time for each coat of primer and paint to dry thoroughly, and apply several thinner coats instead of trying one thick paint coat. Depending on your results, you may decide whether it is necessary or beneficial to sand the bow before painting or not.
Properly painting a fiberglass archery bow without sanding is possible if done right; however, it is recommended for the best results.
Materials for Sanding Fiberglass Bows
When sanding fiberglass bows, using the right tools and materials is essential. The most commonly used tools for this job include sandpaper in various grits, such as and power sander or orbital sander if you have one available.
Kinds of Sandpaper Grits for Fiberglass Bows:
It is typically labeled as being between 80 and 100 grit. It is excellent for more rough-sanding work and can help remove scratches or scuffs from the surface of the fiberglass bow.

It has a rating of between 120 and 150 grit. It is typically the best option for sanding down the finish on the fiberglass bow, as it will prepare the surface and make it ready for a smooth, even coating of paint or varnish.

It is usually between 220 and 300 grit. This type of sandpaper can give the fiberglass bow a final polish and buff, helping to smooth out any remaining scratches or scuffs.

It is also a very helpful piece of equipment for this process. While you may need to use the sandpaper by hand at first, these tools can help speed up your sanding work and make it easier and faster overall.

For example, an orbital sander is an excellent option for sanding the edges of a fiberglass bow, as this can be tricky to do with just sandpaper by hand.

Other materials you may want to use when sanding the fiberglass bows include paint thinner or a specialized deburring tool, which can help remove any remaining burrs from the bowed surface and make it easier and more comfortable to play.

It's also essential to wear proper safety equipment when working with fiberglasses, such as a dust mask or respirator and safety goggles, to avoid any irritation or damage to your skin or eyes.
What kind of primer do I need for fiberglass?
Any paint formulated explicitly for plastic or resin materials will work well as a primer coat for fiberglass. Some of the most common primers are epoxy primer and urethane primer.
The Epoxy primer for fiberglass bows is a coating used to help ensure a strong bond between the fiberglass and the underlying surface. This primer typically consists of epoxy resin and another material like polyester or vinyl ester.

Depending on the specific product, epoxy primers may be used either as a standalone coating or as a base layer for other paints and primers. By providing a robust and durable bond between the surface and the fiberglass, epoxy primers help to protect the underlying material and can help extend the life of your bow.

The Urethane primer for fiberglass is a type of paint used to protect and enhance the appearance of fiberglass materials. Typically, you can apply this primer directly over the surface of the fiberglass, or you can use it in conjunction with other coatings, such as an epoxy resin system.

In most cases, the urethane primer is highly water-resistant and can help to protect fiberglass materials from exposure to moisture. This primer may provide additional protection against UV damage or corrosion, depending on the specific paint formulation.

No matter which type of primer you choose, follow the manufacturer's instructions carefully to get the best results possible. And if you have any questions or concerns about working with fiberglass, consult a professional for help and guidance.
Things to Consider when Choosing a Primer for the Fiberglass
Fiberglass primer is a crucial component of any fiberglass project. Choosing the right one can make a massive difference in the quality and longevity of your project.
There are factors to keep in mind when choosing a fiberglass primer. These include the following:
Type of Fiberglass

Most fiberglass primers are designed for specific types, such as woven roving or chopped strand mats. Make sure to choose a primer for the kind of fiberglass you will use in your project.

When choosing the type of primer to use on fiberglass bows, it's essential to consider the type of fiberglass used. For example, some types of fiberglass are more porous than others and may require a different primer or additional steps when applying the primer.

Additionally, some primers may not be suitable for certain types of fiberglass, so it's essential to research the specific type of fiberglass you are working with before selecting your primer.

Quality of the primer

Generally, it is best to avoid cheap and low-quality primers, which may contain harmful chemicals that can damage your fiberglass. Instead, opt for a high-quality primer formulated using the latest technologies and safe materials.

When choosing the type of primer for fiberglass archery bows, it is essential to consider the quality of the primer. Different primers have different properties that affect their effectiveness in bonding with other materials.

For example, some primers are more effective than others at penetrating the surface of certain materials and forming a solid bond with them. Additionally, some primers are more flexible than others and can better withstand the stresses of repeated use over time.

Environment

Consider the surrounding conditions of your project and how well the primer will hold up in those conditions. For example, if you work outdoors in a hot, sunny climate, choose a primer to withstand those conditions.

When choosing a fiberglass primer for your project, it's essential to consider all of these factors to ensure the best possible results. With a suitable primer, your fiberglass project can last for years.

Do you plan to paint fiberglass bows? Check out these +2,000 paints for your fiberglass bows.