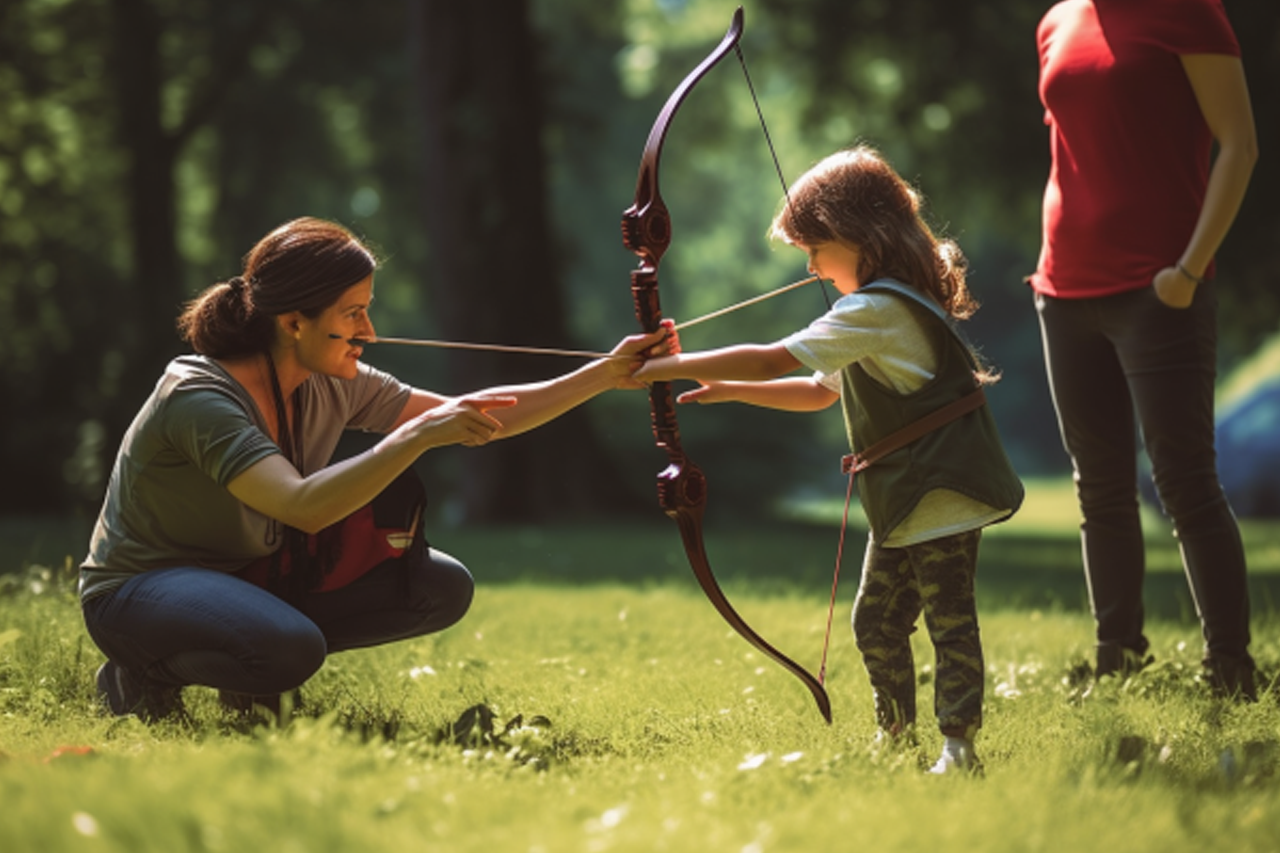 Are you looking for an engaging and fun activity for your children? Archery lessons can be an exciting way for kids to get active and learn a new skill. It can help develop children's focus, coordination, and self-confidence while providing a safe and enjoyable way to stay active.
With the proper archery lesson, your kids can learn to shoot arrows with accuracy and control.
Today, you will know how your kids can benefit from archery, how to find the proper lesson, what to expect from an archery lesson, safety considerations, and tips for successful archery lessons for kids.
So, if your kids feel excited about learning the sports, keep reading to find out how to get them started!
Benefits of Archery for Kids
Watching your child's confidence soar as they improve at a challenging sport is a profitable experience! Archery is an excellent sport for kids to get involved in, as it teaches them how to focus and practice patience, and it can also be a great physical activity.
It is important to note that archery requires a lot of dedication and careful practice to improve. The right approach can be an enriching experience for your child.
Archery is an excellent activity for kids to develop their motor skills. It also requires hand-eye coordination and develops the ability to aim and hit a target.
It also teaches them about the accuracy, as the difference between a bullseye and missing it can be minimal. It can help your child build their problem-solving skills while they learn to pay attention to the details and adjust their aim if necessary.
The physical and mental benefits of archery can help your child build confidence and self-esteem. As your child practices and improves, they will gain a sense of accomplishment as they hit more bullseyes.
This feeling of success can motivate them as they continue to practice sports and hone their skills. Archery can be a way for your child to understand the meaning and value of hard work and dedication.
How to Find the Right Archery Lesson for Your Child
From finding the perfect bow to locating the ideal instructor, your child's archery journey starts with choosing the proper lesson. Your child can improve their shooting skills, gain confidence, and have fun with a suitable class.
Consider these things when selecting an archery lesson and ensure your kids have the best experience possible.
1. Age
Consider your child's age. Most archery classes are divided into age groups to accommodate different skill levels. Additionally, some courses may require previous instruction. If your child is starting, ensure the type is designed for beginners.
2. Type of Bow
Consider the bow your child will use. Different archery bows are better suited for different types of archers. Beginners should start with a basic recurve bow, while more experienced archers can use more advanced bows. Also, make sure the bow is the right size for your child. An ill-fitting bow can cause significant issues with form and accuracy.
3. Research the Instructions
Research the instructor before signing up for the class. An experienced instructor can help your child hone their skills while having fun. Look for an instructor who is knowledgeable, patient, and encouraging. Also, check to see what safety protocols the instructor has in place. Your child should feel safe and comfortable while they're learning.
Choosing the proper archery lesson for your child is the first step to a successful archery journey. With some research and guidance, you can help your child find the perfect class and develop a new skill.
What to Expect from an Archery Lesson
Experiencing an archery lesson can be a gratifying experience for children, so it's essential to understand what to expect.
Here are important areas to consider when attending an archery lesson:
What You'll Need:
Proper equipment
Athletic clothing
Safety gear
What the Lesson Will Involve:
Learning the basics of archery
Understanding the form and technique
Practicing and honing your skills
What to Expect From the Instructor:
A friendly and encouraging atmosphere
Instruction that is tailored to your child's needs
Ongoing support and guidance
Regardless of what level of experience your child has with archery, an archery lesson is perfect for them to build their archery skills and knowledge. Having the right instructor and attitude, the fun your child will have can be a rewarding experience.
Safety Considerations
Safety should always be observed when using any archery equipment. When participating in an archery activity, it's vital to ensure that you have the presence of mind for safety measures to ensure a safe and enjoyable experience.
Here are some essential safety considerations to keep in mind:
Safety Considerations Tips
Eye protection Wear safety glasses or face shields when shooting
Weather Don't shoot in extreme weather conditions
Proper clothing Wear long sleeves, pants, and closed-toe shoes when shooting
Equipment Always use the correct size and type of arrows for your bow
Always supervise your child when shooting, and ensure you follow all instructions from the instructor. Additionally, inspecting your equipment is essential to ensure it is safe.
Following these safety measures, you and your child can have a safe and enjoyable archery experience.
Directions for Successful Archery Lessons for Kids
Let your child wear the appropriate clothes and gear for the lesson. It means wearing closed-toe shoes, long pants, and a shirt that won't get in the way of the bow and arrows.
Bring plenty of snacks and water. Archery can be physically demanding, so it's essential to ensure your child stays fueled and hydrated throughout the lesson.
Encourage your child to ask questions and have fun. Archery can be a complex sport, but your child needs to have fun and stay calm. Ensure your child feels comfortable asking questions and enjoys their time at the lesson.
Finally, it's essential to take your time and be patient. Ensure your child understands the basics before moving on to more advanced techniques. Be encouraging and positive so your child will stay motivated and have a great time learning archery.
Frequently Asked Questions
How old does a child need to be to participate in archery lessons?
If you're interested in archery, you may wonder when kids can begin taking lessons. Generally, kids aged eight and up can participate in archery classes.
However, checking with the instructor or organization is essential, as some may have different requirements. If your child can handle the equipment and follow instructions safely, they can enjoy the challenge and fun of target practice!
What equipment is needed for archery lessons?
You'll need a bow and arrows to participate in archery lessons.
Archery bows come in various sizes and can be made from wood, fiberglass, and carbon. Arrows are usually made of aluminum or carbon fiber. You'll also need a target to shoot at and protective gear like arm guards, finger tabs, and quivers.
Additionally, you'll need a bowstringer, a tool that helps you correctly put the bowstring on the bow. Finally, you'll need an excellent teacher to help you learn the basics and practice safely.
How long does a typical archery lesson last?
Archery lessons typically last an hour. The instructor will start by teaching the basics of archery, such as how to hold the bow and arrow and aim and shoot correctly. The instructor will offer guidance and helpful tips throughout the lesson to ensure an enjoyable and successful archery experience.
There is much time to practice and ask questions during the hour. By the end of the lesson, you'll better understand the basics of archery and feel more confident in your archery skills.
Is there a certification process for instructors?
Instructors must pass a certification process to teach archery. The process involves a series of tests, a background check, and successful completion of an instructor training program.
Once these requirements are met, the instructor will be certified to teach archery to both children and adults. The certification is recognized worldwide and is essential to raise the standards of instruction.
Are there any special discounts or incentives offered for archery lessons?
Are you looking for a way to save on archery lessons? You may be able to find special discounts and incentives offered by instructors. Many instructors provide discounts for multiple classes, family members, or referrals.
These discounts are usually applied to the cost of the lessons, so be sure to ask the instructor if they offer any incentives before signing up.
Conclusion
Archery is an excellent way for kids to learn and have fun at the same time. With the right instructor and lesson plan, your child can quickly learn the basics of archery and become an expert. Safety is vital, so follow all the instructions and tips given to you by your instructor. Your child can become a great archer with the proper guidance and support.
Encourage your child to keep practicing and remain patient and consistent. With practice and determination, your child will gain the confidence and skills to become an excellent archer. By providing a safe and constructive environment, your child will not only have a great time but will also gain an appreciation for the sport of archery.
Check out this list of +100 archery bows that you can purchase for kids.