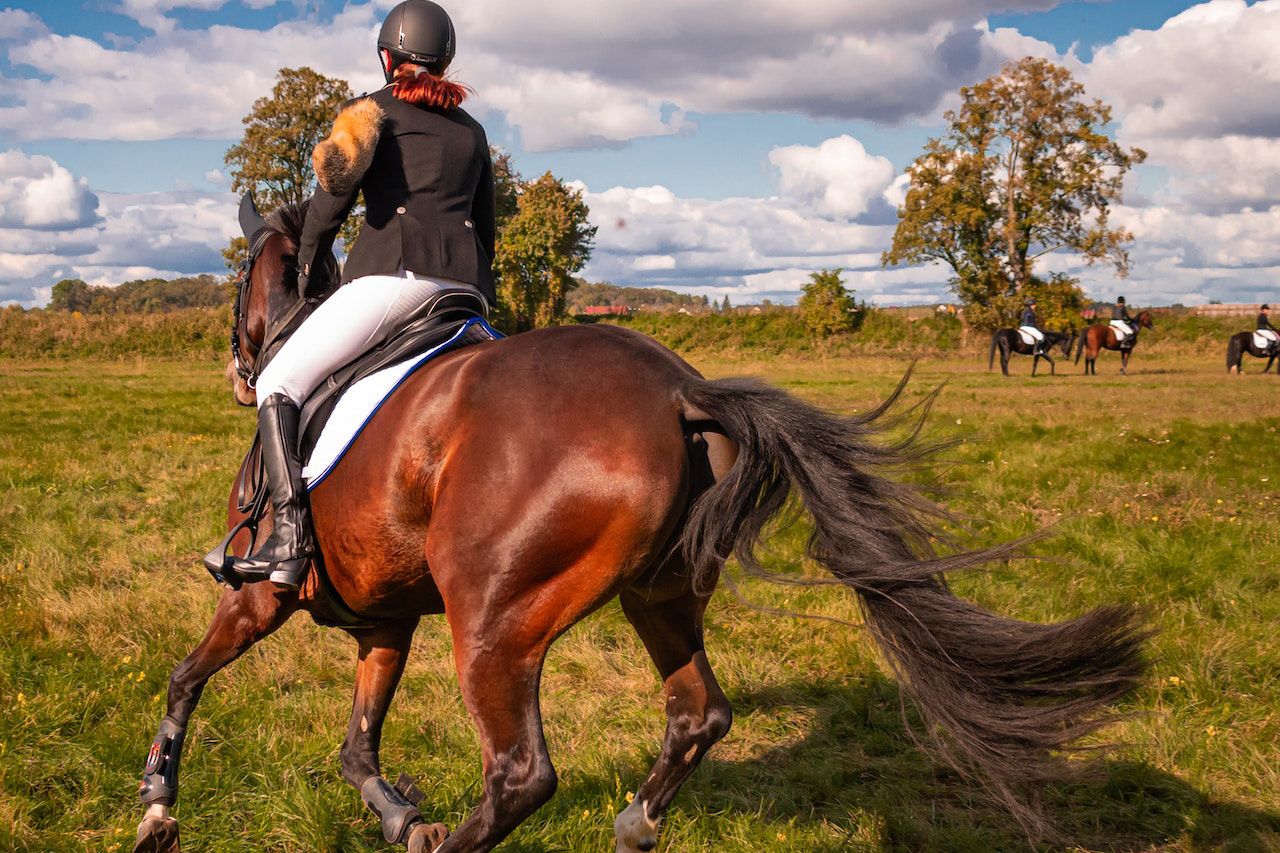 You can shoot a longbow from a horse, but because of its length and design, you will likely experience trouble switching it from one side to the other. As a result, your shooting can get restricted to one side only. However, you can consider using longbow horse bows instead.
There are various types of archery, like Olympic, Traditional, Hunting, and Horseback, which you can explore as you become more associated with this sport. If you are curious about shooting a bow while mounted on a horse, you may want to check horseback archery.
As a general rule in horseback archery, bows with a mechanical trigger, such as compound bows and crossbows, are the ones you should not use. The reason for this is the high possibility of the archer shooting off hand or accidentally wounding the horse.
You must note that horseback archery requires a high level of agility, balance, coordination, and connection between the archer and the horse. Unlike other archery types, it is a fast-paced sport wherein archers are to shoot arrows while riding a horse that can gallop faster than 30 mph.
Therefore, getting accustomed to this field takes time, extreme skill, and enough passion. At some point, you have to get used to "blind nocking," which means instead of looking down at your bow to nock the arrows on the bowstring, you have to rely on your instinct and touch.
Now that you know the challenge of getting into horseback archery, you have a better picture of why choosing the right equipment is essential.
For those interested in horseback archery, you may wonder whether longbows are the perfect bow since, centuries ago, archers used traditional bows for war and hunting while mounted on a horse. Longbows have this historical and classic feel that no modern bows have.
In horseback archery, traditional bows can work; however, to have a better experience, there are a few points you have to consider in choosing the right bow to use:
You can shoot a traditional longbow from a horse, but you will likely experience trouble switching it from one side to the other because of its length and design.
Horse bows are the right bow for horseback archery because of their compact design with the idea of horseback riding in mind and are easier to maneuver than other bows.
If you don't want to use a horse bow, traditional curved and composite recurve bows are also an excellent bow choice for horseback archery. These bows are compact enough and allow you to shoot while mounted on a horse correctly.
Aside from the type of bow to use in horseback archery, you must also ensure that the allowed peak draw weight is 60 pounds. It is to prevent your arms from getting fatigued quickly.
If you choose to shoot with high poundage bows, it will cause a problem like having difficulty pulling a full draw consistently.
Besides selecting a compact and lightweight bow, you can also consider going for 30 to 40 pounds for a 3-Finger draw or 25 to 35 pounds thumb draw.
What are the types of horse bows?
Horse bows are compact recurve bows designed for horseback archery. The three primary horse bow types you can use for horseback archery are Traditional, Hungarian, and Mongolian.
There are a few people who know about horse bows. Apart from the four main bow types commonly used by archers (longbow, recurve bow, compound bow, and crossbow), horse bows have long existed as a critical weapon for hunting and fighting enemies on horseback.
Their design is suitable for horseback use allowing archers to maneuver and reposition better without the constant worry of getting bumped while on the move.
To know which horse bow type will work well for you, refer to the list below:
Traditional horse bow

Traditional horse bows have limbs with classic curved, almost 'C' type bend. Among the other horse bow types, it is the most popular among horseback archers because it is customizable. As a result, archers are free to alter the horse bow's draw and bow length and draw weight according to one's liking.

If you are worried that your performance and the bow quality will be affected by customizing it, luckily, this doesn't happen with traditional horse bows.

Moreover, they are the cheapest horse bow type you can find in the market and are excellent to use for beginners. Thus, with such characteristics, traditional horse bows continue to attract customers.

Traditional horse bows are also compatible with right and left-handed archers.

If you consider buying a traditional horse bow with a longer length, you may want to check KAINOKAI Traditional Handmade Longbow Horsebow. It is the favorite horse bow among horseback archers.

It is known for being able to withstand any weather, including extreme ones, which is ideal for horseback archery. Hence, for those who live in areas with frequent unpredictable weather conditions, it is the perfect horse bow model.

Here are its features:
Leather edging and locust well-polished wood handle make it waterproof, long-lasting and wear resistant.
Bow arm crafted with an epoxy finish
Both left-handed and right-handed archers can use it.
Incredibly light at only 25 pounds
Best for beginners who are starting to polish their shooting skills and form
Has a lot of force and fast shooting speed
On the contrary, it is mainly suitable for archers with a taller structure and long arms.
Hungarian horse bow
Hungarian horse bows are larger than other horse bow types, with typical lengths ranging from 50 to 54 inches. There is no doubt that tall archers would likely choose to shoot Hungarian horse bows because of their height.
They also have suitable draw lengths and are available in selected weights. Like traditional horse bows, you can also customize them. They are also among the horse bows that most archers prefer to use.
If you think Hungarian horse bows will work well for you, check out Longbowmaker Hungarian Style Handmade. Longbowmakers are known for manufacturing long-lasting, great-performance, and high-quality bow products.
Here are its features:
Manufactured with beech, glass steel, wood, and cow leather
Long-lasting and will take years before it snaps.
Made for rough use
Provides greater draw length to archers
With various weight selections ranging from 30 to 60 pounds
Perfect for those looking for a heavy, luxurious feel
The manufacturer provides a detailed instruction manual.
The bow also has downsides since it is pretty heavy because of its wood and steel glass materials. It is also ideal for taller archers only. If you aren't tall enough, you might experience discomfort using it.
Also, it can be too complex and challenging to use for beginners.
Mongolian horse bow
Most hunters prefer to use the Mongolian horse bow because they are likely handcrafted with leather covers than other horse bow types. As a result, it gives off a robust and classy look suitable for hunting when mounted on a horse.
Some archers buy Mongolian horse bows to add to their collection because of their captivating look.
If you see yourself shooting or adding a Mongolian horse bow to your collection, ArcheryMax Handmade Mongolian Style is a great bow model to consider.
ArcherMax's bow products are famous for their longevity and luxurious feeling. In addition, they are known for their high-quality bows with mesmerizing design details, which attracts archers and collectors alike.
Its ArcheryMax Handmade Mongolian Style Longbow is the brand's best seller.
Refer to its enumerated features below:
It has one of the most extensive weight ranges from 20 to 80 pounds.
Subjective bow weight and length to cater to everyone's needs
The string length is 52 inches, which provides a decent draw length.
Suitable for both beginners and professionals in archery
Sade by expert and experienced craftsmen
Material composition: beech, cow leather, wood, pigskin, and steel glass
However, such beauty and quality come with a price, meaning it is quite a pricey bow. It is due to the tremendous effort of the artisans, who have been in the field for at least five years, and the extensive production process.
Any of these horse bow types are excellent to use for horseback archery. All you have to do is find which type fits the best for you, considering your frame, draw weight, length, etc.
What is the difference between longbows and horse bows?
Longbows are bigger, has lower draw weights, and are forgiving and smooth to draw, but they are not ideal to use for horseback archery. Meanwhile, horse bows are perfect for horseback archery because they are smaller and easy to use yet can be tricky and unforgiving.
You must first know that horse bows are traditional bows; however, they are not longbows. Therefore, the two types of bows are at opposing ends of the spectrum.
Learning the differences between bows can be pretty confusing. That's why if you are considering shooting for certain archery types, you must know first which bow is ideal in such fields.
For those who are confused between longbows and horse bows, especially those who plan to venture to horseback archery, here is the following comparison of each bow:
Longbow

Compared to horse bows, longbows are known for their large size. You can find them in lengths ranging from 74 to 78 inches long. Because of this, archers who shoot longbows must stand completely upright when hunting and far from any cover to shoot correctly.

Moreover, they have lower draw weights than horse bows since longbows are prone to deforming as time goes by due to consistent bowstring tension.

Regarding horseback archery, longbows are okay to use but are harder to maneuver. Unlike horse bows, longbows tend to snag easily and are likely to get bumped due to their size.

Despite this, longbows are smooth to draw and known to be very forgiving. They also perform better with heavier arrows. As the longbow releases the arrows, it launches them with consistent force.

Horse bow

On the other hand, horse bows are the perfect bow type to use for horseback archery. Considered a traditional bow, they differ mainly from longbows because they are compact recurve bows designed primarily to cater to archers who shoot while mounted on a horse.

Due to their compact size, horses or archers are less likely to get bumped while in action. Unlike when you use longbows for horseback archery, horse bows are easy to reposition and maneuver because of their smaller size.

They also work best with lighter arrows, and they are lightweight. Nevertheless, it also has its negative side wherein drawing them can generally get uneven, unlike longbows. It also has a much steeper draw curve.

Compared to longbows, horse bows are unforgiving, and achieving a consistent release can be tricky, leading to awful arrow groupings. Some of them can also get snappy.

Based on the comparisons above, horse bows are for horseback archery, while longbows are best for target archery and possibly hunting longer distances.

Longbows are excellent weapons to use, whether it be for practice shooting, hunting games, or competitions. Sadly, shooting a longbow from a horse won't provide you with the best experience. Instead, you can opt to use horse bows to shoot while being mounted on a horse properly.

Nonetheless, if you insist on shooting longer bows, you'll be happy to know that some horse bow models are available for taller archers. You only have to find the correct length and consult a trusted professional horseback archer if you can.