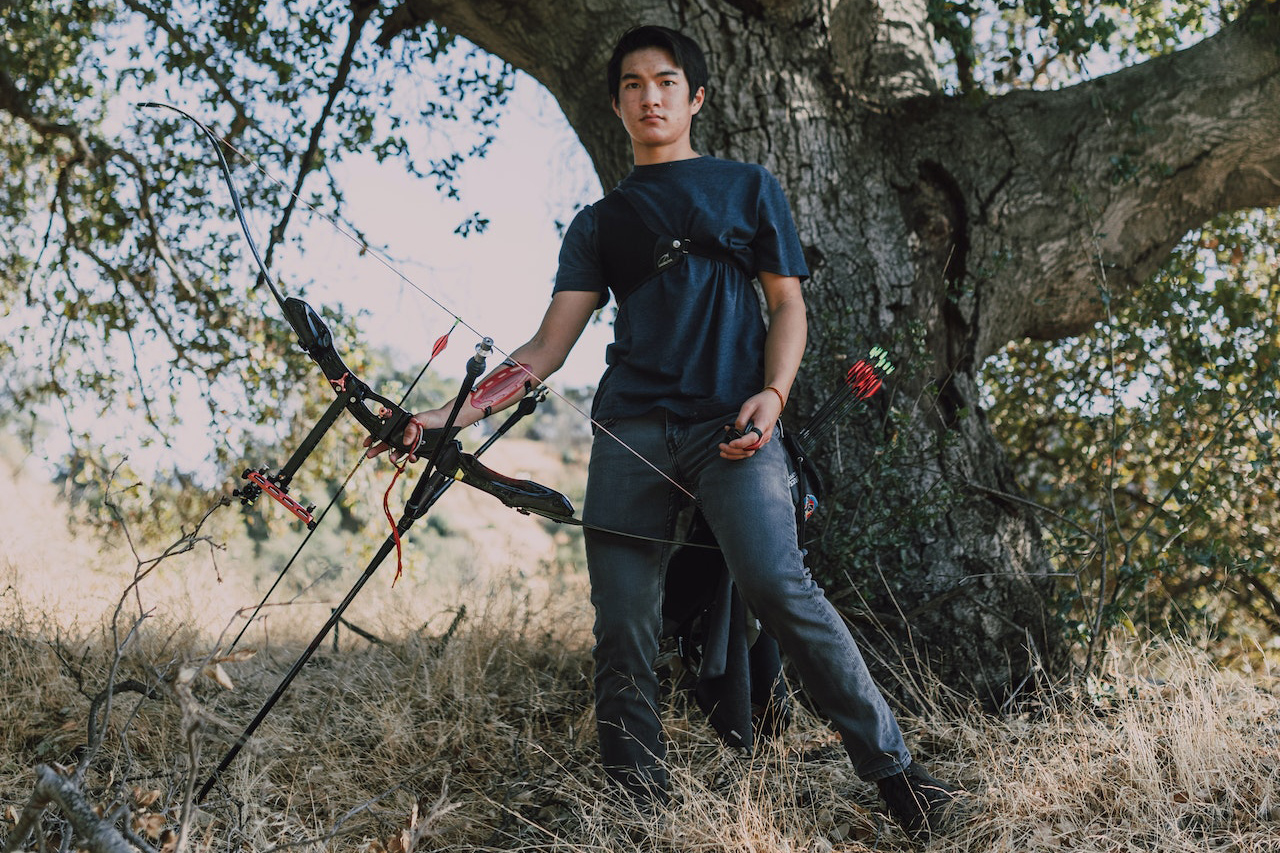 It is advisable not to leave your longbow strung all the time. Especially if you have a wooden longbow, it is best to unstring it after every use.
There are many questions about whether it is a good idea to leave a longbow strung for days, weeks, or years. You may have heard that some archers keep their bows strung long; however, doing so does not apply to every bow and may also have to do with preference.
There are bows you can leave strung for long, while some need to unstring when not in use. For instance, compound bows are okay to leave strung for a long time. Meanwhile, longbows, mostly made of wood, need to unstring after use.
Although longbows, recurve bows, and compound bows are vertical types, they don't have an entirely similar design that allows them equal time to leave strung.
Moreover, a bow's material composition plays a big part in determining whether it is suitable for a bow to leave unstrung or not:
Wood

Originally, bows were made primarily from wood, especially centuries ago, as a weapon for warfare. In modern times, there are a lot of bows in the market made of materials other than wood.

Despite this, most longbows retain wood as their primary material, pleases archers who want to shoot with an authentic feel that only wooden bows can provide.

However, you must know that wood is the most delicate among those materials because it can warp easily, causing rapid damage to the bow.

To avoid this, archers must unstring their wooden bows when not in use or after using them. If you've observed, some archers take their wooden bows off the string while they take breaks.

Thus, if you have a wooden longbow, you cannot leave it unstrung for long if you plan to use it for years. It will relieve the tension your bow is experiencing and allow it to return to its natural shape.

Synthetic materials

Aside from wood, most bows nowadays compose of synthetic materials like carbon or fiberglass. Compared to wooden bows, bows made of synthetic materials can sustain enough pressure and strain, so you don't need to unstring them as frequently as the wooden ones.

Therefore, you can leave them strung for days, weeks, or months and compound bows are an excellent example.

That's why it is essential to identify your longbow's material composition to know how long you can leave it unstrung.

Aside from unstringing your wooden longbow, there are also other ways you need to do to make sure its lifespan doesn't shorten soon:
Store your longbow in a cool and dry place when not in use.
Keep checking your bow from time to time and have it checked if you notice something unusual.
Always unstring it whenever you travel long distances to prevent "string follow" from happening. "String follow" pertains to a phenomenon where a bow's limbs bend permanently because of high string tension.
Avoid storing it under extreme weather conditions such as rain, storm, or hot and humid areas.
It is best to store them flat on a vertical rack with pegs, a table, or a shelf.
Therefore, there are various ways you can practice to ensure that your wooden longbow stays in good condition for a long time, other than unstring it when not in use.
How to string and unstring a longbow?
Stringing and unstringing a longbow is quite simple and easy. A bow stringer is ideal for stringing and unstringing your longbow safely, practically, and efficiently.
Since you will have to unstring and restring your longbow frequently, it is only ideal to know how to do it yourself rather than have it always done by a professional at a local bow shop which can cost you more money.
You'll be glad to know that unstringing and stringing your longbow is simple and easy by following the steps below:
Unstringing a longbow

Unstringing a longbow doesn't take much of your time, and you can do this with five straightforward steps:
Place the longbow in front of you vertically and put your left foot through the bowstring. You can see the longbow tilt slightly at an angle as you do this.
Press the end of the longbow against your right ankle to keep it steady.
Next is to pull the bowstring gently down from on top of the longbow.
Lift the bowstring off with your thumb to remove any string tension before putting it away safely
Please note that before doing this, you must ensure that your longbow is in excellent condition to avoid any unforeseen injuries.
Stringing a longbow
You can string a longbow with or without the help of a bow stringer. While some don't bother to use a bow stringer partly because it means additional cost, using a bow stringer is ideal since it offers the safest way to string a longbow.
It may sound like a complex tool, but a bow stringer is simply a piece of cord that fits around the longbow's limb tips.
Luckily, whichever method you prefer, you can follow any of the steps enumerated.
With a bow stringer
If you ever plan to string your longbow with a bow stringer, always check if you can use the chosen bow stringer for your longbow since some are only for use with recurve bows.
Once you are sure it is suitable for longbow use, you can start attaching it by following the procedure below:
Ensure that your longbow's set up and bowstring is ready.
Take your bowstring and notice that it has two different-sized loops on either end.
Place the larger loop over the top limb of your longbow, then slide it down the limb between three to six inches.
Next, place the smaller loop neatly into the grooves on the bottom limb tip of the lower limb.
Put the saddle of the bow stringer on the longbow's upper limb past the bowstring loop. Ensure that the bowstring sits neatly on the belly of the longbow and underneath the bow stringer.
Place the other end of the bow stringer, the one with the pocket, over the tip of the longbow's lower limb. Ensure that the bowstring's smaller loop is neatly in the grooves of the longbow's limb tip and the bow stringer's pocket secures the bowstring in place.
Now that both the bowstring and bow stringer are in place, set the longbow horizontally with its back facing up.
Step onto the bow stringer with both feet shoulder-width apart.
Hold the longbow with one of your hands and pull it up slowly to add tension and draw.
Once its limbs have flexed enough, hold it in this position and have your free hand slide the larger loop of the top bowstring into the grooves of the upper limb.
You may gently release the longbow once the larger loop of the bowstring is in the grooves of the longbow's limb tip.
After doing so, the bow stringer may come off the longbow.
Adjust or repeat the process if you need to pluck the bow gently to help seat the string but remember not to dry fire your longbow.
Doing the procedures above may be pretty confusing at first, but you'll likely be able to do it soon enough in a quick manner.
Without a bow stringer
For those who don't have a bow stringer or choose to string their longbow without one, there are steps you can follow to do it successfully.
However, always ensure your longbow is in good condition before doing so. Check for frays on the bowstring and cracks on the limb before shooting your longbow after stringing it.
Here are the steps to follow in stringing your longbow without a bow stringer:
Take the top loop of the bowstring, then slide it over the nock and down onto the longbow's limb. Do this procedure with the bottom loop.
Step over the longbow with either of your legs to secure it.
Hold the longbow's top with your right hand. With your left hand, have it hold the top of the bowstring.
Using the outer part of the foot, the one not wrapped around the longbow, hook the bottom of the longbow by sliding it in.
Bend the longbow slightly and gently. You will then notice that placing the top loop at the top of the nock is now possible.
When this happens, draw the longbow back to its original state and increase the pull length until it is fully upright. Do all of it slowly.
Lastly, check the pressure of the bowstring.
Stringing and unstringing a longbow doesn't take much time, and you can do it yourself. Nevertheless, if you aren't confident yet, don't be afraid to seek professional help or ask for further advice from your local archery shop.
What happens when you don't unstring a longbow?
Many things can happen when you don't unstring a longbow, and you wouldn't want any of them to happen. Nonetheless, it primarily results in permanent damage to your longbow or inflicts injuries on the archer.
As mentioned, there is a need to unstring longbows, especially wooden ones. It is vital to note that wood is a fragile material that needs extra care to last long, and wooden longbows are not an exclusion from this rule.
You may be curious what happens if you leave a wooden longbow unstrung for long periods. There are various consequences you have to face if you go your wooden longbow unstrung, which primarily results in permanent damage to the longbow rendering it unusable, or it can snap off, causing injuries.
You may experience the following things if you leave your wooden longbow unstrung:
Prolonged and continuous tension on the bowstring will cause the longbow warp.
The longbow will lose its shape, which means it may start to bend sideways.
It loses its draw weight.
It weakens the wood.
Constant rubbing of the bowstring against the wood can wear down the longbow, which leads to its breakage.
The longbow will become less potent.
It will also make the longbow less accurate as time goes by.
Reshooting the longbow after leaving it unstrung for a long time may cause injuries because the material will likely snap.
Based on the disastrous consequences enumerated, you can fully understand that wooden longbows are fragile and need extra care. Hence, it would be best never to forget to unstring it and check it before and after use to avoid any injuries and further issues.
It may be quite a hassle to unstring and restring longbows frequently, but it is better than facing the consequences that may cost you a lot of money and your safety.
Besides wooden longbows, shooting synthetic bows doesn't entirely exempt you from the job of unstringing them. Remember that keeping your bow strung indefinitely is not a good idea because it doesn't mean that it won't cause any issues to its limbs.
You must also ensure that whatever the material your bow have, it should be of good quality and original.
Longbows are aesthetically pleasing because of their antique touch that takes you back to Medieval times. However, using longbows requires you to keep them unstrung when not in use to avoid any disastrous consequences you wouldn't want to face.
As a result, it is best to learn how to unstring and string your longbow and consult your trusted archery shop if you aren't confident about doing it yet.