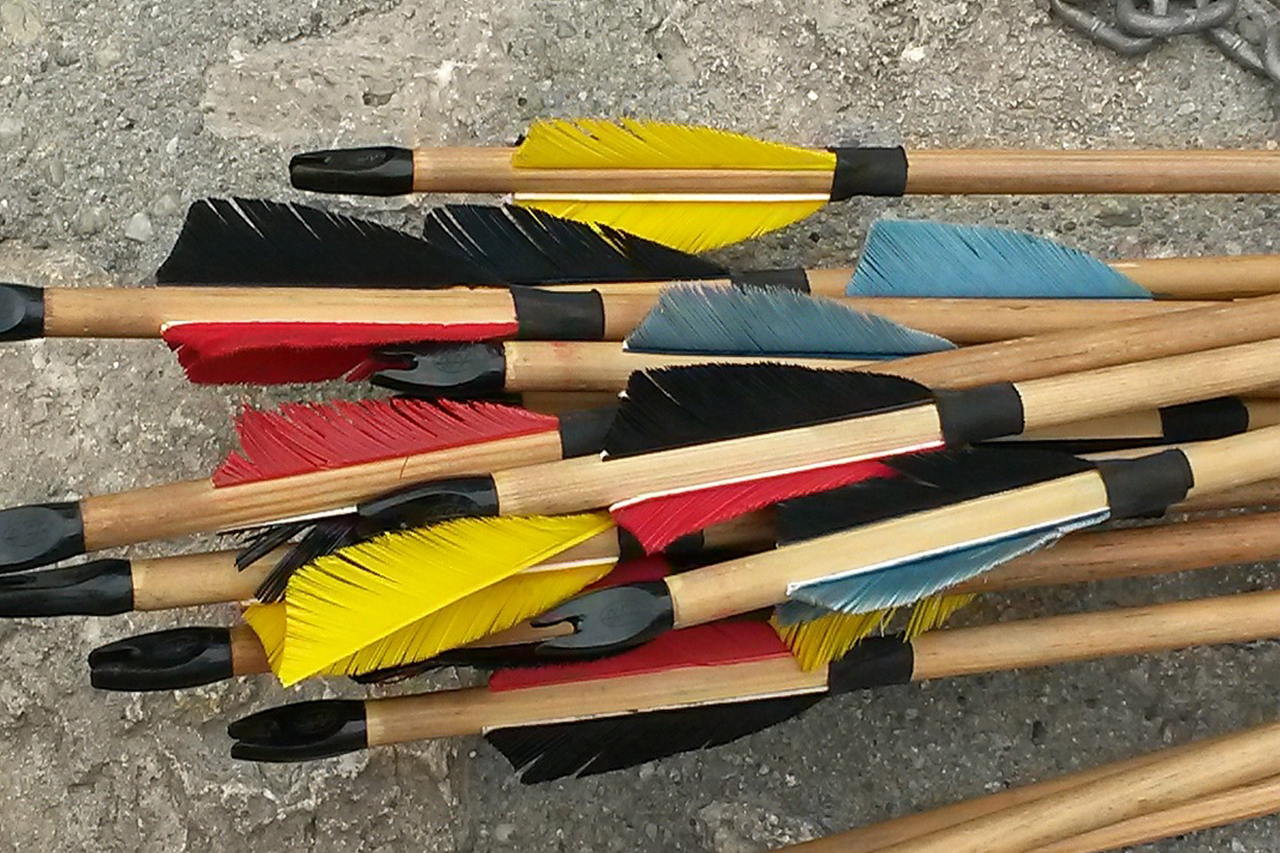 You can shoot wooden arrows from a recurve bow. Using wooden arrows on traditional bows such as recurve bow or a longbow is highly recommended. The reason is that its simple mechanics only require your draw strength and your vision.
These days, there are also more modern recurve bows and longbows with a sleeker-looking and more excellent model that you can use to shoot wooden arrows. Archers consider wooden arrows a vital addition to completing any archery collection and make it stand out. However, if misused with other bows, it isn't easy to control and admire them simultaneously.
Carbon recurves arrows, and wooden arrows are the best option for recurve bows with 35 to 50 pounds draw weight. Another excellent choice for recurve bows weighing 40 to 60 pounds is target or hunting arrows with removable tips.
Moreover, besides wooden arrows, carbon arrows are also one of the best choices for a recurve bow, whether for practice target shooting, hunting, or competitions. Carbon arrows are more accurate and durable than wooden arrows and are safer than cheaper alternatives like fiberglass arrows.
What is the purpose of a recurve bow?
A recurve bow permits a shorter bow for given arrow energy than the simple straight limb bow. Archers often preferred this form in conditions where long weapons are inconvenient, such as in forest terrain, on horseback, or in a brush.
Recurve bows, commonly called recurve, refer to a typical modern recurve bow used by archers in the Olympics and many other competitions. Most modern recurve bows employ developed and advanced technologies and materials.
The riser refers to a one-piece bow where the center section rises from the limbs in a taper to spread the stress. Multiple layers of fiberglass, wood on a core of carbon foam, or just carbon usually made up the limbs of a recurve bow. At the same time, its riser is generally separate and constructed from aluminum alloy, magnesium alloy, carbon, or wood.
In archery, a recurve bow serves as one of the main shapes of the bow. At the same time, its limbs usually curve away from the archer when unstrung. Recurve bows usually deliver energy and store more power more efficiently than their equivalent straight-limed bow. These characteristics of a recurve bow give a more significant amount of energy and speed to the arrow.
The greater the mass of a modern wooden recurve bow, the more it aids stability and accuracy. Moreover, the recurved limbs of a recurved arrow also put more significant stress on its materials, and they usually make more noise with the shot. Extreme recurves, on the contrary, make the bow unstable when strung.
However, accuracy is also parallel to the recurve bow's draw height and how well you handle the bow. Therefore, it is essential for an archer, especially a beginner, never to overestimate their capabilities and carefully choose a draw weight that perfectly fits their level of experience and body build.
For the record, the modern recurve bow is the only form of bow allowed in the Olympics. Although in some categories, such as the Paralympic Games, they permit compound bows and are also widely used in European and Asian archery competitions.
Can you use compound arrows with a recurve bow?
Aside from wooden arrows, compound arrows are also compatible with recurve bows. Compound arrows are also accurate, safer, and durable, making them easier to shoot on a recurve bow.
However, you need to ensure that your compound arrows are the perfect fit for the draw of your recurve bow. Also, you need to check if you can rotate the fletching or if you can adjust it to what you want for a recurve. If it is not adjustable, you can twist or replace its nock to correct it.
Additionally, there are essential things you should consider when choosing a compound bow for your recurve bow:
The length of your arrow
The size of your draw
The weight of your arrow
Doing the length of your draw is the same as your nock grove. To measure, it is simply the throat of your grip and does not include the size of the field points or broadheads. You can calculate it by finding the length of your arm span and dividing it by 2.5.
If you do not know your draw length, you can measure it by asking for help from a professional archer or doing it yourself.
Once you have calculated your draw length, the length of your arrow should be approximately one inch longer, or add it to your draw length. For example, if the size of your draw is 25 inches, the length of your arrow should be 26 inches. Calculating your draw length will give you an arrow that is long enough to clear the front-most part of the arrow shelf.
Moreover, the weight of your arrow will depend on what you do. You can use an arrow that weighs about eight grains per pound of your draw's weight for hunting. It is best to have an arrow with six to eight grain per pound draw weight.
For example, if your bow has 60 pounds, your arrow should weigh between 360 and 480 grains. However, the weight will be less than six grains for practice shooting. The weight includes a combined shaft, nock, vanes insert, and field point.
So, if your bow has 60 pounds of a draw, you will want to use arrows with a total weight of between 300 and 360 grains. These values, however, are not strictly set in stone. But the only thing you can never do is use arrows that weigh less than five grains per pound of draw weight.
It will severely damage the condition of your bow, and your manufacturer's warranty does not include that. Furthermore, if measuring confuses you, you can ask the salesperson in the retail store where you purchased your bow to recommend which type of arrow is best for you to use.
Are carbon arrows better than wood arrows?
Carbon arrows are better than wood arrows and are more preferred by most archers. The carbon arrow's strength and light weight make it the favorite choice for professional and recreational archers.
Carbon arrows are the most advanced material available for archery arrows. Due to its extreme durability, which returns to its original shape right away when bent, it allows archers to keep their arrows straight no matter how much they use them. There are also a lot of budget-friendly carbon arrows that are suitable for new archers.
Moreover, during a hard impact when shooting, carbon arrows usually sustain small cracks that are not visible without a close inspection. If you miss your target or hit something hard, do not forget to inspect your arrows right away for damage.
To check for damage, flex your arrow while listening for crack noises. If your arrow makes break noises, it is time to replace it, or you can also turn it into an arrow pen. You can throw out broken arrows since you cannot use them anymore.
On the other hand, Wooden arrows are less consistent than other arrow materials and can easily warp. It is not also as durable as carbon and aluminum. However, the traditional look and feel of wooden arrows still play a big part for some archers, especially archery collectors.
If you are a purist and want to step back in time, wooden arrows are the perfect one for you. There is no denying the nostalgia for using wooden arrows in a well-oiled back quicker or recurve bows. They represent archery's charm and romance.
The type of arrow you choose mainly reflects your preference, end-use, and budget. Just make sure and always remember that it matches your bow.
What are wooden arrows made of?
Wooden arrows are mainly made of cedar, pine, or spruce. Fletched feathers in finished wooden arrows are sometimes brightly painted or commonly referred to as "dipped and crested" in matched dozens.
A wooden arrow has four main parts: the shaft, the nock, the arrow points, and the fletching.
Shaft – You can tip shafts with a glue-on target or hunting points most of the time. However, most shafts have a glue-on adapter that accepts a screw-on broadhead or tip.
It is important to remember that arrows, especially wooden arrows, must have the correct stiffness to match your bow. The shaft bends before it straightens in flight as you release an arrow. That is why incorrect stiffness can cause the arrow to fly inaccurately and strangely.
The nock – Nock is the slotted plastic tip you can see on the rear end of the arrow. It is the one that snaps onto the string and holds the arrow in its position.
A particular part of the bowstring is called the "nocking point," where you nocked the arrows. You can fine-tune the nocking point by moving it up or down the bowstring.
The arrow points – This is also called the arrowhead. It is the arrow's point with many different kinds and varieties available. Each type serves a distinct advantage and purpose depending on your bow.
Fletching – These are the feathers or the plastic vanes on an arrow. Fletching makes wind drag and can usually cause the arrow to spin like a rifle bullet, providing accuracy and stability in flight.
Fletching has three or more vanes of feathers. One of the feathers, called the "cock" feather, is in a different color, while the remaining feathers are the "hen" feathers. The hen feathers are usually in similar colors.