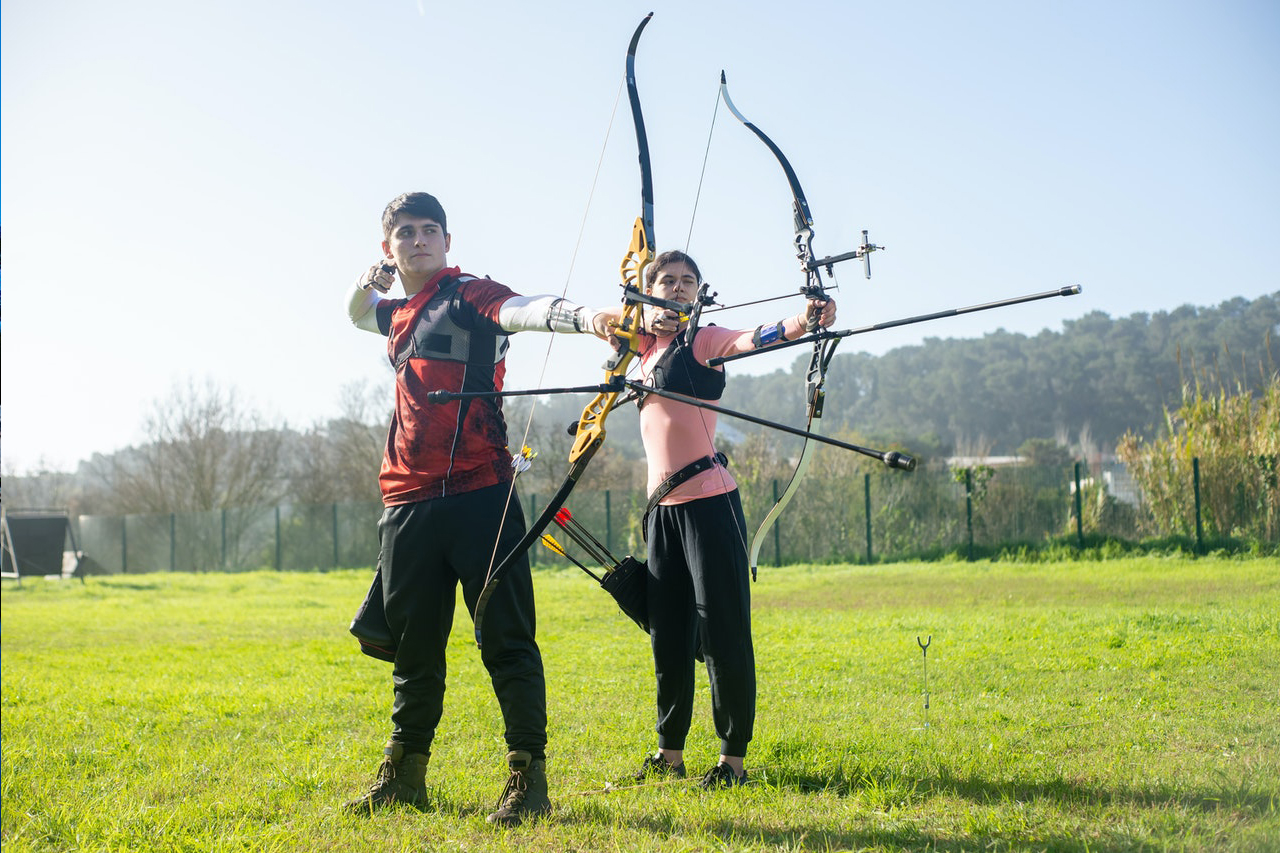 Archers wear shoulder pads for various reasons, including protecting the shoulder after an injury, preventing the bowstring from catching, improving accuracy, preventing shoulder strain, compensating for poor posture, preventing bruises, and providing shoulder protection.
You may have observed that some archers have worn protective gear across their chest and shoulder. Shoulder pads are a standard protective gear worn in archery, may it be during competitions, hunting, or practice.
The most popularly used shoulder pad is the chest guard. The chest guard is a strap covering the shoulder and chest, giving archers extra protection and better shooting results.
You won't have a problem finding available chest guards in the market because you can buy them at your local archery shop or online.
Target recurve shooters and women primarily use shoulder pads. Men also use it; however, it mainly involves flattening their clothing to avoid missing their shot. Nevertheless, to help you decide, refer to the list below citing the reasons why archers wear shoulder pads:
Protecting the shoulder after an injury

Shoulder pads help you avoid further harm to your shoulder injury. You can encounter shoulder injury even during practice. If you plan to continue practicing while recovering after an injury, it is advisable to use shoulder pads to reduce the risk of reinjury.

Aside from wearing a shoulder pad, archers recovering from injury should also do specific shoulder exercises, rotator cuffs, and switch to using lightweight bows until fully healed.

Preventing the bowstring from catching

Clothes that get in the way while shooting influence the trajectory of your arrow. Bowstring catching is a common problem among archers because of the tendency of the clothing to snag the bowstring.

Once this happens, it ruins your shot leading to agitation and losing points in the competition.

The shoulder pads flatten the chest, minimizing its effect on the shot. Thus, archers wear shoulder pads to keep their clothes from getting in the way. It is the same reason why men use shoulder pads as women.

Puffy and layered clothes promote catching no matter the size of your chest, especially during windy weather.

Improving accuracy

Shoulder pads don't only protect you but can also help you improve your shooting accuracy, which can be pretty surprising for others. The reason is that the shoulder pads minimize distractions and decrease strain or ache in your arm.

It promotes better conditioning; thus, you can perform better than without one. Shoulder pads are beneficial to target recurve archers participating in competitions like the Olympics.

For those still unsure, you can use a shoulder pad and notice an improvement in results over not using one.

Preventing shoulder strain

Shooting for an extended period or even daily can strain your shoulder, primarily if you use heavy bows. Although it doesn't always lead to injury, strained shoulders are uncomfortable and can lead to worse outcomes on your body and performance.

Wearing a shoulder pad can help reduce your arm's weight to prevent shoulder strain. Designed to minimize shoulder strain, you can shoot more comfortably when wearing a shoulder pad.

Compensating for poor posture

Your poor posture influences your shooting accuracy and may lead to injuries. Shoulder pads can help to compensate for poor posture. Like any other sport, posture is also a critical element in archery.

Wearing shoulder pads will help you correct your posture regardless of the bow type you use.

Preventing bruises

The usual bruise you can have when not wearing shoulder pads is a painful "bow slap." It happens when your chest or arm suffers from the blow of a bowstring after shooting.

Shoulder pads protect you from possible bruises on uncovered areas near the string.

Providing shoulder protection

The more you practice archery without wearing protective gear, the higher the chance of injury and bruises. Many archers recommend wearing shoulder pads to continue to protect your chest and shoulders.

Hence, with shoulder pads, you will have less worry about whether you have a higher risk of hurting your shoulder.

The use of shoulder pads is popular among women and targets recurve archers. However, archers wear shoulder pads mainly to remove a possible source of interference that will eventually cause shooting problems.
How do you wear a chest guard for archery?
Wearing a chest guard for archery is as easy as slipping it on and adjusting the buckle, velcro, or button for unrestricted movement. As the most used type of shoulder pad, chest guards come in small to large sizes designed for both left-handed and right-handed archers.
It may be your first time researching chest guards or shoulder pads. Both terms are interchangeable; however, most people use the term chest guard instead of shoulder pad more often.
Nevertheless, both serve the same purpose to protect the shoulders and chest area and, at the same time, prevent any interference in your shooting.
Chest guards come in different sizes, from small to large ones. Most chest guards are adjustable to promote free movement to their users rather than movement restrictions.
It can also be easily worn by simply slipping it on and adjusting it from the underarm or shoulder, whichever serves you best. Chest guards are easy to wear, so you won't be left wondering how to deal with complex instructions.
Furthermore, it comes in different straps, depending on the manufacturer. Its straps come in buckle, velcro, or button, all adjustable. Chest guards are also generally lightweight, breathable, and comfortable to wear.
Another thing to remember is that chest guards are available for both left-handed and right-handed shooters. For left-handed shooters, the chest guard goes on the right shoulder. Whereas, for right-handed shooters, it goes on the left shoulder.
If you wonder if it is acceptable to shoot without wearing a chest guard, the answer is yes. You don't necessarily need to buy one. However, you can improvise by following the suggestions below:
Velcro straps

Using velcro straps instead of a chest guard works well with those who infrequently need chest protectors—the velcro straps keep loose clothing from getting in the way. You might get away with using velcro straps to keep your clothing in place.

Chest guards aren't expensive and more likely within your budget even if you require one once in a while. However, if you are persistent in not spending a penny for a chest guard, velcro straps are a great alternative.

Double-sized velcro rolls are excellent, and you can trim them down according to the size you need.

Wear tight clothing or formfitting ones

If you notice that your clothing is the main reason for interfering with your shooting process, you must try wearing tight or formfitting clothing. Loose apparel has a higher possibility of getting snagged, thus, leading to possible injuries, bruises, or poor performance results.

It is better to try wearing tight and formfitting apparel as an alternative to chest guards for the time being. Be mindful of shooting during windy conditions since it can cause your clothing to billow out and interfere.
What type of protective equipment is needed for archery?
There is various type of archery protective equipment you can wear. However, a finger tab, forearm protector, and chest guard are the primary type of protective equipment you need for archery.
Nothing is more exciting than trying out your new pastime. However, if it is archery, you must remember that shooting without precautions and protection is inadequate. No matter how eager you are to start practicing how to shoot, it would be best if you get yourself protected first.
Archery may look like a simple bow and arrow activity like how you used to shoot with your toys. Compared to other sports, archery is less dangerous, but you don't want to go daily with bruises and injuries all over your body.
Besides getting familiar with the rules and behavioral measures in the shooting range, it is wise to identify which protective gear in archery is necessary for you to wear.
The following are the primary protective equipment you may need in archery:
Finger tab

The number one essential archery protective gear is the finger tab. In the movies, you may have seen that archers can shoot many times without wearing any finger tab. However, it doesn't necessarily depict the discomfort you may feel after shooting continuously.

You can shoot without a finger tab, but it doesn't mean your fingers will not be sore. For every archery session, there's a big possibility you'll release hundreds of arrows. You may not notice it immediately, but the discomfort accelerates the more arrows you shoot.

To avoid this discomfort and to be able to continue practicing archery without any pain, you need to wear a finger tab. It is a leather pad that protects the three fingers you use to draw the string.

Your shooting style will determine which finger tab is best for you. Olympic, Barebow, and traditional styles are the finger tabs to choose from based on your shooting style.

Forearm protector

Shooting without a forearm protector may not immediately lead to extreme injuries or nasty bruises. Nonetheless, without this protective gear, there will be many times that the string hits your forearm like a whip, leading to bruises appearing several hours after the incident or the next day.

Some bruises may not be visible, while others will look serious that seems to have resulted from falling or being struck. The appearance of bruises varies on a person's body; however, it is not something you should ignore, no matter how small.

To protect your forearm from getting hit or whipped by the string, you can rotate your elbow outwards, yet it cannot guarantee you won't make a mistake. For your peace of mind and protection, it is better to use a forearm protector.

The forearm protector acts as an absorber when the string whips your forearm after shooting. The leather item goes on your forearm, and the elastic straps hold it firmly. It can prevent your forearm from getting bruised or sustaining minor injuries that can lead to discomfort.

Like the finger tab, choosing the suitable forearm protector heavily depends on your shooting style. Fortunately, it is a one-size-fits-all, so you have fewer things to worry about in deciding the right gear.

For traditional archery, a leather-type forearm is suitable. Meanwhile, a thin and not very bulky type of forearm protector is ideal for archers using recurve or compound bows.

The cheapest you can buy in the market are the plastic ones, while the most expensive ones are those made of epoxy or aluminum.

Chestguard

The importance of a chest guard as a primary protective gear in archery is debatable. Some say its primary purpose is to help maintain the archer's shot trajectory. On the contrary, some expressed that chest guards protect their chest and shoulders from the impact of the string.

A chest guard benefits well-endowed women and flattens the chest, creating a uniform surface. Nonetheless, a chest guard's pretty universal, so anyone can use it as long as it serves its purpose.

Clothing can be a nuisance to your shot, and chest guards aid a lot in minimizing the possible interference. Whether its use for protection is up for debate, there is no denying that wearing a chest guard is better than none.

You can shoot arrows without the protective equipment; however, it is better to be safe than sorry. Thus, wearing protective gear in archery lessens the probability of you obtaining any bruises or injuries that may affect your shooting performance.

Thus, archers wear shoulder pads because it gives them peace of mind making them feel safe as they go on their day while focusing on hitting their target.